Abstract
Research examining the connection between the unemployment rate and the aggregate crime is inconclusive. One explanation for the inconsistent findings is that the unemployment rate influences the criminal activity of repeat and first-time offenders in different ways. Results support this thesis by revealing an inverted U-shaped association between the unemployment rate and the probability of repeat offending. The curvilinear relationship likely results from repeat offenders and those lacking a criminal record entering and exiting the labor force at different levels of unemployment. Our findings highlight the role that the unemployment rate plays in affecting repeat offending and underscore the importance of distinguishing between repeat and first-time offending when analyzing the effect of the unemployment rate on crime.
Access options
Buy single article
Instant access to the full article PDF.
USD 39.95
Price excludes VAT (USA)
Tax calculation will be finalised during checkout.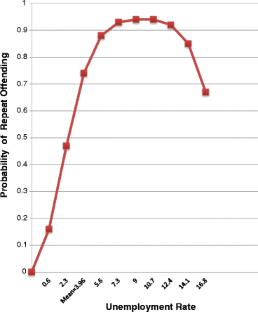 Notes
Besides having an economic impact, the stigma of a criminal record can also have social ramifications by magnifying an individual's difficulty in finding a spouse or by attenuating the probability that a person will be admitted to a university (Rasmusen, 1996).

Another potential reason for the chronic unemployment among repeat offenders is that these individuals have characteristics, traits, and experiences prior to a conviction that greatly diminish their likelihood of obtaining and retaining quality employment and that serve to shape criminal propensity independent of fluctuations in employment rates and related economic conditions (Gottfredson & Hirschi, 1990).

However, it is important to note that 2007 marked the beginning of an economic recession in the U.S. (Mian & Sufi, 2010).

Although an individual is not typically classified as a criminal offender until he or she is convicted in a criminal court, we use offender throughout the manuscript to describe the defendant in order to remain consistent.

One county was dropped from the analysis because it was missing data on the crime rate variable.

A low unemployment rate has other positive consequences such as reducing welfare dependency and decreasing poverty levels (Layard, Nickell & Jackman, 2005).

Our decision to conduct a nonlinear analysis was further supported by a visual examination of the scatterplots for the variables included in the analysis, which suggested the possibility of an inverted U-shaped relationship between the unemployment rate and the likelihood of repeat offending.

However, it is important to note that while the expected probabilities of some of the unemployment rates were higher than the mean rate during the time period that these data were collected (i.e., ten of the counties had unemployment rates in 1999 that exceeded 5 %), only a few of the counties had extremely high unemployment rates. Because of the small number of counties with extremely high unemployment rates during the observation period, one should view the evidence supporting an inverted U-shaped relationship between the unemployment rate and the probability of repeat offending with some healthy skepticism until further research is conducted.

Although juveniles prosecuted as adults comprise only 2.6 % of the total number of prosecuted offenders, we excluded these juvenile offenders and re-estimated our equations to help ensure that our results remained robust across different specifications. The results produced from this analysis were nearly identical to the findings reported in Table 3.
References
Agnew, R. (1992). Foundation for a general strain theory of delinquency. Criminology, 30, 47–87.

Aiken, L.S., & West, S.G. (1991). Multiple regression: Testing and interpreting interactions. Thousand Oaks: Sage.

Allen, R. C. (1996). Socioeconomic conditions and property crime: a comprehensive review and test of the professional literature. American Journal of Economics and Sociology, 55, 293–308.

Bartik, T. (2001). Jobs for the poor: Can labor demand policies help? New York: Russell Sage.

Bassiri, D. (1988). Large and small sample properties of maximum likelihood estimates for the Hierarchical Linear Model. Ph.D. Thesis, Department of Counseling, Educational Psychology, and Special Education, Michigan State University.

Becker, G. S. (1968). Crime and punishment: an economic approach. Journal of Political Economy, 76, 169–17.

Becker, G. S. (1971). The economics of discrimination (2nd ed.). Chicago: University of Chicago Press.

Bennett, T., & Wright, R. (1984). Burglars on burglary. Aldershot: Gower Publishing.

Berk, R. A., Lenihan, K. J., & Rossi, P. H. (1980). Crime and poverty: some experimental evidence from ex-offenders. American Sociological Review, 45, 766–786.

Berk, R. A., Sherman, L., Barnes, G., Kurtz, E., & Ahlman, L. (2009). Forecasting murder within a population of probationers and parolees: a high stakes application of statistical learning. Journal of the Royal Statistical Society Series A, 172, 191–211.

Blau, D. M. (1992). An empirical analysis of employed and unemployed job search behavior. Industrial & Labor Relations Review, 45, 738–752.

Blumstein, A., Cohen, J., & Farrington, D. P. (1988). Criminal career research: its value for criminology. Criminology, 26, 1–26.

Breslow, N. E., & Clayton, D. G. (1993). Approximate inference in generalized linear mixed models. Journal of the American Statistical Association, 88, 9–25.

Bureau of Justice Statistics. (2007). State court processing statistics, 1990–2004: Felony defendants in large urban counties. Washington: Department of Justice.

Cantor, D., & Land, K. C. (1985). Unemployment and crime rates in the post-World War II United States: a theoretical and empirical analysis. American Sociological Review, 50, 317–332.

Catalano, R., Dooley, D., Novaco, R. W., Hough, R., & Wilson, G. (1993). Using ECA survey data to examine the effect of job layoffs on violent behavior. Hospital & Community Psychiatry, 44, 874–879.

Catalano, R., Goldman-Mellor, S., Saxton, K., Margerison-Zilko, C., Subbaraman, M., LeWinn, K., et al. (2011). The health effects of economic decline. Annual Review of Public Health, 32, 431–450.

Catalano, R., & Kennedy, J. (1998). The effect of unemployment on disability caseloads in California. Journal of Community and Applied Social Psychology, 8, 137–144.

Catalano, R., Novaco, R. W., & McConnell, W. (2002). Layoffs and violence revisited. Aggressive Behavior, 28, 233–247.

Cernkovich, S. A., Giordano, P. C., & Pugh, M. D. (1985). Chronic offenders: the missing cases in self-report delinquency research. The Journal of Criminal Law and Criminology, 76, 705–732.

Clark, K. B., & Summers, L. H. (1979). Labor market dynamics and unemployment: a reconsideration. Brookings Papers on Economic Activity, 1, 13–60.

D'Alessio, S. J., Eitle, D., & Stolzenberg, L. (2012). Unemployment, guardianship, and weekday residential burglary. Justice Quarterly, 29, 919–932.

Department of Justice. (2006). Crime in the United States, 2004. U.S. Washington, DC: Government Printing Office.

Ebbesen, E. B., Duncan, B., & Konecni, V. J. (1975). Effects of content of verbal aggression on future verbal aggression: a field experiment. Journal of Experimental Social Psychology, 11, 192–204.

Farrington, D. P., Gallagher, B., Morley, L., Ledger, R. J., & West, D. J. (1986). Unemployment, school leaving and crime. British Journal of Criminology, 26, 335–356.

Gebo, E., & Norton-Hawk, M. (2009). Criminal record policies and private employers. Justice Policy Journal, 6, 2–29.

Gottfredson, M. R., & Hirschi, T. (1990). A general theory of crime. Palo Alto: Stanford University Press.

Greenberg, D. F. (1985). Age, crime, and social explanation. The American Journal of Sociology, 91, 1–21.

Greenberg, D. F. (2001). Time series analysis of crime rates. Journal of Quantitative Criminology, 17, 291–327.

Harer, M. D. (1994). Recidivism among federal prisoners released in 1987. Journal of Correctional Education, 46, 98–127.

Holzer, H. J., Raphael, S., & Stoll, M. A. (2004). Will employers hire former offenders? Employer preferences, background checks and their determinants. In M. Pattillo, D. Weiman, & B. Western (Eds.), Imprisoning America: The social effects of mass incarceration. New York: Russell Sage.

Holzer, H. J., Raphael, S., & Stoll, M. A. (2006). Perceived criminality, criminal background checks and the racial hiring practices of employers. Journal of Law and Economics, 49, 451–480.

Holzer, H. J., Raphael, S., & Stoll, M. A. (2007). The effect of an applicant's criminal history on employer hiring decisions and screening practices: evidence from Los Angeles. In S. Bushway, M. A. Stoll, & D. F. Weiman (Eds.), Barriers to reentry? The labor market for released prisoners in post-industrial America. New York: Russell Sage.

Hurwitz, J., & Peffley, M. (1997). Public perceptions of race and crime: the role of racial stereotypes. American Journal of Political Science, 41, 375–401.

Kethineni, S., & Falcone, D. N. (2007). Employment and ex-offenders in the United States: effects of legal and extra legal factors. Probation Journal, 54, 36–51.

Layard, R., Nickell, S., & Jackman, R. (2005). Unemployment: Macroeconomic performance and the labour market. Oxford: Oxford University Press.

Mian, A., & Sufi, A. (2010). The great recession: lessons from microeconomic data. American Economic Review: Papers & Proceedings, 100, 1–10.

Miethe, T. D., Stafford, M. C., & Long, J. S. (1987). Social differentiation in criminal victimization: a test of routine activities/lifestyle theories. American Sociological Review, 52, 184–194.

Needels, K. (1996). Go directly to jail and do not collect? A long-term study of recidivism, employment, and earnings patterns among prison releasees. Journal of Research in Crime and Delinquency, 33, 471–496.

Osgood, W. D., & Chambers, J. M. (2000). Social disorganization outside the metropolis: an analysis of rural youth violence. Criminology, 38, 81–116.

Pager, D. (2003). The mark of a criminal record. The American Journal of Sociology, 108, 937–975.

Parker, R. N. (1981). Structural constraints and individual career earnings patterns. American Sociological Review, 46, 884–892.

Parker, R. N., & Horwitz, A. V. (1986). Unemployment, crime, and imprisonment: a panel approach. Criminology, 24, 751–773.

Piliavin, I., Gartner, R., Thornton, C., & Matsueda, R. L. (1986). Crime, deterrence, and rational choice. American Sociological Review, 51, 101–119.

Radzinowicz, L. (1939). The influence of economic conditions on crime. The Sociological Review, 33(1–26), 139–153.

Rasmusen, E. (1992). An income-satiation model of efficiency wages. Economic Inquiry, 30, 467–478.

Rasmusen, E. (1996). Stigma and self-fulfilling expectations of criminality. Journal of Law and Economics, 29, 519–543.

Raudenbush, S.W., Bryk, A.S., Cheong, Y.F., & Congdon, R.T. Jr. (2001). HLM 5: Hierarchical linear and nonlinear modeling. Skokie: Scientific Software International, Inc.

Schmitt, J., & Warner, K. (2011). Ex-offenders and the labor market. Journal of Labor and Society, 14, 87–109.

Sellin, J.T. (1972). Research memorandum on crime in the depression, reprint edition. New York: Arno Press.

Spera, S. P., Buhrfeind, E. D., & Pennebaker, J. W. (1994). Expressive writing and coping with job loss. Academy of Management Journal, 37, 722–733.

Stolzenberg, L., & D'Alessio, S. J. (2008). Co-offending and the age-crime curve. Journal of Research in Crime and Delinquency, 45, 65–86.

Sviridoff, M., & Thompson, J. W. (1983). Links between employment and crime: a qualitative study of Rikers Island Releasees. Crime and Delinquency, 29, 195–212.

Vieraitis, L. M. (2000). Income inequality, poverty, and violent crime: a review of the empirical evidence. Social Pathology, 6, 24–45.

Viscusi, W. K. (1986). Market incentives for criminal behavior. In R. B. Freeman & H. J. Holzer (Eds.), The Black Youth employment crisis. Chicago: University of Chicago Press.

Visher, C. A., Debus-Sherrill, S. A., & Yahner, J. (2011). Employment after prison: a longitudinal study of former prisoners. Justice Quarterly, 28, 698–718.

Wang, X., Mears, D., & Bales, W. (2010). Race-specific employment contexts and recidivism. Criminology, 48, 1171–1211.

Weiss, H. E., & Reid, L. W. (2005). Low-quality employment concentration and crime: an examination of metropolitan labor markets. Sociological Perspectives, 48, 213–232.

Wheelock, D., Uggen, C., & Hlavka, H. (2011). Employment restrictions for individuals with felon status and racial inequality in the labor market. In I. O. Ekunwe & R. S. Jones (Eds.), Global perspectives on re-entry (pp. 278–310). Finland: Tampere University Press.

Wright, R.T., & Decker, S.H. (1996). Burglars on the job: Streetlife and residential break-ins. Lebanon, NH: Northeastern University Press.

Wright, J.P., Tibbetts, S.G., & Daigle, L.E. (2008). Criminals in the making: Criminality across the life course. Thousand Oaks: Sage.
About this article
Cite this article
D'Alessio, S.J., Stolzenberg, L. & Eitle, D. "Last Hired, First Fired": The Effect of the Unemployment Rate on the Probability of Repeat Offending. Am J Crim Just 39, 77–93 (2014). https://doi.org/10.1007/s12103-013-9199-1
Received:

Accepted:

Published:

Issue Date:

DOI: https://doi.org/10.1007/s12103-013-9199-1
Keywords
Unemployment rate

Repeat offending

First-time offending