Abstract
Parental attachment is a key predictor of juvenile offending. Most prior research on the topic, however, assumes that parental attachment is stable throughout youth and adolescence. On the contrary, recent research has established that parenting is a dynamic factor for many youth during adolescence. In the current study, we assess the relationship between trajectories of maternal attachment and offending during adolescence and young adulthood. Following a cohort of 859 youth from the National Longitudinal Survey of Youth data aged 10 or 11 over a period of 6 years, we find four distinctive trajectories of maternal attachment and two distinctive trajectories of offending. The results suggest that changes that occur in maternal closeness are linked to changes in offending across adolescence. However, when young adult offending is assessed when the youth are 18 or 19 years of age, we find that adolescent maternal attachment trajectories are not significant predictors of offending.
Access options
Buy single article
Instant access to the full article PDF.
USD 39.95
Price includes VAT (USA)
Tax calculation will be finalised during checkout.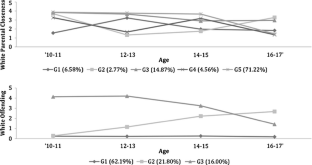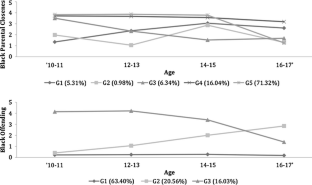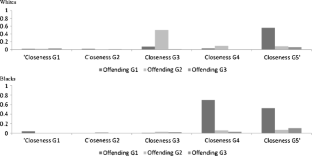 Notes
1.

We focus on mothers in the current study due to the much lower response rate regarding the parenting of fathers in the data.

2.

The specific BIC and posterior probability coefficients are available from the second author on request.

3.

The specific BIC and posterior probability coefficients are available from the second author on request.

4.

It must be noted that G5 for both racial categories shows a notable drop in maternal attachment at wave 4, despite the very high and stable trend in maternal attachment in the first three waves. As we discuss below, it is likely that this severe decrease in maternal attachment is likely due to the privileges and freedom such adolescents are affording near the end of adolescence. We, therefore, consider this group to show stable maternal attachment throughout adolescence, even with the substantial decrease in attachment in the last wave of the study.

5.

Given that the data for this study captures parental closeness and offending during the same periods, we are unable to provide a causal analysis. That is, we are not able to disentangle whether parental shifts are causing the offending or if offending is causing the parental shifts. Thus, we are left with the ability to say that as parental closeness changes, offending appear to change as well.
References
Agnew, R. (1993). Why do they do it? An examination of the intervening mechanisms between social control variables and delinquency. Journal of Research in Crime and Delinquency, 20, 245–266.

Baumrind, D. (1972). An exporatory study of socialization effects on Black children: Some Black-White comparisons. Child Development, 43, 261–267.

Bengston, V. L., Cutler, N. E., Mangen, D. J., & Marshall, V. W. (1985). Generations, cohorts, and relations between age groups. In R. H. Binstock & E. Shanas (Eds.), Handbook of aging and the social sciences. New York: Van Nostrand Reinhold.

Brodsky, A. E. (1999). Making it: The components and process of resilience among urban, African-American, single mothers. American Journal of Orthopsychology, 69(2), 148–160.

Burton, V., Cullen, F. T., Evans, D. T., Dunaway, G. R., Kethineni, S., & Payne, G. (1995). The impact of parental controls on delinquency. Journal of Criminal Justice, 23, 111–126.

Cain, D., & Combs-Orme, T. (2005). Family structure effects on parenting stress and practices in the African American family. Journal of Sociology and Social Welfare, 32, 19–40.

Cernkovich, S. A., & Giordano, P. C. (1987). Family relationships and delinquency. Criminology, 25, 295–321.

Cernkovich, S. A., & Giordano, P. C. (2001). Stability and change in antisocial behavior: The transition from adolescence to early adulthood. Criminology, 39, 371–410.

Clark, R., Novak, J. D., & Dupree, D. (2002). Relationship of perceived parenting practices to anger regulation and coping strategies in African American adolescents. Journal of Adolescence, 25, 373–384.

Collins, N. L. (1996). Working models of attachment: Implications for explanation, emotion and behavior. Journal of Personality and Social Psychology, 71, 810–832.

Cookston, J. T. (1999). Parental supervision and family structure: Effects on adolescent problem behaviors. Journal of Divorce & Remarriage, 32, 107–122.

Cooper, M. L., Shaver, P. R., & Collins, N. L. (1998). Attachment styles, emotion regulation, and adjustment in adolescents. Journal of Personality and Social Psychology, 74, 1380–1397.

Cooper, C. R., Jackson, J. F., Azmitia, M., & Lopez, E. M. (1998). Multiple selves, multiple worlds: Ethnically sensitive research on identity, relationships, and opportunity structures in adolescence. In V. McLoyd & L. Steinberg (Eds.), Conceptual anti methodological issues in the study of minority adolescents and their families. Hillsdale, NJ: Lawrence Erlbaum Associates.

Darling, N., & Steinberg, L. (1993). Parenting style as context: An integrative model. Psychological Bulletin, 113, 487–496.

Demuth, S., & Brown, S. L. (2004). Family structure, family processes, and adolescent delinquency: The significance of parental absence versus parental gender. Journal of Research in Crime & Delinquency, 41, 58–81.

Dornbusch, S., Ritter, P., Liederman, P., Roberts, D., & Fraleigh, M. (1987). The relation of parenting style to adolescent school performance. Child Development, 58, 1244–1257.

Duncan, S. C., Duncan, T. E., Biglan, A., & Ary, D. (1998). Contribution of the social context to the development of adolescent substance use: A multivariate latent growth modeling approach. Drug and Alcohol Dependence, 50, 57–71.

Elder, G. H. (1994). Time, human agency, and social change: Perspectives on the life course. Social Psychology Quarterly, 57, 4–15.

Fraley, C. R. (2002). Attachment stability from infancy to adulthood: Meta-analysis and dynamic modeling of developmental mechanisms. Personality & Social Psychology Review, 6, 123–151.

Glueck, S. T., & Glueck, E. T. (1950). Unraveling juvenile delinquency. New York: Goramonwealth Fund.

Gottfredson, M. R., & Hirschi, T. (1990). A general theory of crime. Stanford, CA: Stanford University Press.

Greenberg, M. T. (1999). Attachment and psychopathology in childhood. In J. Cassidy & P. R. Shaver (Eds.), Handbook of attachment: Theory, research, and clinical applications (pp. 469–496). New York: Guilford.

Hagan, J. (1998). Life course capitalization and adolescent behavioral development. In R. Jessor (Ed.), New perspectives on adolescent risk behavior. New York: Cambridge University Press.

Hanson, T. L., McLanahan, S. S., & Thomson, E. (1998). Windows on divorce: Before and after. Social Science Research, 27, 329–349.

Higgins, G. E., Jennings, W. G., & Mahoney, M. (2010). Developmental trajectories of maternal and paternal attachment and delinquency in adolescence. Deviant Behavior, 31, 655–677.

Hirschi, T. (1969). Causes of delinquency. Berkeley, CA: University of California Press.

Hope, T. L., & Chapple, C. L. (2005). Maternal characteristics, parenting, and adolescent sexual behavior: The role of self-control. Deviant Behavior, 26, 25–45.

Hurd, N. M., & Zimmerman, M. A. (2010). Natural mentoring relationships among adolescent mothers: A study of resilience. Journal of Research on Adolescence, 20(3), 789–809.

Jennings, W. G., & Reingle, J. M. (2012). On the number and shape of developmental/life-course violence, aggression, and developmental trajectories: A state-of-the-art review. Journal of Criminal Justice, 40, 472–489.

Kagan, J. (1996). Sanguine and melancholic temperaments in children. Harvard Mental Health Letter, 13, 4–6.

Kerr, M., & Stattin, H. (2003). Parenting of adolescents: Action or reaction? In A. C. Crouter & A. Booth (Eds.), Children's Influence on family dynamics: The neglected side of family relationships (pp. 121–151). Mahwah, NJ: Lawrence Erlbaum Associates.

Lewis, M. (1997). Altering fate: Why the past does not predict the future. New York: Guilford.

Lewis, M. (1999). On the development of personality. In L. A. Pervin & O. P. John (Eds.), Handbook of personality: Theory and research (pp. 327–346). New York: Guilford.

Lipsey, M. W., & Derzon, J. H. (1998). Predictors of violent or serious delinquency in adolescence and early adulthood: A synthesis of longitudinal research. In R. Loeber & D. P. Farrington (Eds.), Serious and violent juvenile offenders: Risk factors and successful interventions (pp. 86–105). Thousand Oaks, CA: Sage Publications.

Loeber, R., & Dishion, T. J. (1983). Early predictor of male delinquency: A review. Psychological Bulletin, 94, 68–99.

Lytton, H. (1990). Child and parent effects in boys' conduct disorder: A reinterpretation. Developmental Psychology, 26, 683–697.

Macmillan, R. (2001). Violence and the life course: The consequences of victimization for personal and social development. Annual Review of Sociology, 27, 1–22.

Malinosky-Rummell, R., & Hansen, D. J. (1993). Long-term consequences of childhood physical abuse. Psychological Bulletin, 114, 68–79.

Moffitt, T. E. (1993). Adolescence-limited and life-course-persistent antisocial behavior: A developmental taxonomy. Psychological Review, 100, 674–701.

Nagin, D. S. (2005). Group Based Modeling of Development. Harvard University Press.

Paschall, M. J., Ringwalt, C. L., & Flewelling, R. L. (2003). Effects of parenting, father absence, and affiliation with delinquent peers on delinquent behavior among African-American male adolescents. Adolescence, 38, 15–34.

Patterson, G. R., DeBaryshe, B. D., & Ramsey, E. A. (1989). A developmental perspective on antisocial behavior. American Psychologist, 44, 329–335.

Patterson, G. R., Reid, J. B., & Dishion, T. J. (1990). Antisocial boys. A social interactional approach: Volume 4. Eugene OR: Castalia.

Piquero, A. R. (2008). Taking stock of developemental trajectories of criminal activity over the life course. In A. Liberman (Ed.), The long view of crime: A synthesis of longitudinal research (pp. 23–78). New York: Springer.

Pires, P., & Jenkins, J. M. (2007). A growth curve analysis of the joint influences of parenting affect, child characteristics and deviant peers on adolescent illicit drug use. Journal of Youth and Adolescence, 36, 169–183.

Rebellon, C. J. (2002). Reconsidering the broken homes ⁄ delinquency relationship and exploring its mediating mechanism(s). Criminology, 40, 103–136.

Reid, J. B., Patterson, G. R., & Snyder, J. (2002). Antisocial behavior in children and adolescents: A developmental analysis and model for intervention (pp. 25–44). Washington, DC: American Psychological Association.

Romo, L., & Segura, D. A. (2010). Enhancing the resilience of young, single mothers of color: A review of programs and services. Journal of Education for Students Placed At Risk (JESPAR), 15, 173–185.

Rossi, A. S., & Rossi, P. H. (1990). Of human bonding: Parent-child relations across the life course. NY, New York: A. De Gruyter Publishers.

Sampson, R. J., & Laub, J. H. (1993a). Structural variations in juvenile court processing: Inequality, the underclass, and social control. Law & Society Review, 2, 285–311.

Sampson, R. J., & Laub, J. H. (1993b). Crime in the making: Pathways and turning points through life. Cambridge: Harvard University Press.

Schroeder, R. D., Bulanda, R. E., Giordano, P. C., & Cernkovich, S. A. (2010). Parenting and adult criminality: An examination of direct and indirect effects by race. Journal of Adolescent Research, 25, 64–98.

Schroeder, R. D., Giordano, P. C., & Cernkovich, S. A. (2010). Adult child-parent bonds and life course criminality. Journal of Criminal Justice, 38, 562–571.

Schroeder, R. D., Osgood, A. K., & Oghia, M. J. (2010). Family transitions and juvenile delinquency. Sociological Inquiry, 80, 579–604.

Simons, R. L., Johnson, C., Conger, R. D., & Elder, G. (1998). A test of latent trait versus life course perspectives on the stability of adolescent antisocial behavior. Criminology, 36, 217–243.

Simons, R. L., & Robertson, J. F. (1989). The impact of parenting factors, deviant peers, and coping style upon adolescent drug use. Family Relations, 38, 273–281.

Simons, R. L., Simons, L. G., & Wallace, L. E. (2004). Families, delinquency, and crime: Linking Society's most basic institution to antisocial behavior. Los Angeles, CA.: Roxbury Publishing.

Spjeldnes, S., & Choi, J. (2008). Direct and indirect effects of interparental relationship quality on child behavior problems in Black, nonmarital families with low-income. Marriage & Family Review, 44(4), 411–438.

Sroufe, L. A. (1979). The coherence of individual development. American Psychologist, 34, 834–841.

Sroufe, L. A., Egeland, B., & Kreutzer, T. (1990). The fate of early experience following developmental change: Longitudinal approaches to individual adaptation in childhood. Child Development, 61, 1363–1373.

Steinberg, L., Mounts, N. S., Lamborn, S. D., & Dornbusch, S. M. (1991). Authoritative parenting and adolescent adjustment across varied ecological niches. Journal of Research on Adolescence, 1, 19–36.

Thompson, R. A., Lamb, M. E., & Estes, D. (1982). Stability of infant-mother attachment and its relationship to changing life circumstances in an unselected middle-class sample. Child Development, 53, 144–148.

Umberson, D. (1992). Relationships between adult children and their parents: Psychological consequences for both generations. Journal of Marriage & Family, 54, 664–674.

Vaughn, B. E., Egeland, B., Sroufe, L. A., & Waters, E. (1979). Individual differences in infant-mother attachment at 12 and 18 months: Stability and change in families under stress. Child Development, 50, 971–975.

Waters, E. (1978). The reliability and stability of individual differences in infant-mother attachment. Child Development, 49, 483–494.

Widom, C. S. (1989). The cycle of violence. Science, 244, 160–166.
About this article
Cite this article
Schroeder, R.D., Higgins, G.E. & Mowen, T.J. Maternal Attachment Trajectories and Criminal Offending By Race. Am J Crim Just 39, 155–171 (2014). https://doi.org/10.1007/s12103-012-9192-0
Received:

Accepted:

Published:

Issue Date:
Keywords
Parenting

Maternal attachment

Offending

Crime

Trajectories