This is a preview of subscription content, log in to check access.
Access options
Buy single article
Instant access to the full article PDF.
US$ 39.95
Tax calculation will be finalised during checkout.
Subscribe to journal
Immediate online access to all issues from 2019. Subscription will auto renew annually.
US$ 99
Tax calculation will be finalised during checkout.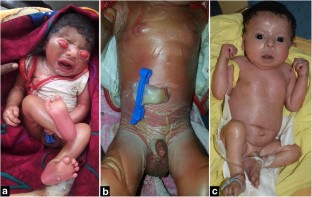 References
1.

Vahlquist A, Gånemo A, Virtanen M. Congenital ichthyosis: an overview of current and emerging therapies. Acta Derm Venereol. 2008;88:4–14.

2.

Prado R, Ellis LZ, Gamble R, Funk T, Arbuckle HA, Bruckner AL. Collodion baby: an update with a focus on practical management. J Am Acad Dermatol. 2012;67:1362–74.

3.

Nguyen MA, Gelman A, Norton SA. Practical events in the management of a collodion baby. JAMA Dermatol. 2015;151:1031–2.

4.

Glick JB, Craiglow BG, Choate KA, et al. Improved management of harlequin ichthyosis with advances in neonatal intensive care. Pediatrics. 2017;139:e20161003.

5.

Damodaran K, Bhutada A, Rastogi S. A unique preparation and delivery method for acitretin for neonatal harlequin ichthyosis. J Pediatr Pharmacol Ther. 2018;23:164–7.
Ethics declarations
Conflict of Interest
None.
Consent for Publication
Obtained from the parent in both cases.
Additional information
Publisher's Note
Springer Nature remains neutral with regard to jurisdictional claims in published maps and institutional affiliations.
About this article
Cite this article
Kainth, D., Yadav, D.P., Gupta, S. et al. Successful Treatment of Collodion Baby with Acitretin: A Report of Two Cases. Indian J Pediatr (2020). https://doi.org/10.1007/s12098-020-03474-x
Received:

Accepted:

Published: