Tay-Sachs Disease Presenting as Refractory Epilepsy with Autistic Regression Secondary to a Novel Mutation in HEXA Gene
To the Editor: Tay-Sachs disease (TSD) is an autosomal recessive lysosomal storage disorder due to deficiency of beta hexosaminidase A enzyme. It is caused by mutations in HEXA gene [1]. The prevalence of TSD in general population is 1 in 3,20,000 [2]. We report a child with TSD presenting as autistic regression and refractory epilepsy due to novel mutation.
A 3-y-old boy born out of s degree consanguineous marriage with normal birth history, presented with loss of attained social and language milestones following febrile episode. Patient subsequently developed myoclonic jerks. On examination, normal head size, no hepato-splenomegaly and no cherry red spot were found. On investigations, complete blood count, liver function, renal function, serum ammonia, serum lactate, arterial blood gases were normal. MRI brain showed hypointensity in bilateral thalamus (Fig.
1
a) and peri-ventricular white matter signal changes (Fig.
1
b). EEG was suggestive of diffuse slowing. Tandem mass spectrometry and urine for abnormal metabolites was normal. Leukocyte enzyme analysis for hexosaminidase A was low [1.5 (normal 62–310)].
HEXA
gene analysis revealed a novel homozygous missense mutation c. 1219G > T (p.V407F) in exon11. Parental testing reveled a heterozygous missense mutation on
HEXA
gene. Myoclonic jerks partially controlled with anti-epileptic drugs. The child succumbed to his illness at the age of 5 y due to aspiration pneumonia. Prenatal genetic testing for next pregnancy is advised.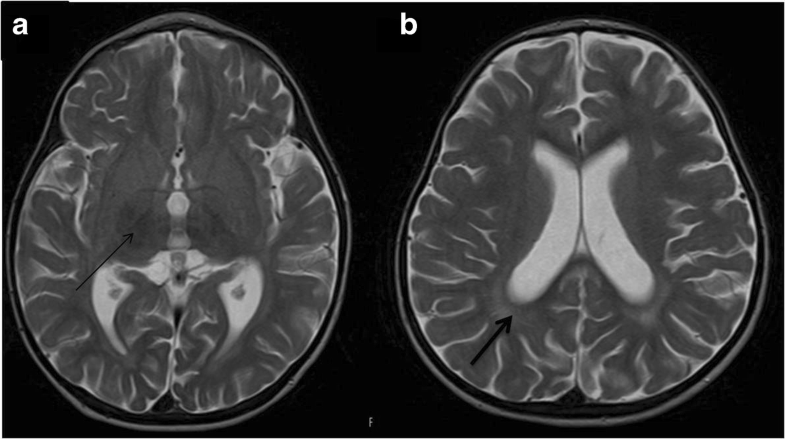 In the current case, the possible differential diagnosis considered were, Neuronal ceroid lipofuscinosis (NCL), Lafora body disease, mitochondrial disorders and gangliosidosis. Enzyme assay for NCL1 and 2 were normal. Axillary skin biopsy for negative inclusion bodies ruled out Lafora body disease. Mitochondrial disorders were ruled out as serum lactate and tandem mass spectrometry was normal. Enzyme assay showed deficiency of Beta Hexosaminidase A level; hence diagnosed as TSD.
The usual presentation of TSD is developmental delay followed by regression in the later part of the infancy. Examination usually shows large head with cherry red spot in the fundus. In this child regression started after 3 y of age predominantly the social interaction with refractory epilepsy, normal head size and without cherry red spot. There are more than 130 mutations identified in the HEXA gene [2]. This phenotype has not been described previously in the literature. In the genetic testing, the novel mutation was found. In conclusion TSD should be considered as a differential diagnosis in a patient who present as autistic regression with epilepsy.
Notes
Authors' Contributions
VKG: Revised and approved the manuscript for important intellectual content and will act as guarantor of the paper; VMS: Diagnosis, management and writing the manuscript; MB: Conducted laboratory tests and analyzed the data; AB: Supervision of the work and revision of manuscript.
Compliance with Ethical Standards
Conflict of Interest
None.
References
1.

Tanaka A, Fujimaru M, Choeh K, Isshiki G. Novel mutations, including the second most common in Japan, in the B-hexosaminidase a subunit gene, a simple screening of Japanese patients with Tay-Sachs disease. J Hum Genet. 1999;44:91–5.

CrossRef

PubMed

Google Scholar

2.

Stenson PD, Ball EV, Howells K, Phillips AD, Mort M, Cooper DN. The human gene mutation database: providing a comprehensive central mutation data base for molecular diagnostics and personalized genomics. Hum Genomics. 2009;4:69–72.

CrossRef

PubMed

PubMedCentral

Google Scholar
Copyright information
© Dr. K C Chaudhuri Foundation 2018