Abstract
Extramedullary hematopoiesis (EMH) is a normal response to failure of hematopoiesis at its normal site i.e., bone marrow. It is a manifestation of many congenital hemolytic anemias and marrow failure secondary to myelodysplastic syndromes. Usually, extramedullary myeloid proliferation occurs in liver, spleen and lymph nodes. However, there are many unusual sites where EMH can occur. The authors report two cases of intracranial extramedullary hematopoiesis in beta thalassemia. In one of these patients, epidural soft tissue was detected along frontal and parietal convexities causing compression of brain parenchyma leading to raised intracranial tension and sagging of brain stem, corpus callosum and herniation of cerebellar tonsils. The other case had a similar but unilateral epidural soft tissue. Expansion of diploic spaces of skull was seen in both these cases. As myeloid proliferation is slow, it presents with subtle symptoms of headache and gradually progressive lower limb weakness. A high index of clinical suspicion coupled with imaging findings is the only way to confirm the diagnosis.
This is a preview of subscription content, log in to check access.
Access options
Buy single article
Instant access to the full article PDF.
US$ 39.95
Price includes VAT for USA
Subscribe to journal
Immediate online access to all issues from 2019. Subscription will auto renew annually.
US$ 99
This is the net price. Taxes to be calculated in checkout.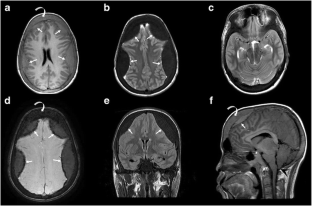 References
1.

Origa R. Beta-thalassemia. GeneReviews(®). Seattle: University of Washington; 1993.

2.

Taher A, Vichinsky E, Musallam K, Cappellini MD, Viprakasit V, Weatherall SD. Guidelines for the management of non transfusion dependent thalassaemia (NTDT). Nicosia, Cyprus: Thalassaemia International Federation; 2013. p. 84–91.

3.

Ginzel AW, Kransdorf MJ, Peterson JJ, Garner HW, Murphey MD. Mass-like extramedullary hematopoiesis: imaging features. Skelet Radiol. 2012;41:911–6.

4.

Zherebitskiy V, Morales C, Del Bigio MR. Extramedullary hematopoiesis involving the central nervous system and surrounding structures. Hum Pathol. 2011;42:1524–30.

5.

Rajiah P, Hayashi R, Bauer TW, Sundaram M. Extramedullary hematopoiesis in unusual locations in hematologically compromised and noncompromised patients. Skelet Radiol. 2011;40:947–53.

6.

Sauer B, Buy X, Gangi A, Roy C. Exceptional localization of extramedullary hematopoiesis: presacral and periureteral masses. Acta Radiol. 2007;48:246–8.

7.

Smithson LV, Lipper MH, Hall JA. Paranasal sinus involvement in thalassemia major: CT demonstration. AJNR Am J Neuroradiol. 1987;8:564–5.

8.

Lee CM, Salzman KL, Blumenthal DT, Gaffney DK. Intracranial extramedullary hematopoiesis: brief review of response to radiation therapy. Am J Hematol. 2005;78:151–2.

9.

Kittner T, Aust D, Illmer T. Intracranial haemopoiesis. Lancet. 2003;362:2065.

10.

Kim C. Homeostatic and pathogenic extramedullary hematopoiesis. J Blood Med. 2010;1:13–9.

11.

Koch CA, Li C-Y, Mesa RA, Tefferi A. Nonhepatosplenic extramedullary hematopoiesis: associated diseases, pathology, clinical course, and treatment. Mayo Clin Proc. 2003;78:1223–33.

12.

Karki B, Y-K X, Tamrakar K, et al. Intracranial extramedullary hematopoiesis in beta-thalassemia. Korean J Radiol. 2012;13:240.

13.

Koch BL, Bisset GS, Bisset RR, Zimmer MB. Intracranial extramedullary hematopoiesis: MR findings with pathologic correlation. Am J Roentgenol. 1994;162:1419–20.

14.

Karimi M, Cohan N, Pishdad P. Hydroxyurea as a first-line treatment of extramedullary hematopoiesis in patients with beta thalassemia: four case reports. Hematology. 2015;20:53–7.

15.

Taher A, Isma'eel H, Cappellini MD. Thalassemia intermedia: revisited. Blood Cells Mol Dis. 2006;37:12–20.

16.

Emamhadi M, Alizadeh A. Effect of hypertransfusion on extramedullary hematopoietic compression mass in thalassemia major: a case report. Iran J Radiol. 2012;9:154–6.
Ethics declarations
Conflict of Interest
None.
About this article
Cite this article
Merchant, R., Choudhari, A.J., Verma, M. et al. Intracranial Hematopoiesis in Beta Thalassemia: A Case Series. Indian J Pediatr 85, 679–681 (2018). https://doi.org/10.1007/s12098-018-2618-z
Received:

Accepted:

Published:

Issue Date:
Keywords
Thalassemia

Intracranial extramedullary hematopoiesis

MRI