Abstract
Objective
To assess the effect of food cooked in iron pots for the prevention and treatment of iron deficiency anemia.
Methods
In this cluster randomized clinical trial, authors evaluated preschoolers aged 4–5 y for 16 wk. Children were cluster randomized to either eating from iron pots (Group A) or aluminum pots (Group B). Primary outcome variables were change in hemoglobin concentration and anemia prevalence. Two biochemical evaluations were performed, to determine Hb concentrations, before and after intervention. This study was conducted in two public preschools, located in the municipality of Mucambo, Ceará, in the northeast of Brazil.
Results
At baseline, for group A, mean hemoglobin concentration was 12.26 ± 1.02 g/dL and 12.29 ± 0.95 g/dL after intervention, p = 0.78. In group B, mean baseline hemoglobin was 12.34 ± 1.04 g/dL, and 12.13 ± 0.86 g/dL after intervention, p = 0.07. All ten participants, who were anemic at baseline, were no longer anemic after intervention.
Conclusions
Using iron cooking pots in developing countries could provide an innovative strategy to prevent and treat iron deficiency anemia.
Access options
Buy single article
Instant access to the full article PDF.
US$ 39.95
Tax calculation will be finalised during checkout.
Subscribe to journal
Immediate online access to all issues from 2019. Subscription will auto renew annually.
US$ 79
Tax calculation will be finalised during checkout.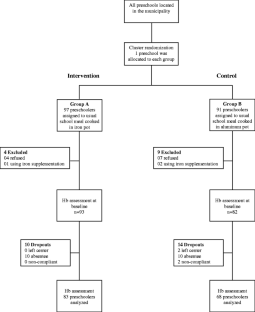 References
1.

Baltussen R, Knai C, Sharan M. Iron fortification and iron supplementation are cost-effective interventions to reduce iron deficiency in four subregions of the world. J Nutr. 2004;134:2678–84.

2.

McLean E, Cogswell M, Egli I, et al. Worldwide prevalence of anaemia, WHO vitamin and mineral nutrition information system, 1993-2005. Public Health Nutr. 2009;12:444–54.

3.

Viteri FEA. New concept in the control of iron deficiency: community-based preventive supplementation of at-risk groups by the weekly intake of iron supplements. Biomed Environ Sci. 1998;11:46–60.

4.

International Nutrition Foundation and Micronutrient Initiative UNICEF/UNU/WHO/MI Technical workshop. Preventing iron deficiency in women and children: background and consensus on key technical issues and resources for advocacy, planning and implementing national programmes. New York: INF; 1998.

5.

WHO Guidelines Approved by the Guidelines Review Committee. Guideline: daily iron supplementation in infants and children. Geneva: WHO; 2016.

6.

World Health Organization. The global prevalence of anaemia in 2011. Geneva: WHO; 2015.

7.

Macdougall LG, Anderson R, McNab GM, et al. The immune response in iron-deficient children: impaired cellular defense mechanisms with altered humoral components. J Pediatr. 1975;86:833–43.

8.

Watkins WE, Pollitt E. Iron deficiency and cognition among school-age children. In: Grantham-McGregor SM, editor. Nutrition, Health, and Child Development. Research Advances and Policy Recommendations. Washington, DC: Pan-American Health Organization, Tropical Metabolism Research Unit of the University of the West Indies, and The World Bank; 1998. p. 179–97.

9.

United Nations Children's Fund (UNICEF). The state of the world's children — Oxford and New York: Oxford University Press for UNICEF; 1998.

10.

World Health Organization (WHO). Iron deficiency anaemia: assessment, prevention, and control. A guide for programme managers. Geneva: WHO; 2001.

11.

Brazil. Ministério da Saúde. Centro Brasileiro de Analise e Planejamento. Pesquisa Nacional de Demografia e Saúde da Criança e da Mulher PNDS, 2006. Serie G. Estatística e Informação em Saúde. Brasília, DF; 2009.

12.

Arcanjo FP, Amancio OM, Braga JA, et al. Randomized controlled trial of iron-fortified drinking water in preschool children. J Am Coll Nutr. 2010;29:122–9.

13.

Assunção MCF, Santos IS, Barros AJD, et al. Efeito da fortificação de farinhas com ferro sobre anemia em pré-escolares, Pelotas, RS. Rev Saúde Pública. 2007;41:539–48.

14.

Arcanjo FP, Arcanjo CC, Amancio OM, et al. Weekly iron supplementation for the prevention of anemia in pre-school children: a randomized, double-blind, placebo-controlled trial. J Trop Pediatr. 2011;57:433–8.

15.

Arcanjo FP, Pinto VP, Coelho MR, et al. Anemia reduction in preschool children with the addition of low doses of iron to school meals. J Trop Pediatr. 2008;54:243–7.

16.

Silva DG, Priore SE, Franceschini Sdo C. Risk factors for anemia in infants assisted by public health services: the importance of feeding practices and iron supplementation. J Pediatr. 2007;83:149–56.

17.

Benoist B, McLean E, Egli I, Cogswell M. Worldwide prevalence of anaemia, 1993-2005: WHO global database on anaemia. Geneva: World Health Organization; 2008.

18.

Brazil. Ministério da Saúde. Secretaria de Atenção à Saúde. Departamento de Atenção Básica. Política Nacional de Atenção Básica. Brasília: Ministério da Saúde; 2012.

19.

Kulkarni SA, Ekbote VH, Sonawane A, et al. Beneficial effect of iron pot cooking on iron status. Indian J Pediatr. 2013;80:985–9.

20.

Charles CV, Dewey CE, Daniell WE, Summerlee AJ. Iron-deficiency anaemia in rural Cambodia: community trial of a novel iron supplementation technique. Eur J Pub Health. 2011;21:43–8.

21.

Sharieff W, Dofonsou J, Zlotkin S. Is cooking food in iron pots an appropriate solution for the control of anaemia in developing countries? A randomised clinical trial in Benin. Public Health Nutr. 2008;11:971–7.

22.

Lwanga SK, Lemesshow S. Sample size determination in health studies: a practical manual. Geneva: World Health Organization; 1991.

23.

Adish AA, Esrey SA, Gyorkos TW, et al. Effect of consumption of food cooked in iron pots on iron status and growth of young children: a randomised trial. Lancet. 1999;353:712–6.

24.

Borigato EV, Martinez FE. Iron nutritional status is improved in Brazilian preterm infants fed food cooked in iron pots. J Nutr. 1998;128:855–9.

25.

Geerligs PP, Brabin B, Mkumbwa A, et al. The effect on haemoglobin of the use of iron cooking pots in rural Malawian households in an area with high malaria prevalence: a randomized trial. Tropical Med Int Health. 2003;8:310–5.

26.

Prinsen Geerligs P, Brabin B, Mkumbwa A, Broadhead R, Cuevas LE. Acceptability of the use of iron cooking pots to reduce anaemia in developing countries. Public Health Nutr. 2002;5:619–24.

27.

Geerligs PD, Brabin BJ, Omari AA. Food prepared in iron cooking pots as an intervention for reducing iron deficiency anaemia in developing countries: a systematic review. J Hum Nutr Diet. 2003;16:275–81.

28.

Tripp K, Mackeith N, Woodruff BA, et al. Acceptability and use of iron and iron-alloy cooking pots: implications for anaemia control programmes. Public Health Nutr. 2010;13:123–30.
Acknowledgements
The authors would like to thank the infants and teachers at the infant education centers for their participation and cooperation during this study, and the Secretariat of Education and Secretariat of Health at the Municipal City Hall – Mucambo - Ceará for their support during the project.
Contributions
FPNA, DRRM and PRS designed the research; FPNA, DRRM, PRS and CPCA conducted the research and analyzed the data; FPNA and DRRM wrote the paper. FPNA had primary responsibility for final content. All authors read and approved the final manuscript. Peter Richard Hall, Department of Medicine - Centro Universitário INTA, Sobral, Ceará, Brazil will act as guarantor for this paper.
Ethics declarations
Conflict of Interest.
None.
Source of Funding
This project was funded by The Federal University of Ceará, Sobral Unit - Research Initiative Grant.
About this article
Cite this article
Arcanjo, F.P.N., Macêdo, D.R.R., Santos, P.R. et al. Iron Pots for the Prevention and Treatment of Anemia in Preschoolers. Indian J Pediatr 85, 625–631 (2018). https://doi.org/10.1007/s12098-017-2604-x
Received:

Accepted:

Published:

Issue Date:
Keywords
Anemia

Iron deficiency

Child nutrition

Brazil