Abstract
Objectives
To ascertain the proportion of neonates and infants presenting with suspicion of an inborn error of metabolism in the centers identified by ICMR for newborn screening.
Methods
A set of red flag signs suggestive IEM were listed by the Taskforce members. The age group was limited to one year as it was understood that most of the small molecules with a severe phenotype would present before the age of one year. Further investigations were tandem mass spectrometry, gas chromatography mass spectrometry and high performance liquid chromatography.
Results
A total of 851 babies with an index of suspicion were investigated using a combination of these modalities. The yield from this sample was 31.7%, better than reported in literature owing to a more specific inclusion criteria. Methylmalonic acidemia followed by Propionic acidemia were the most common organic acidemias, while maple syrup urine disease and classic citrullinemia were the common aminoacidopathies.
Conclusions
If all the sick care neonatal unit patients would undergo high risk stratified screening, the likely benefit of the high end technologies currently available in India would become apparent. Though this is not the opportune moment to start the expanded screening program in the country, none of the neonates admitted for any of these errors should be bereft of the diagnosis. This has implications not only for the index case but for its impact on the family's reproductive decisions. The Task Force consitituted by the Indian Council of Medical Research definitely feels that the high risk expanded screening program should be implemented for the sick newborns getting admitted in the Neonatal Intensive Care Units or the Sick Care Newborn Units.
Access options
Buy single article
Instant access to the full article PDF.
USD 39.95
Price excludes VAT (USA)
Tax calculation will be finalised during checkout.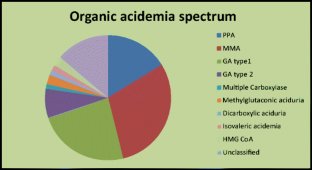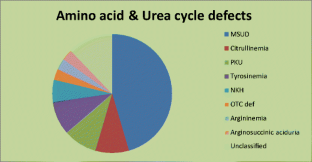 References
Rao BS, Subhash MN, Narayanan HS. Metabolic anomalies detected during a systematic biochemical screening of mentally retarded cases. Indian J Med Res. 1977;65:241–7.

Bhatt C, Misra Z, Goyel N. Detection of inherited metabolic diseases in children with mental handicap. Indian J Clin Biochem. 2008;23:10–6.

Swarna M, Jyothy A, Usha Rani P, Reddy PP. Amino acid disorders in mental retardation: a two-decade study from Andhra Pradesh. Biochem Genet. 2004;42:85–98.

Multicentric study on genetic causes of mental retardation in India. ICMR Collaborating Centres & Central Co-ordinating Unit. Indian J Med Res. 1991;94:161–9.

Jain S, Chowdhury V, Juneja M, et al. Intellectual disability in Indian children: experience with a stratified approach for etiological diagnosis. Indian Pediatr. 2013;50:1125–30.

Tikaria A, Kabra M, Gupta N, et al. Aetiology of global developmental delay in young children: experience from a tertiary care centre in India. Natl Med J India. 2010;23:324–9.

Narayanan MP, Kannan V, Vinayan KP, Vasudevan DM. Diagnosis of major organic acidurias in children: two years experience at a tertiary care centre. Indian J Clin Biochem. 2011;26:347–53.

Nagaraja D, Mamatha SN, De T, Christopher R. Screening for inborn errors of metabolism using automated electrospray tandem mass spectrometry: study in high-risk Indian population. Clin Biochem. 2010;43:581–8.

Heel to heal. Government of Goa. The Goa Newborn Screening Program 3 Year Review 2008–2011. Available at: http://www.dhsgoa.gov.in/documents/new_born.pdf. Accessed 24 May 2017.
Acknowledgements
Writing Group: Dr. Seema Kapoor, Dr. Madhulika Kabra, Dr. Neerja Gupta.
Steering Group: Late Dr. SS Aggarwal (Chairperson), Dr. I. C. Verma, Dr. Veena Kalra, Dr. Vasantha Muthuswamy and Dr. Vijay Kumar.
Co-Investigators:
AIIMS, New Delhi: Dr. Vinod Paul, Dr. Ashok Deorari, Dr. Sheffali Gulati, Dr. Ramesh Agarwal, Dr. Vandana Jain, Dr. Suman Vashishst, Dr. Suneeta Mittal;
MAMC, Delhi: Dr. AP Dubey, Dr. Siddharth Ramji, Dr. Sangeeta Yadav, Dr. Swaraj Batra, Dr. Sangeeta Gupta;
KEM Hospital, Mumbai: Dr. Keya Lahiri, Dr. Ruchi Nanavati;
MEDISCAN, Chennai: Dr. Sujatha Jagadeesh, Dr. Sudha Rathna Prabhu, Dr. K Saraswathi, Dr. Rathna Kumari;
IPGMER, Kolkata: Dr. Mitali Chatterjee, Dr. S. C. Biswas, Dr. Indranil Chakraborty, Dr. Tapas Som, Meena Jaishankar, Dr. Satinath Mukhopadhyay;
Sandor, Hyderabad: Dr. A. I. Dherai and Dr. Srimannarayana Rao;
NIMHANS, Bangalore: Dr. D. Nagaraja.
Special Thanks to Mrs. Esha Chopra, Dr. Pallavi Vats, Dr. Pallavi, Mr. Amit Juneja, Dr. Neerja Gupta, Dr. Sudha Ratna Prabhu, all staff in the project for its execution.
Indebted to: Late Dr. Taranath Shetty, NIMHANS, Bangalore and Late Dr. Suman Vashisht from AIIMS, New Delhi.
Contributions
ARRD, MK, SK, MM, AS, SS: Regional centres collected, analyzed the data and participated in patient care; RMP: Data coordination of the study; RM: Overall coordination of the study; PKN: Quality assurance; RC: Laboratory tests; SK, MK, RM, KM, RMP: Wrote the manuscript. SK and MM will act as guarantors of the paper.
Ethics declarations
Conflict of Interest
None.
Source of Funding
Indian Council of Medical Research.
About this article
Cite this article
ICMR Task Force on Inherited Metabolic Disorders. High Risk Stratified Neonatal Screening. Indian J Pediatr 85, 1050–1054 (2018). https://doi.org/10.1007/s12098-017-2545-4
Received:

Accepted:

Published:

Issue Date:

DOI: https://doi.org/10.1007/s12098-017-2545-4
Keywords