Bilateral Ptosis: A Rare Presentation of Hydrocephalus
To the Editor: Hydrocephalus is common in children and many varied causes are known to present with hydrocephalus ranging from congenital to infections, trauma, intraventricular bleed and tumors. In children it mainly manifests as bulging anterior fontanelle, macrocephaly, irritability, squinting of eyes, sun set sign, retraction of upper eyelids, vomiting, head-banging/ headache and in rare cases, as spastic paraplegia. Presentation as just ptosis is not very well known and there are only isolated case reports [1, 2, 3].
A 4-y-old boy, a known case of Tubercular meningitis (TBM) with hydrocephalus shunted 1 y ago presented with episodes of drooping of bilateral eye lids, headache, falls and irritability for few days, once in 2–3 wk for the last 2–3 mo. There was no history of vomiting, seizures, fever, altered sensorium or weakness in any limbs. There was no fatiguability or fluctuation in the degree of ptosis (Fig. 
1
a). Work-up during an episode revealed normal complete blood count, electrolytes, random blood sugar, liver function tests and electroencephalography (EEG). Magnetic resonance of the brain revealed enlarged lateral ventricles, third ventricle and normal 4th ventricle with ventriculo-peritoneal (VP) shunt in-situ (Fig.
1
b–d). The VP shunt was removed and inserted on the opposite side. Intra-operative findings revealed obstruction at the lower end of the shunt. CSF examination was normal. After 5-d, the ptosis improved and follow-up for 6 mo did not show any recurrence of ptosis.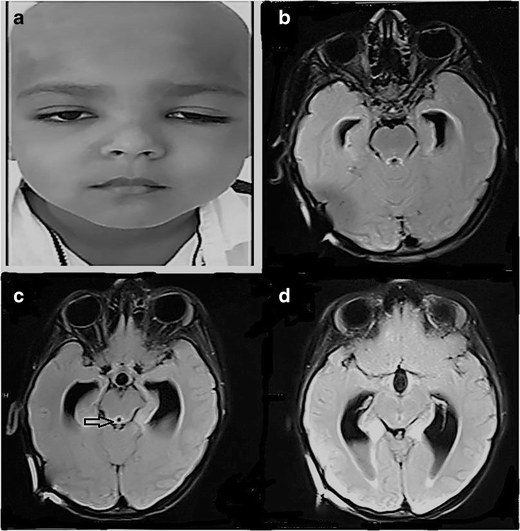 Bilateral ptosis as a presentation of hydrocephalus is not a well known described entity. Many pediatricians, pediatric surgeons, neurologists and neurosurgeons who deal with children suffering from hydrocephalus or are involved in following up of cases after shunt surgeries are not aware of this. In chronic hydrocephalus like in our case, a mild but sudden cerebrospinal fluid pressure change like that occurring at the time of minor head injury might induce functional impairment at the level of vulnerable periaqueductal structures and result in bilateral ptosis [1]. The fibers for the levator palpebrae superioris are in the midline in front of the aqueduct, thereby making them more vulnerable. The other possibility is bending/stretching of the third nerve due to ventriculomegaly [2]. Thus, it is important to realize that hydrocephalus can present as bilateral ptosis with or without weakness of ocular muscles.
Notes
Compliance with Ethical Standards
Conflict of Interest
None.
References
1.

Suzuki H, Matsubara T, Kanamaru K, Kojima T. Chronic hydrocephalus presenting with bilateral ptosis after minor head injury: case report. Neurosurgery. 2000;47:977–80.

CrossRef

PubMed

Google Scholar

2.

Cultrera F, D'Andrea M, Battaglia R, Chieregato A. Unilateral oculomotor nerve palsy: unusual sign of hydrocephalus. J Neurosurg Sci. 2009;53:67–70.

PubMed

Google Scholar

3.

Dadlani R, Dadlani R, Ghosal N, Hegde A. Occam's razor in the management of ventriculoperitoneal shunt dysfunction: diagnosis and management of an unusual pediatric case. Asian J Neurosurg. 2015;10:177–80.

CrossRef

PubMed

PubMedCentral

Google Scholar
Copyright information
© Dr. K C Chaudhuri Foundation 2017