Abstract
Objective
To determine relationship between serum zinc levels and severity of diarrhea as determined by hydration status, duration of diarrhea and requirement for hospitalization. Also, to compare serum zinc levels in relation to rotavirus status.
Methods
A prospective observational study which included 254 children aged 6 mo to 5 y with diarrhea was conducted.
Results
Serum zinc levels could be estimated in 198 children. Median (IQR) serum zinc levels of study population were 73.5 (59.11–92.86)μg/dl. Median (IQR) of serum zinc levels in children with dehydration and without dehydration were 69.64 (54.57–81.62) and 82.86 (64.1–103.48) μg/dl respectively (p < 0.001). Median (IQR) of serum zinc levels in hospitalised and non-hospitalished children were 63.28 (51.81–85.37) and 74.86 (61.75–95.78) μg/dl, respectively (p 0.013). Median (IQR) of total duration of diarrhea was 4.8 (3.5–6.0) d and it did not correlate with serum zinc levels. Median (IQR) of serum zinc levels in children, with rotavirus diarrhea was 66.8 (49.7–82.48) and non-rotavirus diarrhea was 80.0 (62.42–100.12) μg/dl (p < 0.001).
Conclusions
Children with dehydration and those with rotavirus diarrhea tend to have significantly lower serum zinc levels. Hospitalized children also have lower serum zinc levels than non-hospitalized children. Duration of diarrhea does not relate with serum zinc levels.
Access options
Buy single article
Instant access to the full article PDF.
USD 39.95
Price includes VAT (USA)
Tax calculation will be finalised during checkout.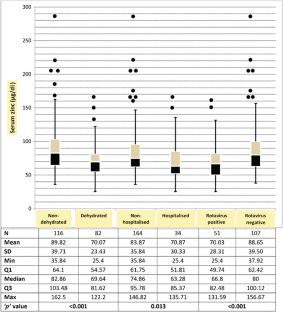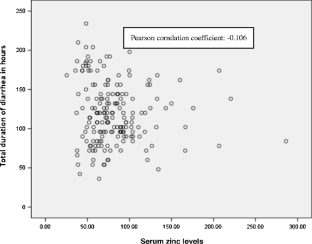 References
1.

Fontaine O. Effect of zinc on clinical course of acute diarrhea. J Health Popul Nutr. 2001;19:339–46.

2.

Shrimpton R. Zinc deficiency: what are the most appropriate interventions? BMJ. 2005;330:347–9.

3.

Arora R, Kulshreshtha S, Mohan G, Singh M, Sharma P. Estimation of serum zinc and copper in children with acute diarrhea. Biol Trace Elem Res. 2006;114:121–6.

4.

Arica S, Arica V, Dag H. Serum zinc levels in children of 0–24 months diagnosed with pneumonia admitted to our clinic. Int J Clin Exp Med. 2011;4:227–33.

5.

The Treatment of Diarrhea. A Manual for Physicians and Other Senior Health Workers. Geneva: World Health Organization; 2005.

6.

Bhandari N, Bahl R, Taneja S, et al. Substantial reduction in severe diarrheal morbidity by daily zinc supplementation in young north Indian children. Pediatrics. 2002;109:e86.

7.

Bitarakwate E, Mworozi E, Kekitiinwa A. Serum zinc status of children with persistent diarrhea admitted to the diarrhea management unit of Mulago hospital, Uganda. Afr Health Sci. 2003;3:54–60.

8.

Chaudhary S, Verma M, Dhawan V, et al. Plasma vitamin A, zinc and selenium concentrations in children with acute and persistent diarrhoea. J Diarrhoeal Dis Res. 1996;14:190–3.

9.

Strand TA, Adhikari RK, Chandyo RK, Sharma PR, Sommerfelt H. Predictors of plasma zinc concentrations in children with acute diarrhea. Am J Clin Nutr. 2004;79:451–6.

10.

Ji-ling X, Xiao-tai H. Serum zinc level of rotaviral enteritis in children and the significance of zinc treatment. J Pediatr Pharm. 2010;1. http://en.cnki.com.cn/Article_en/CJFDTOTALEKYX201001010.htm.
Ethics declarations
Conflict of Interest
None.
Source of Funding
None.
Additional information
CTRI Registration Number- CTRI/2012/12/003236.
About this article
Cite this article
Agarwal, A., Gupta, N.K., Upadhyay, A. et al. Serum Zinc Levels as a Predictor of Severity of Acute Diarrhea. Indian J Pediatr 85, 179–183 (2018). https://doi.org/10.1007/s12098-017-2493-z
Received:

Accepted:

Published:

Issue Date:
Keywords
Dehydration

Diarrhea

Duration

Rotavirus

Zinc levels