Nasal Dimple as a Rare Phenotype of Digeroge Syndrome: Revisited
To the Editor:
An eight month old female baby presented to us with focal seizure in form of twitching of mouth and abnormal movement of limbs. There was no history of fever, letharginess, any focal neurological deficit or ear discharge. There was a history of 2 siblings death with cardiac disease in infancy period. Examination revealed mild pallor, tachycardia and tachypnea, with enlarged liver suggestive of cardiac failure. Cardiac examination revealed pansystolic murmur of grade III/IV intensity in left lower parasternal area. Child had dysmorphic feature in the form of nasal tip depression and low set ears (Fig.
1
a and b). Such nasal tip depression was also present in previous two siblings who had died. Father's facial features also suggested mild nasal tip depression (Fig.
2
a and b). Biochemical parameters showed ionic calcium (0.5 mmol/L; Normal range: 2.2–2.6 mmol/L), blood sugar (94 mg/dl; Normal range: 60–110 mg/dl), PTH (5.6 pg/ml; Normal range: 14–72 pg/ml). Rest of the biochemical parameters were normal. USG neck was suggestive of thymic aplasia. 2D–Echo revealed perimembranous ventricular septal defect (VSD) of size 6.0 mm. Fluorescence in-situ hybridization (FISH) showed 22q11.2 deletion in proband and father.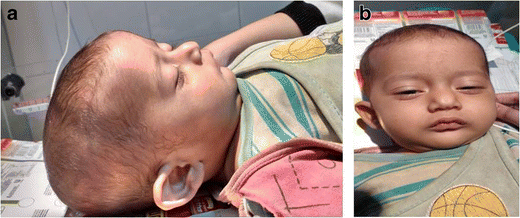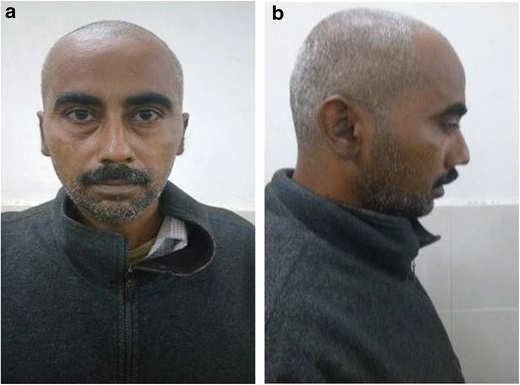 The index case presented with hypocalcemic seizures and cardiac failure in emergency with depressed tip of nose. Our case fits to the diagnosis of DiGeorge syndrome based on the presence of clinical findings and positive 22q11.2 deletion study. Nasal tip depression has been reported only in a few number of patients [1, 2, 3, 4]. Dyce et al. studied the otolaryngologic manifestations in a cohort of 102 patients with 22q11.2 deletion syndrome and found that nasal dimpling was present in 10% of patients (10 patients) as against other nasal abnormalities which were present in higher number of patients [5]. This is a rare phenotype of the most common deletion syndrome posing difficulty in suspecting and diagnosing this syndrome. We suspected the condition and confirmed the disorder with FISH. We treated the case (corrected hypocalcemia, treated for heart failure, counselled for VSD closure, screened for other systemic involvement) and provided the family with genetic counselling as this disorder carries 50% risk in next pregnancy. Presently the child is in follow-up and is doing well.
Notes
Compliance with Ethical Standards
Conflict of Interest
None.
Copyright information
© Dr. K C Chaudhuri Foundation 2017