Abstract
The authors report a case of congenital chloride diarrhea with molecular confirmation of diagnosis. A 10-mo-old boy presented with failure to thrive, voluminous diarrhea, dehydration, hyponatremia, hypokalemia, metabolic alkalosis and history of maternal polyhydramnios. The diagnosis of congenital chloride diarrhea was based on high fecal and low urinary chloride excretion, in addition to biochemical abnormalities. Genetic testing revealed a novel homozygous mutation in exon 4 of the SLC26A3 gene that encodes the protein regulating chloride bicarbonate absorption in distal ileum and colon. Therapy with oral fluids and electrolytes led to decrease in stool frequency and improvement in growth parameters.
This is a preview of subscription content,
to check access.
Access this article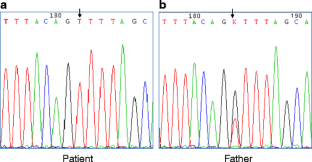 References
Höglund P, Haila S, Socha J, et al. Mutations of the down-regulated in adenoma gene cause congenital chloride diarrhea. Nat Genet. 1996;14:316–9.

Hoglund P, Auranen M, Socha J, et al. Genetic background of congenital chloride diarrhea in high-incidence populations: Finland, Poland, and Saudi Arabia and Kuwait. Am J Hum Genet. 1998;63:760–8.

Wedenoja S, Pekansaari E, Hoglund P, Makela S, Holmberg C, Kere J. Update on SLC26A3 mutations in congenital chloride diarrhea. Hum Mutat. 2011;32:715–22.

Parikh BN, Khubchandani RP, Amdekar YK, Ugra D, Patel A, Nardekar J. Congenital chloride diarrhea. Indian Pediatr. 1993;30:811–3.

Boopathy VS, Lalitha R, Jaleel AA. Antenatal diagnosis of congenital chloride diarrhea. Indian J Med Ultrasound. 1998;3&4:17–8.

Vora P, Jassawalla MJ, Bhalerao S, Nadkarni T. Congenital chloride diarrhea. JPGO. 2015. Available at: http://www.jpgo.org/2015/06/congenital-chloride-diarrhoea.html. Assessed 15 June 2015.

Flanagan SE, Patch AM, Ellard S. Using SIFT and PolyPhen to predict loss-of-function and gain-of-function mutations. Genet Test Mol Biomarkers. 2010;14:533–7.

Wedenoja S, Hoglund P, Holmberg C. Review article: the clinical management of congenital chloride diarrhea. Aliment Pharmacol Ther. 2009;31:477–85.

Alzahrani AK. Congenital chloride losing diarrhea. Pediatr Therapeut. 2014;4:193–7.
Acknowledgments
This study was supported by Korean Health Technology R&D Project (HI12C0014), Ministry of Health & Welfare, Republic of Korea.
Contributions
SB, DP, AS, PH and AB were involved in the clinical diagnosis and management. HC performed the sequencing of the gene SLC26A3. All authors were involved in preparation of the manuscript. AB will act as guarantor for this paper.
Ethics declarations
Conflict of Interest
None.
Source of Funding
None.
About this article
Cite this article
Bhardwaj, S., Pandit, D., Sinha, A. et al. Congenital Chloride Diarrhea – Novel Mutation in SLC26A3 Gene. Indian J Pediatr 83, 859–861 (2016). https://doi.org/10.1007/s12098-015-1944-7
Received:

Accepted:

Published:

Issue Date:

DOI: https://doi.org/10.1007/s12098-015-1944-7
Keywords