Abstract
Congenital clubfoot is one of the most common musculoskeletal deformities presenting at birth. Many high risk factors have been associated with clubfoot such as male gender, primiparous mothers and maternal smoking. Accurate understanding of clubfoot pathoanatomy is supposed to be the basis for deformity correction. Prenatal ultrasonography is of reference value in recognizing clubfoot during pregnancy. Neglected clubfoot can eventually cause a noticeable disability and severely influence the quality life in adulthood. Early recognition and treatment are presumed to be the key for prevention of late disabilities. Nowadays, Ponseti method, as one of the conservative treatment regimen, has been widely accepted because of the reported good results of long-term follow-up. However, special attention should be paid to the details in clinical practice for achieving even better correction and a lower rate of relapse. After the complete correction, brace wearing is critical for preventing deformity relapse. Non-compliance or non-adherence with the brace protocol has been considered as the predominant risk factor predisposing to the relapse of clubfoot, which is still a challenging problem. This paper was prepared to give a general introduction about clubfoot, in terms of the importance of early recognition and conservative management, especially Ponseti method, for preventing late disabilities.
Access options
Buy single article
Instant access to the full article PDF.
USD 39.95
Price includes VAT (USA)
Tax calculation will be finalised during checkout.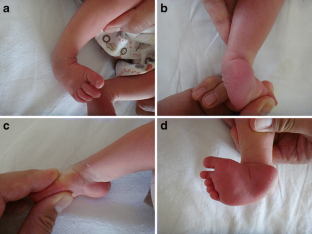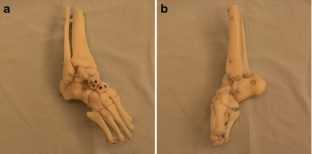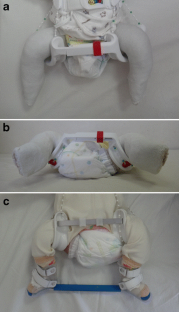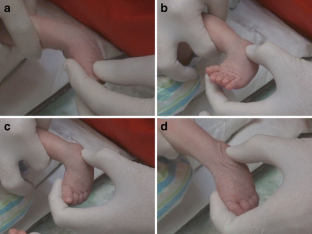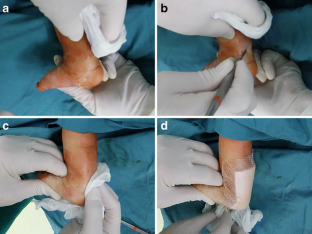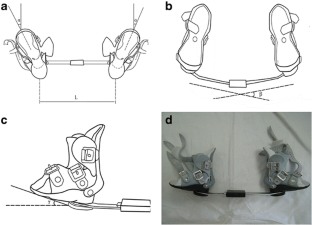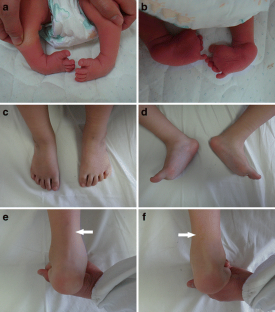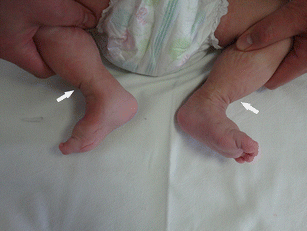 References
1.

Sullivan J. The child's foot Lovell and Winter's pediatric orthopedics. 4th ed. Philadelphia: Lippincott-Raven; 1996.

2.

Dietz F. The genetics of idiopathic clubfoot. Clin Orthop Relat Res. 2002;401:39–48.

3.

Wynne-Davies R. Genetic and environmental factors in the etiology of talipes equinovarus. Clin Orthop Relat Res. 1972;84:9–13.

4.

Parker SE, Mai CT, Strickland MJ, et al. Multistate study of the epidemiology of clubfoot. Birth Defects Res A Clin Mol Teratol. 2009;85:897–904.

5.

Wallander H, Hovelius L, Michaelsson K. Incidence of congenital clubfoot in Sweden. Acta Orthop. 2006;77:847–52.

6.

Miedzybrodzka Z. Congenital talipes equinovarus (clubfoot): a disorder of the foot but not the hand. J Anat. 2003;202:37–42.

7.

Dunn PM. Congenital postural deformities. Br Med Bull. 1976;32:71–6.

8.

Byron-Scott R, Sharpe P, Hasler C, et al. A South Australian population-based study of congenital talipes equinovarus. Paediatr Perinat Epidemiol. 2005;19:227–37.

9.

Carey M, Mylvaganam A, Rouse I, Bower C. Risk factors for isolated talipes equinovarus in Western Australia, 1980–1994. Paediatr Perinat Epidemiol. 2005;19:238–45.

10.

Werler MM, Yazdy MM, Mitchell AA, et al. Descriptive epidemiology of idiopathic clubfoot. Am J Med Genet A. 2013;161A:1569–78.

11.

Werler MM, Yazdy MM, Kasser JR, et al. Maternal cigarette, alcohol, and coffee consumption in relation to risk of clubfoot. Paediatr Perinat Epidemiol. 2015;29:3–10.

12.

Nguyen MC, Nhi HM, Nam VQ, Thanh Do V, Romitti P, Morcuende JA. Descriptive epidemiology of clubfoot in Vietnam: a clinic-based study. Iowa Orthop J. 2012;32:120–4.

13.

Kancherla V, Romitti PA, Caspers KM, Puzhankara S, Morcuende JA. Epidemiology of congenital idiopathic talipes equinovarus in Iowa, 1997–2005. Am J Med Genet A. 2010;152A:1695–700.

14.

Pavone V, Bianca S, Grosso G, et al. Congenital talipes equinovarus: an epidemiological study in Sicily. Acta Orthop. 2012;83:294–8.

15.

Ponseti IV, Smoley EN. The classic: congenital club foot: the results of treatment. 1963. Clin Orthop Relat Res. 2009;467:1133–45.

16.

Ponseti IV, Campos J. Observations on pathogenesis and treatment of congenital clubfoot. Clin Orthop Relat Res. 1972;84:50–60.

17.

Pirani S, Zeznik L, Hodges D. Magnetic resonance imaging study of the congenital clubfoot treated with the Ponseti method. J Pediatr Orthop. 2001;21:719–26.

18.

Treadwell MC, Stanitski CL, King M. Prenatal sonographic diagnosis of clubfoot: implications for patient counseling. J Pediatr Orthop. 1999;19:8–10.

19.

Bar-On E, Mashiach R, Inbar O, Weigl D, Katz K, Meizner I. Prenatal ultrasound diagnosis of club foot: outcome and recommendations for counselling and follow-up. J Bone Joint Surg (Br). 2005;87:990–3.

20.

Glotzbecker MP, Estroff JA, Spencer SA, et al. Prenatally diagnosed clubfeet: comparing ultrasonographic severity with objective clinical outcomes. J Pediatr Orthop. 2010;30:606–11.

21.

Radler C, Myers AK, Burghardt RD, Arrabal PP, Herzenberg JE, Grill F. Maternal attitudes towards prenatal diagnosis of idiopathic clubfoot. Ultrasound Obstet Gynecol. 2011;37:658–62.

22.

Carroll NC. Clubfoot in the twentieth century: where we were and where we may be going in the twenty-first century. J Pediatr Orthop B. 2012;21:1–6.

23.

Cooper DM, Dietz FR. Treatment of idiopathic clubfoot. A thirty-year follow-up note. J Bone Joint Surg Am. 1995;77:1477–89.

24.

Morcuende JA, Dolan LA, Dietz FR, Ponseti IV. Radical reduction in the rate of extensive corrective surgery for clubfoot using the Ponseti method. Pediatrics. 2004;113:376–80.

25.

Dobbs MB, Nunley R, Schoenecker PL. Long-term follow-up of patients with clubfeet treated with extensive soft-tissue release. J Bone Joint Surg Am. 2006;88:986–96.

26.

Bensahel H, Guillaume A, Czukonyi Z, Desgrippes Y. Results of physical therapy for idiopathic clubfoot: a long-term follow-up study. J Pediatr Orthop. 1990;10:189–92.

27.

Dobbs MB, Morcuende JA, Gurnett CA, Ponseti IV. Treatment of idiopathic clubfoot: an historical review. Iowa Orthop J. 2000;20:59–64.

28.

Ippolito E, Farsetti P, Caterini R, Tudisco C. Long-term comparative results in patients with congenital clubfoot treated with two different protocols. J Bone Joint Surg Am. 2003;85-A:1286–94.

29.

Seringe R, Atia R. Idiopathic congenital club foot: results of functional treatment (269 feet). [Article in French]. Rev Chir Orthop Reparatrice Appar Mot. 1990;76:490–501.

30.

Shabtai L, Specht SC, Herzenberg JE. Worldwide spread of the Ponseti method for clubfoot. World J Orthop. 2014;5:585–90.

31.

Dobbs MB, Rudzki JR, Purcell DB, Walton T, Porter KR, Gurnett CA. Factors predictive of outcome after use of the Ponseti method for the treatment of idiopathic clubfeet. J Bone Joint Surg Am. 2004;86-A:22–7.

32.

Abdelgawad AA, Lehman WB, Van Bosse HJP, Scher DM, Sala DA. Treatment of idiopathic clubfoot using the Ponseti method: minimum 2-year follow-up. J Pediatr Orthop B. 2007;16:98–105.

33.

Zhao D, Li H, Zhao L, Liu J, Wu Z, Jin F. Results of clubfoot management using the Ponseti method: do the details matter? A systematic review. Clin Orthop Relat Res. 2014;472:1329–36.

34.

Iltar S, Uysal M, Alemdaroglu KB, Aydogan NH, Kara T, Atlihan D. Treatment of clubfoot with the Ponseti method: should we begin casting in the newborn period or later? J Foot Ankle Surg. 2010;49:426–31.

35.

Zhao D, Rao W, Zhao L, et al. Is it worthwhile to screen the hip in infants born with clubfeet? Int Orthop. 2013;37:2415–20.

36.

Cosma D, Vasilescu DE. A clinical evaluation of the Pirani and Dimeglio idiopathic clubfoot classifications. J Foot Ankle Surg. 2015;54:582–5.

37.

Ponseti IV. Congenital clubfoot: fundamentals of treatment. Oxford: Oxford University Press; 1996.

38.

Palma M, Cook T, Segura J, Mayo L, Morcuende JA. Barriers to the Ponseti method in Peru: a two-year follow-up. Iowa Orthop J. 2013;33:172–7.

39.

Nogueira MP, Farcetta M, Fox MH, Miller KK, Pereira TS, Morcuende JA. Treatment of congenital clubfoot with the Ponseti method: the parents' perspective. J Pediatr Orthop B. 2013;22:583–8.

40.

Avilucea FR, Szalay EA, Bosch PP, Sweet KR, Schwend RM. Effect of cultural factors on outcome of Ponseti treatment of clubfeet in rural America. J Bone Joint Surg Am. 2009;91:530–40.

41.

Chen RC, Gordon JE, Luhmann SJ, Schoenecker PL, Dobbs MB. A new dynamic foot abduction orthosis for clubfoot treatment. J Pediatr Orthop. 2007;27:522–8.

42.

Kessler JI. A new flexible brace used in the Ponseti treatment of talipes equinovarus. J Pediatr Orthop B. 2008;17:247–50.

43.

Saetersdal C, Fevang JM, Fosse L, Engesaeter LB. Good results with the Ponseti method: a multicenter study of 162 clubfeet followed for 2–5 years. Acta Orthop. 2012;83:288–93.
Contributions
YL was responsible for searching the literature and drafting the manuscript, DZ did the data collection and drafted the part of the manuscript, LZ planned this review and formatted the manuscript, HL did literature reading and analysis, and XY did data collection and interpretated the clinical relevance. YL and DZ contributed equally to this article.
Conflict of Interest
None.
Source of Funding
None.
About this article
Cite this article
Liu, Y., Zhao, D., Zhao, L. et al. Congenital Clubfoot: Early Recognition and Conservative Management for Preventing Late Disabilities. Indian J Pediatr 83, 1266–1274 (2016). https://doi.org/10.1007/s12098-015-1860-x
Received:

Accepted:

Published:

Issue Date:
Keywords
Clubfoot

Early recognition

Ponseti method

Disability prevention