Abstract
Immune thrombocytopenia (ITP) continues to intrigue pediatricians and hematologists alike. Patients can have a dramatic presentation with wide-spread bleeds over a few days. There is an aura and fear of intra-cranial hemorrhage that drives the physician to recommend and the patient's family to accept drug treatment. Difference of opinion among physicians in the recommendations for treatment is not uncommon, even though recent evidence-based guidelines recommend a conservative, observation-based approach for the majority of patients with newly diagnosed childhood ITP. It is important to note that a specific 'platelet cut-off count', is no longer suggested as an indication by itself to recommend drug therapy. The manuscript is an update on newly diagnosed ITP in children. Recent changes in definitions and recommendations for treatment are highlighted. Pros and cons of 1st line drugs, including corticosteroids, intravenous immunoglobulin and anti-D are listed. Adjunctive therapies for the management of epistaxis and menorrhagia are described. Role of splenic artery embolization and emergency splenectomy in the backdrop of severe thrombocytopenia is discussed. Realistic case scenarios, common errors and frequently asked questions are included for a practical and easy reading.
Access options
Buy single article
Instant access to the full article PDF.
US$ 39.95
Tax calculation will be finalised during checkout.
Subscribe to journal
Immediate online access to all issues from 2019. Subscription will auto renew annually.
US$ 79
Tax calculation will be finalised during checkout.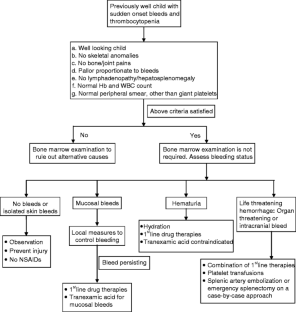 References
1.

Neunert C, Lim W, Crowther M, Cohen A, Solberg L, Crowther MA; American Society of Hematology. The American Society of Hematology 2011 evidence-based practice guideline for immune thrombocytopenia. Blood. 2011;117:4190–207.

2.

Rodeghiero F, Stasi R, Gernsheimer T, Michel M, Provan D, Arnold DM, et al. Standardization of terminology, definitions and outcome criteria in immune thrombocytopenic purpura of adults and children: Report from an international working group. Blood. 2009;113:2386–93.

3.

Bansal D, Bhamare TA, Trehan A, Ahluwalia J, Varma N, Marwaha RK. Outcome of chronic idiopathic thrombocytopenic purpura in children. Pediatr Blood Cancer. 2010;54:403–7.

4.

Blanchette V, Bolton-Maggs P. Childhood immune thrombocytopenic purpura: Diagnosis and management. Hematol Oncol Clin North Am. 2010;24:249–73.

5.

O'Leary ST, Glanz JM, McClure DL, Akhtar A, Daley MF, Nakasato C, et al. The risk of immune thrombocytopenic purpura after vaccination in children and adolescents. Pediatrics. 2012;129:248–55.

6.

Bansal D, Oberoi S, Marwaha RK, Singhi SC. Approach to a child with bleeding in the emergency room. Indian J Pediatr. 2013;80:411–20.

7.

Kühne T, Buchanan GR, Zimmerman S, Michaels LA, Kohan R, Berchtold W, et al; Intercontinental Childhood ITP Study Group. A prospective comparative study of 2540 infants and children with newly diagnosed idiopathic thrombocytopenic purpura (ITP) from the Intercontinental Childhood ITP Study group. J Pediatr. 2003;143:605–8.

8.

Kühne T, Imbach P, Bolton-Maggs PHB, Berchtold W, Blanchette V, Buchanan GR. Intercontinental Childhood ITP Study Group. Newly diagnosed idiopathic thrombocytopenic purpura in childhood: An observational study. Lancet. 2001;358:2122–5.

9.

Wilson DB. Acquired platelet defects. In: Nathan DG, Orkin SH, Ginsburg D, Look AT, eds. Nathan and Oski's Hematology of Infancy and Childhood. 7th ed. Philadelphia: WB Saunders Company; 2009. pp. 1557–66.

10.

Lileyman JS. On behalf of the pediatric hematology forum of the British society of hematology. Intracranial hemorrhage in idiopathic thrombocytopenic purpura. Arch Dis Child. 1994;72:251–3.

11.

Oberoi S. Bansal D. ABC of CBC. In: Hooja S, Aggarwal A, Aggarwal A, eds. Jaipur: Souvenir Pedicon; 2011. pp. 24–7.

12.

The Indian Society of Hematology and Blood Transfusion (ISHBT) Consensus Guidelines for Immune Thrombocytopenia. Nov 2011. Version 1.0. Available from: http://ishbt.org/wp-content/uploads/guide.pdf.

13.

Bansal D. Childhood chronic ITP. Pediatr Blood Cancer. 2011;56:875.

14.

Khunhausen S, Nichols DJ, Noonan N, et al. Epistaxis Procedure, Children's Hospital Oakland Department of Nursing. Poster presented at: Association of Pediatric Oncology Nurses Conference Philadelphia, 2003; Philadelphia.

15.

Agrawal AK, Hastings CA, Feusner J. Hematologic supportive care for children with cancer. In: Pizzo PA, Poplack DG, eds. Principles and Practice of Pediatric Oncology. 6th ed. Philadelphia: Williams & Wilkins; 2011. pp. 1167–8.

16.

Biggs TC, Nightingale K, Patel NN, Salib RJ. Should prophylactic antibiotics be used routinely in epistaxis patients with nasal packs? Ann R Coll Surg Engl. 2013;95:40–2.

17.

Qureishi A, Burton MJ. Interventions for recurrent idiopathic epistaxis (nosebleeds) in children. Cochrane Database Syst Rev. 2012;9:CD004461.

18.

Rodeghiero F. Management of menorrhagia in women with inherited bleeding disorders: General principles and use of desmopressin. Haemophilia. 2008;14:S21–30.

19.

Ahuja SP, Hertweck SP. Overview of bleeding disorders in adolescent females with menorrhagia. J Pediatr Adolesc Gynecol. 2010;23:S15–21.

20.

Ramesh Kumar R, Singhi SC, Singhi P. Raised Intracranial Pressure (ICP): Management in emergency department. Indian J Pediatr. 2012;79:518–24.

21.

Madoff DC, Denys A, Wallace MJ, Murthy R, Gupta S, Pillsbury EP, et al. Splenic arterial interventions: Anatomy, indications, technical considerations, and potential complications. Radiographics. 2005;25:S191–211.

22.

Puapong D, Terasaki K, Lacerna M, Applebaum H. Splenic artery embolization in the management of an acute immune thrombocytopenic purpura related intracranial hemorrhage. J Pediatr Surg. 2005;40:869–71.

23.

Wu Z, Zhou J, Pankaj P, Peng B. Laparoscopic splenectomy for immune thrombocytopenia (ITP) patients with platelet counts lower than 1×109/L. Int J Hematol. 2011;94:533–8.

24.

Sharma SK, Gupta N, Seth T, Srinivas M, Mishra P, Mahapatra M. Successful management of refractory chronic immune thrombocytopenia with intracranial hemorrhage by emergency splenectomy. Indian J Pediatr. 2012;79:397–8.

25.

Barnes C, Blanchette V, Canningyand P, Carcao M. Recombinant FVIIa in the management of intracerebral haemorrhage in severe thrombocytopenia unresponsive to platelet-enhancing treatment. Transfus Med. 2005;15:145–50.

26.

Kime C, Klima J, Rose MJ, O'Brien SH. Patterns of inpatient care for newly diagnosed immune thrombocytopenia in US children's hospitals. Pediatrics. 2013;131:880–5.

27.

Grainger JD, Rees JL, Reeves M, Bolton-Maggs PHB. Changing trends in the UK management of childhood ITP. Arch Dis Child. 2012;97:8–11.

28.

Psaila B, Petrovic A, Page LK, Menell J, Schonholz M, Bussel JB. Intracranial hemorrhage in children with immune thrombocytopenia: Study of 40 cases. Blood. 2009;114:4777–83.

29.

Buchanan GR. Bleeding signs in children with idiopathic thrombocytopenic purpura. J Pediatr Hematol Oncol. 2003;25:S42–6.

30.

Yewale V, Choudhury P, Thacker N, eds. IAP guide book on immunization: Immunization in special circumstances, 2010. pp. 143–50. Available from: http://www.iapcoi.com/hp/iap_guidebook.php

31.

Meyer O, Kiesewetter H, Hermsen M, Salama A. Efficacy and safety of anti-D given by subcutaneous injection to patients with autoimmune thrombocytopenia. Eur J Haematol. 2004;73:71–2.

32.

Trebo MM, Frey E, Gadner H, Minkov M. Subcutaneous anti-D globulin application is a safe treatment option of immune thrombocytopenia in children. Ann Hematol. 2010;89:415–8.

33.

D'Orazio JA, Neely J, Farhoudi N. ITP in children: Pathophysiology and current treatment approaches. J Pediatr Hematol Oncol. 2013;35:1–13.

34.

Rajendran A, Bansal D. ITP: The dilemma of treatment. J Pediatr Hematol Oncol. 2013. [Epub ahead of print]
Conflict of Interest
None.
Role of Funding Source
None.
About this article
Cite this article
Bansal, D., Rajendran, A. & Singhi, S. Newly Diagnosed Immune Thrombocytopenia: Update on Diagnosis and Management. Indian J Pediatr 81, 1033–1041 (2014). https://doi.org/10.1007/s12098-013-1217-2
Received:

Accepted:

Published:

Issue Date:
Keywords
Acute ITP

Bone marrow

Idiopathic thrombocytopenic purpura

Tranexamic acid