Abstract
Objectives
To develop iron rich snacks using locally available iron rich foods and analyze their iron content when cooked in iron pots. Further, the efficacy of the developed snacks, cooked in iron pots was examined on the hemoglobin status of pre-school children through a three month randomized trial.
Methods
Four iron rich snacks (mean iron content 2.1mg/serving) were cooked in iron pots and 27 preschool children (mean age 2.9 ± 0.9 y, 12 boys) were supplemented with the snacks for 4 mo. Anthropometry and dietary intake data were collected. Hemoglobin, serum iron and transferrin saturation were assessed.
Results
An increase of 16.2 % in the iron content was found in the snacks cooked in iron pots than cooked in Teflon coated non-stick pots. After 4 mo of supplementation, a significant increase of 7.9 % was seen in the hemoglobin of the children.
Conclusion
This pilot study demonstrated that iron rich recipes cooked in iron pot have a beneficial effect on iron status of children. Therefore, such food based strategies have the potential to alleviate iron deficiency anemia not only in children but also in other vulnerable sections of society like in pregnant women.
Access options
Buy single article
Instant access to the full article PDF.
US$ 39.95
Tax calculation will be finalised during checkout.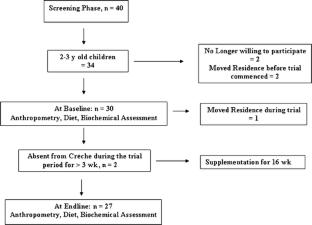 References
1.

Mason J, Bailes A, Beda-Andourou M, Copeland N, Curtis T, Deitchler M, et al. Recent trends in malnutrition in developing regions: Vitamin A deficiency, anemia, iodine deficiency, and child underweight. Food Nutr Bull. 2005;26:59–108.

2.

UNICEF and the micronutrient initiative. Vitamin & Mineral Deficiency: A Global Progress Report. Blue Ridge Summit, PA: United Nations Publications; 2004. pp. 17–8.

3.

de Benoist B, McLean E, Egli I, Cogswell M. Worldwide prevalence of anaemia 1993–2005: WHO global database on anaemia. WHO and CDC; 2008.

4.

Kapil U, Bhavna A. Adverse effects of poor micronutrient status during childhood and adolescence. Nutr Rev. 2002;60:S84–90.

5.

Institute of Medicine. Food and Nutrition Board. Dietary reference intakes for vitamin A, vitamin K, arsenic, boron, chromium, copper, iodine, iron, manganese, molybdenum, nickel, silicon, vanadium and zinc. Washington, DC: The National Academies Press; 2001.

6.

Gibson SA. Iron intake and iron status of preschool children: Associations with breakfast cereals, vitamin C and meat. Public Health Nutr. 1999;2:521–8.

7.

Huybrechts I, Lin Y, De Keyzer W, Matthys C, Harvey L, Meirhaeghe A, et al. Intake and dietary sources of haem and non-haem iron in Flemish preschoolers. Eur J Clin Nutr. 2012; doi:10.1038/ejcn.2012.16. Epub ahead of print.

8.

Ekbote VH, Khadilkar AV, Chiplonkar SA, Khadilkar VV. Determinants of bone mineral content and bone area in Indian preschool children. J Bone Miner Metab. 2011;29:334–41. Epub 2010 Oct 13.

9.

Singh I, Grover K. Nutritional profile of urban preschool children of Punjab. Anthropologist. 2003;5:149–53.

10.

Kaur P, Dahiya S, Rana MK. Food and nutrient intake of pre-school children (2–6 year) of sonepat district. J Dairy Foods Home Sci. 2007;26:141–6.

11.

Brittin HC, Nossaman CE. Iron content of food cooked in iron utensils. J Am Diet Assoc. 1986;86:897–901.

12.

Zhou YD, Brittin HC. Increased iron content of some Chinese foods due to cooking in steel woks. J Am Diet Assoc. 1994;94:1153–6.

13.

Kakade V, Agte V. Effect of using iron utensils vis-a-vis teflon-coated non-stick wares on ionizable iron content of traditional vegetarian foods. J Food Sci Technol. 1997;34:427–30.

14.

Hallberg L, Björn-Rasmussen E, Rossander L, Suwanik R, Pleehachinda R, Tuntawiroon M. Iron absorption from some Asian meals containing contaminated iron. Am J Clin Nutr. 1983;37:272–7.

15.

Raghuramulu N, Nair KM, Kalyanasundaram S. A manual of laboratory techniques. 2nd ed. Hyderabad: National Institute of Nutrition (ICMR); 2003.

16.

AOAC (Association of Official Analytical Chemists). Official method, 979.09, protein (crude) in animal feed. In: Horwitz W, ed. Official Methods of Analysis of the Association of Official Analytical Chemists. 17th ed. Gaithersburg: AOAC International; 2000.

17.

Guinard J-X. Sensory and consumer testing with children. Trends Food Sci Technol. 2000;11:273–83.

18.

Srilakshmi B. Evaluation of food quality. In: Srilakshmi B, ed. Food Science. New Delhi: New Age International (P) Limited; 2003. pp. 280–312.

19.

Stoltzfus RJ, Dreyfuss ML; International Nutritional Anemia Consultative Group (INACG), World Health Organization (WHO), United Nations Childrens Fund (UNICEF). Guidelines for the Use of Iron Supplements to Prevent and Treat Iron Deficiency Anemia. Washington: ILSI Press; 1998.

20.

de Onis M, Garza C, Onyango AW, Martorell R. WHO child growth standards. Acta Pediatr Suppl. 2006;450:5–101.

21.

Gopalan C, Ramasastri BV, Balasubramanian SC. Nutritive value of Indian food. Hyderabad, Inda: Indian Council of Medical Research, National Institute of Nutrition; 1998.

22.

Chiplonkar SA, Agte VV. Extent of error in estimating nutrient intakes from food tables versus laboratory estimates of cooked foods. Asia Pac J Clin Nutr. 2007;16:227–39.

23.

A Report of the Expert Group of the Indian Council of Medical Research. Nutrient requirements and recommended dietary allowances for Indians. Hyderabad, India: National Institute of Nutrition; 2009. pp. 332.

24.

WHO. Iron Deficiency Anaemia: Assessment, Prevention and Control: A guide for Programme Managers. Geneva: World Health Organization; 2001.

25.

Hanumante NM, Kanvinde S, Sanwalka NJ, Vaidya MV, Khadilkar AV. Iron deficiency anemia in an urban slum. Indian J Pediatr. 2008;75:355–7.

26.

Gera T, Sachdev HP, Nestel P, Sachdev SS. Effect of iron supplementation on haemoglobin response in children: Systematic review of randomised controlled trials. J Pediatr Gastroenterol Nutr. 2007;44:468–86.

27.

Adish AA, Esrey SA, Gyorkos TW, Jean-Baptiste J, Rojhani A. Effect of consumption of food cooked in iron pots on iron status and growth of young children: A randomised trial. Lancet. 1999;353:712–6.

28.

Desai MR, Dhar R, Rosen DH, Kariuki SK, Shi YP, Kager PA, et al. Daily iron supplementation is more efficacious than twice weekly iron supplementation for the treatment of childhood anemia in western Kenya. J Nutr. 2004;134:1167–74.

29.

Yip R, Ramakrishnan U. Experiences and challenges in developing countries. J Nutr. 2002;132:827S–30.

30.

World Health Organization, Centers for Disease Control and Prevention. Assessing the iron status of populations. 2nd ed. Geneva: WHO; 2007.

31.

Raiten DJ, Namasté S, Brabin B. Considerations for the safe and effective use of iron interventions in areas of malaria burden - executive summary. Int J Vitam Nutr Res. 2011;81:57–71.
Acknowledgments
The authors thank the participating toddlers, their parents and entire staff of Govind Bal-Sanskar Kendra. They are grateful to Ms. Shamim Momin, Neha Kajale, Ms. Poornima, Mrs. Kalpana Mukherjee, Mrs. Kalpana Shinde for their help during the pilot study. They are grateful to Mr. S. Pancharatnam of Panchsheel Filters, Chinchwad, Pune for funding the project. They are also thankful to Dr. Divate, Director HCJMRI for helping with the pilot study.
Conflict of Interest
None.
Role of Funding Source
This project was funded by Panchsheel Filters, Chinchwad, Pune.
About this article
Cite this article
Kulkarni, S.A., Ekbote, V.H., Sonawane, A. et al. Beneficial Effect of Iron Pot Cooking on Iron Status. Indian J Pediatr 80, 985–989 (2013). https://doi.org/10.1007/s12098-013-1066-z
Received:

Accepted:

Published:

Issue Date:
Keywords
Anemia in Indian children

Iron deficiency anemia

Iron pot cooking

Iron rich foods