Abstract
Objectives
To follow up the school/educational status of children with a primary diagnosis of Autism Spectrum Disorders (ASD), who had been enrolled in an Early Intervention (EI) program for 1–3 y, before the age of 6.
Methods
Data was collected through a questionnaire covering three specific areas—the families' success in following the recommendation given on completion of the EI program, issues in schooling and feedback on the EI program. The contact modes included email, post, telephonic interviews and face-to-face interviews.
Results
One hundred and two of the 296 children responded to the questionnaire. The responses were analyzed to identify, the number of families who had completed the program and were able to follow through with the recommendation given on completion of the EI program, difficulties faced if any, family feedback on the program and the additional help that they would have liked to receive. The reasons for failure to comply with the recommendations were analyzed. Of the 102 children who responded seven had dropped out midway through the program and 10 had discontinued after one year. Of the remaining 85 who completed the program, 71 were advised mainstreaming (83.5 %) and 14 were advised special school (16.5 %). Sixty-five of the 71 children, who were advised to enroll their child in the mainstream, were in regular school. 76.5 % of the children who completed the EI program were integrated in regular schools, 2 to 7 y after having completed the program.
Conclusions
EI helps in enrolment and retention of substantial numbers of children with ASD in mainstream schools.
Access options
Buy single article
Instant access to the full article PDF.
US$ 39.95
Tax calculation will be finalised during checkout.
Subscribe to journal
Immediate online access to all issues from 2019. Subscription will auto renew annually.
US$ 79
Tax calculation will be finalised during checkout.
References
1.

Guralnick MJ. The effectiveness of early intervention for vulnerable children: A developmental perspective. AJMR. 1998;102:319–45.

2.

Rogers SJ. Empirically supported comprehensive treatments for young children with autism. J Clin Child Psychol. 1998;27:168–79.

3.

Szatmari P. Heterogeneity and the genetics of autism. J Psychiatry Neurosci. 1998;24:159–65.

4.

Smith T. Outcome of early intervention for children with autism. Clin Psychol Sci Prac. 1999;6:33–49.

5.

Birnbauer JS, Leach DJ. The Murdoch early intervention programme after 2 years. Behav Change. 1993;10:63–74.

6.

Jocelyn LJ, Casiro OG, Beattie D, Bow J, Kneisz J. Treatment of children with autism: A randomized controlled trial to evaluate a caregiver-based intervention program in community day-care centers. JDBP. 1998;19:326–34.

7.

National Research Council. Educating children with autism. Committee on educational interventions for children with autism. In: Lord C, McGee JP, eds. Division of behavioral and social sciences and education. Washington: National Academy Press; 2001.

8.

Dawson G, Rogers S, Dawson JM. Randomized, controlled trial of an intervention for toddlers with autism: The early start Denver model. Pediatrics. 2009; doi:10.1542/peds.2009-0958.

9.

Practice parameter for the assessment and treatment of children, adolescents, and adults with autism and other pervasive developmental disorders. J Am Acad Child Adolesc Psychiatry. 1999;38:32S–54S.

10.

Karanth P, Srikanth N, Roche A, et al. The Com DEALL program & Com DEALL intervention manuals for toddlers & preschoolers. Bangalore: The Com DEALL Trust, 2008; 2010. p. 1–10.

11.

Karanth P, Shaista S, Srikanth N. Efficacy of communication DEALL—an indigenous early intervention program for children with autism spectrum disorders. Indian J Pediatr. 2010;77:957–62.

12.

Hume K, Bellini S, Pratt C. The usage and perceived outcomes of early intervention and early childhood programs for young children with autism spectrum disorder. Topics Early Child Spec Educ. 2006;25:195–207.

13.

Karanth P. Communication DEALL developmental checklists. Bangalore: Communication DEALL Trust; 2007.

14.

Schwartz IS, Davis CA. Early intervention for children with autism spectrum disorder. IMPACT—Supporting success in school and beyond for students with autism spectrum disorders. University of Minnesota, Institute on Community Integration. 2006/7;19:14–5.
Acknowledgments
The authors would like to thank Navajbai Ratan Tata Trust for providing the financial support to employ a research assistant for this study. They would like to thank Lathina Lawrence who served as the Research Assistant for collection of data, Dr Subbakrishna for guidance in statistical analysis and all of the staff of Com DEALL at Bangalore—past and present for their contribution to the success of the children.
Conflict of Interest
None.
Role of Funding Source
Funding was provided to cover the salary of the Research Assistant employed for the project.
Appendix 1
Appendix 1
Follow up questionnaire- 1 -
Dear Mr. & Mrs.,
Greetings from The Com DEALL Trust!
We trust this letter finds both of you and your child, well.
We, at the Com DEALL Trust are interested in following up the overall progress of the children who were enrolled in our program, since its inception in November 2000; in order to strengthen the program further with your feedback. We would be grateful if you would please take a few moments to fill out the follow up questionnaire. Your feedback is important to us. Thank you in advance for your time and input.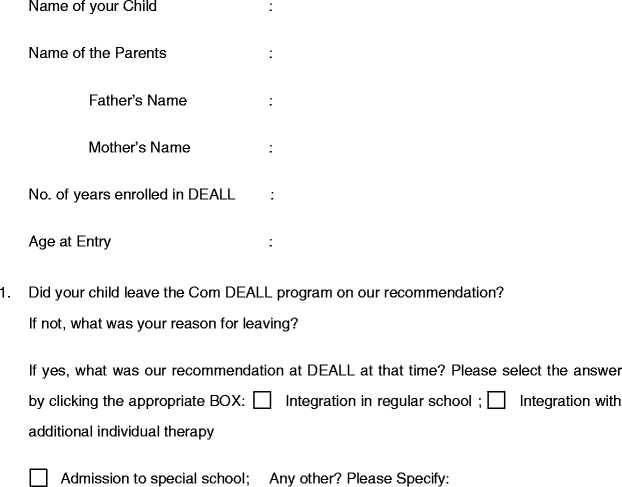 About this article
Cite this article
Karanth, P., Chandhok, T.S. Impact of Early Intervention on Children with Autism Spectrum Disorders as Measured by Inclusion and Retention in Mainstream Schools. Indian J Pediatr 80, 911–919 (2013). https://doi.org/10.1007/s12098-013-1014-y
Received:

Accepted:

Published:

Issue Date:
Keywords
Autism

Early intervention

Impact

Mainstreaming