Abstract
Vomiting is a protective reflex that results in forceful ejection of stomach contents up to and out of the mouth. It is a common complaint and may be the presenting symptom of several life-threatening conditions. It can be caused by a variety of organic and nonorganic disorders; gastrointestinal (GI) or outside of GI. Acute gastritis and gastroenteritis (AGE) are the leading cause of acute vomiting in children. Important life threatening causes in infancy include congenital intestinal obstruction, atresia, malrotation with volvulus, necrotizing enterocolitis, pyloric stenosis, intussusception, shaken baby syndrome, hydrocephalus, inborn errors of metabolism, congenital adrenal hypoplasia, obstructive uropathy, sepsis, meningitis and encephalitis, and severe gastroenteritis, and in older children appendicitis, intracranial mass lesion, diabetic ketoacidosis, Reye's syndrome, toxic ingestions, uremia, and meningitis. Initial evaluation is directed at assessment of airway, breathing and circulation, assessment of hydration status and red flag signs (bilious or bloody vomiting, altered sensorium, toxic/septic/apprehensive look, inconsolable cry or excessive irritability, severe dehydration, concern for symptomatic hypoglycemia, severe wasting, Bent-over posture). The history and physical examination guides the approach in an individual patient. The diverse nature of causes of vomiting makes a "routine" laboratory or radiologic screen impossible. Investigations (Serum electrolytes and blood gases,renal and liver functions and radiological studies) are required in any child with dehydration or red flag signs, to diagnose surgical causes. Management priorities include treatment of dehydration, stoppage of oral fluids/feeds and decompression of the stomach with nasogastric tube in patients with bilious vomiting. Antiemetic ondansetron(0.2 mg/kg oral; parenteral 0.15 mg/kg; maximum 4 mg) is indicated in children unable to take orally due to persistent vomiting, post-operative vomiting, chemotherapy induced vomiting, cyclic vomiting syndrome and acute mountain sickness.
Access options
Buy single article
Instant access to the full article PDF.
USD 39.95
Price excludes VAT (USA)
Tax calculation will be finalised during checkout.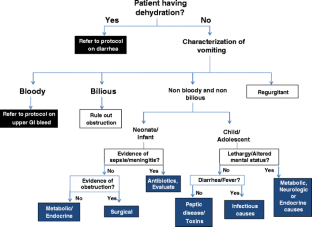 References
Taylor AT. Nausea and vomiting. In: DiPiro JT, Talbert RL, Yee G, et al., eds. Pharmacotherapy, a pathophysiologic approach. 4th ed. Stanford: Appleton & Lange; 1999. pp. 586–96.

Li BU, Sunku BK. Vomiting and Nausea in Pediatric Gastrointenstinal and Liver Disease. In: Wyllie R, Hyams JS, eds. Pathophysiology/Diagnosis/Management. 3rd ed. Philadelphia: Saunders; 2006. pp. 127–49.

Amarilyo G, Alper A, Ben-Tov A, Grisaru-Soen G. Diagnostic accuracy of clinical symptoms and signs in children with meningitis. Pediatr Emerg Care. 2011;27:196–9.

Hyman PE, Milla PJ, Bnenninga MA, Davidson GP, Fleisher DF, Taminiau J. Childhood functional gastrointestinal disorders: neonate/toddler. Gastroenetrology. 2006;130:1519–26.

Craig WR, Hanlon-Dearman A, Sinclair C, Taback S, Moffatt M. Metoclopramide, thickened feedings, and positioning for gastro-oesophageal reflux in children under two years. Cochrane Database Syst Rev. 2004;4:CD003502.

Dunning J, Batchelor J, Stratford-Smith P, et al. A meta-analysis of variables that predict significant intracranial injury in minor head trauma. Arch Dis Child. 2004;89:593–4.

Brown F, Brown J, Beattie T. Why do children vomit after minor head injury? J Accid Emerg Med. 2000;17:268–71.

Tack J, Blondeau K, Boecxstaens V, Rommel N. Review article: the pathophysiology, differential diagnosis and management of rumination syndrome. Aliment Pharmacol Ther. 2011;33:782–8.

El-Mouzan MI, Al-Mofleh IA, Abdullah AM, Al-Rashed RS. Indications and yield of upper gastrointestinal endoscopy in children. Saudi Med J. 2004;25:1223–5.

Culy CR, Bhana N, Plosker GL. Ondansetron: a review of its use as an antiemetic in children. Paediatr Drugs. 2001;3:441–79.

Alhashimi D, Al-Hashimi H, Fedorowicz Z. Antiemetics for reducing vomiting related to acute gastroenteritis in children and adolescents. Cochrane Database of System Rev. 2009;2:CD005506.

Yilmaz HL, Yildizdas RD, Sertdemir Y. Clinical trial: oral ondansetron for reducing vomiting secondary to acute gastroenteritis in children-a double-blind randomized study. Aliment Pharmacol Ther. 2010;31:82–91.

Freedman SB, Powell EC, Nava-Ocampo AA, Finkelstein Y. Ondansetron dosing in pediatric gastroenteritis. Pediatr Drugs. 2010;12:405–10.

Li BU, Balint J. Cyclic vomiting syndrome: evolution in our understanding of a brain-gut disorder. Adv Pediatr. 2000;47:117–60.
Conflict of Interest
None.
Role of Funding Source
Used available resources of Department of Pediatrics
About this article
Cite this article
Singhi, S.C., Shah, R., Bansal, A. et al. Management of a Child with Vomiting. Indian J Pediatr 80, 318–325 (2013). https://doi.org/10.1007/s12098-012-0959-6
Received:

Accepted:

Published:

Issue Date:

DOI: https://doi.org/10.1007/s12098-012-0959-6
Keywords
Children

Vomiting

Antiemetic