Abstract
Acute diarrhea is the second leading cause of under-five mortality in India. It is defined as the passage of frequent watery stools (>3/24 h). Recent change in consistency of stools is more important than frequency. Acute diarrhea is caused by variety of viral, bacterial and parasitic agents. The common ones are: Rotavirus, E. coli, Shigella, Cholera, and Salmonella. Campylobacter jejuni, Giardia and E. histolytica are also not uncommon. The most important concern in management of acute diarrhea in Emergency room (ER) is fluid and electrolyte imbalances and treatment of underlying infection, wherever applicable. It includes, initial stabilization (identification and treatment of shock), assessment of hydration and rehydration therapy, recognition and treatment of electrolyte imbalance, and use of appropriate antimicrobials wherever indicated. For assessment of hydration clinical signs are generally reliable; however, in severely malnourished children sunken eyes and skin turgor are unreliable. Oral Rehydration Therapy is the cornerstone of management of dehydration. Intravenous fluids are not routinely recommended except in cases of persistent vomiting and/or shock. Majority of cases can be managed in ER and at home. Hospitalization is indicated in infants <3 mo, children with severe dehydration, severe malnutrition, toxic look, persistent vomiting and suspected surgical abdomen. Supplementations with zinc and probiotics have been shown to reduce severity and duration of diarrhea; however evidence does not support the use of antisecretary, antimotility and binding agents. Education of parents about hand hygiene, safe weaning and safe drinking water etc., can help in reducing incidence of this important health problem in the country.
Access options
Buy single article
Instant access to the full article PDF.
US$ 39.95
Tax calculation will be finalised during checkout.
Subscribe to journal
Immediate online access to all issues from 2019. Subscription will auto renew annually.
US$ 79
Tax calculation will be finalised during checkout.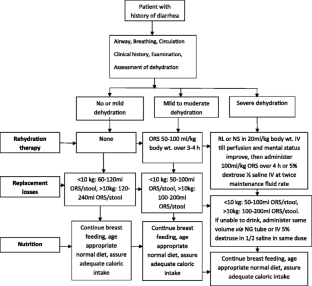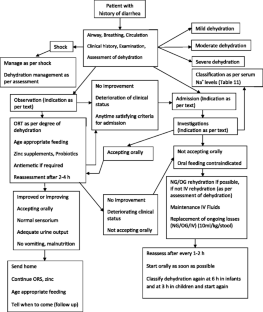 References
1.

WHO/UNICEF. Joint statement on clinical management of acute diarrhea. New York: UNICEF; 2004. [cited on 25-09-2011]. Available at: http://www.unicef.org/publications/index_21433.html.

2.

Department of Maternal, Child and Adolescent Health, World Health Organization. 'Diarrhea treatment guidelines including new recommendations for the use of ORS and zinc supplementation for clinic-based healthcare Workers'. Arlington: USAID; 2005. [cited on 25-09-2011]. Available at: http://www.who.int/maternal_child_adolescent/documents/a85500/en/index.html.

3.

Bhutta ZA. Acute gastroenteritis in children. In: Kliegman S, St. Geme Schor B, eds. Nelson textbook of pediatrics. 19th ed. Philadelphia: Elsevier Saunders; 2011. pp. 1323–38.

4.

Singhi S. Acute diarrhea. In: Singhi S, Surpure JS, eds. Synopsis of Pediatric Emergency Care. 2nd ed. Delhi: PEEPEE; 2010. pp. 341–7.

5.

Haque R, Mondal D, Duggal P, et al. Entamoeba histolytica infection in children and protection from subsequent amebiasis. Infect Immun. 2006;74:904–9.

6.

Ajjampur SS, Sankaran P, Kannan A, et al. Giardia duodenalis assemblages associated with diarrhea in children in South India identified by PCR-RFLP. Am J Trop Med Hyg. 2009;80:16–9.

7.

Khan WA, Rogers KA, Karim MM, et al. Cryptosporidiosis among Bangladeshi children with diarrhea: a prospective matched case–control study of clinical features, epidemiology and systemic antibody responses. Am J Trop Med Hyg. 2004;71:412–9.

8.

CDC Disasters. Guidelines for the management of acute diarrhea after a disaster. Atlanta: Centers for Disease Control and Prevention; 2008. [cited on 25-09-2011]. Available at: http://emergency.cdc.gov/disasters/disease/diarrheaguidelines.asp.

9.

World Gastroenterology Organization (WGO). WGO practice guideline: Acute diarrhea. Munich: World Gastroenterology Organization (WGO); 2008. p. 28. [cited on 25-09-2011]. Available at: http://www.dphhs.mt.gov/publichealth/cdepi/documents/WorldGastroenterologyOrganizationPracticeGuideline.pdf.

10.

Bhatnagar S, Lodha R, Choudhury P, et al. IAP Guidelines 2006 on management of acute diarrhea. Indian Pediatr. 2007;44:380–9.

11.

Allen SJ, Martinez EG, Gregorio GV, Dans LF. Probiotics for treating acute infectious diarrhoea. Cochrane Database Syst Rev. 2010;11:CD003048. doi:10.1002/14651858.CD003048.pub3.

12.

Szajewska H, Mrukowicz JZ. Probiotics in the treatment and prevention of acute infectious diarrhea in infants and children: a systematic review of published randomized, double-blind, placebo-controlled trials. J Pediatr Gastroenterol Nutr. 2001;33:S17–25.

13.

Sachdev HP, Kumar S, Singh KK, Satyanarayana L, Puri RK. Risk factors for fatal diarrhea in hospitalized children in India. J Pediatr Gastroenterol Nutr. 1991;12:76–81.

14.

Uysal G, Sökmen A, Vidinlisan S. Clinical risk factors for fatal diarrhea in hospitalized children. Indian J Pediatr. 2000;67:329–33.
Conflict of Interest
None.
Role of Funding Source
None.
About this article
Cite this article
Dekate, P., Jayashree, M. & Singhi, S.C. Management of Acute Diarrhea in Emergency Room. Indian J Pediatr 80, 235–246 (2013). https://doi.org/10.1007/s12098-012-0909-3
Received:

Accepted:

Published:

Issue Date:
Keywords
Children

Acute diarrhea

Oral rehydration therapy

Severe dehydration