Abstract
Objective
To analyse the incidence of dermatoses in neonates, stress the importance of simple noninvasive diagnostic procedures with perspective to actual need of active intervention.
Methods
Forty four neonates with vesicobullous lesions in Departments of Dermatology and Pediatrics were evaluated with respect to diagnosis, required treatments and follow ups.
Results
Of the total 44 neonates, 29 were boys and 15 girls. Low birth weight (weight at birth less than 2,500 g as per WHO criteria) was seen in 19 neonates. Of the infectious dermatoses, most common were pyodermas. Four cases (9%) were diagnosed to be of staphylococcal pyoderma and impetigo and two cases each of Group A Streptococcal impetigo and neonatal tinea faciei (4.5% each), one case each of neonatal candidiasis, neonatal varicella/chickenpox and scabies (2.3% each) were seen. Of the transient skin lesions, erythema toxicum neonatorum was commonest of all, being seen in 18 neonates (41%), followed by four cases (9%) of miliaria crystallina, three cases of neonatal acne (6.8%) and two cases of sucking blisters (4.5%) and one case each of transient neonatal pustular melanosis, epidermolysis bullosa simplex, incontinentia pigmentii, eosinophilic pustular folliculitis, pemphigus vulgaris and neonatal herpes simplex (2.3% each) were enrolled in this study (Fig. 1).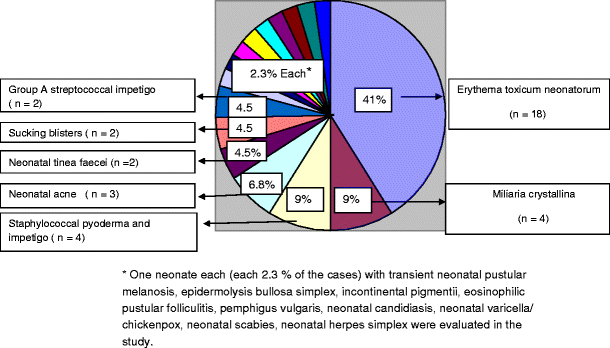 Conclusions
Certain specific considerations have to be born in mind while evaluating and managing neonatal dermatoses. Care has to be instituted to identify accurately infectious diseases and distinguish them from benign transient neonatal dermatoses. Some disorders first manifesting during the neonatal period may also represent harbingers of potential problems during adulthood. Finally, treatment modalities are instituted taking in account the actual diagnosis and judging if the treatment really is required or not.
This is a preview of subscription content, log in to check access.
Access options
Buy single article
Instant access to the full article PDF.
US$ 39.95
Price includes VAT for USA
Subscribe to journal
Immediate online access to all issues from 2019. Subscription will auto renew annually.
US$ 99
This is the net price. Taxes to be calculated in checkout.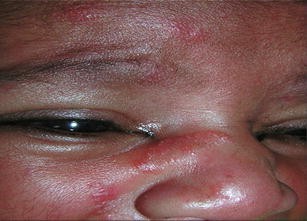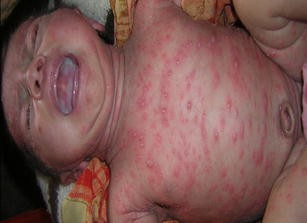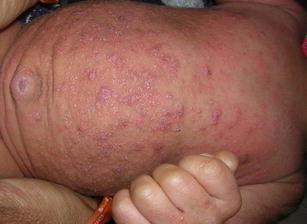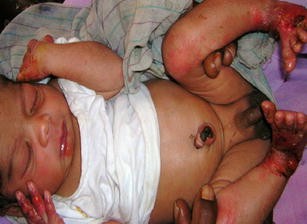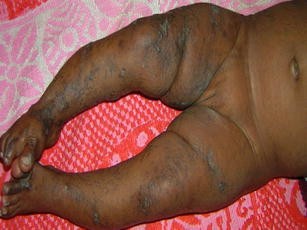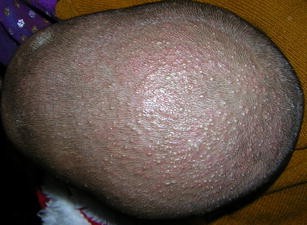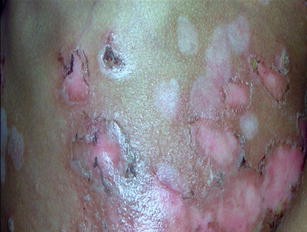 References
1.

Baruah CM, Bhat V, Bhargava R, Garg RB, Ku. Prevalence of dermatoses in the neonates in pondichery. Indian J Dermatol Venereol Leprol. 1991;57:25–8.

2.

Nanda S, Reddy BS, Ramji S, Pandhi D. Analytical study of pustular eruptions in neonates. Pediatr Dermatol. 2002;19:210–5.

3.

Enders G, Miller E, Cradock-Watson J, Bolley I, Ridehalgh M. Consequences of varicella and herpes zoster in pregnancy: prospective study of 1739 cases. Lancet. 1994;343:1548–51.

4.

Pastuszak AL, Levy M, Schick B, et al. Outcome after maternal varicella infection in the first 20 wk of pregnancy. N Engl J Med. 1994;330:901–5.

5.

Forrest J, Mego S, Burgess M. Congenital and neonatal varicella in Australia. J Paediatr Child Health. 2000;36:108–13.

6.

Quarterman MJ, Lesher Jr JL. Neonatal scabies treated with permethrin 5% cream. Pediatr Dermatol. 1994;11:264–6.

7.

Carr JA, Hodgman JE, Freedman RI, Levan NE. Relationship between erythema and infant maturity. Am J Dis Child. 1996;112:129–34.

8.

Liu C, Feng J, Qu R, et al. Epidemiologic study of the predisposing factors in erythema toxicum neonatorum. Dermatology. 2005;210:269–72.

9.

Van Praag MC, Van Rooij RW, Folkers E, Spritzer R, Menke HE, Oranje AP. Diagnosis and treatment of pustular disorders in neonates. Pediatr Dermatol. 1997;14:131–43.

10.

Energin M, Parlak M, Selimoglu M. Vesicobullous disorders of newborn infants. Turk J Dermatol. 1994;4:147–50.

11.

Ayhan M, Sancak B, Karaduman A, Arikan S, Sahin S. Colonisation of neonate skin by malassezia species: relationship with neonatal cephalic pustulosis. J Am Acad Dermatol. 2007;57:1012–8.

12.

Murphy WF, Langely AL. Common bullous lesions—presumably self—inflicted occurring in utero in the newborn infant. Pediatrics. 1963;32:1099–101.

13.

Nobby B, Chakrabrty N. Cutaneous manifestations in the new born. Indian J Dermatol Venereol Leprol. 1992;58:69–72.

14.

Duarte AM, Kramer J, Yusk JW, Paller A. Eosinophilic pustular folliculitis in infancy and childhood. Am J Dis Child. 1993;147:197–200.

15.

Chowdhury MM, Natarajan S. Neonatal pemphigus vulgaris associated with mild oral pemphigus vulgaris in the mother during pregnancy. Br J Dermatol. 1998;139:500–3.
Conflict of Interest
None.
Role of Funding Source
None.
About this article
Cite this article
Goyal, T., Varshney, A. & Bakshi, S.K. Incidence of Vesicobullous and Erosive Disorders of Neonates: Where and How Much to Worry?. Indian J Pediatr 1 (2011). https://doi.org/10.1007/s12098-011-0592-9
Received:

Accepted:

Published:
Keywords
Incontinentia pigmentii

Neonatal dermatoses

Pyoderma

Tinea

Transient benign dermatoses

Varicella

Vesicobullous