Abstract
Objective
To define the mutation type in a clinically suspected Egyptian child with Freeman-Sheldon syndrome (FSS); it involves certain skeletal malformations with some facial characteristics; skeletal malformations include camptodactyly with ulnar deviation, talipes equinovarus, while the facial characteristics include deep-sunken eyes with hypertelorism, long philtrum, small pinched nose and pursed mouth.
Methods
Amplification of exon 17 of the embryonic myosin heavy chain (MYH3) gene was done using one forward and two different reverse primers, and then the cleaned PCR product was sequenced.
Result
A de novo missense mutation (c.2014C>T with replacement C > Y) in MYH3 gene leading to change of arginine at position 672 by cytosine in protein sequence.
Conclusion
Mutation analysis remains to be the standard way for definitive diagnosis in FSS. The authors currently report, for the first time in an Egyptian infant aged 16 months who presented with FSS, a c.2014C>T missense mutation of MYH3 gene, with no family history or consanguinity.
Access options
Buy single article
Instant access to the full article PDF.
US$ 39.95
Tax calculation will be finalised during checkout.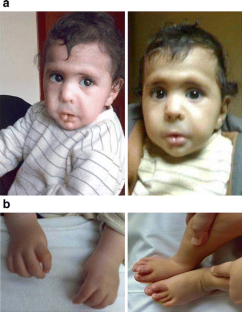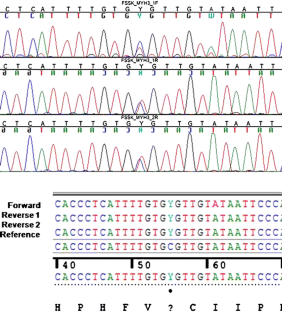 References
1.

Bamshad M, Jorde LB, Carey JC. A revised and extended classification of the distal arthrogryposes. Am J Med Genet. 1996;65:277–81.

2.

Burzynski NJ, Podruch PE, Howell J, Snawder K. Craniocarpotarsal dysplasia syndrome (whistling face syndrome). Case reports and survey of clinical findings. Oral Surg Oral Med Oral Pathol. 1975;39(6):893–900.

3.

Buyukavci M, Tan H, Eren S, Balci S. A whistling face syndrome case with bilateral skin dimples. Genet Couns. 2005;16(1):71–3.

4.

Freeman E, Sheldon J. Cranio-carpo-tarsai dystrophy: undescribed congenital malformation. Arch Dis Child. 1938;13:277–83.

5.

Krakowiak PA, O'Quinn JR, Bohnsack JF, Watkins WS, Carey JC, Jorde LB, et al. A variant of Freeman-Sheldon syndrome maps to 11p15.5-pter. Am J Hum Genet. 1997;60(2):426–32.

6.

MacLeod P, Patriquin H. The whistling face syndrome–cranio-carpo-tarsal dysplasia. Report of a case and a survey of the literature. Clin Pediatr (Phila). 1974;13(2):184–9.

7.

Millner MM, Mutz ID, Rosenkranz W. Whistling face syndrome. A case report and literature review. Acta Paediatr Hung. 1991;31(3):279–89.

8.

Temtamy SA, McKusick VA. The genetics of hand malformations. New York: Alan R. Liss (pub.); 1978.

9.

Toydemir RM, Bamshad MJ. Sheldon-Hall syndrome. Orphanet J Rare Dis. 2009;23:4–11.

10.

Toydemir RM, Rutherford A, Whitby FG, Jorde LB, Carey JC, Bamshad MJ. Mutations in embryonic myosin heavy chain (MYH3) cause Freeman-Sheldon syndrome and Sheldon-Hall syndrome. Nat Genet. 2006;38(5):561–5.
About this article
Cite this article
Al-Haggar, M., Yahia, S., Damjanovich, K. et al. p.R672C Mutation of MYH3 Gene in an Egyptian Infant Presented with Freeman-Sheldon Syndrome. Indian J Pediatr 78, 103–105 (2011). https://doi.org/10.1007/s12098-010-0230-y
Received:

Accepted:

Published:

Issue Date:
Keywords
Freeman-Sheldon syndrome

Mutation analysis