Abstract
Purpose
RENORT is a novel data mining application developed to extract relevant clinical data from oncology information systems (OIS; ARIA and Mosaiq) used in radiation oncology (RO).
Methods/patients
We used RENORT to extract demographic and clinical data from the OIS of all patients treated at the RO Department at the General Hospital of Valencia during the year 2019.
Results
A total of 1158 treatments were performed. The female/male ratio was 39.3%/60.7%, with a mean age of 66 years. The mean waiting time between the treatment decision/proposal to the first visit was 10.1 days. Mean duration of the treatment preparation process was 21 days. Most patients (90.4%) completed treatment within the prescribed time ± 7 days. The most common sites/treatment types were: metastatic/palliative treatments (n = 300; 25.9%), breast (209; 18.0%), genitourinary (195; 16.8%), digestive (116; 10.0%), thoracic (104; 9.0%), head and neck (62; 5.4%), and skin cancer (51; 4.4%). The distribution according to treatment intent was as follows: palliative (n = 266; 23.0%), adjuvant curative (335; 28.9%), radical without adjuvant treatment (229; 19.8%), radical with concomitant treatment (188; 16.2%), curative neoadjuvant (70; 6.0%), salvage radiotherapy (61; 5.3%); and reirradiation (9; 0.8%). The most common treatment techniques were IMRT/VMAT with IGRT (n = 468; 40.4%), 3D-CRT with IGRT (421; 36.4%), SBRT (127; 11.0%), 2DRT (57; 4.9%), and SFRT (56; 4.8%). A mean of 15.9 fractions were administered per treatment. Hypofractionated schemes were used in 100% of radical intent breast and prostate cancer treatments.
Conclusions
The RENORT application facilitates data retrieval from oncology information systems to allow for a comprehensive determination of the real role of radiotherapy in the treatment of cancer patients. This application is valuable to identify patterns of care and to assess treatment efficacy.
Access options
Buy single article
Instant access to the full article PDF.
USD 39.95
Price excludes VAT (USA)
Tax calculation will be finalised during checkout.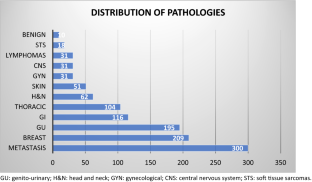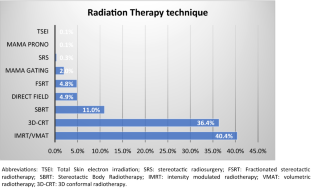 References
Ahrq. AHRQ Digital Healthcare Research 2019 year in review. www.ahrq.gov.

SEOM. Las cifras del cáncer en España 2020. Sociedad Española de Oncología Médica. Soc Española Oncol Médica. 2020:36. https://seom.org/seomcms/images/stories/recursos/Cifras_del_cancer_2020.pdf. Accessed 14 Nov 2020.

Rockville M. Measures of quality for different health care settings. Content last reviewed May 2019. Agency for Healthcare Research and Quality. https://www.ahrq.gov/talkingquality/measures/setting/index.html.

Sanidad MDE. Estadística De Centros De Atención Especializada: Hospitales y Centros Sin Internamiento. Año 2018. 2018:1–188. https://www.google.es/url?sa=t&rct=j&q=&esrc=s&source=web&cd=&cad=rja&uact=8&ved=2ahUKEwiB6b2PlvHsAhVHBGMBHee0BKwQFjAAegQIBBAC&url=https%3A%2F%2Fwww.mscbs.gob.es%2FestadEstudios%2Festadisticas%2FestHospiInternado%2FinforAnual%2FhomeESCRI.htm&usg=AOvVaw1Qd.

Esco R, Palacios A, Pardo J, et al. Infrastructure of radiotherapy in Spain: a minimal standard of radiotherapy resources. Int J Radiat Oncol Biol Phys. 2003;56(2):319–27. https://doi.org/10.1016/S0360-3016(02)04580-7.

Delaney GP, Barton MB. Evidence-based estimates of the demand for radiotherapy. Clin Oncol. 2015;27(2):70–6. https://doi.org/10.1016/j.clon.2014.10.005.

Hanna TP, Shafiq J, Delaney GP, Vinod SK, Thompson SR, Barton MB. The population benefit of evidence-based radiotherapy: 5-year local control and overall survival benefits. Radiother Oncol. 2018;126(2):191–7. https://doi.org/10.1016/j.radonc.2017.11.004.

Borras JM, Lievens Y, Dunscombe P, et al. The optimal utilization proportion of external beam radiotherapy in European countries: an ESTRO-HERO analysis. Radiother Oncol. 2015;116(1):38–44. https://doi.org/10.1016/j.radonc.2015.04.018.

Jaén Olasolo J, Alonso Redondo E, Expósito Hernández J, Peñas Cabrera MD, Cabrera RP. Evidence-based estimation and radiotherapy utilisation rate in Andalusia. Clin Transl Oncol. 2007;9(12):789–96. https://doi.org/10.1007/s12094-007-0141-1.

Palacios Eito A, Cabezas SG, Ugalde PF, et al. Characterization and adequacy of the use of radiotherapy and its trend in time. Radiother Oncol. 2013;106(2):260–5. https://doi.org/10.1016/j.radonc.2012.10.008.

Parker T. Radiotherapy Services in England 2012. Dep Heal. 2012.

López Torrecilla J, Marín i Borràs S, Ruiz-Alonso A, et al. Quality indicators in radiation oncology: proposal of the Spanish Society of Radiation Oncology (SEOR) for a continuous improvement of the quality of care in oncology. Clin Transl Oncol. 2019. https://doi.org/10.1007/s12094-018-1943-z.

Smith BD, Bellon JR, Blitzblau R, et al. Radiation therapy for the whole breast: executive summary of an American Society for Radiation Oncology (ASTRO) evidence-based guideline. Pract Radiat Oncol. 2018;8(3):145–52. https://doi.org/10.1016/j.prro.2018.01.012.

Gupta A, Khan AJ, Yegya-Raman N, et al. 5-Year results of a prospective phase 2 trial evaluating 3-week hypofractionated whole breast radiation therapy inclusive of a sequential boost. Int J Radiat Oncol Biol Phys. 2019;105(2):267–74. https://doi.org/10.1016/j.ijrobp.2019.05.063.

Haffty BG. Long-term results of hypofractionated radiation therapy for breast cancer. Breast Dis. 2010;21(3):267–8. https://doi.org/10.1016/S1043-321X(10)79594-1.

Kupelian PA, Willoughby TR, Reddy CA, Klein EA, Mahadevan A. Hypofractionated intensity-modulated radiotherapy (70 Gy at 2.5 Gy Per Fraction) for localized prostate cancer: cleveland clinic experience. Int J Radiat Oncol Biol Phys. 2007;68(5):1424–30. https://doi.org/10.1016/j.ijrobp.2007.01.067.

Wilkins A, Mossop H, Syndikus I, et al. Hypofractionated radiotherapy versus conventionally fractionated radiotherapy for patients with intermediate-risk localised prostate cancer: 2-year patient-reported outcomes of the randomised, non-inferiority, phase 3 CHHiP trial. Lancet Oncol. 2015;16(16):1605–16. https://doi.org/10.1016/S1470-2045(15)00280-6.

González Ferreira JA, Jaén Olasolo J, Azinovic I, Jeremic B. Effect of radiotherapy delay in overall treatment time on local control and survival in head and neck cancer: review of the literature. Rep Pract Oncol Radiother. 2015;20(5):328–39. https://doi.org/10.1016/j.rpor.2015.05.010.

Fesinmeyer MD, Mehta V, Blough D, Tock L, Ramsey SD. Effect of radiotherapy interruptions on survival in medicare enrollees with local and regional head-and-neck cancer. Int J Radiat Oncol Biol Phys. 2010;78(3):675–81. https://doi.org/10.1016/j.ijrobp.2009.08.004.

Gasinska A, Fowler JF, Lind BK, Urbanski K. Influence of overall treatment time and radiobiological parameters on biologically effective doses in cervical cancer patients treated with radiation therapy alone. Acta Oncol. 2004;43(7):657–66. https://doi.org/10.1080/02841860410018511.

McMillan MT, Ojerholm E, Verma V, et al. Radiation treatment time and overall survival in locally advanced non-small cell lung cancer. Int J Radiat Oncol Biol Phys. 2017;98(5):1142–52. https://doi.org/10.1016/j.ijrobp.2017.04.004.
Acknowledgements
We wish to thank the following companies and individuals for their contributions to this project: Varian and Elekta for their support for the project, especially the development of the RENORT application for their information systems ARIA and Mosaiq, respectively; Joao Pedro Alves and Ludger Diederich for their direct involvement in the development of the application; Francisco Vázquez (Elekta) and Jaime Calderón (Varian) for believing in the project and supporting it; Astellas Pharma Spain for their support in the data mining work of both applications, and especially Emilio Pedrosa for trusting in the need for the project for Radiation Oncology; Nunsys and their analytics team for their work on data integration of all services, data mining, dashboards, and reports; Pilar Samper, Amalia Palacios, and Marta Lloret for their invaluable help throughout the project; the SEOR Boards chaired by Pedro Lara, Carlos Ferrer, and Jorge Contreras for their support in continuing the project; my colleagues from the Department of Radiation Oncology-Ascires of the General Hospital of Valencia for their dedication in perfecting the introduction of data and in refining it to improve the utility of the application. Finally, we thank Bradley Londres for professional English language editing of this manuscript.
Ethics declarations
Conflict of interest
Any actual or potential conflicts of interest do not exist. The authors have no financial and personal relationship with other persons or organizations that could inappropriately influence their work.
Ethical approval
There are no details in the manuscript that could reveal the identity of the study subjects.
Informed consent
All persons gave their informed consent prior to their inclusion in the study.
Additional information
Publisher's Note
Springer Nature remains neutral with regard to jurisdictional claims in published maps and institutional affiliations.
About this article
Cite this article
López-Torrecilla, J., González Sanchis, D., Granero Cabañero, D. et al. Pattern of care in radiotherapy at a University Hospital in Spain: the RENORT project. Clin Transl Oncol 23, 1657–1665 (2021). https://doi.org/10.1007/s12094-021-02564-2
Received:

Accepted:

Published:

Issue Date:

DOI: https://doi.org/10.1007/s12094-021-02564-2
Keywords
Pattern of care

Radiotherapy

Cancer

RENORT