Abstract
Background
T lymphocyte are a strong indicator of treatment immune response. This study was aimed to determine the utility of T lymphocyte subsets, cytokines and inflammatory biomarkers in predicting the immunological benefits of Ganoderma spore powder (G. lucidum) in post-operative patients with breast and lung cancer.
Methods
We prospectively evaluated 120 breast and lung cancer patients with or without G. lucidum. T lymphocyte subsets with relative cytokines were detected using flow cytometry and PCR and assessed by Spearman correlation analysis. The relationships between albumin-to-globulin ratio (AGR) and neutrophil–to-lymphocyte ratio (NLR) with G. lucidum treatment and prognosis were analyzed using Kaplan–Meier and Cox regression methods.
Results
The prevalence of CD3 + CD4 + , CD3 + HLADR- types was higher in G. lucidum group compared to control, whilst CD4 + CD25 + Treg, CD3 + HLADR + cell types was lower. IL-12 levels were significantly higher during the treatment period which negatively impacted levels of IL-10. Other immunosuppressive factors such as COX2 and TGF-β1 had lower prevalence in treated patients. Correlation analysis showed a positive relationship between IL-10 and CD28. IL-2 was positively related to TGF-β1, whilst it was negatively related to CD3. Kaplan–Meier analysis suggested that low AGR/high NLR was related to poor progression free survival (PFS) and overall survival (OS). A combination of high AGR and low NLR may predicted treatment benefits associated with PFS and OS.
Conclusions
Our findings show that T lymphocyte subsets combined with relevant cytokines and AGR/NLR inflammatory predictors may help to identify patients most likely to benefit from the immunological enhancements from G. lucidum treatment.
Access options
Buy single article
Instant access to the full article PDF.
USD 39.95
Price excludes VAT (USA)
Tax calculation will be finalised during checkout.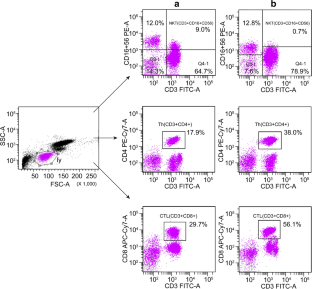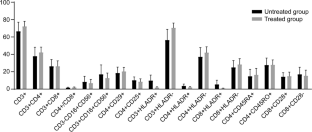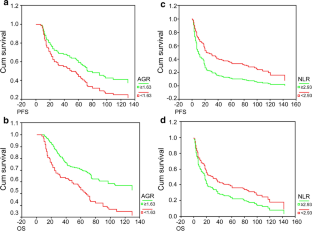 Data availability
Data are available upon reasonable request. No additional data are available for this study in repositories. Inquiries concerning the data may be made to the corresponding author.
References
Lancet T. Lung cancer: some progress, but still a lot more to do. Lancet. 2019;394(10212):1880. https://doi.org/10.1016/S0140-6736(19)32795-3.

Nuzzolese I, Montemurro F. Attrition in metastatic breast cancer: a metric to be reported in randomised clinical trials? Lancet Oncol. 2020;21(1):21–4. https://doi.org/10.1016/S1470-2045(19)30792-2.

Matikas A, Margolin S, Hellström M, et al. Long-term safety and survival outcomes from the Scandinavian Breast Group 2004–1 randomized phase II trial of tailored dose-dense adjuvant chemotherapy for early breast cancer. Breast Cancer Res Treat. 2018;168(2):349–55.

Xu J, Li P. Researches and application of Ganoderma spores powder. Adv Exp Med Biol. 2019;1181:157–86.

Zhang Y, Jiang Y, Zhang M, Zhang L. Ganoderma sinense polysaccharide: an adjunctive drug used for cancer treatment. Prog Mol Biol Transl Sci. 2019;163:165–77.

Zhu LF, Yao ZC, Ahmad Z, Li JS, Chang MW. Synthesis and evaluation of herbal chitosan from Ganoderma lucidum spore powder for biomedical applications. Sci Rep. 2018;8:14608.

Dudhgaonkar S, Thyagarajan A, Sliva D. Suppression of the inflammatory response by triterpenes isolated from the mushroom Ganoderma lucidum. Int Immunopharmacol. 2009;9(11):1272–80.

Cheng S, Sliva D. Ganoderma lucidum for cancer treatment: we are close but still not there. Integr Cancer Ther. 2015;14(3):249–57.

Ma QY, Chen J, Zhao J. Follicular cytotoxic CD8 T cells present high cytokine expression, and are more susceptible to Breg-mediated suppression in non-small cell lung cancer. Immunol Res. 2020;68(1):54–62.

Xuan Q, Yang Y, Ji H, et al. Combination of the preoperative albumin to globulin ratio and neutrophil to lymphocyte ratio as a novel prognostic factor in patients with triple negative breast cancer. Cancer Manag Res. 2019;31(11):5125–31.

Li Y, Qiao S, Li G. Effect of ganoderma lucidum powder on anti-tumor and improving immunity. Chin J Chron Dis Prevent Control. 2004;12(4):156–60.

Wang Y, Yang J-M, Wang Y. Immunomodulatory effects of ganoderma lucidum spores. Chinese Edible Fungi. 2002;21(1):156–60.

Liang Y, He M, Fan X, et al. An abnormal elevation of serum CA72–4 by ganoderma lucidum spore powder. Ann Clin Lab Sci. 2013;43(3):337–40.

Boh B. Ganoderma lucidum: a potential for biotechnological production of anti-cancer and immunomodulatory drugs. Recent Pat Anticancer Drug Discov. 2013;8(3):255–87.

Egen JG, Ouyang W, Wu LC. Human anti-tumor immunity: insights from immunotherapy clinical trials. Immunity. 2020;52(1):36–54.

Zhao H, Zhang Q, Zhao L, et al. Spore powder of Ganoderma lucidum improves cancer-related fatigue in breast cancer patients undergoing endocrine therapy: a pilot clinical trial. Evid Based Complement Alternat Med. 2012;2012:809614.

Speiser DE, Ho PC, Verdeil G. Regulatory circuits of T cell function in cancer. Nat Rev Immunol. 2016;16(10):599–611.

Karagoz B, Bilgi O, Gumus M, et al. CD8+CD28- cells and CD4+CD25+ regulatory T cells in the peripheral blood ofadvanced stage lung cancer patients. Med Oncol. 2010;27(1):29–33.

Su J, Su L, Li D, et al. Antitumor activity of extract from the Sporoderm-breaking spore of Ganoderma lucidum: restoration on exhausted cytotoxic T cell with gut microbiota remodeling. Front Immunol. 2018;9:1765.

Li CW, Osman R, Menconi F, et al. Flexible peptide recognition by HLA-DR triggers specific autoimmune T-cell responses in autoimmune thyroiditis and diabetes. J Autoimmun. 2017;76:1–9.

Saraiva DP, Jacinto A, Borralho P, et al. HLA-DR in cytotoxic T lymphocytes predicts breast cancer patients' response to neoadjuvant chemotherapy. Front Immunol. 2018;13(9):2605.

Wang X, Lin Z. Immunomodulating effect of Ganoderma (Lingzhi) and possible mechanism. Adv Exp Med Biol. 2019;1182:1–37.

Zeng P, Chen Y, Zhang L, Xing M, et al. Ganoderma lucidum polysaccharide used for treating physical frailty in China. Prog Mol Biol Transl Sci. 2019;163:179–219.

Sun LX, Li WD, Lin ZB, Duan XS, Xing EH, Jiang MM, et al. Cytokine production suppression by culture supernatant of B16F10 cells and amelioration by Ganoderma lucidum polysaccharides in activated lymphocytes. Cell Tissue Res. 2015;360(2):379–89. https://doi.org/10.1007/s00441-014-2083-6.

Zhu L, Tu H, Liang Y, et al. MiR-218 produces anti-tumor effects on cervical cancer cells in vitro. World J Surg Oncol. 2018;16(1):204.

Che D, Zhang S, Jing Z, et al. Macrophages induce EMT to promote invasion of lung cancer cells through the IL-6-mediated COX-2/PGE(2)/β-catenin signalling pathway. Mol Immunol. 2017;90:197–210.

Mateu-Jimenez M, Curull V, Pijuan L, Sánchez-Font A, et al. Systemic and tumor Th1 and Th2 inflammatory profile and macrophages in lung cancer: influence of underlying chronic respiratory disease. J Thorac Oncol. 2017;12(2):235–48.

Habijanic J, Berovic M, Boh B, et al. Submerged cultivation of Ganoderma lucidum and the effects of its polysaccharides on the production of human cytokines TNF-α, IL-12, IFN-γ, IL-2, IL-4, IL-10 and IL-17. N Biotechnol. 2015;32(1):85–95.

Cizmarikova M. The efficacy and toxicity of using the Lingzhi or Reishi medicinal mushroom, Ganoderma lucidum (Agaricomycetes), and its products in chemotherapy (Review). Int J Med Mushrooms. 2017;19(10):861–77.

Galon J, Bruni D. Tumor immunology and tumor evolution: intertwined histories. Immunity. 2020;52(1):55–81.
Acknowledgements
The G. lucidum was supplied by Jiangxi Tianhai Group (Batch number 2014AA022206-LC02). The clinical data detection was supported by Harbin Medical University Cancer Hospital.
Funding
National High Technology Research and Development Program (863 Program), Subject No.: 2014AA022206, China.
Ethics declarations
Conflict of interest
The authors report no conflicts of interest in this work.
Ethics approval
This study, including the procedures for patient enrollment and recruitment, was approved by the Institutional Review Board (IRB) of the Harbin Medical University Cancer Hospital.
Consent to participate
All patients who participated in the study provided written informed consent. This study was conducted in accordance with the Declaration of Helsinki.
Consent for publication
Obtained.
Additional information
Publisher's Note
Springer Nature remains neutral with regard to jurisdictional claims in published maps and institutional affiliations.
Supplementary Information
Below is the link to the electronic supplementary material.
About this article
Cite this article
Deng, Y., Ma, J., Tang, D. et al. Dynamic biomarkers indicate the immunological benefits provided by Ganoderma spore powder in post-operative breast and lung cancer patients. Clin Transl Oncol 23, 1481–1490 (2021). https://doi.org/10.1007/s12094-020-02547-9
Received:

Accepted:

Published:

Issue Date:

DOI: https://doi.org/10.1007/s12094-020-02547-9
Keywords