Abstract
Purpose
The aim of this study is to assess for the first time, the role of regional deep hyperthermia in combination with radiotherapy and systemic therapy in patients with poor prognosis of brain metastases (GPI ≤ 2.5).
Methods
Patients with confirmed cerebral metastases and classified as GPI score ≤ 2.5 were included in this prospective study. Pretreatment stratification was defined as patients with 0–1 GPI score (Group A) and patients with 1.5–2.5 GPI score (Group B). HT was applied twice a week, 60 min per session, during RT by regional capacitive device (HY-DEEP 600WM system) at 13.56 MHz radiofrequency.
Results
Between June 2015 and June 2017, 15 patients and a total of 49 brain metastases were included in the protocol. All patients received all HT sessions as planned. RT and systemic therapy were also completed as prescribed. Tolerance to treatment was excellent and no toxicity was registered. Patients with HT effective treatment time longer than the median (W90time > 88%) showed better actuarial PFS at 6 and 12 months (100% and 66.7%, respectively) compared to those with less HT effective treatment time (50% and 0%, respectively) (p < 0.031). Median OS was 6 months (range 1–36 months). Stratification by GPI score showed a median OS of 3 months (CI 95% 2.49–3.51) in Group A and 8.0 months (CI 95% 5.15–10.41) in Group B (p = 0.035).
Conclusions
Regional hyperthermia is a feasible and safe technique to be used in combination with RT in brain metastases patients, improving PFS and survival in poor prognostic brain metastasis patients.
Access options
Buy single article
Instant access to the full article PDF.
USD 39.95
Price includes VAT (USA)
Tax calculation will be finalised during checkout.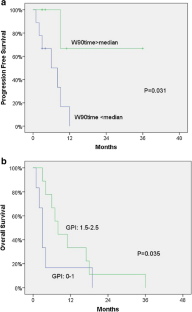 Ethics declarations
Conflict of interest
The authors declare no conflict of interest.
Ethical approval
The study was approved by the Ethic Committee and registered under Eudract number 2018-001089-40.
Informed consent
Written inform consent for treatment was obtained from all patients.
Additional information
Publisher's Note
Springer Nature remains neutral with regard to jurisdictional claims in published maps and institutional affiliations.
About this article
Cite this article
Lloret, M., García-Cabrera, L., Zajac, M. et al. Regional deep hyperthermia in combination with whole brain radiotherapy (WBRT) in poor prognosis patients with brain metastases. Clin Transl Oncol 23, 190–194 (2021). https://doi.org/10.1007/s12094-020-02404-9
Received:

Accepted:

Published:

Issue Date:
Keywords
Hyperthermia

Radiotherapy

Brain metastases