Abstract
Purpose
Circulating microRNAs (miRNAs) have been shown to have the potential as noninvasive diagnosis biomarkers in several types of cancers, including prostate cancer (PCa). Urine-based miRNA biomarkers have been researched as an alternative tool in PCa diagnosis. However, few studies have performed miRNA detection in urine samples from PCa patients, as well as low numbers of miRNAs have been assayed, and there is a lack of standard strategies for validation. In this context, we conducted an in-depth literature review focusing on miRNAs isolated from urine samples that may contribute to the diagnosis of PCa.
Methods
A systematic review was performed searching the PubMed, Lilacs and Cochrane Library databases for articles focused on the value of significantly deregulated miRNAs as biomarkers in PCa patients.
Results
Only 18 primary manuscripts were included in this review, according to the search criteria. Our results suggest that miR-21-5p, miR-141-3p, miR-375 and miR-574-3p should be considered as potential urinary biomarkers for the diagnosis of PCa.
Conclusion
These results suggested that large-scale prospective studies are still needed to validate our findings, using standardized protocols for analysis.
Access options
Buy single article
Instant access to the full article PDF.
USD 39.95
Price excludes VAT (USA)
Tax calculation will be finalised during checkout.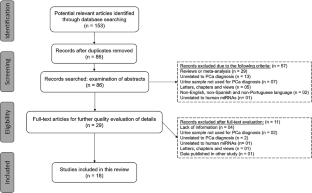 References
Bray F, Ferlay J, Soerjomataram I, Siegel RL, Torre LA, Jemal A. Global cancer statistics 2018: GLOBOCAN estimates of incidence and mortality worldwide for 36 cancers in 185 countries. CA Cancer J Clin. 2018;68:394–424.

Payne H, Cornford P. Prostate-specific antigen: an evolving role in diagnosis, monitoring, and treatment evaluation in prostate cancer. Urol Oncol Semin Orig Investig. 2011;29:593–601.

Woolf SH. The accuracy and effectiveness of routine population screening with mammography, prostate-specific antigen, and prenatal ultrasound: a review of published scientific evidence. Int J Technol Assess Health Care. 2001;17:275–304.

Hoffman RM, Gilliland FD, Adams-Cameron M, Hunt WC, Key CR. Prostate-specific antigen testing accuracy in community practice. BMC Fam Pract. 2002;3:19.

Lee RC, Feinbaum RL, Ambros V. The C. elegans heterochronic gene lin-4 encodes small RNAs with antisense complementarity to lin-14. Cell. 1993;75:843–54.

Meltzer PS. Cancer genomics: small RNAs with big impacts. Nature. 2005;435:745–6.

Wahid F, Shehzad A, Khan T, Kim YY. MicroRNAs: synthesis, mechanism, function, and recent clinical trials. Biochim Biophys Acta. 2010;1803:1231–43.

Wang YL, Wu S, Jiang B, Yin FF, Zheng SS, Hou SC. Role of MicroRNAs in prostate cancer pathogenesis. Clin Genitourin Cancer. 2015;13:261–70.

Esquela-kerscher A, Slack FJ. Oncomirs—microRNAs with a role in cancer. Nat Rev Cancer. 2006;6:259–69.

Calin GA, Sevignani C, Dumitru CD, Hyslop T, Noch E, Yendamuri S, et al. Human microRNA genes are frequently located at fragile sites and genomic regions involved in cancers. Proc Natl Acad Sci U S A. 2004;101:2999–3004.

Balacescu O, Dumitrescu RG, Marian C. MicroRNAs role in prostate cancer. Methods Mol Biol. 2018;1856:103–17.

Di Meo A, Bartlett J, Cheng Y, Pasic MD, Yousef GM. Liquid biopsy: a step forward towards precision medicine in urologic malignancies. Mol Cancer. 2017;16:80.

Cortez MA, Bueso-Ramos C, Ferdin J, Lopez-Berestein G, Sood AK, Calin GA. MicroRNAs in body fluids—the mix of hormones and biomarkers. Nat Rev Clin Oncol. 2011;8:467–77.

Rothschild SI. MicroRNA therapies in cancer. Mol Cell Ther. 2014;2:7.

Yin C, Fang C, Weng H, Yuan C, Wang F. Circulating microRNAs as novel biomarkers in the diagnosis of prostate cancer: a systematic review and meta-analysis. Int Urol Nephrol. 2016;48:1087–95.

McDonald AC, Vira M, Shen J, Sanda M, Raman JD, Liao J, et al. Circulating microRNAs in plasma as potential biomarkers for the early detection of prostate cancer. Prostate. 2018;78:411–8.

Souza MF, Kuasne H, Barros-Filho MC, Cilião HL, Marchi FA, Fuganti PE, et al. Circulating mRNAs and miRNAs as candidate markers for the diagnosis and prognosis of prostate cancer. PLoS ONE. 2017;12:e0184094.

Fredsøe J, Rasmussen AKI, Thomsen AR, Mouritzen P, Høyer S, Borre M, et al. Diagnostic and prognostic microRNA biomarkers for prostate cancer in cell-free urine. Eur Urol Focus. 2018;4:825–33.

Stuopelyte K, Daniunaite K, Bakavicius A, Lazutka JR, Jankevicius F, Jarmalaite S. The utility of urine-circulating miRNAs for detection of prostate cancer. Br J Cancer. 2016;115:707–15.

Salido-Guadarrama AI, Morales-Montor JG, Rangel-Escareño C, Langley E, Peralta-Zaragoza O, Cruz Colin JL, et al. Urinary microRNA-based signature improves accuracy of detection of clinically relevant prostate cancer within the prostate-specific antigen grey zone. Mol Med Rep. 2016;13:4549–60.

Bryant RJ, Pawlowski T, Catto JWF, Marsden G, Vessella RL, Rhees B, et al. Changes in circulating microRNA levels associated with prostate cancer. Br J Cancer. 2012;106:768–74.

Casanova-Salas I, Rubio-Briones J, Calatrava A, Mancarella C, Masiá E, Casanova J, et al. Identification of miR-187 and miR-182 as biomarkers of early diagnosis and prognosis in patients with prostate cancer treated with radical prostatectomy. J Urol. 2014;192:252–9.

Srivastava A, Goldberger H, Dimtchev A, Ramalinga M, Chijioke J, Marian C, et al. MicroRNA profiling in prostate cancer - the diagnostic potential of urinary miR-205 and miR-214. PLoS One. 2013;8:e76994.

Korzeniewski N, Tosev G, Pahernik S, Hadaschik B, Hohenfellner M, Duensing S. Identification of cell-free microRNAs in the urine of patients with prostate cancer. Urol Oncol. 2015;33:16.e17–e22.

Samsonov R, Shtam T, Burdakov V, Glotov A, Tsyrlina E, Berstein L, et al. Lectin-induced agglutination method of urinary exosomes isolation followed by mi-RNA analysis: application for prostate cancer diagnostic. Prostate. 2016;76:68–79.

Foj L, Ferrer F, Serra M, Arévalo A, Gavagnach M, Giménez N, et al. Exosomal and non-exosomal urinary miRNAs in prostate cancer detection and prognosis. Prostate. 2017;77:573–83.

Bryzgunova OE, Zaripov MM, Skvortsova TE, Lekchnov EA, Grigoreva AE, Zaporozhchenko IA, et al. Comparative study of extracellular vesicles from the urine of healthy individuals and prostate cancer patients. PLoS ONE. 2016;11:e0157566.

Nouri M, Ratther E, Stylianou N, Nelson CC, Hollier BG, Williams ED. Androgen-targeted therapy-induced epithelial mesenchymal plasticity and neuroendocrine transdifferentiation in prostate cancer: an opportunity for intervention. Front Oncol. 2014;4:370.

Karatas OF, Guzel E, Suer I, Ekici ID, Caskurlu T, Creighton CJ, et al. MiR-1 and miR-133b are differentially expressed in patients with recurrent prostate cancer. PLoS ONE. 2014;9:e98675.

Heidenreich A, Bellmunt J, Bolla M, Joniau S, Mason M, Matveev V, et al. EAU guidelines on prostate cancer. Part 1: screening, diagnosis, and treatment of clinically localised disease. Eur Urol. 2011;59:61–71.

Mekhail SM, Yousef PG, Jackinsky SW, Pasic M, Yousef GM. MiRNA in prostate cancer: new prospects for old challenges. EJIFCC. 2014;25:79–98.

Shah JS, Soon PS, Marsh DJ. Comparison of methodologies to detect low levels of hemolysis in serum for accurate assessment of serum microRNAs. PLoS ONE. 2016;11:e0153200.

Tiberio P, Callari M, Angeloni V, Daidone MG, Appierto V. Challenges in using circulating miRNAs as cancer biomarkers. Biomed Res Int. 2015;2015:731479.

Brett SI, Kim Y, Biggs CN, Chin JL, Leong HS. Extracellular vesicles such as prostate cancer cell fragments as a fluid biopsy for prostate cancer. Prostate Cancer Prostatic Dis. 2015;18:213–20.

Ge Q, Zhou Y, Lu J, Bai Y, Xie X, Lu Z. MiRNA in plasma exosome is stable under different storage conditions. Molecules. 2014;19:1568–75.

Pisitkun T, Shen RF, Knepper MA. Identification and proteomic profiling of exosomes in human urine. Proc Natl Acad Sci U S A. 2004;101:13368–73.

Koppers-Lalic D, Hackenberg M, de Menezes R, Misovic B, Wachalska M, Geldof A, et al. Non-invasive prostate cancer detection by measuring miRNA variants (isomiRs) in urine extracellular vesicles. Oncotarget. 2016;7:22566–78.

Xu Y, Qin S, An T, Tang Y, Huang Y, Zheng L. MiR-145 detection in urinary extracellular vesicles increase diagnostic efficiency of prostate cancer based on hydrostatic filtration dialysis method. Prostate. 2017;77:1167–75.

Lekchnov EA, Amelina EV, Bryzgunova OE, Zaporozhchenko IA, Konoshenko MY, Yarmoschuk SV, et al. Searching for the novel specific predictors of prostate cancer in urine: the analysis of 84 miRNA expression. Int J Mol Sci. 2018;19:E4088.

El-Khoury V, Pierson S, Kaoma T, Bernardin F, Berchem G. Assessing cellular and circulating miRNA recovery: the impact of the RNA isolation method and the quantity of input material. Sci Rep. 2016;6:19529.

Brunet-Vega A, Pericay C, Quílez ME, Ramírez-Lázaro MJ, Calvet X, Lario S. Variability in microRNA recovery from plasma: comparison of five commercial kits. Anal Biochem. 2015;488:28–35.

Git A, Dvinge H, Salmon-Divon M, Osborne M, Kutter C, Hadfield J, et al. Systematic comparison of microarray profiling, real-time PCR, and next-generation sequencing technologies for measuring differential microRNA expression. RNA. 2010;16:991–1006.

Pritchard CC, Cheng HH, Tewari M. MicroRNA profiling: approaches and considerations. Nat Rev Genet. 2012;13:358–69.

Brazma A, Hingamp P, Quackenbush J, Sherlock G, Spellman P, Stoeckert C, et al. Minimum information about a microarray experiment (MIAME)—toward standards for microarray data. Nat Genet. 2001;29:365–71.

Bustin SA, Benes V, Garson JA, Hellemans J, Huggett J, Kubista M, et al. The MIQE guidelines: minimum information for publication of quantitative real-time PCR experiments. Clin Chem. 2009;55:611–22.

Ghorbanmehr N, Gharbi S, Korsching E, Tavallaei M, Einollahi B, Mowla SJ. MiR-21-5p, miR-141-3p, and miR-205-5p levels in urine—promising biomarkers for the identification of prostate and bladder cancer. Prostate. 2019;79:88–95.

Balacescu O, Petrut B, Tudoran O, Feflea D, Balacescu L, Anghel A, et al. Urinary microRNAs for prostate cancer diagnosis, prognosis, and treatment response: are we there yet? Wiley Interdiscip Rev RNA. 2017;8:e1438.

Schwarzenbach H, da Silva AM, Calin G, Pantel K. Data normalization strategies for microRNA quantification. Clin Chem. 2015;61:1333–422.

Agaoglu FY, Kovancilar M, Dizdar Y, Darendeliler E, Holdenrieder S, Dalay N, et al. Investigation of miR-21, miR-141, and miR-221 in blood circulation of patients with prostate cancer. Tumor Biol. 2011;32:583–8.

Filella X, Foj L. MiRNAs as novel biomarkers in the management of prostate cancer. Clin Chem Lab Med. 2017;55:715–36.

Medina-Villaamil V, Martínez-Breijo S, Portela-Pereira P, Quindós-Varela M, Santamarina-Caínzoz I, Antón-Aparicio LM, et al. MicroARN circulantes en sangre de pacientes con cáncer de próstata. Actas Urológicas Españolas. 2014;38:633–9.

Sharma N, Baruah MM. The microRNA signatures: aberrantly expressed miRNAs in prostate cancer. Clin Transl Oncol. 2019;21:126–44.

Yang Y, Guo JX, Shao ZQ. MiR-21 targets and inhibits tumor supressor gene PTEN to promote prostate cancer cell proliferation and invasion: an experimental study. Asian Pac J Trop Med. 2017;10:87–91.

Li JZ, Li J, Wang HQ, Li X, Wen B, Wang YJ. MiR-141-3p promotes prostate cancer cell proliferation through inhibiting kruppel-like factor-9 expression. Biochem Biophys Res Commun. 2017;482:1381–6.

Pickl JMA, Tichy D, Kuryshev VY, Tolstov Y, Falkenstein M, Schüler J, et al. Ago-RIP-Seq identifies polycomb repressive complex I member CBX7 as a major target of miR-375 in prostate cancer progression. Oncotarget. 2016;7:59589–603.

Selth LA, Das R, Townley SL, Coutinho I, Hanson AR, Centenera MM, et al. A ZEB1-miR-375-YAP1 pathway regulates epithelial plasticity in prostate cancer. Oncogene. 2017;36:24–34.

Rodríguez M, Bajo-Santos C, Hessvik NP, Lorenz S, Fromm B, Berge V, et al. Identification of non-invasive miRNAs biomarkers for prostate cancer by deep sequencing analysis of urinary exosomes. Mol Cancer. 2017;16:156.

Filella X, Foj L. Prostate cancer detection and prognosis: from prostate specific antigen (PSA) to exosomal biomarkers. Int J Mol Sci. 2016;17:E1784.

Wani S, Kaul D, Mavuduru RS, Kakkar N, Bhatia A. Urinary-exosomal miR-2909: a novel pathognomonic trait of prostate cancer severity. J Biotechnol. 2017;259:135–9.

Stephan C, Jung M, Rabenhorst S, Kilic E, Jung K. Urinary miR-183 and miR-205 do not surpass PCA3 in urine as predictive markers for prostate biopsy outcome despite their highly dysregulated expression in prostate cancer tissue. Clin Chem Lab Med. 2015;53:1109–18.

Haj-Ahmad TA, Abdalla MAK, Haj-Ahmad Y. Potential urinary miRNA biomarker candidates for the accurate detection of prostate cancer among benign prostatic hyperplasia patients. J Cancer. 2014;5:182–91.

Guelfi G, Cochetti G, Stefanetti V, Zampini D, Diverio S, Boni A, et al. Next generation sequencing of urine exfoliated cells: an approach of prostate cancer microRNAs research. Sci Rep. 2018;8:7111.
Acknowledgements
This study was supported partially by Hermes Pardini Group and Fundo de Incentivo à Pesquisa do Hospital de Clínicas de Porto Alegre (FIPE/HCPA) (Grant No. 160539).
Ethics declarations
Conflict of interest
The authors declare that they have no conflict of interest.
Ethical approval (research involving human participants and/or animals)
This article does not contain any studies with human participants or animals performed by any of the authors.
Informed consent
Not applicable.
Additional information
Publisher's Note
Springer Nature remains neutral with regard to jurisdictional claims in published maps and institutional affiliations.
About this article
Cite this article
Paiva, R.M., Zauli, D.A.G., Neto, B.S. et al. Urinary microRNAs expression in prostate cancer diagnosis: a systematic review. Clin Transl Oncol 22, 2061–2073 (2020). https://doi.org/10.1007/s12094-020-02349-z
Received:

Accepted:

Published:

Issue Date:

DOI: https://doi.org/10.1007/s12094-020-02349-z
Keywords