Abstract
Background
Cutaneous squamous cell carcinoma (cSCC) is the leading cause of death in patients with recessive dystrophic epidermolysis bullosa (RDEB). We provide the management and prognosis of cSCC in RDEB patients at a Spanish reference center.
Materials and methods
We retrospectively included patients with RDEB attended in La Paz University Hospital from November 1988 to October 2018.
Results
Fourteen patients developed at least one cSCC. Tumors were predominantly well differentiated. Nearly half of the tumors have recurred. Median time to first recurrence was 23.4 months (95% CI: 17.2–29.5). Five patients have developed distant metastases. Median overall survival (mOS) was 136.5 months since the diagnosis of the first cSCC (95% CI: 30.6–242.3). When distant metastases occurred, mOS was 6.78 months (95% CI: 1.94–11.61).
Conclusions
cSCC is a life-threatening complication of RDEB patients. Although tumors are usually well differentiated, they tend to relapse. This is the first Spanish report of cSCC arising in RDEB patients.
Access options
Buy single article
Instant access to the full article PDF.
USD 39.95
Price excludes VAT (USA)
Tax calculation will be finalised during checkout.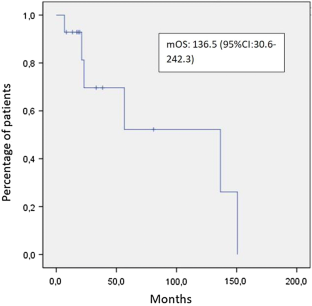 References
Fine JD, Bruckner-Tuderman L, Eady RA, Bauer EA, Bauer JW, Has C, et al. Inherited epidermolysis bullosa: updated recommendations on diagnosis and classification. J Am Acad Dermatol. 2014;70(6):1103–26.

Fine JD, Johnson LB, Weiner M, Li KP, Suchindran C. Epidermolysis bullosa and the risk of life-threatening cancers: the National EB Registry experience, 1986–2006. J Am Acad Dermatol. 2009;60(2):203–11.

Montaudié H, Chiaverini C, Sbidian E, Charlesworth A, Lacour JP, et al. Inherited epidermolysis bullosa and squamous cell carcinoma: a systematic review of 117 cases. Orphanet J Rare Dis. 2016;11(1):117.

Amin MB, Edge S, Greene F, et al., editors. AJCC cancer staging manual. 8th ed. New York: Springer; 2017.

Eisenhauer EA, Therasse P, Bogaerts J, et al. New response evaluation criteria in solid tumours: revised RECIST guideline (version 1.1). Eur J Cancer. 2009;45:228–47.

Kim M, Murrell DF. Update on the pathogenesis of squamous cell carcinoma development in recessive dystrophic epidermolysis bullosa. Eur J Dermatol. 2015;25(Suppl 1):30–2.

Guerra L, Odorisio T, Zambruno G, Castiglia D. Stromal microenvironment in type VII collagen-deficient skin: the ground for squamous cell carcinoma development. Matrix Biol. 2017;63:1–10.

Kim M, Li M, Intong-Wheeler LRA, Tran K, Marucci D, Murrell DF. Epidemiology and outcome of squamous cell carcinoma in epidermolysis bullosa in Australia and New Zealand. Acta Derm Venereol. 2018;98(1):70–6.

Bastin KT, Steeves RA, Richards MJ. Radiation therapy for squamous cell carcinoma in dystrophic epidermolysis bullosa: case reports and literature review. Am J Clin Oncol. 1997;20(1):55–8.

Kim M, Li M, Intong LRA, Tran K, Melbourne W, Marucci D, et al. Use of cetuximab as an adjuvant agent to radiotherapy and surgery in recessive dystrophic epidermolysis bullosa with squamous cell carcinoma. Br J Dermatol. 2013;169:208–10.

Arnold AW, Bruckner-Tuderman L, Zuger C, Itin PH. Cetuximab therapy of metastasizing cutaneous squamous cell carcinoma in a patient with severe recessive dystrophic epidermolysis bullosa. Dermatology. 2009;219:80–3.

Schwartz RA, Birnkrant AP, Rubenstein DJ, Kim U, Burgess GH, Stoll HL, et al. Squamous cell carcinoma in dominant type epidermolysis bullosa dystrophica. Cancer. 1981;47:615–20.

Lentz SR, Raish RJ, Orlowski EP, Marion JM. Squamous cell carcinoma in epidermolysis bullosa. Treatment with systemic chemotherapy. Cancer. 1990;66:1276–8.

Wechsler HL, Krugh FJ, Domonkos AN. Polydysplastic epidermolysis bullosa and development of epidermal neoplasms. Arch Dermatol. 1970;102(4):374–80.

Mallipeddi R. Epidermolysis bullosa and cancer. Clin Exp Dermatol. 2002;27(8):616–23.

Mellerio JE, Robertson SJ, Bernardis C, Diem A, Fine JD, George R, et al. Management of cutaneous squamous cell carcinoma in patients with epidermolysis bullosa: best clinical practice guidelines. Br J Dermatol. 2016;174(1):56–67.

Migden MR, Rischin D, Schmults CD, Guminski A, Hauschild A, Lewis KD, et al. PD-1 blockade with cemiplimab in advanced cutaneous squamous-cell carcinoma. N Engl J Med. 2018;379(4):341–51.
Acknowledgements
The authors from UC3M-CIEMAT-CIBERER-IISFJD group are grateful for funding received from the Community of Madrid (AvanCell-CM: B2017/BMD-3692), from the European Union (GENEGRAFT: HEALTH-F2-2011-261392), from the Carlos III Institute of Health and ERDF, "Investing in your future" (AES_ICI14/00327- ICI14/00363), from ERDF/The Spanish Ministry of Science, Innovation and Universities – Agencia Estatal de Investigación (SAF2017-86810-R), and from the Patient Associations, Berritxuak and DEBRA-España.
Funding
This work has not been supported by public grants or financial support. No sources of funding were used to assist in the preparation of the manuscript.
Ethics declarations
Conflict of interest
The authors declare that they have no conflict of interest.
Research involving human participants and/or animals
This article does not contain any studies with human participants or animals performed by any of the authors.
Informed consent
Local ethical committee approved the use of anonymized historic samples and data for the study and waived informed consent from patients.
Additional information
Publisher's Note
Springer Nature remains neutral with regard to jurisdictional claims in published maps and institutional affiliations.
About this article
Cite this article
Castelo, B., Viñal, D., Maseda, R. et al. Epidemiology and natural history of cutaneous squamous cell carcinoma in recessive dystrophic epidermolysis bullosa patients: 20 years' experience of a reference centre in Spain. Clin Transl Oncol 21, 1573–1577 (2019). https://doi.org/10.1007/s12094-019-02073-3
Received:

Accepted:

Published:

Issue Date:

DOI: https://doi.org/10.1007/s12094-019-02073-3
Keywords
Cutaneous squamous cell carcinoma

Recessive dysthropic epydermolisis bullosa

Prognosis

Treatment