Abstract
Background and aim
Ototoxicity is a potential adverse effect of chemotherapy with platin drugs, such as cisplatin and carboplatin, in children. Hearing loss (HL) affecting frequencies below 4 kHz can compromise speech perception. The aim of this study was to investigate whether genetic variants previously implicated in ototoxicity are associated with HL overall and HL below 4 kHz in pediatric oncology patients treated with cisplatin or carboplatin.
Materials and methods
Patients given cisplatin or carboplatin for a pediatric cancer at least 5 years prior to the start of the study were enrolled. The patients underwent comprehensive audiological evaluations and genotyping to detect the presence of the GJB2 c.35delG, GSTP1 c.313A>G, and MT-RNR1 m.1555A>G polymorphisms.
Results
HL was identified in 31/61 patients (50.8%), including 28/42 treated with cisplatin (66.6%) and 3/19 treated with carboplatin (15.8%). HL was associated with higher mean doses of cisplatin (p = .002) and carboplatin (p = .010). The c.313A>G variant of GSTP1 (heterozygous or homozygous) was detected in 31/61 patients (50.8%). An association between this variant allele and HL involving frequencies ≤ 4 kHz was identified (p = .020; 10-fold vs. non-carriers). No associations with HL were observed for GJB2 or MT-RNR1 gene variants.
Conclusion
The GSTP1 c.313A>G variant may increase the risk of low-frequency HL in pediatric oncology patients treated with cisplatin or carboplatin chemotherapy.
This is a preview of subscription content, log in to check access.
Access options
Buy single article
Instant access to the full article PDF.
US$ 39.95
Price includes VAT for USA
Subscribe to journal
Immediate online access to all issues from 2019. Subscription will auto renew annually.
US$ 99
This is the net price. Taxes to be calculated in checkout.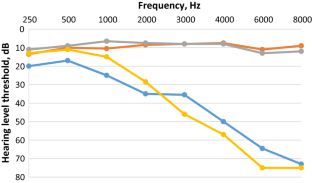 References
1.

Brock PR, Yeomans EC, Bellman SC, Pritchard J. Cisplatin therapy in infants: short and long-term morbidity. Br J Cancer Suppl. 1992;18:S36–40.

2.

Skinner R. Best practice in assessing ototoxicity in children with cancer. Eur J Cancer. 2004;40:2352–4.

3.

Schultz C, Goffi-Gomez MVS, Liberman PHP, Pellizzon AC, Carvalho AL. Hearing loss and complaint in patients with head and neck cancer treated with radiotherapy. Arch Otolaryngol Head Neck Surg. 2010;136(1):1065–9. https://doi.org/10.1001/archoto.2010.180.

4.

Peters U, Preisler-Adams S, Hebeisen A, Hahn M, Seifert E, Lanvers C, Heinecke A, Horst J, Jürgens H, Lamprecht-Dinnesen A. Glutathione S-transferase genetic polymorphisms and individual sensitivity to the ototoxic effect of cisplatin. Anticancer Drugs. 2000;11:639–43.

5.

Rybak LP, Mukherjea D, Jajoo S, Ramkumar V. Cisplatin ototoxicity and protection: clinical and experimental studies. Tonoku J Exp Med. 2009;219:177–86.

6.

Mukherjea D, Rybak LP. Pharmacogenomics of cisplatin-induced ototoxicity. Pharmacogenomics. 2011;12(7):1039–50. https://doi.org/10.2217/pgs.11.48.

7.

Hyppolito MA, Oliveira JAA. Ototoxicity, otoprotection and self defense of the coclear outer hair cells. Medicina (Ribeirão Preto). 2005;38:279–89.

8.

Langer T, am Zehnhoff-Dinnesen A, Radtke S, Meitert J, Zolk O. Understanding platinum-induced ototoxicity. Trends Pharmacol Sci. 2013;34(8):458–69. https://doi.org/10.1016/j.tips.2013.05.006.

9.

Knoll C, Smith RJ, Shores C, Blatt J. Hearing genes and cisplatin deafness: a pilot study. Laryngoscope. 2006;116:72–4.

10.

Rybak LP, Whitworth CA, Mukherjea D, Ramkumar V. Mechanisms of cisplatin-induced ototoxicity and prevention. Hear Res. 2007;226(1–2):157–67.

11.

Sabatini LM, Mathews C, Ptak D, Doshi S, Tynan K, Hegde MR, Burke TL, Bossler AD. Genomic sequencing procedure microcosting analysis and health economic cost-impact analysis: a report of the association for molecular pathology. J Mol Diagn. 2016;18(3):319–28.

12.

Peters U, Preisler-Adams S, Lanvers-Kaminsky C, Jürgens H, Lamprecht-Dinnesen A. Sequence variations of mitochondrial DNA and individual sensitivity to theototoxic effect of cisplatin. Anticancer Res. 2003;23:1249–55.

13.

Guan MX, Fischel-Ghodsian N, Attardi G. A biochemical basis for the inherited susceptibility to aminoglycoside ototoxicity. Hum Mol Genet. 2000;9:1787–93.

14.

el Barbary A, Altschuler RA, Schacht J. Gluthathione S-transferases in the organ of corti of the rat: enzymatic activity, subunit composition and immunohistochemical localization. Hear Res. 1993;71:80–90.

15.

Hu X, Xia H, Srivastava SK, Pal A, Awasthi YC, Zimniak P, Singh SV. Catalytic efficiencies of allelic variants of human glutathione S-transferase P1-1 toward carcinogenic anti-diol epoxides of benzo[c] phenan-threne and benzo[g]chrysene. Cancer Res. 1998;58:5340–3.

16.

Brock PR, Knight KR, Freyer DR, Campbell KC, Steyger PS, Blakley BW, Rassekh SR, Chang KW, Fligor BJ, Rajput K, Sullivan M, Neuwelt EA. Platinum-induced ototoxicity in children: a consensus review on mechanisms, predisposition, and protection, including a new International Society of Pediatric Oncology Boston ototoxicity scale. J Clin Oncol. 2012;30(19):2408–17. https://doi.org/10.1200/JCO.2011.39.1110.

17.

Liberman PHP, Goffi-Gomez MVS, Schultz C, Lopes LF. What are the audiometric frequencies affected are the responsible for the hearing complaint in the hearing loss for ototoxicity after the oncological treatment? Arq Int Otorrinolaringol. 2012;16:26–31.

18.

Liberman PH, Schultz C, Goffi-Gomez MV, Lopes LF. Speech recognition and frequency of hearing loss in patients treated for cancer in childhood. Pediatr Blood Cancer. 2013;60(10):1709–13. https://doi.org/10.1002/pbc.24560.

19.

Friedman TB, Griffith AJ. Human nonsyndromic sensori-neural deafness. Ann Rev Genom Hum Genet. 2003;4:341–402.

20.

Iwasaki S, Tamagawa Y, Ocho S, Hoshino T, Kitamura K. Hereditary sensorineural hearing loss of unknown cause involving mitochondrial DNA A1555 mutation. ORL J Otorhinolaryngol Relat Spec. 2000;62:100–3.

21.

Harries LW, Stubbins MJ, Forman D, Howard GC, Wolf CR. Identification of genetic polymorphisms at the glutathione S-transferase locus and association with susceptibility to bladder, testicular and prostate cancer. Carcinogenesis (Lond). 1997;18:641–4.

22.

Jerónimo C, Varzim G, Henrique R, Oliveira J, Bento MJ, Silva C, Lopes C, Sidransky D. I105V polymorphism and promoter methylation of the GSTP1 gene in prostate adenocarcinoma. Cancer Epidemiol Biomark Prev. 2002;11(5):445–50.

23.

Jehanne M, Lumbroso-Le Rouic L, Savignoni A, Aerts I, Mercier G, Bours D, Desjardins L, Doz F. Analysis of ototoxicity in young children receiving carboplatin in the context of conservative management of unilateral or bilateral retinoblastoma. Pediatr Blood Cancer. 2009;52(5):637–43. https://doi.org/10.1002/pbc.21898.

24.

Qaddoumi I, Bass JK, Wu J, Billups CA, Wozniak AW, Merchant TE, Haik BG, Wilson MW, Rodriguez-Galindo C. Carboplatin-associated ototoxicity in children with retinoblastoma. J Clin Oncol. 2012;30(10):1034–41. https://doi.org/10.1200/JCO.2011.36.9744.

25.

Yancey A, Harris MS, Egbelakin A, Gilbert J, Pisoni DB, Renbarger J. Risk factors for cisplatin-associated ototoxicity in pediatric oncology patients. Pediatr Blood Cancer. 2012;59:144–8. https://doi.org/10.1002/pbc.24138.

26.

Peleva E, Emami N, Alzahrani M, Bezdjian A, Gurberg J, Carret AS, Daniel SJ. Incidence of platinum-induced ototoxicity in pediatric patients in Quebec. Pediatr Blood Cancer. 2014;61(11):2012–7. https://doi.org/10.1002/pbc.25123.

27.

Estivill X, Govea N, Barceló E, Badenas C, Romero E, Moral L, Scozzri R, D'Urbano L, Zeviani M, Torroni A. Familial progressive sensorineural deafness is mainly due to the mtDNA A1555G mutation and is enhanced by treatment of aminoglycosides. Am J Hum Genet. 1998;62(1):27–35.

28.

ABraOM: Brazilian genomic variants. http://abraom.ib.usp.br.

29.

Oldenburg J, Kraggerud SM, Cvancarova M, Lothe RA, Fossa SD. Cisplatin-induced long-term hearing impairment is associated with specific glutathione s-transferase genotypes in testicular cancer survivors. J Clin Oncol. 2007;25:708–14.

30.

Rednam S, Scheurer ME, Adesina A, Lau CC, Okcu MF. Glutathione S-transferase P1 single nucleotide polymorphism predicts permanent ototoxicity in children with medulloblastoma. Pediatr Blood Cancer. 2013;60:593–8. https://doi.org/10.1002/pbc.24366.
Acknowledgements
The authors would like to acknowledge Dr. Sami Liberman and Vinicius Calsavara for their support on the statistical analysis.
Ethics declarations
Conflict of interest
The authors have no conflicts to declare.
Ethical approval
This research involved human participants and it was approved by the Ethics Committee of Hospital AC Camargo Cancer Center under the protocol
Informed consent
Patients signed its informed consent.
About this article
Cite this article
Liberman, P.H.P., Goffi-Gomez, M.V.S., Schultz, C. et al. Contribution of the GSTP1 c.313A>G variant to hearing loss risk in patients exposed to platin chemotherapy during childhood. Clin Transl Oncol 21, 630–635 (2019). https://doi.org/10.1007/s12094-018-1964-7
Received:

Accepted:

Published:

Issue Date:
Keywords
Hearing loss

Cancer

Ototoxicity

Cisplatin

Carboplatin

GSTP1