Abstract
Purpose
Current cancer treatment options include surgical intervention, radiotherapy, and chemotherapy. The quality of the provision of each of them and their effective coordination determines the results in terms of benefit/risk. Regarding the radiation oncology treatments, there are not stabilised quality indicators to be used to perform control and continuous improvement processes for healthcare services. Therefore, the Spanish Society of Radiation Oncology has undertaken a comprehensive project to establish quality indicators for use with the information systems available in most Spanish healthcare services.
Methods
A two-round Delphi study examines consensus of several possible quality indicators (n = 28) in daily practice. These indicators were defined after a bibliographic search and the assessment by radiation oncology specialists (n = 8). They included aspects regarding treatment equipment, patient preparation, treatment, and follow-up processes and were divided in structure, process, and outcome indicators.
Results
After the evaluation of the defined quality indicators (n = 28) by an expert panel (38 radiation oncologist), 26 indicators achieved consensus in terms of agreement with the statement. Two quality indicators did not achieve consensus.
Conclusions
There is a high degree of consensus in Spanish Radiation Oncology specialists on which indicators in routine clinical practice can best measure quality. These indicators can be used to classify services based on several parameters (patients, equipments, complexity of the techniques used, and scientific research). Furthermore, these indicators allow assess our current situation and set improvements' objectives.
This is a preview of subscription content, log in to check access.
Access options
Buy single article
Instant access to the full article PDF.
US$ 39.95
Price includes VAT for USA
Subscribe to journal
Immediate online access to all issues from 2019. Subscription will auto renew annually.
US$ 99
This is the net price. Taxes to be calculated in checkout.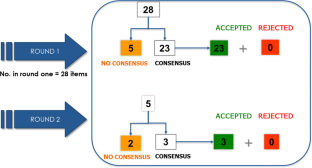 References
1.

Committee on Quality of Health Care in America Institute of Medicine. Crossing the Quality Chasm: A New Health System for the 21st Century. 2001. http://www.nap.edu/catalog/10027.html.

2.

Royal Decree 1566/1998 of 17 July, on the Quality Standards in Radiotherapy (Official State Gazette No. 206, dated 28 August).

3.

NIH. National Cancer Institute: The nation′s investment in cancer research: a plan and budget proposal for fiscal year 2004. Bethesda: U.S. Department of Health and Human Services, National Institutes of Health; 2002 (Publication No. 03-4373).

4.

Donabedian A. The quality of care. How can it be assessed? JAMA. 1988;260:1743–8.

5.

Dalkey N, Brown B, Cochran S. The Delphi Method, III: use of self ratings to improve group estimates. Santa Monica: Rand Corporation; 1969.

6.

Hanks GECL, Curry J. Patterns of care studies: past, present and future. Semin Radiation Oncol. 1997;7:97–100.

7.

Ellison LMHJ, Birkmeyer JD. The effect of hospital volume on mortality and resource use after radical prostatectomy. J Urol. 2000;163:867–9.

8.

Hayman J. Measuring the quality of care in radiation oncology. Seminars in Radiation Oncology. 2008;18:201–6.

9.

Brook RHME, Shekelle PG. Defining and measuring quality of care: a perspective from US researchers. Int J Qual Helth Care. 2000;12:281–95.

10.

Bentzen SM, Heeren G, Cottier B, et al. Towards evidence-based guidelines for radiotherapy infrastructure and staffing needs in Europe: the ESTRO QUARTS project. Radiother Oncol. 2005;75:355–65.

11.

Rosenblatt E, Izewska J, Anacak Y, et al. Radiotherapy capacity in European countries: ananalysis of the directory of radiotherapy centres (DIRAC) database. Lancet Oncol. 2013;14:e79–86.

12.

Lievens Y, Dunscombe P, Defourny N, et al. HERO (Health Economics in Radiation Oncology): a pan-European project on radiotherapy resources and needs. Clin Oncol (R Coll Radiol). 2015;27:115–124.

13.

Dusscombe P, Grau C, Defourny N, et al. Guidelines for equipment and staffing of radiotherapy facilities in European countries: final results of the ESTRO-HERO survey. Radiother Oncol. 2014;112(2):165–77.

14.

Lievens Y, Defourny N, Coffey M, et al. Radiotherapy staffing in the European countries: final results from the ESTRO-HERO survey. Radio Ther Oncol. 2014;112(2):178–86.

15.

Slotman Ben J, Cottier B, Bentzen SM, et al. Overview of National Guidelines for infrastructure and staffing of Radiotherapy. ESTRO-QUARTS. Radiother Oncol. 2005;75:349e1–6.

16.

Ministerio de Sanidad y Política Social. Estrategia en Cáncer del Sistema Nacional de Salud. Madrid; 2010. https://www.mscbs.gob.es/organizacion/sns/planCalidadSNS/pdf/ActualizacionEstrategiaCancer.pdf.

17.

Saura RM, Gimeno V, Blanco MC, Colomer R, Serrano P, Acea B, et al. Desarrollo de indicadores de proceso y resultado y evaluación de la práctica asistencial oncológica. Informe de evaluación de tecnologías sanitarias (AATRM 2006/02). Madrid: Ministerio de Sanidad y Consumo; 2007.

18.

Cooper T, Williams MV. Implementation of intensity-modulated radiotherapy: lessons learned and implications for the future. Clin Oncol (R Coll Radiol). 2012;24:539–42.

19.

De NW, De GW, Madani I. Rational use of intensity-modulated radiation therapy: the importance of clinical out come. Semin Radiat Oncol. 2012;22:40–9.

20.

Mayles WP, on be half of the Radiotherapy. Development Board. Survey of the availability and use of advanced radiotherapy technology in the UK. Clin Oncol (R Coll Radiol). 2010;22:636–42.

21.

Staffurth J. A review of the clinical evidence for intensity-modulated radiotherapy. Clin Oncol (R Coll Radiol). 2010;22:643–57.

22.

Herruzo I, et al. The white book of radiation oncology in Spain. In: Clinical & translationaloncology: official publication of the Federation of Spanish Oncology Societies and of the National Cancer Institute of Mexico. 13-6, pp. 385–395 (2011). ISSN:1699-3055.

23.

Observatoire National de la Radiothérapie. Situation fin 2013 et évolution depuis 2009. Boulogne-Billancourt: Institut National du Cancer; 2015.

24.

Castelli J, Simon A, Louvel G, Henry O, Chajon E, Nassef M, et al. Impact of head and neck cancer adaptative radiotherapy tos pare the parotidglands and decrease the risk of xerostomia. Radiat Oncol. 2015;10(1):6.

25.

Yang H, Hu W, Wang W, Chen P, Ding W. LuoWl: replanningduringintensitymodulatedradiationtherapyimprovedquality of life in patients with naso pharyngeal carcinoma. Int J Radiat Oncol Biol Phys. 2013;85(1):e47–54.

26.

Jadon R, Pembroke CA, Hanna CL, Palaniappan N, Evans M, Cleves AE, Staffuth J. A systematic review of organ motion and image-guided strategies in external beam radiotherapy for cervical cancer. Clin Oncol. 2014;26(4):185–96.

27.

Radiotherapy risk profile WHO/IER/PSP/2008.12. https://www.who.int/patientsafety/activities/technical/radiotherapy_rik_profile.pdf.

28.

Soldá F, Lodge M, Ashley S, et al. Stereo tactic radiotherapy (SABR) for the treatment of primary non-small-celllung cáncer; Systematic review and comparis on with a surgicalcohort. Radiother Oncol. 2013;109(1):1–7. https://www.thegreenjournal.com/article/S0167-8140(13)00464-7/pdf.

29.

Saghal A, Roberge D, Schellenberg D, et al. The Canadian Association Oncology Scope of Practice Guidelines for Lung, Liver and spine Stero tactic Body Radiotherapy. Clin Oncol (R Coll Radiol). 2012;24(9):629–39.

30.

Pass HI, Ball D, Scagliotti GV. IASLC Thoracic Oncology. Elsevier. 2014.

31.

Postmus PE, Kerr KM, Oudkerk M, Senan S, Waller DA, Vansteenkiste J, Escriu C, Peters S, on behalf of the ESMO Guidelines. Early and locally advanced non-small-cell lung cancer (NSCLC): ESMO Clinical Practice Guidelines for diagnosis, treatment and follow-up. Anna Oncol 2017;28(Supplement 4):iv1–iv21.

32.

Gasinska A, Fowler JF, Lind BK. Influence of overall treatment time and radiobiological parameters on biologically effective doses in cervical cancer patients treated with radiation therapy alone. Acta Oncológica. 2004;43(7):657–66.

33.

Gonzalez Ferreira JA, Jaen Olasolo J, Azinovic I, Jeremic B. Effect of radiotherapy delay in overall treatment time on local control and survival in head and neck cancer: review of the literatura. Rep Pract Oncol Radiother. 2015;20(5):328–39.

34.

Ben-Josef E, Moughan J, Ajani JA, Flam M, Gunderson L, et al. Impact of Overall Treatment Time on Survival and Local Control in Patients With Anal Cancer: a pooled data analysis of radiation therapy oncology group trials 87-04 and 98-11. JCO. 2010;28:5061–6.

35.

NCCN Clinical Practice guidelines in oncology prostate cancer. Version 2. 2018 y poner acceso: https://www.nccn.org/professionals/physician_gls/pdf/prostate.pdf. Accessed Mar 2018.

36.

Guidelines on prostate cancer. European association of urology 2016. http://uroweb.org/guideline/prostate-cancer/. Accessed Mar 2018.

37.

Zelefsky MJ, Lee WR, Zietman A, Khalid N, Ch Crozier J, Owen JF Wilson. Evaluation of adherence to quality measures for prostate cancer radiotherapy in the United States: results from the quality research in radiation oncology (QRRO) survey. POR. 2013;3:2–8.

38.

Michalski H, Gay H, Jackson A, et al. Radiation dose-volume effects in radiation-induced rectal injury. Int J Radiat Oncol Biol Phys. 2010;76(suppl):S123–9.

39.

Stone NN, Stock RG, Cesaretti JA, Unger P. Local control following permanent prostate brachytherapy: effect of high biologically effective dose on biopsy results and oncologic out comes. Int J Radiat Oncol BiolPhys. 2010;76(2):355–60.

40.

Crook JM, Potter L, Stock RG, Zelefsky MJ. Critical organdosi metry in permanent seed prostate brachy therapy: defining the organs at risk. Brachytherapy. 2005;4:186–94.

41.

Catton CN, Lukka H, Gu C-S, Martin JM, et al. Randomized trial of a hypofractionated radiation regimen for the treatment of localized prostate cancer. JCO. 2017;35:1884–90.

42.

Dearnaley D, Syndikus I, Mossop H, et al. Conventional versus hypofractionated high-dose intensity-modulated radiotherapy for prostate cancer: 5-year outcomes of the randomised, noninferiority, phase 3 CHHiP trial. Lancet Oncol. 2016;17:1047–60.

43.

Pollack A, Walker G, Horwitz EM, et al. Randomized trial of hypofractionated external-beam radiotherapy for prostate cancer. J Clin Oncol. 2013;31:3860–8.

44.

Aluwini S, Pos F, Schimmel E, et al. Hypofractionated versus conventionally fractionated radiotherapy for patients with prostate cáncer (HYPRO): late toxicity results from a randomised, non-inferiority, phase 3 trial. Lancet Oncol. 2016;17:464–74.

45.

Gomez-Millan J, Jerez I, Perez A, et al. Potential advantages of volumetric arc therapy in head and neck cancer. Head Neck. 2015;37(6):909–14.

46.

Zhang B, Mo Z, Du W, et al. Intensity-modulated radiation therapy versus 2D-RT or 3D-CRT for the treatment of nasopharyngeal carcinoma: a systematic review and meta-analysis. Oral Oncol. 2015;51(11):1041–6.

47.

Marta GN, Silva V, de Andrade Carvalho H, et al. Intensity-modulated radiation therapy for head and neck cancer: systematic review and meta-analysis. Radiother Oncol. 2014;110(1):9–15.

48.

Arenas M, Sabater S, Gascón M, Henríquez I, Bueno MJ, Rius A. Quality a ssurance in radiotherapy: analysis of the causes of not starting or early radiotherapy with drawal. Radiat Oncol. 2014;9:260.

49.

Bujold A, Craig T, Jaffray D, et al. Image-guided radiotherapy: has itinfluenced patient out comes? Semin Radiat Oncol. 2012;22:50–61.

50.

ACR–Astro practice parameter for image-guided radiation therapy (IGRT). ACR–ASTRO Practice Parameter for Radiation Oncology. https://www.acr.org/-/media/ACR/Files/Practice-Parameters/IGRT-RO.pdf. Accessed Mar 2018.

51.

Position paper on image guided radiation therapy (IGRT) 2015. Faculty of Radiation Oncology. The Royal Australian and New Zeland College of Radiologists. https://www.ranzcr.com/documents/3973-20151123-position-paper-on-image-guided-radiation-therapy-igrt-2015-final. Accessed Mar 2018.

52.

Valle LF, Agarwal S, Bickel KE, et al. Hypofractionated whole breast radiotherapy in breast conservation for early-stage breast cancer: a systematic review and meta-analysis of randomized trials. Breast Cancer Res Treat. 2017;162(3):409–17.

53.

Speers C, Pierce LJ. Postoperative radiotherapy after breast-conserving surgery for early-stage breast cancer: a review. JAMA Oncol. 2016;2(8):1075–82.

54.

Sauer R, Liersch T, Merkel S, Fietkauer R, Hohenberger W, Hess C, et al. Preoperative vs post operative chemo radiotherapy for locally advanced rectal cancer: results of the German CAO/ARO/AIO-94 randomized phase III trial after a median follow-up of 11 years. J ClinOncol. 2012;30(6):1926–33.

55.

Wesswlman S, Winter A, Ferencz J, Seuffenlein T, Post S. Documented quality of care in certified colorectal cancer centres in Germany: German Cancer society benchmarking report for 2013. In J Colorectal Dis. 2014;29:511–58.

56.

Joseph KJ, Al-Mandhari Z, Pervez N, et al. Reirradiation after radical radiation therapy: a survey of patterns of practiceamong Canadian radiation oncologists. Int J Radiat Oncol Biol Phys. 2008;72:1523–9.

57.

Yamazaki H, Fushiki M, Mizowaki T, the Kansai Cancer Therapist Group. A surveillance study of the current status of reirradiation and patterns of practice. J Radiat Res. 2017;58(1):71–8.

58.

McDonald MW, Lawson J, Garg MK, et al. ACR appropriatenesscriteriaretreatment of recurrent head and neckcancerafter prior definitiveradiationexpert panel onradiationoncology-head and neckcancer. Int J Radiat Oncol Biol Phys. 2011;80:1292.

59.

Chen AM, Phillips TL, Lee NY. Practicalconsiderations in the re-irradiation of recurrent and secondprimary head-and-neckcancer: who, why, how, and howmuch? Int J Radiat Oncol Biol Phys. 2011;81:1211.

60.

Strojan P, Corry J, Eisbruch A, et al. Recurrent and secondprimarysquamouscell carcinoma of the head and neck: when and how to reirradiate. Head Neck. 2015;37:134.

61.

McDonald MW, et al. Reirradiation of recurrent and secondprimary head and neck cancer with protontherapy. Int J Radiat Oncol Biol Phys. 2016;4:808.

62.

Halperin EC, Brady LW, Wazer DE. Perez and Brady's Principles and Practice of Radiation Oncology, 6th Edition. Chap. 13, Late Effects and QUANTEC. Philadelphia, PA: Lippincott Williams and Wilkins; 2013.

63.

Poinsot R, Altmeyer A, Conroy T, et al. Multisite validation study of questionnaire assessing out-patient satisfaction with care questionnaire in ambulatory chemotherapy or radiotherapy treatment. Bull Cancer. 2006;93(3):315–27.

64.

Arraras JI, Illarramendi JJ, Viudez A, et al. Determinants of patient satisfaction with care in a Spanish oncology day hospital and its relationship with quality of life. Psychooncology. 2013;22(11):2454–61.

65.

Arraras JI, Rico M, Vila M, Chicata V, et al. The EORTC cancer outpatient satisfaction with care questionnaire in ambulatory radiotherapy: EORTC OUT-PATSAT35 RT. Validation study for Spanish patients. Psychooncology. 2010;19(6):657–64.

66.

van Lent WAM, de Beer RD, van Triest B, et al. Select ing indicators for international benchmarking of radio therapy centers. Journal of Radiotherapy in Practise. 2013;12:26–38.

67.

Van Lent WA, de Beer RD, van Harten WH. International benchmarking of specialty hospitals. A series of case studies on comprehensive cancer centres. BMC Health Serv Res. 2010;10:253.

68.

Boletín Oficial del Estado. Ley 41/2002, de 14 noviembre, Básica Reguladora de la Autonomía del Paciente y de Derechos y Obligaciones en Materia de Información y Documentación Clínica. BOE 15/11/2002.
Acknowledgements
We thank all the participants in the Delphi study for helping to contribute to improve the situation of RO in Spain; the participant's names and affiliations are listed in Appendix 1.
Ethics declarations
Conflict of interest
The Quality Indicators in Radiation Oncology is a scientific initiative by the Spanish Society of Radiation Oncology (SEOR). The authors declare that they have no conflict of interest.
Ethical approval
This article does not contain any studies with human participants or animals.
Informed consent
For this type of study formal consent is not required.
Appendix 1
Appendix 1
JOSÉ ANTONIO MEDINA CARMONA (H. Virgen de la Victoria, Málaga); LAURA DÍAZ GÓMEZ (H. Universitario Puerta del Mar, Puerto de Santa María); MIGUEL MARTÍNEZ CARRILLO (Complejo Hospitalario Jaén, Jaén); AMALIA PALACIOS EITO (H. Reina Sofía, Córdoba); JOSÉ EXPÓSITO HERNÁNDEZ (H. Virgen de las Nieves, Granada); ELOÍSA BAYO LOZANO (H. Virgen Macarena, Sevilla); DAVID VICENTE CARMONA (H. Juan Ramón Jiménez, Huelva); ISMAEL HERRUZO CABRERA (H. Regional Univ. Carlos Haya, Málaga); JOSÉ ANTONIO GONZÁLEZ FERREIRA (Genesis Care Sevilla, Sevilla); MARTIN TEJEDOR (H. Univ. Miguel Servet, Zaragoza); GERMAN JUAN (H. Univ. Central de Asturias, Oviedo); JOSE PARDO (H. Universitari Son Espases, Mallorca); CARLOS FERRER (H. Provincial de Castellón, Castellón); LUIS LARREA (Clínica Virgen del Consuelo (VITAS), Valencia); LEONCIO ARRIBAS (Fund. Inst. Valenciano de Oncología (IVO) Valencia); ENRIQUE GARCIA MIRAGALL (H. General Elche); EDUARDO FERRER (H. Clínico Universitario de Valencia); Alejandro Tormo (H. Universitario La Fe, Valencia); PABLO SOLER (IMED, Elche); MARTA LLORET (H. Negrín, Las Palmas); MARIA VICTORIA VILLAS (Complejo Hospitalario Univ. de Albacete); EVA LOZANO (H. de Ciudad Real); MERCEDES TEIJEIRA (H. Provincial Divino Vallés, Burgos); LUIS PEREZ ROMASANTA (H. Universitario de Salamanca); MANUEL ALGARA (H. de l'Esperança, Barcelona); MERITXELL ARENAS (H. Univ. De Sant Joan de Reus); JORDI GIRALT (H. Gral. de la Vall d'Hebrón, Barcelona); LUIS ANGLADA (H. Univ. de Girona Dr. Josep Trueta ICO); BENJAMIN GUIX (Inst.Médico de Oncología Radioterápica (IMOR), Barcelona); GEMMA SANCHO (H. Santa Creu i Sant Pau, Barcelona); JULIA LUISA MUÑOZ (H. Infanta Cristina, Badajoz); ANTONIO GOMEZ Caamaño (H. Clínico Universitario de Santiago); VICTOR MUÑOZ (H. Do Meixoeiro, Vigo); MAITE MURILLO (H. Univ. de la Princesa, Madrid); PILAR SAMPER (H. Rey Juan Carlos, Móstoles); MARIA JESUS RUIZ (H. Univ. La Paz, Madrid); JUAN SALINAS (H. General Universitario Santa Lucia, Cartagena); FERNANDO ARIAS (H. de Navarra, Pamplona); JUAN PABLO CIRIA (H. Universitario Donostia, San Sebastián).
About this article
Cite this article
López Torrecilla, J., Marín i Borràs, S., Ruiz-Alonso, A. et al. Quality indicators in radiation oncology: proposal of the Spanish Society of Radiation Oncology (SEOR) for a continuous improvement of the quality of care in oncology. Clin Transl Oncol 21, 519–533 (2019). https://doi.org/10.1007/s12094-018-1943-z
Received:

Accepted:

Published:

Issue Date:
Keywords
Radiation oncology

Quality indicators

Delphi

Consensus

Healthcare services