Abstract
Purpose
The goal of this study was to understand if mesenchymal stem cells isolated from lung tumor tissue (T-MSCs) may differentiate into cancer associated fibroblasts (CAFs), that promote neoplastic progression, angiogenesis and metastasis in the epithelial solid tumors, mimicking the tumor microenvironmental influence.
Methods
MSCs were been obtained from healthy (Control, C-MSCs) and tumor (T-MSCs) tissue of one patient who underwent a lobectomy for a lung adenocarcinoma pT1bN0. Isolated cells were characterized for the presence of molecular markers (identified by routine diagnostic characterization in differentiated tumoral cells), stemness properties, and CAF-related markers expression. Subsequently, cells were co-cultured with a lung adenocarcinoma cell line (A549 cells) to evaluate the effects on proliferation, oncogene expression and IL6 secretion.
Results
C- and T-MSCs did not present EGFR mutations unlike tumor tissue and showed a stem-like immunophenotype, characterized by the ability to differentiate towards osteo-, chondro- and adipogenic lineages. The expression of markers referred to CAFs (α-SMA, HI-1α, MMP11, VEGF, CXCL12, TGF-β1, TGF-βRII, IL6, TNFα) was significantly higher in T-MSCs than in C-MSCs. The co-cultures with A549 cells led to the over-expression of selected oncogenes and to the increase of IL6 secretion in T-MSCs but not in C-MSCs.
Conclusions
MSCs isolated from tumor tissue displayed distinct properties compared to MSCs isolated from healthy tissue, suggesting T-MSCs differentiation towards a CAF-related phenotype under the influence of the tumoral microenvironment.
This is a preview of subscription content, log in to check access.
Access options
Buy single article
Instant access to the full article PDF.
US$ 39.95
Price includes VAT for USA
Subscribe to journal
Immediate online access to all issues from 2019. Subscription will auto renew annually.
US$ 99
This is the net price. Taxes to be calculated in checkout.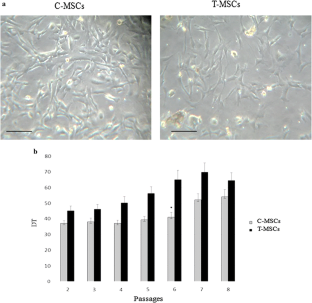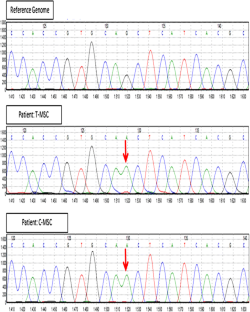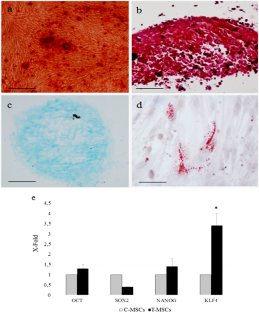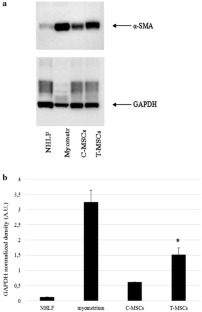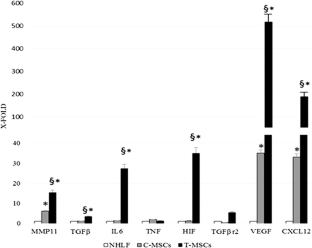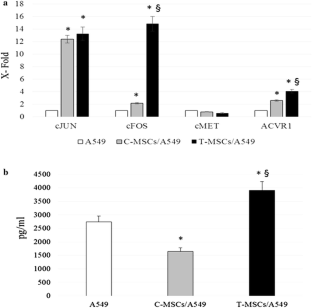 References
1.

Travis WD, Brambilla E, Nicholson AG, Yatabe Y, et al. The 2015 world health organization classification of lung tumors: impact of genetic, clinical and radiologic advances since the 2004 classification. J Thorac Oncol. 2015;10:43–1260.

2.

Siegel RL, Miller KD, Jemal A. Cancer statistics, 2017. CA Cancer J Clin. 2017;67:7–30.

3.

Liu R, Wei S, Chen J, Xu S. Mesenchymal stem cells in lung cancer tumor microenvironment: their biological properties, influence on tumor growth and therapeutic implications. Cancer Lett. 2014;353:145–52.

4.

Anderberg C, Pietras K. On the origin of cancer-associated fibroblasts. Cell Cycle. 2009;8:1461–2.

5.

Orimo A, Weinberg RA. Heterogeneity of stromal fibroblasts in tumors. Cancer Biol Ther. 2007;6:618–9.

6.

Navab R, Strumpf D, Bandarchi B, Zhu CQ, et al. Prognostic gene-expression signature of carcinoma-associated fibroblasts in non-small cell lung cancer. Proc Natl Acad Sci USA. 2011;108:7160–5.

7.

Gascard P, Tlsty TD. Carcinoma-associated fibroblasts: orchestrating the composition of malignancy. Genes Dev. 2016;30:1002–19.

8.

Siravegna G, Mussolin B, Buscarino M, Corti G, et al. Clonal evolution and resistance to EGFR blockade in the blood of colorectal cancer patients. Nat Med. 2015;21:827.

9.

Mariotti C, Lazzarini R, Nicolai M, Saitta A, Orsini E, Orciani M, Di Primio R. Comparative study between amniotic-fluid mesenchymal stem cells and retinal pigmented epithelium (RPE) stem cells ability to differentiate towards RPE cells. Cell Tissue Res. 2015;362:21–31.

10.

Dominici M, Le Blanc K, Mueller I, et al. Minimal criteria for defining multipotent mesenchymal stromal cells. The international society for cellular therapy position statement. Cytotherapy. 2006;8:315–7.

11.

Orciani M, Lazzarini R, Scartozzi M, Bolletta E, Mattioli-Belmonte M, Scalise A, Di Benedetto G, Di Primio R. The response of breast cancer cells to mesenchymal stem cells: a possible role of inflammation by breast implants. Plast Reconstr Surg. 2013;132:899e–910e.

12.

Lazzarini R, Olivieri F, Ferretti C, Mattioli-Belmonte M, Di Primio R, Orciani M. mRNAs and miRNAs profiling of mesenchymal stem cells derived from amniotic fluid and skin: the double face of the coin. Cell Tissue Res. 2014;355:121–30.

13.

Orciani M, Sorgentoni G, Torresetti M, Di Primio R, Di Benedetto G. MSCs and inflammation: new insights into the potential association between ALCL and breast implants. Breast Cancer Res Treat. 2016;156:65–72.

14.

Gazdar AF. Activating and resistance mutations of EGFR in non-small-cell lung cancer: role in clinical response to EGFR tyrosine kinase inhibitors. Oncogene. 2009;28:S24–31.

15.

Sharma SV, Bell DW, Settleman J, Haber DA. Epidermal growth factor receptor mutations in lung cancer. Nat Rev Cancer. 2007;7:169–81.

16.

Mishra PJ, Mishra PJ, Humeniuk R, Medina DJ, Alexe G, Mesirov JP, Ganesan S, Glod JW, Banerjee D. Carcinoma-associated fibroblast-like differentiation of human mesenchymal stem cells. Cancer Res. 2008;68:4331–9.

17.

Sharma SV, Bell DW, Settleman J, Haber DA. Epidermal growth factor receptor mutations in lung cancer. Nat Rev Cancer. 2007;7:169–81.

18.

Chen LY, Molina-Vila MA, Ruan SY, Su KY, et al. Coexistence of EGFR T790M mutation and common activating mutations in pretreatment non-small cell lung cancer: a systematic review and meta-analysis. Lung Cancer. 2016;94:46–53.

19.

Zhang W, Stabile LP, Keohavong P, Romkes M, Grandis JR, Traynor AM, Siegfried JM. Mutation and polymorphism in the EGFR-TK domain associated with lung cancer. J Thorac Oncol. 2006;1:635–47.

20.

Lau EY, Lo J, Cheng BY, Ma MK, et al. Cancer-associated fibroblasts regulate tumor-initiating cell plasticity in hepatocellular carcinoma through c-Met/FRA1/HEY1 signaling. Cell Rep. 2016;15:1175–89.

21.

Li H, Fan X, Houghton J. Tumor microenvironment: the role of the tumor stroma in cancer. J Cell Biochem. 2007;101:805–15.

22.

Mitra AK, Zillhardt M, Hua Y, Tiwari P, Murmann AE, Peter ME, Lengyel E. Micro RNAs reprogram normal fibroblasts into cancer-associated fibroblasts in ovarian cancer. Cancer Discov. 2012;2:1100–8.

23.

Wen S, Niu Y, Yeh S, Chang C. BM-MSCS promote prostate cancer progression via the conversion of normal fibroblasts to cancer-associated fibroblasts. Int J Oncol. 2015;47:719–27.

24.

Orimo A, Gupta PB, Sgroi DC, Arenzana-Seisdedos F, Delaunay T, Naeem R, Carey VJ, Richardson AL, Weinberg RA. Stromal fibroblasts present in invasive human breast carcinomas promote tumor growth and angiogenesis through elevated SDF-1/CXCL12 secretion. Cell. 2005;121:335–48.

25.

Weekes Daniel, Kashima Takeshi G, Zandueta Carolina, Perurena Naiara, et al. Regulation of osteosarcoma cell lung metastasis by the c-Fos/AP-1 target FGFR1. Oncogene. 2016;35:2852–61.

26.

Schafer ZT, Brugge JS. IL-6 involvement in epithelial cancers. J Clin Invest. 2007;117:3660–3.

27.

Yan HQ, Huang XB, Ke SZ, Jiang YN, Zhang YH, Wang YN, Li J, Gao FG. Interleukin 6 augments lung cancer chemotherapeutic resistance via ataxia-telangiectasia mutated/NF-kappaB pathway activation. Cancer Sci. 2014;105:1220–7.

28.

Chang CH, Hsiao CF, Yeh YM, Chang GC, et al. Circulating interleukin-6 level is a prognostic marker for survival in advanced nonsmall cell lung cancer patients treated with chemotherapy. Int J Cancer. 2013;132:1977–85.

29.

Shintani Y, Fujiwara A, Kimura T, Kawamura T, Funaki S, Minami M, Okumura M. IL-6 secreted from cancer-associated fibroblasts mediates chemoresistance in NSCLC by increasing epithelial-mesenchymal transition signaling. J Thorac Oncol. 2016;11:1482–92.

30.

Wang J, Wang B, Chu H, Yao Y. Intrinsic resistance to EGFR tyrosine kinase inhibitors in advanced non-small-cell lung cancer with activating EGFR mutations. Onco Targets Ther. 2016;9:3711–26.
Ethics declarations
Conflict of interest
The authors declare that they have no conflict of interest.
Ethical approval
All procedures performed in studies involving human participants were in accordance with the ethical standards of the institutional and/or national research committee and with the 1964 Helsinki Declaration and its later amendments or comparable ethical standards.
Informed consent
Informed consent was obtained from all individual participants included in the study.
Electronic supplementary material
Below is the link to the electronic supplementary material.
About this article
Cite this article
Arena, S., Salati, M., Sorgentoni, G. et al. Characterization of tumor-derived mesenchymal stem cells potentially differentiating into cancer-associated fibroblasts in lung cancer. Clin Transl Oncol 20, 1582–1591 (2018). https://doi.org/10.1007/s12094-018-1894-4
Received:

Accepted:

Published:

Issue Date:
Keywords
Lung cancer

Mesenchymal stem cells

Cancer-associated fibroblasts

IL6