Abstract
Background
Integrins are highly attractive targets in oncology due to their involvement in angiogenesis in a wide spectrum of cancer entities. Among several integrin inhibitors, cilengitide is suggested to be one of the most promising inhibitors. However, little is known about the cellular processes induced during cilengitide chemotherapy in head and neck squamous cell carcinoma (HNSCC).
Materials and methods
For the current study, 3 HNSCC cell lines, SCC4, SCC15 and SCC25; and 3 primary culture cells, TU53, TU57, and TU63 were used. CD90, cytokeratin, and vimentin were stained immunohistochemically to identify the biological characteristics of these cell lines and primary culture cells and the cytostatic effect of cilengitide was evaluated. Quantitative polymerase chain reaction (qPCR) arrays were applied to evaluate target protein genes ITGAV, ITGB3, and ITGB5 of integrin αvβ3 and αvβ5 at respective concentrations of 50 and 100 μM cilengitide for 72 h.
Results
Cilengitide has significantly inhibited the proliferation of HNSCC cells in a dose-dependent way. At the same concentration, cilengitide suppressed the proliferation of primary culture cells even more strongly than it did that of cell lines, suggesting that primary culture cells retain more of their internal biological characteristics than do cell lines. qPCR assay detected downregulation of ITGAV, ITGB3, and ITGB5 gene expression after exposure to 50 μM of cilengitide. However, after exposure to 100-μM cilengitide, expression of these genes significantly increased both in cell lines and primary culture cells.
Conclusions
RGD-containing small-molecule synthetic peptides might be considered in tumor chemotherapy in the near future. The different reactions of primary culture cells and cell lines demonstrated that individualized chemotherapy plans may be a feasible option. However, research on the role of cilengitide in HNSCC therapy is still in its early stages, and further investigations are required.
Access options
Buy single article
Instant access to the full article PDF.
USD 39.95
Price excludes VAT (USA)
Tax calculation will be finalised during checkout.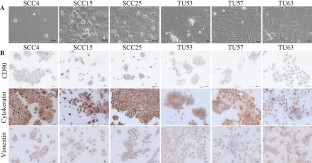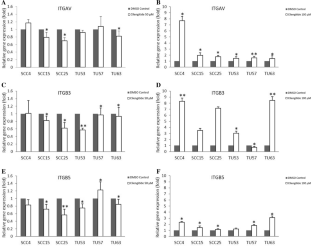 References
Jemal A, Bray F, Center MM, Ferlay J, Ward E, Forman D. Global cancer statistics. CA Cancer J Clin. 2011;61:69–90.

de Bree R, Deurloo EE, Snow GB, Leemans CR. Screening for distant metastases in patients with head and neck cancer. Laryngoscope. 2000;110:397–401.

Denaro N, Russi EG, Colantonio I, Adamo V, Merlano MC. The role of antiangiogenic agents in the treatment of head and neck cancer. Oncology. 2012;83:108–16.

Liotta LA, Stetler-Stevenson WG. Tumor invasion and metastasis: an imbalance of positive and negative regulation. Can Res. 1991;51:5054s–9s.

Varner JA, Cheresh DA. Integrins and cancer. Curr Opin Cell Biol. 1996;8:724–30.

Lester BR, McCarthy JB. Tumor cell adhesion to the extracellular matrix and signal transduction mechanisms implicated in tumor cell motility, invasion and metastasis. Cancer Metastasis Rev. 1992;11:31–44.

Raguse JD, Gath HJ, Bier J, Riess H, Oettle H. Cilengitide (EMD 121974) arrests the growth of a heavily pretreated highly vascularised head and neck tumour. Oral Oncol. 2004;40:228–30.

Kumagai H, Tajima M, Ueno Y, Giga-Hama Y, Ohba M. Effect of cyclic RGD peptide on cell adhesion and tumor metastasis. Biochem Biophys Res Commun. 1991;177:74–82.

Scaringi C, Minniti G, Caporello P, Enrici RM. Integrin inhibitor cilengitide for the treatment of glioblastoma: a brief overview of current clinical results. Anticancer Res. 2012;32:4213–23.

Reardon DA, Neyns B, Weller M, Tonn JC, Nabors LB, Stupp R. Cilengitide: an RGD pentapeptide alphanubeta3 and alphanubeta5 integrin inhibitor in development for glioblastoma and other malignancies. Future Oncol. 2011;7:339–54.

Heiduschka G, Lill C, Schneider S, et al. The effect of cilengitide in combination with irradiation and chemotherapy in head and neck squamous cell carcinoma cell lines. Strahlenther Onkol Organ Dtsch Rontgenges. 2014;190:472–9.

Vermorken JB, Peyrade F, Krauss J, et al. Cisplatin, 5-fluorouracil, and cetuximab (PFE) with or without cilengitide in recurrent/metastatic squamous cell carcinoma of the head and neck: results of the randomized phase I/II ADVANTAGE trial (phase II part). Ann Oncol. 2014;25:682–8.

Cedra S, Wiegand S, Kolb M, Dietz A, Wichmann G. Reduced cytokine release in ex vivo response to cilengitide and cetuximab is a marker for improved survival of head and neck cancer patients. Cancers. 2017;9:117.

Li Y, Cui JT. Inhibition of Bcl-2 potentiates AZD-2014-induced anti-head and neck squamous cell carcinoma cell activity. Biochem Biophys Res Commun. 2016;477:607–13.

Manikandan M, Deva Magendhra Rao AK, Arunkumar G, et al. Oral squamous cell carcinoma: microRNA expression profiling and integrative analyses for elucidation of tumourigenesis mechanism. Mol Cancer. 2016;15:28.

Jovanovic J, Takagi J, Choulier L, et al. alphaVbeta6 is a novel receptor for human fibrillin-1: comparative studies of molecular determinants underlying integrin-rgd affinity and specificity. J Biol Chem. 2007;282:6743–51.

Ten Hagen TL, Seynhaeve AL, de Wiel-Ambagtsheer G, et al. The alphaVbeta3/alphaVbeta5 integrin inhibitor cilengitide augments tumor response to melphalan isolated limb perfusion in a sarcoma model. Int J Cancer. 2013;132:2694–704.

Nabors LB, Mikkelsen T, Rosenfeld SS, et al. Phase I and correlative biology study of cilengitide in patients with recurrent malignant glioma. J Clin Oncol. 2007;25:1651–7.

Gerstner ER, Ye X, Duda DG, et al. A phase I study of cediranib in combination with cilengitide in patients with recurrent glioblastoma. Neuro-oncology. 2015;17:1386–92.

Vansteenkiste J, Barlesi F, Waller CF, et al. Cilengitide combined with cetuximab and platinum-based chemotherapy as first-line treatment in advanced non-small-cell lung cancer (NSCLC) patients: results of an open-label, randomized, controlled phase II study (CERTO). Ann Oncol. 2015;26:1734–40.

Arul M, Roslani AC, Cheah SH. Heterogeneity in cancer cells: variation in drug response in different primary and secondary colorectal cancer cell lines in vitro. In Vitro Cell Dev Biol Anim. 2017;53(5):435–47.

Nabors LB, Mikkelsen T, Rosenfeld SS, et al. Phase I and correlative biology study of cilengitide in patients with recurrent malignant glioma. J Clin Oncol. 2007;25(13):1651–7.

Onishi M, Kurozumi K, Ichikawa T, et al. Gene expression profiling of the anti-glioma effect of cilengitide. Springerplus. 2013;2(1):160.

Eisele G, Wick A, Eisele AC, et al. Cilengitide treatment of newly diagnosed glioblastoma patients does not alter patterns of progression. J Neurooncol. 2014;117:141–5.

Reynolds AR, Hart IR, Watson AR, et al. Stimulation of tumor growth and angiogenesis by low concentrations of RGD-mimetic integrin inhibitors. Nat Med. 2009;15:392–400.

Fabricius EM, Wildner GP, Kruse-Boitschenko U, Hoffmeister B, Goodman SL, Raguse JD. Immunohistochemical analysis of integrins alphavbeta3, alphavbeta5 and alpha5beta1, and their ligands, fibrinogen, fibronectin, osteopontin and vitronectin, in frozen sections of human oral head and neck squamous cell carcinomas. Exp Ther Med. 2011;2:9–19.

Vermorken JB, Guigay J, Mesia R, et al. Phase I/II trial of cilengitide with cetuximab, cisplatin and 5-fluorouracil in recurrent and/or metastatic squamous cell cancer of the head and neck: findings of the phase I part. Br J Cancer. 2011;104:1691–6.
Acknowledgements
The authors would like to thank the laboratory staff members of the involved groups. We thank LetPub for its linguistic assistance.
Ethics declarations
Conflict of interest
The authors declare that they have no conflict of interest.
Ethical approval
All procedures performed in studies involving human participants were in accordance with the ethical standards of the institutional and/or national research committee and with the 1964 Helsinki declaration and its later amendments or comparable ethical standards. The experiments carried out were approved by the Ethics Committee of the Christian-Albrechts-University Kiel, Germany (AZ.D417/09).
Informed consent
Informed consent was obtained from all individual participants included in the study.
Additional information
Publisher's Note
Springer Nature remains neutral with regard to jurisdictional claims in published maps and institutional affiliations.
About this article
Cite this article
Zhang, L., Gülses, A., Purcz, N. et al. A comparative assessment of the effects of integrin inhibitor cilengitide on primary culture of head and neck squamous cell carcinoma (HNSCC) and HNSCC cell lines. Clin Transl Oncol 21, 1052–1060 (2019). https://doi.org/10.1007/s12094-018-02025-3
Received:

Accepted:

Published:

Issue Date:

DOI: https://doi.org/10.1007/s12094-018-02025-3
Keywords
Squamous cell carcinoma

Primary culture cell

Cell line

Proliferation

Integrin

Cilengitide