Abstract
Background
Under the ExPO-r-NeT project (European Expert Paediatric Oncology Reference Network for Diagnostics and Treatment), we aimed to identify paediatric oncology tumour boards in Europe to investigate the kind of technologies and logistics that are in place in different countries and to explore current differences between regions.
Methods
A 20-question survey regarding several features of tumor boards was designed. Data collected included infrastructure, organization, and clinical decision-making information from the centres. The survey was distributed to the National Paediatric Haematology and Oncology Societies that forwarded the survey to the sites. For comparative analysis, respondents were grouped into four geographical regions.
Results
The questionnaire was distributed amongst 30 countries. Response was obtained from 23 (77%) that altogether have 212 paediatric oncology treating centres. A total of 121 institutions answered (57%). Ninety-one percent of the centres hold multidisciplinary boards; however, international second consultations are performed in 36% and only 15% participate on virtual tumor boards. Videoconferencing facilities and standard operational procedures (SOPs) are available in 49 and 43% of the centres, respectively. There were statistically significant differences between European regions concerning meeting infrastructure and organization/logistics: specific room, projecting equipment, access to medical records, videoconferencing facilities, and existence of SOPs.
Conclusion
Paediatric tumor boards are a common feature in Europe. To reduce inequalities and have equal access to healthcare, a virtual network is needed. Important differences on the functioning and access to technology between regions in Europe have been observed and need to be addressed.
This is a preview of subscription content, log in to check access.
Access options
Buy single article
Instant access to the full article PDF.
US$ 39.95
Price includes VAT for USA
Subscribe to journal
Immediate online access to all issues from 2019. Subscription will auto renew annually.
US$ 99
This is the net price. Taxes to be calculated in checkout.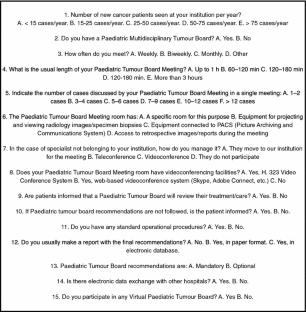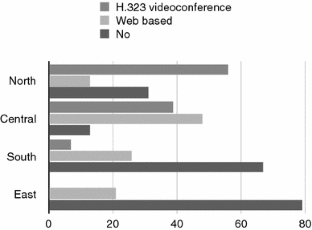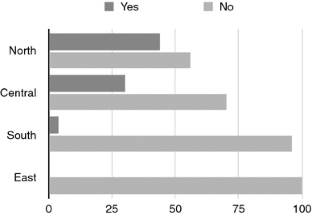 References
1.

Wright F, De Vito C, Langer B, Hunter A; Expert Panel on the Multidisciplinary Cancer Conference Standards. Multidisciplinary cancer conference standards. Toronto (ON): Cancer Care Ontario; Program in Evidence-based Care Evidence-based Series MCC Standards Special Report. 2006 Jun 1.

2.

Brar SS, Hong NL, Wright FC. Multidisciplinary cancer care: does it improve outcomes? J Surg Oncol. 2014;110:494–9.

3.

Hong NJ, Wright FC, Gagliardi AR, Paszat LF. Examining the potential relationship between multidisciplinary cancer care and patient survival: an inter- national literature review. J Surg Oncol. 2010;102:125–34.

4.

Cancer Program Standards 2012 Version 1.2.1: Ensuring Patient-Centered Care (released January 2014). Retrieved from https://www.facs.org/*/media/files/ quality%20programs/cancer/coc/programstandards2012updates.ashx. Accessed the 01 Jul 2015.

5.

Cancer Strategy of the Spanish National Health System. Update approved by the National Health System Interterritorial Council on October 22, 2009. Retrieved from http://www.msssi.gob.es/organizacion/sns/planbCalidadSNS/pdf.Cancer_Strategy_of_the_Spanish_2009.pdf.

6.

Standards for Pediatric Cancer Centers. Hematol Oncol so. Pediatrics. 2014;134:410–4.

7.

Kowalczyk J, Samardakiewicz M, Kowalewska-Bajor, Pomaska EA, Fitzgerald E, Essiaf S. European Standards of Care for Children with Cancer. Retrieved from http://www.siope.eu/wp-content/uploads/2013/09/European_ Standards_final_2011.pdf, (2009, October 14) Accessed the 01 Jul 2015.

8.

De Angelis R, Sant M, Coleman MP, Francisci S, Baili P, Pierannunzio D et al. Cancer survival in Europe (1999–2007) by country and age: results of EUROCARE-5—a population-based study. Lancet Oncol 15(1)23–34

9.

Wright FC, Lookhong N, Urbach D, Davis D, McLeod RS, Gagliardi AR. Multidisciplinary cancer conferences: identifying opportunities to promote implementation. Ann Surg Oncol. 2009;16:2731–7.

10.

NICE. Guidance on cancer services—improving outcomes in children and young people with cancer. London: National Institute for Health and Clinical Excellence; 2005.

11.

Kowalczyk JR, Samardakiewicz M, Fitzgerald E, Essiaf S, Ladenstein R, Vassal G, et al. Towards reducing inequalities: European standards of care for children with cancer. Eur J Cancer. 2014;50:481–5.

12.

Unidades asistenciales del área del cáncer. Estándares y recomendaciones de calidad y seguridad. Retrieved from: http://www.msssi.gob.es/organizacion/sns/ planCalidadSNS/docs/Cancer_EyR.pdf. 2013. Accessed the 01 Jul 2015.

13.

De Ieso PB, Coward JI, Letsa I, Schick U, Nandhabalan M, Frentzas S, et al. A study of the decision outcomes and financial costs of multidisciplinary team meetings (MDMs) in oncology. Br J Cancer. 2013;109:2295–300.

14.

Mark MA, Poulsen MG. Multidisciplinary care in oncology: medicolegal implications of group decisions. Lancet Oncol. 2006;7:951–4.

15.

Sidhom MA, Poulsen MG. Group decisions in oncology: Doctors' perceptions of the legal responsibilities arising from multidisciplinary meetings. J Med Imaging Radiat Oncol. 2008;52:287–92.

16.

Evans AC, Zorbas HM, Keaney MA. Medicolegal implications of a multidisciplinary approach to cancer care: consensus recommendations from a national workshop. MJA. 2008;188:401–4.

17.

Berlanga P, Segura V, Ribelles AJ, de Toledo PS, Acha T, Castel V et al. Paediatric tumour boards in Spain: a national survey. Clin Transl Oncol. 2015. https://doi.org/10.1007/s12094-015-1466-9.
Acknowledgements
We would like to thank all paediatric oncologists for the collaboration and response to the questionnaire, including P Kearns, G Bisogno, J Michon, D Valteau-Couanet, J Nicholson, C Petersen, A Pourtsidis, G Vassal, and M Schrappe. This work was supported the project Expo-r-Net which has received funding from the European Union in the framework of the Health Programme (2008–2013) Grant agreement 2013 12 07.
Ethics declarations
Conflict of interest
The authors declare that they have no conflict of interest.
About this article
Cite this article
Juan Ribelles, A., Berlanga, P., Schreier, G. et al. Survey on paediatric tumour boards in Europe: current situation and results from the ExPo-r-Net project. Clin Transl Oncol 20, 1046–1052 (2018). https://doi.org/10.1007/s12094-017-1820-1
Received:

Accepted:

Published:

Issue Date:
Keywords
Paediatric cancer

Multidisciplinary care

Virtual tumour boards

European survey

European reference networks