Abstract
Purpose
To report the outcomes of a cohort of very elderly muscle-invasive bladder cancer (MIBC) patients treated with contemporary 3D-conformal radiation therapy (3D-CRT) with or without concurrent chemotherapy, after transurethral resection of bladder tumor (TURBT).
Methods
From February 2010 to January 2014, a total of 41 patients older than 75 years, with T2-3 N0-1 high-grade MIBC, a Karnofsky index (KI) of at least 90% and/or a Barthel scale score of at least 95, were treated with TURBT followed by radiotherapy (RT) with or without chemotherapy, and were prospectively followed-up.
Results
The mean age of patients was 82 years (range 76–88). Median follow-up was 47 months for surviving patients. Mean Charlson Comorbidity Index (CCI) score was 5 points. 28 patients (68.29%) were T2N0. All received 3D-CRT to a mean dose of 60 Gy (range 48.6–66 Gy), and chemotherapy was delivered to 34 patients (83%). Cause-specific survival (CSS) was 86 and 78.8% at 1 and 5 years, respectively. Patients achieving a complete response lived longer (48 vs 14 m, p = 0.036) than those with a progressive disease, who were more likely to die from cancer than from other causes (HR 3.865, IC95% 1.562–9.562). Dead patients had a longest treatment time (mean 56.78 vs 48.91 days, p = 0.019) than survivors.
Conclusion
RT with contemporary 3D-CRT techniques after TURBT for MIBC in elderly patients is feasible and well-tolerated. Achieving a maximal response and shortening the total radiation treatment time may improve outcomes and quality of life.
This is a preview of subscription content, log in to check access.
Access options
Buy single article
Instant access to the full article PDF.
US$ 39.95
Tax calculation will be finalised during checkout.
Subscribe to journal
Immediate online access to all issues from 2019. Subscription will auto renew annually.
US$ 99
Tax calculation will be finalised during checkout.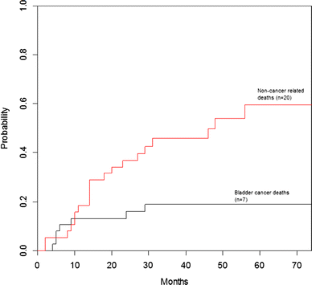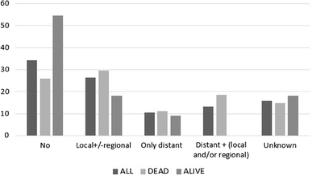 References
1.

Centers for Disease Control and Prevention. The State of Aging and Health in America 2013. Atlanta, GA: Centers for Disease Control and Prevention, US Dept of Health and Human Services; 2013 (cited 6 June 2016). Avalable from: https://www.cdc.gov/aging/agingdata/data-portal/state-aging-health.html.

2.

Communication from the Commission to the European Parliament and the Council. Taking forward the strategic implementation plan of the European innovation partnership on active and healthy ageing. (cited 6 June 2016). Avalable from: https://ec.europa.eu/eip/ageing/library/communication-commission-european-parliament-and-council-taking-forward-strategic_en.

3.

Schultzel M, Saltzstein SL, Downs TM, Shimasaki S, Sanders C, Sadler GR. Late age (85 years or older) peak incidence of bladder cancer. J Urol. 2008;179:1302–6.

4.

Grubmueller B, Seitz C, Shariat SF. The treatment of muscle-invasive bladder cancer in geriatric patients. Curr Opin Urol. 2016;26:160–4.

5.

Fonteyne V, Ost P, Bellmunt J, Droz JP, Mongiat-Artus P, Inman B, et al. Curative treatment for muscle invasive bladder cancer in elderly patients: a systematic review. Eur Urol. 2017. https://doi.org/10.1016/j.eururo.2017.03.019.

6.

Gilbert SM, Lai J, Saigal CS, Gore JL. Urologic diseases in America project. downstream complications following urinary diversion. J Urol. 2013;190:916–22.

7.

Froehner M, Brausi MA, Herr HW, Muto G, Studer UE. Complications following radical cystectomy for bladder cancer in the elderly. Eur Urol. 2009;56:443–54.

8.

Giacalone NJ, Shipley WU, Clayman RH, Niemierko A, Drumm M, Heney NM, et al. Long-term outcomes after bladder-preserving tri-modality therapy for patients with muscle-invasive bladder cancer: an updated analysis of the Massachusetts general hospital experience. Eur Urol. 2017;71:952–60.

9.

Zapatero A, Martin de Vidales C, Arellano R, Bocardo G, Pérez M, Ríos P. Updated results of bladder-sparing trimodality approach for invasive bladder cancer. Urol Oncol. 2010;28:368–74.

10.

McHaffie DR, Kruser TJ, Gaston K, Mahoney J, Graham D, Haake M. Chemoradiation for organ preservation in the treatment of muscle-invasive bladder cancer. Urol Oncol. 2016;34:271–8.

11.

Boustani J, Bertaut A, Galsky MD, Rosenberg JE, Bellmunt J, Powles T, et al. Radical cystectomy or bladder preservation with radiochemotherapy in elderly patients with muscle-invasive bladder cancer: retrospective international study of cancers of the urothelial tract (RISC) investigators. Acta Oncol (Madr). 2017;30:1–7.

12.

Turgeon G-A, Souhami L. Trimodality therapy for bladder preservation in the elderly population with invasive bladder cancer. Front Oncol. 2014;4:206.

13.

pmidCALC shared library project. medical online calculators repository (Internet). 1 Dec 2014 (cited 17 May 2016). Available from: https://www.pmidcalc.org/.

14.

Edge SB, Byrd DR, Compton CC, Fritz AG, Greene FL, Trotti AE. AJCC cancer staging manual. 7th ed. New York: Springer; 2010.

15.

Galsky MD, Hahn NM, Rosenberg J, Sonpavde G, Hutson T, Oh WK, et al. A consensus definition of patients with metastatic urothelial carcinoma who are unfit for cisplatin-based chemotherapy. Lancet Oncol. 2011;12:211–4.

16.

Bob Gray. cmprsk: Subdistribution Analysis of Competing Risks. R package version 2.2-7 (Internet). 17 June 2014 (cited in 8 February 2017). Available from: http://CRAN.R-project.org/package=cmprsk.

17.

National Cancer Institute. Surveillance research program. SEER Stat Fact Sheets: Bladder. 2013.

18.

Guancial EA, Roussel B, Bergsma DP, Bylund KC, Sahasrabudhe D, Messing E, et al. Bladder cancer in the elderly patient: challenges and solutions. Clin Interv Aging. 2015;10:939–49.

19.

Serra C, Bonfill X, Sunyer J, Urrutia G, Turuguet D, Bastús R, et al. Bladder cancer in the textile industry. Scand J Work Environ Health. 2000;26:476–81.

20.

Zakaria AS, Santos F, Tanguay S, Kassouf W, Aprikian AG. Radical cystectomy in patients over 80 years old in quebec: a population-based study of outcomes. J Surg Oncol. 2015;111:917–22.

21.

Chou WC, Chang PH, Lu CH, Liu KH, Hung YS, Hung CY, et al. Effect of comorbidity on postoperative survival outcomes in patients with solid cancers: a 6-year multicenter study in Taiwan. J Cancer. 2016;7:854–61.

22.

Krause FS, Walter B, Ott OJ, Häberle L, Weiss C, Rödel C, et al. 15-year survival rates after transurethral resection and radiochemotherapy or radiation in bladder cancer treatment. Anticancer Res. 2011;31:985–90.

23.

Efstathiou JA, Spiegel DY, Shipley WU, Heney NM, Kaufman DS, Niemierko A, et al. Long-term outcomes of selective bladder preservation by combined-modality therapy for invasive bladder cancer: the MGH experience. Eur Urol. 2012;61:705–11.

24.

Villavicencio H, Rodriguez Faba O, Palou J, Gausa L, Algaba F, Marcuello E. Bladder preservation strategy based on combined therapy in patients with muscle-invasive bladder cancer: management and results at long-term follow-up. Urol Int. 2010;85:281–6.

25.

James ND, Hussain SA, Hall E, Jenkins P, Tremlett J, Rawlings C, et al. Radiotherapy with or without chemotherapy in muscle-invasive bladder cancer. N Engl J Med. 2012;366:1477–88.

26.

Korpics MC, Block AM, Martin B, Hentz C, Gaynor ER, Henry E, et al. Concurrent chemotherapy is associated with improved survival in elderly patients with bladder cancer undergoing radiotherapy. Cancer. 2017;123:3524–31.

27.

Bamias A, Tsantoulis P, Zilli T, Papatsoris A, Caparrotti F, Kyratsas C, et al. Outcome of patients with nonmetastatic muscle-invasive bladder cancer not undergoing cystectomy after treatment with noncisplatin-based chemotherapy and/or radiotherapy: a retrospective analysis. Cancer Med. 2016;5:1098–107.

28.

Turgeon G-A, Souhami L, Cury FL, Faria SL, Duclos M, Sturgeon J, et al. Hypofractionated intensity modulated radiation therapy in combined modality treatment for bladder preservation in elderly patients with invasive bladder cancer. Int J Radiat Oncol Biol Phys. 2014;88:326–31.
Acknowledgements
We acknowledge Dr. Romà Bastús for sharing some of his results, Dra. Gemma Sancho for her scientific guidance, Joan Carles Oliva for his statistical assessment, and Magda Font and Kathyn Gibson for their assistance with the English.
Ethics declarations
Conflict of interest
The authors declare that they have no conflict of interest.
Research involving human participants and/or animals
While the present study is not a clinical trial, both the treatment and follow-up were performed according to the accepted standards of good clinical practice in agreement with the latest version of the Declaration of Helsinki.
Informed consent
All patients provided written informed consent. The paper is IRB exempt, given that treatment with radiation in bladder cancer patients is the clinical practice in our institution.
About this article
Cite this article
Bonet, M., Bonfill, T., Nuñez, M. et al. Curative radiation therapy for very elderly bladder cancer patients with localized disease. Clin Transl Oncol 20, 899–905 (2018). https://doi.org/10.1007/s12094-017-1804-1
Received:

Accepted:

Published:

Issue Date:
Keywords
Bladder cancer

Elderly

Radiotherapy

Trimodality