Abstract
Purpose
Over the past years, radiotherapy techniques have changed significantly. The impact of these changes in the management of nasopharyngeal carcinoma (NPC) has not been fully evaluated.
Methods/patients
Between 1984 and 2014, 223 NPC were diagnosed in our hospital. Prior to 2000, patients were treated with 2D treatment plan (RT2D) that evolved to 3D schemes thereafter (RT3D).
Results
Tumors in the RT3D period showed significantly lower stages than those in the RT2D period. 5-year cause-specific survival improved from 55.7% (95% CI: 46.7–64.7%) in the RT2D period to 78.7% (95% CI: 68.7–88.7%) in the RT3D period (P = 0.006). This difference was greater for non-keratinizing NPC, where specific survival went from 63.2% (95% CI: 52.2–74.2%) to 84.4% (95% CI: 74.4–94.4%) (P = 0.014).
Conclusion
Recent changes in treatment strategies including concurrent chemoradiation and 3D radiotherapy may have impacted in better survival for NPC. Improved imaging techniques may have contributed by earlier detection and better treatment planning.
This is a preview of subscription content, log in to check access.
Access options
Buy single article
Instant access to the full article PDF.
US$ 39.95
Price includes VAT for USA
Subscribe to journal
Immediate online access to all issues from 2019. Subscription will auto renew annually.
US$ 99
This is the net price. Taxes to be calculated in checkout.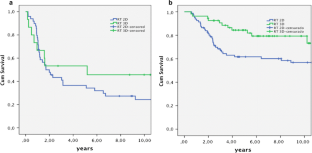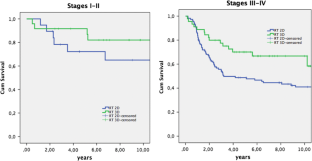 References
1.

Chan JKC, Pilch BZ, Kuo TT, Wening BM, Lee AW. Tumours of the nasopharynx. In: Barnes L, Eveson JW, Reichart P, Sidransky D, editors. Pathology and genetics of head and neck tumours. World Health Organization classification of tumours. Lyon: IARC Press; 2005.

2.

Reddy SP, Raslan WF, Gooneratne S, Kathuria S, Marks JE. Prognostic significance of keratinization in nasopharyngeal carcinoma. Am J Otolaryngol. 1995;16(2):103–8.

3.

Wei WI, Sham JS. Nasopharyngeal carcinoma. Lancet. 2005;365(9476):2041–54.

4.

Zong J, Lin S, Lin J, Tang L, Chen B, Zhang M, et al. Impact of intensity-modulated radiotherapy on nasopharyngeal carcinoma: Validation of the 7th edition AJCC staging system. Oral Oncol. 2015;51(3):254–9.

5.

Xiao WW, Huang SM, Han F, Wu SX, Lu LX, Lin CG, et al. Local control, survival, and late toxicities of locally advanced nasopharyngeal carcinoma treated by simultaneous modulated accelerated radiotherapy combined with cisplatin concurrent chemotherapy: long-term results of a phase 2 study. Cancer. 2011;117(9):1874–83.

6.

OuYang PY, Xie C, Mao YP, Zhang Y, Liang XX, Su Z, et al. Significant efficacies of neoadjuvant and adjuvant chemotherapy for nasopharyngeal carcinoma by meta-analysis of published literature-based randomized, controlled trials. Ann Oncol. 2013;24(8):2136–46.

7.

Yi J, Huang X, Gao L, Luo J, Zhang S, Wang K, et al. Intensity-modulated radiotherapy with simultaneous integrated boost for locoregionally advanced nasopharyngeal carcinoma. Radiat Oncol. 2014;9:56.

8.

Xu T, Zhu G, He X, Ying H, Hu C. A phase III randomized study comparing neoadjuvant chemotherapy with concurrent chemotherapy combined with radiotherapy for locoregionally advanced nasopharyngeal carcinoma: updated long-term survival outcomes. Oral Oncol. 2014;50(2):71–6.

9.

Leon X, Orus C, Quer M. Design, maintenance, and exploitation of an oncologic database for patients with malignant tumors of the head and neck. Acta Otorrinolaringol Esp. 2002;53(3):185–90.

10.

Gregoire V, Coche E, Cosnard G, Hamoir M, Reychler H. Selection and delineation of lymph node target volumes in head and neck conformal radiotherapy. Proposal for standardizing terminology and procedure based on the surgical experience. Radiother Oncol. 2000;56(2):135–50.

11.

Gregoire V, Levendag P, Ang KK, Bernier J, Braaksma M, Budach V, et al. CT-based delineation of lymph node levels and related CTVs in the node-negative neck: DAHANCA, EORTC, GORTEC, NCIC, RTOG consensus guidelines. Radiother Oncol. 2003;69(3):227–36.

12.

ICRU 50. Dose specification for reporting external beam therapy with photons and electrons. International Commission on Radiation Units and Measurements, Washington, DC;1993. Report No: 50.

13.

Hunt MA, Zelefsky MJ, Wolden S, Chui CS, LoSasso T, Rosenzweig K, et al. Treatment planning and delivery of intensity-modulated radiation therapy for primary nasopharynx cancer. Int J Radiat Oncol Biol Phys. 2001;49(3):623–32.

14.

Lee N, Harris J, Garden AS, Straube W, Glisson B, Xia P, et al. Intensity-modulated radiation therapy with or without chemotherapy for nasopharyngeal carcinoma: radiation therapy oncology group phase II trial 0225. J Clin Oncol. 2009;27(22):3684–90.

15.

Bentzen SM, Constine LS, Deasy JO, Eisbruch A, Jackson A, Marks LB, et al. Quantitative Analyses of Normal Tissue Effects in the Clinic (QUANTEC): an introduction to the scientific issues. Int J Radiat Oncol Biol Phys. 2010;76(3 Suppl):S3–9.

16.

Al-Sarraf M, LeBlanc M, Giri PG, Fu KK, Cooper J, Vuong T, et al. Chemoradiotherapy versus radiotherapy in patients with advanced nasopharyngeal cancer: phase III randomized Intergroup study 0099. J Clin Oncol. 1998;16(4):1310–7.

17.

Jiong L, Berrino F, Coebergh JW. Variation in survival for adults with nasopharyngeal cancer in Europe, 1978-1989 EUROCARE Working Group. Eur J Cancer. 1998;34:2162–6 (14 Spec No).

18.

Arnold M, Wildeman MA, Visser O, Karim-Kos HE, Middeldorp JM, Fles R, et al. Lower mortality from nasopharyngeal cancer in The Netherlands since 1970 with differential incidence trends in histopathology. Oral Oncol. 2012;49(3):237–43.

19.

Zhang L, Zhao C, Ghimire B, Hong MH, Liu Q, Zhang Y, et al. The role of concurrent chemoradiotherapy in the treatment of locoregionally advanced nasopharyngeal carcinoma among endemic population: a meta-analysis of the phase III randomized trials. BMC Cancer. 2010;10:558.

20.

Anandan C, Elton R, Hitchings A, Brewster DH. Nasopharyngeal cancer incidence and survival in Scotland, 1975-2001. Clin Otolaryngol. 2008;33(1):12–7.

21.

Chua ML, Wee JT, Hui EP, Chan AT. Nasopharyngeal carcinoma. Lancet. 2016;387(10022):1012–24.

22.

Blanchard P, Lee A, Marguet S, Leclercq J, Ng WT, Ma J, et al. Chemotherapy and radiotherapy in nasopharyngeal carcinoma: an update of the MAC-NPC meta-analysis. Lancet Oncol. 2015;16(6):645–55.

23.

Boscolo-Rizzo P, Tirelli G, Mantovani M, Baggio V, Lupato V, Spinato G, et al. Non-endemic locoregionally advanced nasopharyngeal carcinoma: long-term outcome after induction plus concurrent chemoradiotherapy in everyday clinical practice. Eur Arch Otorhinolaryngol. 2014;272(11):3491–8.

24.

Manavis J, Sivridis L, Koukourakis MI. Nasopharyngeal carcinoma: the impact of CT-scan and of MRI on staging, radiotherapy treatment planning, and outcome of the disease. Clin Imaging. 2005;29(2):128–33.

25.

Ng SH, Chan SC, Yen TC, Liao CT, Chang JT, Ko SF, et al. Comprehensive imaging of residual/recurrent nasopharyngeal carcinoma using whole-body MRI at 3 T compared with FDG-PET-CT. Eur Radiol. 2010;20(9):2229–40.

26.

Liu T, Xu W, Yan WL, Ye M, Bai YR, Huang G. FDG-PET, CT, MRI for diagnosis of local residual or recurrent nasopharyngeal carcinoma, which one is the best? A systematic review. Radiother Oncol. 2007;85(3):327–35.
Acknowledgements
This work was supported by a grant from the Instituto de Salud Carlos III (FIS PI14/01918). The study was cofunded by Fondo Europeo de Desarrollo Regional (FEDER), A Way to Build Europe.
Ethics declarations
Conflict of interest
The authors declare that they have no conflict of interest.
Ethical approval
All procedures performed in studies involving human participants were in accordance with the ethical standards of the institutional and/or national research committee and with the 1964 Helsinki declaration and its later amendments or comparable ethical standards. The present work is a retrospective analysis of clinical data. For this type of study formal consent is not required.
About this article
Cite this article
García-Lorenzo, J., Farre, N., Codina, A. et al. Nasopharyngeal carcinoma: 30-year experience of a single institution in a non-endemic area. Clin Transl Oncol 19, 777–783 (2017). https://doi.org/10.1007/s12094-016-1606-x
Received:

Accepted:

Published:

Issue Date:
Keywords
Nasopharyngeal carcinoma

Radiation therapy

IMRT

Chemotherapy

Chemoradiation