Abstract
Cancer is a leading cause of death worldwide accounting to 13 % of all deaths. One of the main causes behind the failure of treatment is the development of various therapy resistance mechanisms by the cancer cells leading to the recurrence of the disease. This review sheds a light on some of the mechanisms developed by cancer cells to resist therapy as well as some of the structures involved such as the ABC members' involvement in chemotherapy resistance and MET and survivin overexpression leading to radiotherapy resistance. Understanding those mechanisms will enable scientists to overcome resistance and possibly improve treatment and disease prognosis.
Access options
Buy single article
Instant access to the full article PDF.
US$ 39.95
Tax calculation will be finalised during checkout.
Subscribe to journal
Immediate online access to all issues from 2019. Subscription will auto renew annually.
US$ 79
Tax calculation will be finalised during checkout.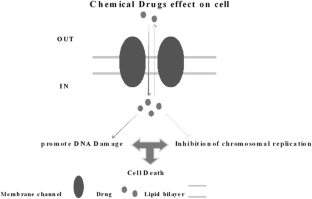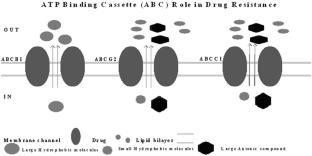 References
1.

Garcia M, Jemal A. Global cancer facts and figures. Atlanta: American Cancer Society; 2007.

2.

Baskar R, Lee KA, Yeo R, Yeoh K-W. Cancer and radiation therapy: current advances and future directions. Int J Med Sci. 2012;9(3):193–9. doi:10.7150/ijms.3635.

3.

American Cancer Society. Cancer facts and figures 2013. Atlanta: American Cancer Society; 2013. p 2013.

4.

Dalkic E, Wang X, Wright N, Chan C. Cancer-drug associations: a complex system. PLoS One. 2010;5(4):e10031. doi:10.1371/journal.pone.0010031.

5.

Hanahan D, Weinberg R. Hallmarks of cancer: the next generation. Cell. 2011;144(5):646–74. doi:10.1016/j.cell.2011.02.013.

6.

Bhosle J, Hall G. Principles of cancer treatment by chemotherapy. Surgery (Oxford). 2009;27(4):173–7.

7.

Borst P, Elferink R. Mammalian ABC transporters in health and disease. Annu Rev Biochem. 2002;71:537–92. doi:10.1146/annurev.biochem.71.102301.093055.

8.

Dean M, Hamon Y, Chimini G. The human ATP-binding cassette (ABC) transporter superfamily. J of Lipid Res. 2001;11(7):1156–66.

9.

Lubelski J, Konings W, Driessen A. Distribution and physiology of ABC-type transporters contributing to multidrug resistance in bacteria. Micro Mol Bio Rev. 2007;71(3):463–76. doi:10.1128/MMBR.00001-07.

10.

Chen J, Lu G, Davidson A, Qutocho F. A tweezers-like motion of the ATP-binding cassette dimer in an ABC transport cycle. Moll Cell. 2003;12(3):651–61.

11.

Sarkadi B, Homolya L, Szakacs G, Varadi A. Human multidrug resistance ABCB and ABCG transporters: participation in a chemoimmunity defense system. Physiol Rev. 2006;86(4):1179–236. doi:10.1152/physrev.00037.2005.

12.

Huff L, J-S LEE, Robey R, Fojo T. Characterization of gene rearrangements leading to activation of MDR-1. J Biol Chem. 2006;281(48):365019. doi:10.1074/jbc.M602998200.

13.

Stavrovskaya A, Stromskaya T. Transport proteins of the ABC family and multidrug resistance of tumor cells. Biochemistry. 2008;73(5):592–604. doi:10.1134/S0006297908050118.

14.

Davidson A, Elie D, Orelle C, Chen J. Structure, function, and evolution of bacterial ATP-binding cassette systems. Microbiol mol bio rev. 2008;72(2):317–64. doi:10.1128/MMBR.00031-07.

15.

Hipfner D, Deeley R, Cole S. Structural, mechanistic and clinical aspects of MRP1. Biochim Biophys Acta. 1999;1461(2):359–76. doi:10.1016/S0005-2736(99)00168-6.

16.

Schwab M, Eichelbaum M, Fromm M. Genetic polymorphisms of the human MDR1 drug transporter. Annu Rev Pharmacol Toxicol. 2003;43:285–307. doi:10.1146/annurev.pharmtox.43.100901.140233.

17.

González-Pons M, Szeto A, González-Méndez R, Serrano A. Identification and bioinformatic characterization of a multidrug resistance associated protein (ABCC) gene in Plasmodium berghei. Malar J. 2009;8:1. doi:10.1186/1475-2875-8-1.

18.

Leslie E, Deeley R, Cole S. Multidrug resistance proteins: role of P-glycoprotein, MRP1, MRP2, and BCRP (ABCG2) in tissue defense. Toxicol Appl Pharm. 2005;204(3):216–37. doi:10.1016/j.taap.2004.10.012.

19.

Yin J-Y, Huang Q, Yang Y, Zhang J-T, Zhong M-Z, Zhou H–H, et al. Characterization and analyses of multidrug resistance-associated protein 1 (MRP1/ABCC1) polymorphisms in Chinese population. Pharmacogenet Genomics. 2009;19(3):206–16. doi:10.1097/FPC.0b013e328323f680.

20.

Kyle-Cezar F, Echevarria-Lima J, Goldenberg R, Rumjanek V. Expression of c-kit and Sca-1 and their relationship with multidrug resistance protein 1 in mouse bone marrow mononuclear cells. Immunology. 2007;121(1):122–8. doi:10.1111/j.1365-2567.2007.02547.x.

21.

Akan I, Akan S, Akca H, Savas B, Ozben T. Multidrug resistance-associated protein 1 (MRP1) mediated vincristine resistance: effects of N-acetylcysteine and Buthionine sulfoximine. Cancer Cell Int. 2005;5:22. doi:10.1186/1475-2867-5-22.

22.

Kasinathan R, Morgan W, Greenberg R. Schistosoma mansoni express higher levels of multidrug resistance-associated protein 1 (SmMRP1) in juvenile worms and in response to praziquantel. Mol Biochem Parasitol. 2010;173(1):25–31. doi:10.1016/j.molbiopara.2010.05.003.

23.

Mao Q, Unadkat J. Role of the breast cancer resistance protein (ABCG2) in drug transport. AAPS Journal. 2005;7(1):E118–33. doi:10.1208/aapsj070112.

24.

Marchan R, Hammond C, Ballatori N. Multidrug resistance-associated protein 1 as a major mediator of basal and apoptotic glutathione release. Biochim Biophys Acta. 2008;1778(10):2413–20. doi:10.1016/j.bbamem.2008.06.011.

25.

Mao Q, Unadkat J. Role of the breast cancer resistance protein (ABCG2) in drug transport. AAPS J. 2005;7(1):E118–33. doi:10.1208/aapsj070112.

26.

Zhu M, Tong J, Xu Q, Nie F, Xu X, Xiao S, et al. Increased JNK1 signaling pathway is responsible for ABCG2-mediated multidrug resistance in human colon cancer. PLoS One. 2012;7(8):e41763. doi:10.1371/journal.pone.0041763.

27.

Li X, Pan Y-Z, Seigel G, Hu Z-H, Huang M, Yu A-M. Breast cancer resistance protein BCRP/ABCG2 regulatory microRNAs (hsa-miR-328, -519c and -520 h) and their differential expression in stem-like ABCG2+ cancer cells. Biochem Pharmacol. 2011;81(6):783–92. doi:10.1016/j.bcp.2010.12.018.

28.

Mo W, Zhang J-T. Human ABCG2: structure, function, and its role in multidrug resistance. Int J Biochem Mol Biol. 2012;3(1):1–27.

29.

Begg A, Stewart F, Vens C. Strategies to improve radiotherapy with targeted drugs. Nat Rev Cancer. 2011;11:239–53. doi:10.1038/nrc3007.

30.

Ghisolfi L, Keates A, Hu X, Lee D-k, Li C. Ionizing radiation induces stemness in cancer cells. PLoS One. 2012;7(8):e43628. doi:10.1371/journal.pone.0043628.

31.

Suit H. Local control and patient survival. Int J of Rad Oncol Bio Phys. 1992;23(3):653–60. doi:10.1016/0360-3016(92)90025-D.

32.

Barcellos-Hoff M, Park C, Wright E. Radiation and the microenvironment—tumorigenesis and therapy. Nat Rev Cancer. 2005;5:867–75. doi:10.1038/nrc1735.

33.

Shiloh Y. ATM and related protein kinases: safeguarding genome integrity. Nat Rev Cancer. 2003;3(3):155–68. doi:10.1038/nrc1011.

34.

Trusolino L, Comoglio P. Scatter-factor and semaphorin receptors: cell signalling for invasive growth. Nat Rev Cancer. 2002;2(4):289–300. doi:10.1038/nrc779.

35.

De Bacco F, Luraghi P, Medico E, Reato G, Girolami F, Perera T, et al. Induction of MET by ionizing radiation and its role in radioresistance and invasive growth of cancer. J Natl Cancer Inst. 2011;103(8):645–661. doi:10.1093/jnci/djr093.

36.

Inanami O, Takahashi K, Kuwabara M. Attenuation of caspase-3-dependent apoptosis by Trolox post-treatment of X-irradiated MOLT-4 cells. Int J of Rad Bio. 1999;75(2):155–63. doi:10.1080/095530099140609.

37.

Ambrosini G, Adida C, Altieri D. A novel anti-apoptosis gene, survivin, expressed in cancer and lymphoma. Nat Med. 1997;3:917–21. doi:10.1038/nm0897-917.

38.

Asanuma K, Moriai R, Yajima T, Yagihashi A, Yamada M, Kobayashi D, et al. Survivin as a radioresistance factor in pancreatic cancer. Jpn J Cancer Res. 2000;91(11):1204–9. doi:10.1111/j.1349-7006.2000.tb00906.x.

39.

Dillman R, Fogel GB, Cornforth AN, Selvan SR, Schiltz PM, DePriest C. Features associated with survival in metastatic melanoma patients treated with patient-specific dendritic cell vaccines. Cancer Biother Radiopharm. 2011;26(4):407–15. doi:10.1089/cbr.2011.0973.

40.

Dunn G, Old L, Schreiber R. The immunobiology of cancer immunosurveillance and immunoediting. Immunity. 2004;21(2):137–48. doi:10.1016/j.immuni.2004.07.017.

41.

Schreiber R, Old L, Smyth M. Cancer immunoediting: integrating immunity's roles in cancer suppression and promotion. Science. 2011;331:1565–70. doi:10.1126/science.1203486.

42.

Marincola F, Jaffee E, Hicklin D, Ferrone S. Escape of human solid tumors from T–cell recognition: molecular mechanisms and functional significance. Adv Immuno. 2000;74:181–273. doi:10.1016/S0065-2776(08)60911-6.

43.

Ribas A, Butterfield L, Glaspy J, Economou J. Current developments in cancer vaccines and cellular immunotherapy. J of Clin Oncol. 2003;21(12):2415–32. doi:10.1200/JCO.2003.06.041.
Conflict of interest
The authors declare no conflict of interest.
About this article
Cite this article
Al-Dimassi, S., Abou-Antoun, T. & El-Sibai, M. Cancer cell resistance mechanisms: a mini review. Clin Transl Oncol 16, 511–516 (2014). https://doi.org/10.1007/s12094-014-1162-1
Received:

Accepted:

Published:

Issue Date:
Keywords
Cancer

Chemotherapy resistance

Multiple drug resistance

Radiotherapy resistance

Immunotherapy resistance and cancer stem cells