Abstract
The gut microbiome analysis, with specific interest on their direct impact towards the human health, is currently revolutionizing the unexplored frontiers of the pathogenesis and wellness. Although in-depth investigations of gut microbiome, 'the Black Boxes', complexities and functionalities are yet at its infancy, profound evidences are being reported for their concurrent involvement in disease etiology and its treatment. Interestingly, studies from the 'minimal murine' (Oligo-MM12), 'humanized' microbiota gnotobiotic mice models and patient samples, combined with multi-omics and cell biology approaches, have been revealing the implications of these findings in the treatment of gut dysbiosis associated diseases. Nonetheless, due to the inherent heterogeneity of the gut commensals and their unified co-existence with opportunistic pathobionts, it is utmost essential to highlight their functionalities in 'good or bad' gut in human wellness. We have specifically reviewed dietary lifestyle and infectious diseases linked with the gut bacterial consortia to delineate the ecobiotic approaches towards their treatment. This notably includes gut mucosal immunity mediated diseases such as Tuberculosis, IBD, CDI, Type 2 Diabetes, etc. Alongside of each dysbiosis, we have described the current therapeutic advancements of the pre- and probiotics derived from human microbiome studies to restore gut microbial homeostasis. With a continuous running debate on the role of microbiota in above mentioned diseases, we have collected numerous scientific evidences highlighting a previously unanticipated complex involvement of gut microbiome in the potential of human health.
Access options
Buy single article
Instant access to the full article PDF.
USD 39.95
Price includes VAT (USA)
Tax calculation will be finalised during checkout.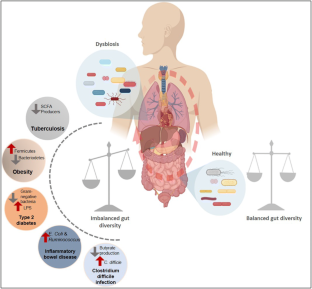 Acknowledgements
NS, MG and VS gratefully acknowledge the Council of Scientific and Industrial Research (CSIR), New Delhi for providing doctoral fellowship. AP acknowledge University Grants Commission (UGC), New Delhi for doctoral fellowship. RL thanks The National Academy of Sciences, India, for support under the NASI‐Senior Scientist Platinum Jubilee Fellowship Scheme.
Ethics declarations
Conflict of interest
Authors declare no conflict of interest.
Additional information
Publisher's Note
Springer Nature remains neutral with regard to jurisdictional claims in published maps and institutional affiliations.
About this article
Cite this article
Singhvi, N., Gupta, V., Gaur, M. et al. Interplay of Human Gut Microbiome in Health and Wellness. Indian J Microbiol 60, 26–36 (2020). https://doi.org/10.1007/s12088-019-00825-x
Received:

Accepted:

Published:

Issue Date:
Keywords
Gut microbiome

Infectious diseases

Intestinal immune-mediate diseases

Lifestyle disorders

Dysbiosis

Colonizing opportunistic pathogens

Pathobionts