Abstract
In current study, we performed a comparative study on bacterial load, total coliform counts and type of organisms present in pre- and post-treated wastewater samples from municipal wastewater treatment plant of Pune, India. In addition, we also studied the antibiotic resistance profiling and role of the selected treatment plant in spread of antibiotic resistance in the environment. Data showed that total 30 different bacterial species from 18-different genera were present in untreated wastewater while only 9 species from 6-different genera were present in post-treated effluent. Furthermore, pre-treated wastewater sample contains wide range of organisms with high levels of antibiotic resistance while bacterial load reduced drastically and pathogens were absent from post-treated effluent.
This is a preview of subscription content,
to check access.
Access this article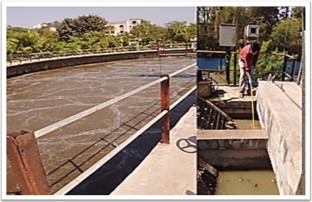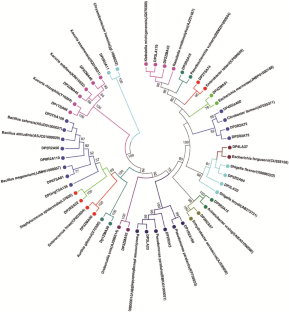 Similar content being viewed by others
References
Holeton C, Chambers PA, Grace L (2011) Wastewater release and its impacts on Canadian waters. Can J Fish Aquat Sci 68:1836–1859. https://doi.org/10.1139/f2011-096

Kalia VC (2014) Microbes, antimicrobials and resistance: the battle goes on. Indian J Microbiol 54:1. https://doi.org/10.1007/s12088-013-0443-7

Martinez JL (2009) Environmental pollution by antibiotics and by antibiotic resistance determinants. Environ Pollut 157:2893–2902. https://doi.org/10.1016/j.envpol.2009.05.051

Bouki C, Venieri D, Diamadopoulos E (2013) Detection and fate of antibiotic resistant bacteria in wastewater treatment plants: a review. Eco Toxicol Environ Saf 91:1–9. https://doi.org/10.1016/j.ecoenv.2013.01.016

Fletcher S (2015) Understanding the contribution of environmental factors in the spread of antimicrobial resistance. Environ Health Prev Med 20:243. https://doi.org/10.1007/s12199-015-0468-0

Bauer AW, Kirby WMM, Sherries JC, Turck M (1966) Antibiotic susceptibility testing by a standardized single disk method. Am J Clin Pathol 45:493–496. https://doi.org/10.1093/ajcp/45.4_ts.493

Ferreira da Silva M, Vaz-Moreira I, Gonzalez-Pajuelo M, Nunes OC, Manaia CM (2007) Antimicrobial resistance patterns in Enterobacteriaceae isolated from an urban wastewater treatment plant. FEMS Microbiol Ecol 60:166–176. https://doi.org/10.1111/j.1574-6941.2006.00268.x

Prakash J, Sharma R, Ray S, Koul S, Kalia VC (2018) Wastewater: a potential bioenergy resource. Indian J Microbiol 58:127–137

Rizzo L, Manaia C, Merli C, Schwartz T, Dagot C, Ploy MC, Michael I, Fatta-Kassinos D (2013) Urban wastewater treatment plants as hotspots for antibiotic resistant bacteria and genes spread into the environment: a review. Sci Total Environ 447:345–360. https://doi.org/10.1016/j.scitotenv.2013.01.032

Prakash O, Green SJ, Jasrotia P, Overholt WA, Canion A, Watson DB, Brooks SC, Kostka JE (2012) Rhodanobacter denitrificans sp. nov., isolated from nitrate-rich zones of a contaminated aquifer. Int J Syst Evol Microbiol 62:2457–2462. https://doi.org/10.1099/ijs.0.035840-0

Prakash O, Nimonkar Y, Shouche YS (2013) Practice and prospects of microbial preservation. FEMS Microbiol Lett 339:1–9. https://doi.org/10.1111/1574-6968.12034

Rahi P, Prakash O, Shouche YS (2016) Matrix-assisted laser desorption/ionization time-of-flight mass-spectrometry (MALDI-TOF MS) based microbial identifications: challenges and scopes for microbial ecologists. Front Microbiol 7:1359. https://doi.org/10.3389/fmicb.2016.01359

Prakash O, Kumari K, Lal R (2007) Pseudomonas delhiensis sp. nov., from a fly ash dumping site of a thermal power plant. Int J Syst Evol Microbiol 57:527–531. https://doi.org/10.1099/ijs.0.64456-0

Prakash O, Munot H, Nimonkar Y, Sharma M, Kumbhare S, Shouche YS (2014) Description of Pelistega indica sp. nov., isolated from human gut. Int J Syst Evol Microbiol 64:1389–1394. https://doi.org/10.1099/ijs.0.059782-0

Sharma A, Dhar SK, Prakash O, Vemuluri VR, Thite V, Shouche YS (2014) Description of Domibacillus indicus sp. nov., isolated from ocean sediments and emended description of the genus Domibacillus. Int J Syst Evol Microbiol 64:3010–3015. https://doi.org/10.1099/ijs.0.064295-0

Kim OS, Cho YJ, Lee K, Yoon SH, Kim M, Na H, Park SC, Jeon YS, Lee JH, Yi H, Won S (2012) Introducing EzTaxon-e: a prokaryotic 16S rRNA gene sequence database with phylotypes that represent uncultured species. Int J Syst Evol Microbiol 62:716–721. https://doi.org/10.1099/ijs.0.038075-0

Green SJ, Prakash O, Gihring TM, Akob DM, Jasrotia P, Jardine PM, Watson DB, Brown SD, Palumbo AV, Kostka JE (2010) Denitrifying bacteria isolated from terrestrial subsurface sediments exposed to mixed-waste contamination. Appl Environ Microbiol 76:3244–3254. https://doi.org/10.1128/AEM.03069-09
Acknowledgements
We are thankful to the managing authority of Wastewater Treatment Plant, Dapodi, Pune for permitting and supporting in sampling processes. This work is supported from Grant (BT/PR13969/BCE/8/1142/2015) and Department of Biotechnology (DBT) Govt. of India Grant No. BT/Coord.II/01/03/2016.
Additional information
Publisher's Note
Springer Nature remains neutral with regard to jurisdictional claims in published maps and institutional affiliations.
Electronic supplementary material
Below is the link to the electronic supplementary material.
About this article
Cite this article
Nimonkar, Y.S., Yadav, B., Talreja, P. et al. Assessment of the Role of Wastewater Treatment Plant in Spread of Antibiotic Resistance and Bacterial Pathogens. Indian J Microbiol 59, 261–265 (2019). https://doi.org/10.1007/s12088-019-00793-2
Received:

Accepted:

Published:

Issue Date:

DOI: https://doi.org/10.1007/s12088-019-00793-2
Keywords