Abstract
Human gut microbiome studies are increasing at a rapid pace to understand contributions of the prokaryotic life to the innate workings of their eukaryotic host. Majority of studies focus on the pattern of gut microbial diversity in various diseases, however, understanding the core microbiota of healthy individuals presents a unique opportunity to study the microbial fingerprint in population specific studies. Present study was undertaken to determine the core microbiome of a healthy population and its imputed metabolic role. A total of 8990, clone library sequences (> 900 bp) of 16S rRNA gene from fecal samples of 43 individuals were used. The core gut microbiota was computed using QIIME pipeline. Our results show the distinctive predominance of genus Prevotella and the core composition of genera Prevotella, Bacteroides, Roseburia and Megasphaera in the Indian gut. PICRUSt analysis for functional imputation of the microbiome indicates a higher potential of the microbiota for carbohydrate metabolism. The presence of core microbiota may indicate key functions played by these microbes for the human host.
This is a preview of subscription content,
to check access.
Access this article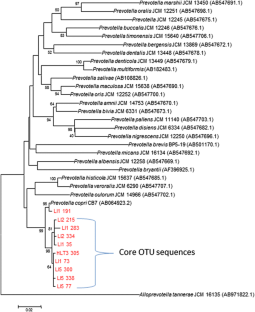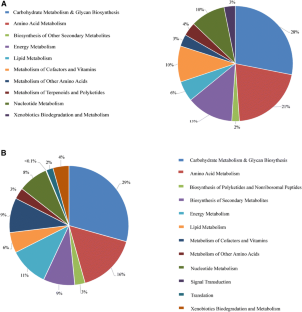 References
Qin J, Li R, Raes J et al (2010) A human gut microbial gene catalog established by metagenomic sequencing. Nature 464:59–65. https://doi.org/10.1038/nature08821

Inman M (2011) How bacteria turn fiber into food. PLoS Biol 9:e1001227. https://doi.org/10.1371/journal.pbio.1001227

Round JL, Mazmanian SK (2009) The gut microbiome shapes intestinal immune responses during health and disease. Nat Rev Immunol 9:313–323. https://doi.org/10.1038/nri2515

Flint JH, Scott PK, Louis P, Duncan HS (2012) The role of the gut microbiota in nutrition and health. Nat Rev Gastroenterol Hepatol 9:577–589. https://doi.org/10.1038/nrgastro.2012.156

Hooper LV, Littman DR, Macpherson AJ (2012) Interactions between the microbiota and the immune system. Science 336:1268–1273. https://doi.org/10.1126/science.1223490

Holzer P, Farzi A (2014) Neuropeptides and the microbiota-gut-brain axis. Adv Exp Med Biol 817:195–219. https://doi.org/10.1007/978-1-4939-0897-4_9

Carabotti M, Scirocco A, Maselli MA, Severi C (2015) The gut-brain axis: interactions between enteric microbiota, central and enteric nervous systems. Ann Gastroenterol 28:203–209

Cummings JH, MacFarlane GT (1997) Role of intestinal bacteria in nutrient metabolism. JPEN J Parenter Enter Nutr 21:357–365. https://doi.org/10.1177/0148607197021006357

Björkstén B et al (2001) Allergy development and the intestinal microflora during the first year of life. J Allergy Clin Immunol 108:516–520. https://doi.org/10.1067/mai.2001.118130

Guarner F, Malagelada J (2003) Gut flora in health and disease. Lancet 361:512–519. https://doi.org/10.1016/S0140-6736(03)12489-0

Sears CL (2005) A dynamic partnership: celebrating our gut flora. Anaerobe 11:247–251. https://doi.org/10.1016/j.anaerobe.2005.05.001

Steinhoff U (2005) Who controls the crowd? New findings and old questions about the intestinal microflora. Immunol Lett 99:12–16. https://doi.org/10.1016/j.imlet.2004.12.013

Purohit HJ (2018) Gut-bioreactor and human health in future. Indian J Microbiol 58:3–7. https://doi.org/10.1007/s12088-017-0697-6

Sood U, Bajaj A, Kumar R, Khurana S, Kalia VC (2018) Infection and microbiome: impact of tuberculosis on human gut microbiome of Indian cohort. Indian J Microbiol 58:123–125. https://doi.org/10.1007/s12088-018-0706-4

Turnbaugh PJ, Hamady M, Yatsunenko T et al (2009) A core gut microbiome in obese and lean twins. Nature 457:480–484. https://doi.org/10.1038/nature07540

Suryavanshi MV, Bhute SS, Jadhav SD, Bhatia MS, Gune RP, Shouche YS (2016) Hyperoxaluria leads to dysbiosis and drives selective enrichment of oxalate metabolizing bacterial species in recurrent kidney stone endures. Sci Rep 6:34712. https://doi.org/10.1038/srep34712

Patil DP, Dhotre DP, Chavan SG, Sultan A, Jain DS, Lanjekar VB, Gangawani J, Shah PS, Todkar JS, Shah S, Ranade DR, Patole MS, Shouche YS (2012) Molecular analysis of gut microbiota in obesity among Indian individuals. J Biosci 37:647–657. https://doi.org/10.1007/s12038-012-9244-0

Marathe N, Shetty S, Lanjekar V, Ranade D, Shouche Y (2012) Changes in human gut flora with age: an Indian familial study. BMC Microbiol 12:222. https://doi.org/10.1186/1471-2180-12-222

Caporaso JG, Kuczynski J, Stombaugh J et al (2010) QIIME allows analysis of high-throughput community sequencing data. Nat Methods 7:335–336. https://doi.org/10.1038/nmeth.f.303

Langille MGI, Zaneveld J, Caporaso JG et al (2013) Predictive functional profiling of microbial communities using 16S rRNA marker gene sequences. Nat Biotechnol 31:814–821. https://doi.org/10.1038/nbt.2676

Wattam AR, Davis JJ, Assaf R et al (2017) Improvements to PATRIC, the all-bacterial bioinformatics database and analysis resource center. Nucleic Acids Res 45:D535–D542. https://doi.org/10.1093/nar/gkw1017

Tamura K, Peterson D, Peterson N, Stecher G, Nei M, Kumar S (2011) MEGA5: molecular evolutionary genetics analysis using maximum likelihood, evolutionary distance, and maximum parsimony methods. Mol Biol Evol 28:2731–2739. https://doi.org/10.1093/molbev/msr121

Thompson JD, Higgins DG, Gibson TJ (1994) CLUSTAL W: improving the sensitivity of progressive multiple sequence alignment through sequence weighting, position-specific gap penalties and weight matrix choice. Nucleic Acids Res 22:4673–4680

Sinha R, Anderson DE, McDonald SS, Greenwald P (2003) Cancer risk and diet in India. J Postgrad Med 49:222–228

Bhute S, Pande P, Shetty SA et al (2016) Molecular characterization and meta-analysis of gut microbial communities illustrate enrichment of Prevotella and Megasphaera in Indian subjects. Front Microbiol 7:660. https://doi.org/10.3389/fmicb.2016.00660
Acknowledgements
We acknowledge the support of faculty from Department of Microbiology, Modern College of Arts, Science and Commerce, Ganeshkhind, Pune. We extend our thanks to Dr. Shrikant Bhute, Dr. Mangesh Suryawanshi, Dr. Deepak Patil, Dr. Nachiket Marathe, Diptaraj Chaudhari and Sudarshan Shetty for their support. We also acknowledge the support extended by all lab members at the YSS lab and NCMR.
Ethics declarations
Conflict of interest
The authors declare that they have no conflict of interest.
Electronic supplementary material
Below is the link to the electronic supplementary material.
About this article
Cite this article
Kulkarni, A.S., Kumbhare, S.V., Dhotre, D.P. et al. Mining the Core Gut Microbiome from a Sample Indian Population. Indian J Microbiol 59, 90–95 (2019). https://doi.org/10.1007/s12088-018-0742-0
Received:

Accepted:

Published:

Issue Date:

DOI: https://doi.org/10.1007/s12088-018-0742-0
Keywords