Abstract
Biological hydrogen (H2) production from the biowastes is widely recognized as a suitable alternative approach to utilize low cost feed instead of costly individual sugars. In the present investigation, pure and mixed biowastes were fermented by defined sets of mixed cultures for hydrolysis and H2 production. Under batch conditions, up to 65, 67 and 70 L H2/kg total solids (2%, TS) were evolved from apple pomace (AP), onion peels (OP) and potato peels (PP) using a combination of hydrolytic mixed culture (MHC5) and mixed microbial cultures (MMC4 or MMC6), respectively. Among the different combinations of mixed biowastes including AP, OP, PP and pea-shells, the combination of OP and PP exhibited maximum H2 production of 73 and 84 L/kg TS with MMC4 and MMC6, respectively. This study suggested that H2 production can be effectively regulated by using defined sets of mixed cultures for hydrolysis and H2 production from pure and mixed biowastes as feed even under unsterile conditions.
This is a preview of subscription content, log in to check access.
Access options
Buy single article
Instant access to the full article PDF.
US$ 39.95
Price includes VAT for USA
Subscribe to journal
Immediate online access to all issues from 2019. Subscription will auto renew annually.
US$ 99
This is the net price. Taxes to be calculated in checkout.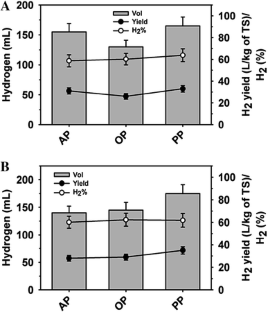 Acknowledgements
The authors wish to thank the Director of CSIR Institute of Genomics and Integrative Biology, Delhi, India, CSIR Project WUM (ESC0108) for providing the necessary funds, facilities and moral support. This research was also supported by KU Research Professor program of Konkuk University.
Ethics declarations
Conflict of interest
The authors declare no conflict of interest.
Electronic supplementary material
Below is the link to the electronic supplementary material.
About this article
Cite this article
Patel, S.K.S., Lee, J. & Kalia, V.C. Dark-Fermentative Biological Hydrogen Production from Mixed Biowastes Using Defined Mixed Cultures. Indian J Microbiol 57, 171–176 (2017). https://doi.org/10.1007/s12088-017-0643-7
Received:

Accepted:

Published:

Issue Date:
Keywords
Bacillus

Biowaste

Biomass hydrolysis

Dark-fermentation

Hydrogen

Mixed microbial culture