Abstract
Development of effective and safe therapeutic treatment of fungal infections remains one of the major challenge for modern medicine. The aim of presented investigation was to analyze the in vitro antifungal activity of selected essential oils, ethanolic extracts of propolis and silver nanoparticles dropped on TiO2 against azole-resistant C. albicans (n = 20), C. glabrata (n = 14) and C. krusei (n = 10) clinical isolates. Among tested essential oils, the highest activity has definitely been found in the case of the oil isolated from the bark of Cinnamomum cassia, with MIC and MFC values for all tested strains in the range of 0.0006–0.0097 % (v/v) and 0.0012–0.019 % (v/v), respectively. High activity was also observed for the Lemon, Basil, Thyme, Geranium and Clove (from buds) essential oils. Significant differences in fungicidal activity have been observed in the case of four tested propolis samples. Only one of them revealed high activity, with MFC values in the range from 0.156 to 1.25 % (v/v). Satisfactory fungicidal activity, against C. albicans and C. glabrata isolates, was also observed in the case of silver nanoparticles, however C. krusei isolates were mostly resistant. We also revealed that constituents of most of essential oils and propolis as well as silver nanoparticles are not substrates for drug transporters, which belong to the most important factors affecting resistance of Candida spp. clinical isolates to many of conventional antimycotics. To conclude, the results of our investigation revealed that essential oils, propolis and silver nanoparticles represent high potential for controlling and prevention candidiasis.
This is a preview of subscription content,
to check access.
Access this article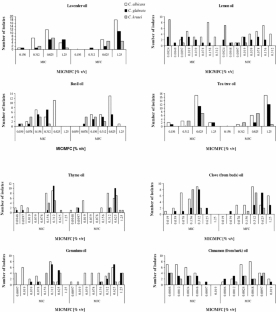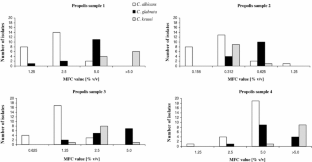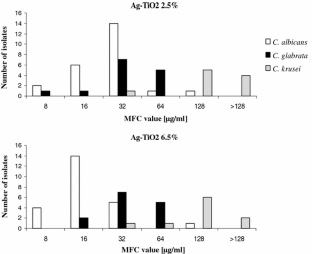 Similar content being viewed by others
References
Calderone RA (2002) Introduction and historical perspectives. Candida and Candidiasis. ASM Press, Washington, DC, pp 15–25

Pfaller MA, Diekema DJ (2004) Rare and emerging opportunistic fungal pathogens: concern for resistance beyond Candida albicans and Aspergillus fumigatus. J Clin Microbiol 42:4419–4431. doi:10.1128/JCM.42.10.4419-4431.2004

Silva S, Negri M, Henriques M, Oliveira R, Williams DW, Azeredo J (2012) Candida glabrata, Candida parapsilosis and Candida tropicalis: biology, epidemiology, pathogenicity and antifungal resistance. FEMS Microbiol Rev 36:288–305. doi:10.1111/j.1574-6976.2011.00278.x

Low Ch-Y, Rotstein C (2011) Emerging fungal infections in immunocompromised patients. Med Rep 3:14

Pfaller MA, Diekema DJ (2010) Epidemiology of invasive mycoses in North America. Crit Rev Microbiol 36:1–53. doi:10.3109/10408410903241444

Pfaller MA, Diekema DJ (2007) Epidemiology of invasive candidiasis: a persistent public health problem. Clin Microbiol Rev 20:133–163. doi:10.1128/CMR.00029-06

Papon N, Courdavault V, Clastre M, Bennett RJ (2013) Emerging and emerged pathogenic Candida species: beyond the Candida albicans paradigm. PLoS Pathog 9:e1003550. doi:10.1371/journal.ppat.1003550

Edlind TD, Katiyar SK (2010) Mutational analysis of flucytosine resistance in Candida glabrata. Antimicrob Agents Chemother 54:4733–4738. doi:10.1128/AAC.00605-10

Romanowska E (2008) Mechanizmy oporności grzybów na leki przeciwgrzybicze/Fungal resistance mechanisms on antifungal agents. In: Dzierżanowska D (ed) Zakażenia szpitalne. α – medica press, Bielsko-Biała, pp 497–507 (in Polish)

Vermes A, Guchelaar HJ, Dankert J (2000) Flucytosine: a review of its pharmacology, clinical indications, pharmacokinetics, toxicity and drug interactions. J Antimicrob Chemother 46:171–179. doi:10.1093/jac/46.2.171

Kurek A, Grudniak AM, Kraczkiewicz-Dowjat A, Wolska KI (2011) New antibacterial therapeutics and strategies. Pol J Microbiol 60:3–12

Rajeshkumar R, Sundararman M (2012) Emergence of Candida spp. and exploration of natural bioactive molecules for anticandidal therapy—status quo. Mycoses 55:e60–e73. doi:10.1111/j.1439-0507.2011.02156.x

Franz R, Ruhnke M, Morschhaüser J (1999) Molecular aspects of fluconazole resistance development in Candida albicans. Mycoses 42:453–458. doi:10.1046/j.1439-0507.1999.00498.x

Zielinska A, Kowalska E, Sobczak JW, Lacka I, Gazda M, Ohtani B, Hupka J, Zaleska A (2010) Silver-doped TiO2 prepared by microemulsion method; surface properties, bio- and photoactivity. Sep Purif Tech 72:309–318. doi:10.1016/j.seppur.2010.03.002

Clinical Laboratory Standards Institute (CLSI) (2008) Reference method for broth dilution antifungal susceptibility testing of yeasts: third edition (M27-A3). CLSI, Wayne

de Castro PA, Bom VL, Brown NA, de Almeida RS, Ramalho LN, Savoldi M, Goldman MH, Berretta AA, Goldman GH (2013) Identification of the cell targets important for propolis-induced cell death in Candida albicans. Fungal Genet Biol 60:74–86. doi:10.1016/j.fgb.2013.07.001

Romanowska E (2010) Zakażenia grzybicze/Fungal infections. In: Piegdoń (ed) Pielęgniarstwo epidemiologiczne. Instytut Pomnik Centrum Zdrowia Dziecka, Warszawa, pp 58–65 (in Polish)

Panacek A, Kolar M, Vecerova R, Prucek R, Soukupova J, Krystof V, Hamal P, Zboril R, Kvitek L (2009) Antifungal activity of silver nanoparticles against Candida spp. Biomaterials 30:6333–6340. doi:10.1016/j.biomaterials.2009.07.065

Kim KS, Kim YS, Han I, Kim M-H, Jung MH, Park H-K (2011) Quantitative and qualitative analyses of the cell death process in Candida albicans treated by antifungal agents. PLoS One 6:e28176. doi:10.1371/journal.pone.0028176

Carvalhinho S, Costa AM, Coelho AC, Martins E, Sampaio A (2012) Susceptibilities of Candida albicans mouth isolates to antifungal agents. Essential oils and mouth rinses. Mycophatologia 174:69–76. doi:10.1007/s11046-012-9520-4

Bialon M, Krzysko-Lupicka T, Koszalkowska M, Wieczorek PP (2014) The influence of chemical composition of commercial lemon essential oils on the growth of Candida strains. Mycopathologia 17:29–39. doi:10.1007/s11046-013-9723-3

Pozzatti P, Scheid LA, Spader TB, Atayde ML, Santurio JM, Alves SH (2008) In vitro activity of essential oils extracted from plants used as spices against fluconazole-resistant and fluconazole-susceptible Candida spp. Can J Microbiol 54:950–956. doi:10.1139/w08-097

Pozzatti P, Loreto ES, Lopes PG, Athayde ML, Santurio JM, Alves SH (2010) Comparison of the susceptibilities of clinical isolates of Candida albicans and Candida dubliniensis to essential oils. Mycoses 53:12–15. doi:10.1111/j.1439-0507.2008.01643.x

Budzynska A, Sadowska B, Lipowczan G, Maciag A, Kalemba D, Rozalska B (2013) Activity of selected essential oils against Candida spp. trains. Evaluation of new aspects of their specific pharmacological properties, with special reference to Lemon balm. Adv Microbiol 3:317–325. doi:10.4236/aim.2013.34045

Ooi LS, Li Y, Kam SL, Wang H, Wong EY, Ooi VE (2006) Antimicrobial activities of cinnamon oil and cinnamaldehyde from the Chinese medicinal herb Cinnamomum cassia Blume. Am J Chin Med 34:511–522. doi:10.1142/S0192415X06004041

Dota KF, Consolaro ME, Svidzinski TI, Bruschi ML (2011) Antifungal activity of Brazilian propolis microparticles against yeasts isolated from vulvovaginal candidiasis. Evid Based Complement Alternat Med. 2011:201953. doi:10.1093/ecam/neq029

Shokri H, Khosravi AR, Yalfani R (2011) Antifungal efficacy of propolis against fluconazole-resistant Candida glabrata isolates obtained from women with recurrent vulvovaginal candidiasis. Int J Gynaecol Obstet 114:158–159. doi:10.1016/j.ijgo.2011.02.019

Astani A, Zimmermann S, Hassan E, Reichling J, Sensch KH, Schnitzler P (2013) Antimicrobial activity of propolis special extract GH 2002 against multidrug-resistant clinical isolates. Pharmazie 68:695–701

Capistrano HM, de Assis EM, Leal RM, Alvrez-Leite ME, Brener S, Bastos EM (2013) Brazilian green propolis compared to miconazole gel in the treatment of Candida-associated denture stomatitis. Evid Based Complement Alternat Med 2013:947980. doi:10.1155/2013/947980

Isla MI, Dantur Y, Salas A, Danert C, Zampini C, Arias M, Ordonez R, Maldonado L, Bedascarrasbure E, Nieva Moreno MI (2012) Effect of seasonality on chemical composition and antibacterial and anticandida activities of Argentine propolis. Design of a topical formulation. Nat Prod Commun 7:1315–1318

Falcao SI, Vale N, Cos P, Gomes P, Freire C, Maes L, Vilas-Boas M (2014) In vitro evaluation of portuguese propolis and floral sources for antiprotozoal, antibacterial and antifungal activity. Phytother Res 28:437–443. doi:10.1002/ptr.5013

Monzote L, Cuesta-Rubio O, Campo Fernandez M, Marquez Hernandez I, Fraga J, Perez K, Kerstens M, Maes L, Cos P (2012) In vitro antimicrobial assessment of Cuban propolis extracts. Mem Inst Oswaldo Cruz 107:978–984. doi:10.1590/S0074-02762012000800003

Kim KJ, Sung WS, Suh BK, Moon SK, Choi JS, Kim JG, Lee DG (2009) Antifungal activity and mode of action of silver nano-particles on Candida albicans. Biometals 22:235–242. doi:10.1007/s10534-008-9159-2

Jebali A, Hajjar FH, Pourdanesh F, Hekamtimoghaddam S, Kazemi B, Masoudi A, Daliri K, Sedighi N (2014) Silver and gold nanostructures: antifungal property of different shapes of these nanostructures on Candida species. Med Mycol 52:65–72. doi:10.3109/13693786.2013.822996

Gupta K, Barua S, Hazarika NS, Manhar AK, Nath D, Karak N, Namsa ND, Mukhopadhyay R, Kalia VC, Mandal M (2014) Green silver nanoparticles: enhanced antimicrobial and antibiofilm activity with effects on DNA replication and cell cytotoxicity. RSC Adv 4:52845–52855. doi:10.1039/C4RA08791G

Zaleska A (2008) Doped TiO2; a review. Recent Patents Eng 2:157–164. doi:10.2174/187221208786306289
Acknowledgments
This research was supported by the grant no N N405 151040 from the National Science Centre in Poland. The authors are also grateful to Teresa Tanczyk, from Pollena-Aroma and Marta Schielmann from Gdansk University of Technology, for their help in preparing the manuscript.
Conflict of interest
Authors do not declare any conflict of interest.
About this article
Cite this article
Szweda, P., Gucwa, K., Kurzyk, E. et al. Essential Oils, Silver Nanoparticles and Propolis as Alternative Agents Against Fluconazole Resistant Candida albicans, Candida glabrata and Candida krusei Clinical Isolates. Indian J Microbiol 55, 175–183 (2015). https://doi.org/10.1007/s12088-014-0508-2
Received:

Accepted:

Published:

Issue Date:

DOI: https://doi.org/10.1007/s12088-014-0508-2
Keywords