Abstract
The cosmetic industry adapts to the needs of consumers seeking to limit the use of preservatives and develop of preservative-free or self-preserving cosmetics, where preservatives are replaced by raw materials of plant origin. The aim of study was a comparison of the antimicrobial activity of extracts (Matricaria chamomilla, Aloe vera, Calendula officinalis) and essential oils (Lavandulla officinallis, Melaleuca alternifolia, Cinnamomum zeylanicum) with methylparaben. Extracts (2.5 %), essential oils (2.5 %) and methylparaben (0.4 %) were tested against Pseudomonas aeruginosa ATCC 27853, Escherichia coli ATCC 25922, Staphylococcus aureus ATCC 29213, Candida albicans ATCC 14053. Essentials oils showed higher inhibitory activity against tested microorganism strain than extracts and methylparaben. Depending on tested microorganism strain, all tested extracts and essential oils show antimicrobial activity 0.8–1.7 and 1–3.5 times stronger than methylparaben, respectively. This shows that tested extracts and essential oils could replace use of methylparaben, at the same time giving a guarantee of microbiological purity of the cosmetic under its use and storage.
Access options
Buy single article
Instant access to the full article PDF.
US$ 39.95
Tax calculation will be finalised during checkout.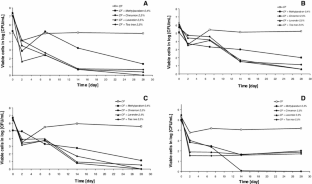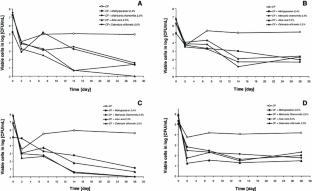 References
1.

Wong S, Street D, Delgado SI, Klontz KC (2000) Recalls of food and cosmetics due to microbial contamination reported to the U.S. Food and Drug Administration. J Food Protect 63:1113–1116

2.

Andersen FA (2008) Final amended report on the safety assessment of methylparaben, ethylparaben, propylparaben, isopropylparaben, butylparaben, isobutylparaben, and benzylparaben as used in cosmetic products. Int J Toxicol 27:1–82

3.

Rietschel RL, Fowler JF (2001) Allergy to preservatives and vehicles in cosmetics and toiletries. In: Rietschel RL, Fowler JF (eds) Fisher's contact dermatitis, 5th edn. Lippincott Williams & Wilkins, Philadelphia, pp 266–319

4.

Okamoto Y, Hayashi T, Matsunami S, Ueda K, Kojima N (2008) Combined activation of methyl paraben by light irradiation and esterase metabolism toward oxidative DNA damage. Chem Res Toxicol 21:1594–1599

5.

Handa O, Kokura S, Adachi S et al (2006) Methylparaben potentiates UV-induced damage of skin keratinocytes. Toxicology 227:62–72

6.

Bisht SPS, Mishra R, Kumari K (2011) Antimicrobial and free radical scavenging activity of Chammomile flower essential oil. Asian J Pharm Health Sci 1:283–285

7.

Thiruppathi S, Ramasubramanian V, Sivakumar T, Thirumalaiarasu V (2010) Antimicrobial activity of Aloe vera (L.) Burm. f. against pathogenic microorganisms. J Biosci Res 1:251–258

8.

Hammer KA, Garson CF, Rile TV (1999) Antimicrobial activity of essential oils and other plant extracts. J Appl Microbiol 86:985–990

9.

Carson CF, Hammer KA, Riley TV (2006) Melaleuca alternifolia (tea tree) oil: a review of antimicrobial and other medicinal properties. Clin Microbiol Rev 19:50–62

10.

Kunicka-Styczyńska A, Sikora M, Kalemba D (2009) Antimicrobial activity of lavender, tea tree and lemon oils in cosmetic preservative systems. J Appl Microbiol 107:1903–1911

11.

Sandigawad BM, Patil CG (2010) The in vitro antibacterial activity of cinnamomum species A. Asian J Exp Biol Sci 1:434–439

12.

Pandey A, Jagtap JV, Polshettiwar SA (2011) Formulation and evaluation of in vitro antimicrobial activity of gel containing essential oils and effect of polymer on their antimicrobial activity. Int J Pharm Pharm Sci 3:234–237

13.

Serban ES, Ionescu M, Matinca D, Maier CS, Bojita MT (2011) Screening of the antibacterial and antifungal activity of eight volatile essential oils. Farmacia 59:440–446

14.

Ababutain IM (2011) Antimicrobial activity of ethanolic extracts from some medicinal plant. Aust J Basic & Appl Sci 5:678–683

15.

Grover A, Bhandari BS, Rai N (2011) Antimicrobial activity of medicinal plants-Azadirachta indica A. Juss, Allium cepa L. and Aloe vera L. Int J Pharm Tech Res 3:1059–1065

16.

Roopashree TS, Dang R, Rani S, Narendra C (2008) Antibacterial activity of antipsoriatic herbs: Cassia tora, Momordica charantia and Calendula officinalis. Int J Appl Res Nat Prod 1:20–28

17.

Manou I, Bouillard L, Devleeschouwer MJ, Barel AO (1998) Evaluation of the preservative properties of Thymus vulgaris essential oil in topically applied formulations under a challenge test. J Appl Microbiol 84:368–376

18.

Nostro A, Cannatelli MA, Morelli I, Musolino AD, Scuredi F, Pizzimenti F, Alonzo V (2004) Efficiency of Calamintha officinalis essential oil as preservative in two topical product types. J Appl Microbiol 97:395–401

19.

Thormar H (2011) Antibacterial and antifungal activities of essential oils. In: Lipids and essential oils as antimicrobial agents. Wiley, Chichester, pp 256–293

20.

Messager S, Hammer KA, Carson CF, Riley TV (2005) Effectiveness of hand-cleansing formulations containing tea tree oil assessed ex vivo on human skin and in vivo with volunteers using European standard EN 1499. J Hosp Infect 59:220–228

21.

Muyima NYO, Zulu G, Bhengu T, Popplewell D (2001) The potential application of some novel essential oils as natural cosmetic preservatives in an aqueous cream formulation. Flavour Fragr J 17:258–266

22.

Kabara JJ (1984) Aroma preservatives, essential oils and fragrances as antimicrobial agents. In: Kabara JJ (ed) Cosmetics and drug preservation principles and practice. Basel Marcel Dekker, Inc., New York, pp 237–273

23.

Kunicka-Styczyńska A, Sikora M, Kalemba D (2011) Lavender, tea tree and lemon oils as antimicrobials in washing liquids and soft body balms. Int J Cosmet Sci 33:53–61

24.

Maccioni AM, Anchisi C, Sanna A, Sardu C, Dessi S (2001) Preservative systems containing essential oils in cosmetic products. Int J Cosmet Sci 24:53–59

25.

Patrone V, Campana R, Vittoria E, Baffone W (2010) In vitro synergistic activities of essential oils and surfactants in combination with cosmetic preservatives against Pseudomonas aeruginosa and Staphylococcus aureus. Curr Microbiol 60:237–241

26.

Bernatoniene J, Masteikova R, Davalgiene J et al (2011) Topical application of Calendula officinalis (L.): formulation and evaluation of hydrophilic cream with antioxidant activity. J Med Plant Res 5:868–877

27.

Papageorgiou S, Varvaresou A, Tsirivas E, Demetzos C (2010) New alternatives to cosmetics preservation. J Cosmet Sci 61:107–123

28.

Ostrosky EA, Marcondes EM, Nishikawa Sde O et al (2011) Rubus rosaefolius extract as a natural preservative candidate in topical formulations. AAPS PharmSciTech 12:732–737

29.

Seo SB, Ryu CS, Ahn GW et al (2002) Development of a natural preservative system using the mixture of chitosan-Inula helenium L. extract. Int J Cosmet Sci 24:195–206

30.

Varvaresou A, Papageorgiou S, Tsirivas E, Protopapa E, Kintziou H, Kefala V, Demetzos C (2009) Self-preserving cosmetics. Int J Cosmet Sci 31:163–175
About this article
Cite this article
Herman, A., Herman, A.P., Domagalska, B.W. et al. Essential Oils and Herbal Extracts as Antimicrobial Agents in Cosmetic Emulsion. Indian J Microbiol 53, 232–237 (2013). https://doi.org/10.1007/s12088-012-0329-0
Received:

Accepted:

Published:

Issue Date:
Keywords
Antimicrobial activity

Essential oils

Herbal extracts

Methylparaben