Abstract
A collection of 57 enterococcal isolates from different origin (including river, treatment plant, spring and garbage water, soil, animal, and vegetables from Aydın) was screened for the production of bacteriocins. Enterococci were identified at species levels as Enterococcus faecium (34), E. hirae (6), E. casseliflavus (4), E. durans (4), E. faecalis (4), E. mundtii (3) and E. avium (2). Of the 57 isolates 40 of them inhibited the growth of at least one indicator bacterium. Based on our PCR results 54 strains possesed enterocin genes. The genes of entA and entB were the most frequently detected structural genes among the PCR positive strains (54 and 53 strains, respectively) and the entB gene was always associated with entA gene. The highest combination of enterocin genes (24 of 54 strains) detected was entA, entB, entP and entL50A/B. The enterocins AS-48 and CylLLS genes were not found. Three enterococcal isolates, 2 E. faecium and 1 E. hirae were not harbour any of tested enterocin genes. No correlation between the presence of enterocin structural genes and the origin of the strain was detected, also no relationship seemed to exist between the tested enterocin genes and the activity spectra of isolates. Genes encoding bacteriocins are widely disseminated among enterocci from different origin and more studies should be done for evaluate industrial potential of bacteriocins.
Access options
Buy single article
Instant access to the full article PDF.
USD 39.95
Price excludes VAT (USA)
Tax calculation will be finalised during checkout.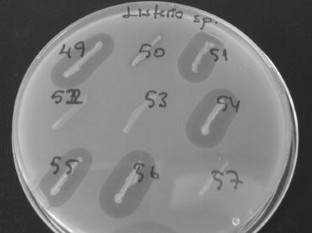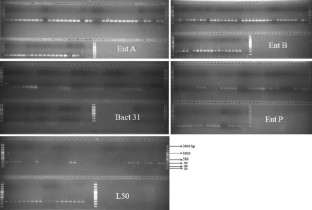 References
Devriese LA, Hommez J, Wijfels R, Haesebrouck F (1991) Composition of the Enterococcal and Streptococcal intestinal flora of poultry. J Appl Bacteriol 71:46–50

Poeta P, Igrejas G, Costa D, Sargo R, Rodrigues J, Torres C (2008) Virulence factors and bacteriocins in faecal enterococci of wild boars. J Basic Microbiol 48:385–392

Franz CM, Van Belkum MJ, Holzapfel WH, Abriouel H, Galvez A (2007) Diversity of enterococcal bacteriocins and their grouping in a new classification scheme. FEMS Microbiol Rev 31:293–310

Booth MC, Bogie CP, Sahl HG, Siezen RL, Hatter KL, Gilmore MS (1996) Structural analysis and proteolytic activation of Enterococcus faecalis cytolysin, a novel lantibiotic. Mol Microbiol 21:1175–1184

Nilsen T, Nes IF, Holo H (2003) Enterolysin A, a cell wall degrading bacteriocin from Enterococcus faecalis LMG 2333. Appl Environ Microbiol 69:2975–2984

Foulquie Moreno MR, Sarantinopoulos P, Tsakalidou E, DeVuyst L (2006) The role and application of enterococci in food and health. Int J Food Microbiol 106:1–24

Lauková A, Jurin P (1997) Distribution and characterization of Enterococcus species in municipal sewages. Microbios 97:73–80

Marekova M, Laukova A, Skaugen M, Nes I (2007) Isolation and characterization of a new bacteriocin, termed enterocin M, produced by environmental isolate Enterococcus faecium AL41. J Ind Microbiol Biotechnol 34:533–537

Laukova A, Marekova M (2001) Production of bacteriocins by different Enterococcal isolates. Folia Microbiol 46:49–52

De Vuyst L, Foulquie Moreno MR, Revets H (2003) Screening for enterocins and detection of hemolysin and vancomycin resistance in enterococci of different origins. Int J Food Microbiol 84:299–318

Klibi N, Jouini A, Rojo-Bezares B, Masmoudi A, Ruiz-Larrea F, Boudabous A, Torres C (2008) Phenotypic and genotypic characterization of bacteriocins in clinical enterococcal isolates of Tunisia. World J Microbiol Biotechnol 24:653–657

Sabia C, Niederhausern S, Guerrieri E, Messi P, Anacarso I, Monicardi G, Bondi M (2008) Detection of bacteriocin production and virulence traits in vancomycin-resistant enterococci of different sources. J Appl Microbiol 104:970–979

Strompfova V, Laukova A (2007) In vitro study on bacteriocin production of Enterococci associated with chickens. Anaerobe 13:228–237

Strompfova V, Laukova A, Simonova M, Marcinakova M (2008) Occurence of the structural enterocin A, P, B, L50B genes in enterococci of different origin. Vet Microbiol 132:293–301

Del Campo R, Tenorio C, Jimenez-Diaz R, Rubio C, Gomez-Lus R, Baquero F, Torres C (2001) Bacteriocin production in vancomycin-resistant and vancomycin-susceptible Enterococcus isolates of different origins. Antimicrob Agents Chemother 45:905–912

Cleveland J, Montville TJ, Nes IF, Chikindas ML (2001) Bacteriocins: safe, natural antimicrobials for food preservation. Int J Food Microbiol 71:1–20

Deegan LH, Cotter PD, Hill C, Ross P (2006) Bacteriocins: biological tools for bio-preservation and shelf-life etension. Int Dairy J 16:1058–1071

Giraffa G (1995) Enterococcal bacteriocins: their potential as antilisteria factors in dairy technology. Food Microbiol 12:291–299

Eaton TJ, Gasson MJ (2001) Molecular screening of Enterococcus virulence determinants and potential for genetic exchange between food and medical isolates. Appl Environ Microbiol 67:1628–1635

Semedo T, Santos MA, Lopes MF, Figueiredo Marques JJ, Barreto Crespo MT, Tenreiro R (2003) Virulence factors in food, clinical and reference enterococci: a common trait in the genus? Syst Appl Microbiol 26:13–22

Nes IF, Diep DB, Holo H (2007) Bacteriocin diversity in Streptococcus and Enterococcus. J Bacteriol 189:1189–1198

Pangallo D, Harichova J, Karelova E, Drahovska H, Chovanova K, Feriane P, Turna J, Timko J (2004) Molecular investigation of enterococci isolated from different environmental sources. Biologia 59:829–837

Franz CM, Worobo RW, Quadri LEN, Schillinger U, Holzapfel WH, Vederas JC, Stiles ME (1999) Atypical genetic locus associated with constitutive production of enterocin B by Enterococcus faecium BFE 900. Appl Environ Microbiol 65:2170–2178

Eijsink VG, Skeie M, Middelhoven PH, Brurberg MB, Nes IF (1998) Comparative studies of class IIa bacteriocins of lactic acid bacteria. Appl Environ Microbiol 64:3275–3281

Joosten HMLJ, Rodriguez E, Nunez M (1997) PCR detection of sequences similar to the AS-48 structural gene in bacteriocin producing enterococci. Lett Appl Microbiol 24:40–42
Electronic Supplementary Material
Below is the link to the electronic supplementary material.
About this article
Cite this article
Özdemir, G.B., Oryaşın, E., Bıyık, H.H. et al. Phenotypic and Genotypic Characterization of Bacteriocins in Enterococcal Isolates of Different Sources. Indian J Microbiol 51, 182–187 (2011). https://doi.org/10.1007/s12088-011-0143-0
Received:

Accepted:

Published:

Issue Date:

DOI: https://doi.org/10.1007/s12088-011-0143-0
Keywords
Bacteriocin

Enterococcus

Enterocin Structural Genes

PCR