Abstract
Resource allocation aims at using the storage, computing and bandwidth between edge servers and end users while satisfying the requirement of different application scenarios. However, there are some security threats in the allocation process, such as unreal resources and denial of service, in which the trusted resource allocation becoming a critical research content. Blockchain technology is one important solution for this problem, but the high-delay and low-throughput shortcomings in blockchain cannot fulfill the requirements of time-sensitive applications. In this paper, we firstly utilize a reputation evaluation mechanism to calculate and rate the servers' reputation values in the resource allocation process. The high-reputation servers are added as candidate leaders into a block generation group, while the remaining low-reputation edge servers are added as verifiers into a block verification group. Secondly, we utilize a round-robin mechanism to choose a leader from the block generation group. The leader is responsible for generating a new block in each timeslot and is updated in different timeslots. Thirdly, we utilize a reward and punishment mechanism to encourage low-reputation servers to participate in consensus. Finally, we propose a proof-of-reputation consensus mechanism to realize the trusted resource allocation based on smart contracts, which can match the end users with high-reputation edge servers automatically. Simulation results show the consensus delay and throughput of resource allocation achieve significant performance improvements in comparison with current schemes, and the system is more sensitive to dishonest edge servers and quickly reduces their reputation values.
Access options
Buy single article
Instant access to the full article PDF.
USD 39.95
Price includes VAT (USA)
Tax calculation will be finalised during checkout.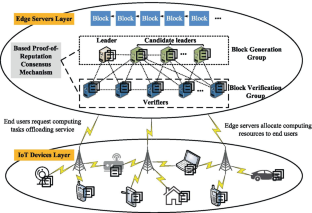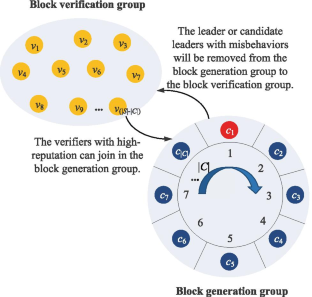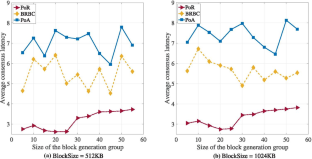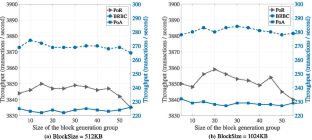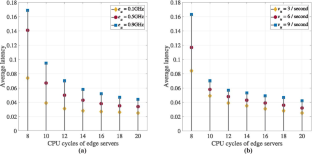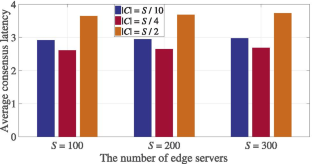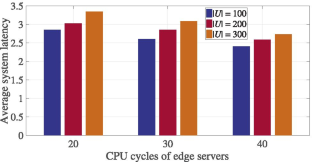 References
1.

Wang T, Lu Y, Wang J, Dai HN, Zheng X, Jia W (2021) EIHDP: Edge-intelligent hierarchical dynamic pricing based on cloud-edge-client collaboration for IoT Systems. IEEE Trans Comput 70(8):1285–1298. https://doi.org/10.1109/TC.2021.3060484

2.

Liu L, Feng J, Pei Q, Chen C, Ming Y, Shang B, Dong M (2021) Blockchain-enabled secure data sharing scheme in mobile-edge computing: An asynchronous advantage actor–critic learning approach. IEEE Internet Things J 8(4):2342–2353. https://doi.org/10.1109/JIOT.2020.3048345

3.

Queiroz A, Oliveira E, Barbosa M, Dias K (2020) A Survey on Blockchain and Edge Computing applied to the Internet of Vehicles. In 2020 IEEE International Conference on Advanced Networks and Telecommunications Systems (ANTS) 14–17. https://doi.org/10.1109/ANTS50601.2020.9342818

4.

Lee Y, Lee K, Sang H (2019) Blockchain-based reputation management for custom manufacturing service in the peer-to-peer networking environment. Peer Peer Netw Appl 13:671–683. https://doi.org/10.1007/s12083-019-00730-6

5.

Zaghloul E, Li T, Mutka MW, Ren J (2020) Bitcoin and blockchain: Security and privacy. IEEE Internet Things J 7(10):10288–10313. https://doi.org/10.1109/JIOT.2020.3004273

6.

Wang S, Taha AF, Wang J, Kvaternik K, Hahn A (2019) Energy crowdsourcing and peer-to-peer energy trading in blockchain-enabled smart grids. IEEE Trans Syst Man Cybern Syst Hum 49(8):1612–1623. https://doi.org/10.1109/TSMC.2019.2916565

7.

Hasan HR, Salah K (2018) Proof of delivery of digital assets using blockchain and smart contracts. IEEE Access 6:65439–65448. https://doi.org/10.1109/ACCESS.2018.2876971

8.

Underwood S (2016) Blockchain beyond bitcoin. Commun ACM 59(11):15–17. https://doi.org/10.1145/2994581

9.

Cong TN, Hoang DT, Nguyen DN, Niyato D, Nguyen HT, Dutkiewicz E (2019) Proof-of-stake consensus mechanisms for future blockchain networks: fundamentals, applications and opportunities. IEEE Access 7:85727–85745. https://doi.org/10.1109/ACCESS.2019.2925010

10.

Wang T, Liu Y, Zheng X, Dai HN, Xie M (2021) Edge-Based Communication Optimization for Distributed Federated Learning. IEEE Trans Netw Sci Eng 99:56–66. https://doi.org/10.1109/TNSE.2021.3083263

11.

Wang T, Wang P, Cai S, Zheng X, Wang G (2021) Mobile edge-enabled trust evaluation for the Internet of Things. Inf Fusion 75(3):90–100. https://doi.org/10.1016/j.inffus.2021.04.007

12.

Liu CF, Bennis M, Debbah M, Poor HV (2019) Dynamic task offloading and resource allocation for ultra-reliable low-latency edge computing. IEEE Trans Commun 67(6):4132–4150. https://doi.org/10.1109/TCOMM.2019.2898573

13.

Wang S, Chen M, Liu X, Yin C, Cui S, Vincent Poor H (2021) A machine learning approach for task and resource allocation in mobile-edge computing-based networks. IEEE Internet Things J 8(3):1358–1372. https://doi.org/10.1109/JIOT.2020.3011286

14.

Feng J, Yu FR, Pei Q, Chu X, Du J, Zhu L (2020) Cooperative computation offloading and resource allocation for blockchain-enabled mobile-edge computing: A Deep reinforcement learning approach. IEEE Internet Things J 7(7):6214–6228. https://doi.org/10.1109/JIOT.2019.2961707

15.

He Y, Wang Y, Qiu C, Lin Q, Li J, Ming Z (2021) Blockchain-based edge computing resource allocation in IoT: A deep reinforcement learning approach. IEEE Internet Things J 8(4):2226–2237. https://doi.org/10.1109/JIOT.2020.3035437

16.

Xu H, Huang W, Zhou Y, Yang D, Li M, Han Z (2021) Edge computing resource allocation for unmanned aerial vehicle assisted mobile network with blockchain applications. IEEE Trans Wirel Commun 20(5):3107–3121. https://doi.org/10.1109/TWC.2020.3047496

17.

Sun W, Liu J, Yue Y, Wang P (2020) Joint resource allocation and incentive design for blockchain-based mobile edge computing. IEEE Trans Wirel Commun 19(9):6050–6064. https://doi.org/10.1109/TWC.2020.2999721

18.

Oliveira MT, Carrara GR, Fernandes NC, Albuquerque CVN, Carrano RC, Medeiros DSV, Mattos DMF (2019) Towards a performance evaluation of private blockchain frameworks using a realistic workload. In 2019 22nd Conference on Innovation in Clouds, Internet and Networks and Workshops (ICIN) 180–187. https://doi.org/10.1109/ICIN.2019.8685888

19.

Buchman E (2016) Tendermint: Byzantine fault tolerance in the age of blockchains. Ontario: University of Guelph 18–34

20.

Chai H, Leng S, Zhang K, Mao S (2019) Proof-of-reputation based-consortium blockchain for trust resource sharing in internet of vehicles. IEEE Access 7:175744–175757. https://doi.org/10.1109/ACCESS.2019.2956955

21.

Gai F, Wang B, Deng W, Peng W (2018) Proof of reputation: A reputation-based consensus protocol for peer-to-peer network. In International Conference on Database Systems for Advanced Applications 10828:666–681. https://doi.org/10.1007/978-3-319-91458-9_41

22.

Yu J, Kozhaya D, Decouchant J, Esteves-Verissimo P (2019) Repucoin: Your reputation is your power. IEEE Trans Comput 68(8):1225–1237. https://doi.org/10.1109/TC.2019.2900648

23.

Wagner D, Reitmayr G, Mulloni A, Drummond T, Schmalstieg D (2010) Real-time detection and tracking for augmented reality on mobile phones. IEEE Trans Vis Comput Graph 16(3):355–368. https://doi.org/10.1109/TVCG.2009.99

24.

Tran TX, Pompili D (2019) Joint task offloading and resource allocation for multi-server mobile-edge computing networks. IEEE Trans Veh Technol 68(1):856–868. https://doi.org/10.1109/TVT.2018.2881191

25.

Huang X, Yu R, Kang J, Zhang Y (2017) Distributed reputation management for secure and efficient vehicular edge computing and networks. IEEE Access 5:25408–25420. https://doi.org/10.1109/ACCESS.2017.2769878

26.

Oliveira M, Reis L, Medeiros D, Carrano RC, Mattos D (2020) Blockchain reputation-based consensus: A scalable and resilient mechanism for distributed mistrusting applications. Comput Netw 179:107367. https://doi.org/10.1016/j.comnet.2020.107367
Funding
This work is supported in part by the Science Foundation of Fujian Province of China under Grand No. 2019J01245.
Ethics declarations
Conflicts of interest/Competing interests
None.
Additional information
Publisher's Note
Springer Nature remains neutral with regard to jurisdictional claims in published maps and institutional affiliations.
About this article
Cite this article
Hu, Q., Cheng, H., Zhang, X. et al. Trusted resource allocation based on proof-of-reputation consensus mechanism for edge computing. Peer-to-Peer Netw. Appl. (2021). https://doi.org/10.1007/s12083-021-01240-0
Received:

Accepted:

Published:
Keywords
Resource allocation

Smart contracts

Blockchain

Edge computing

Consensus mechanism

Reputation evaluation