Abstract
For ectotherms, habitat temperature is one of the most fundamental factors responsible for disease dynamics. Therefore, temperature-dependent habitat selection of hosts could alter their susceptibility to pathogens. Here, we examined the effect of host behavior in the fluctuating thermal regime on disease dynamics, by a dynamical modeling with field surveys. Cyprinid herpesvirus 3 (CyHV-3) was used as a model disease, which is a mass mortality agent of common carp (Cyprinus carpio). Telemetry analysis revealed that carp shifted their location according to the temporal fluctuations of the thermal regime in the habitat, suggesting a preference for specific temperatures. Numerical simulation using a disease transmission model reproduced the characteristic bimodal seasonal trends of infection rate to CyHV-3. The simulation demonstrated that the temperature preference of individual carp was central in determining whether the temperature-dependent behavior ameliorates or exacerbates disease severity. Moreover, it also demonstrated that increases in the fraction of warmer coastal areas can mitigate the impact of CyHV-3 on the carp population by promoting the acquisition of immunity. Our findings suggest that the prevalence of infectious disease in poikilothermic animals can be regulated by the combined effects of the thermal regime of their habitat and the host's thermally induced behavior.
This is a preview of subscription content,
to check access.
Access this article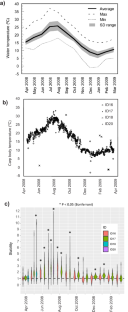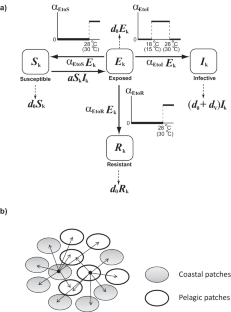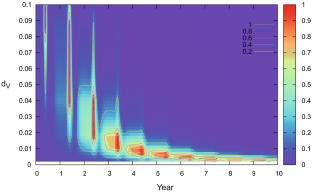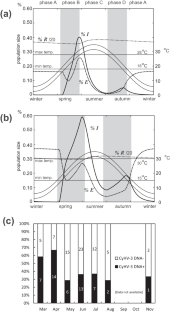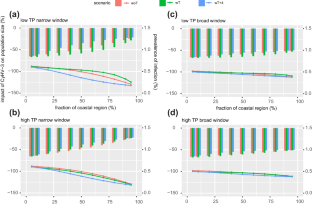 Similar content being viewed by others
References
Arai M, Yanai T, Takashima Y (2006) A survey of koi herpesvirus (KHV) in the wild carp of Lake Kasumigaura and Kitaura. Bull Ibaraki Pref Freshw Fish Exp Stat 40:37–43 (in Japanese)

Carey C, Cohen N, Rollins-Smith L (1999) Amphibian declines: an immunological perspective. Dev Comp Immunol 23:459–472

Dong C, Li X, Weng S, Xe S, He J (2013) Emergence of fatal European genotype CyHV-3/KHV in mainland China. Vet Microbiol 162:239–244

Durr PA, Davis S, Joehnk K, Graham K, Hopf J, McColl KA, Taylor S, Chen Y, Sengupta A, Merrin L, Stratford D, Aryal S, van Klinken RD, West P, Newton M, Brown P, Gilligan D (2019) Development of hydrological, ecological and epidemiological modelling to inform a CyHV3 release strategy for the biocontrol of carp in the murray darling basin: part a. Integrated Ecological and Epidemiological Modelling. FRDC, Canberra. http://www.frdc.com.au/project/2016–170

Froese R, Pauly D (2010) FishBase. World Wide Web electronic publication. version (04/2013). www.fishbase.org

Gilad O, Yun S, Adkison MA, Way K, Willits NH, Bercovier H, Hedrick RP (2003) Molecular comparison of isolates of an emerging fish pathogen koi herpesvirus and the effect of water temperature on mortality of experimentally infected koi. J Gen Virol 84:2661–2668

Harvell CD, Mitchell CE, Ward JR, Altizer S, Dobson AP, Ostfeld RS et al (2002) Climate warming and disease risks for terrestrial and marine biota. Science 296:2158–2162

Hedrick RP, Gilad O, Yun S, Spangenberg JV, Marty GD, Nordhausen RW et al (2000) A herpesvirus associated with mass mortality of juvenile and adult koi, a strain of common carp. J Aquat Anim Health 12:44–57

Hedrick RP, Gilad O, Yun SC, McDowell TS, Waltzek TB, Kelley GO et al (2005) Initial isolation and characterization of a herpes-like virus (KHV) from koi and common carp. Bull Fish Res Agency S2:1–7

Huey RB (1974) Behavioral thermoregulation in lizards: importance of associated costs. Science 184:1001–1003

Hutchison VH, Maness JD (1979) The role of behavior in temperature acclimation and tolerance in ectotherms. Am Zool 19:367–384

Iida T, Sano M (2005) Koi Herpesvirus Disease Virus 55:145–152 (in Japanese)

Kelsch SW, Neill WH (1990) Temperature preference versus acclimation in fishes: selection for changing metabolic optima. Trans Am Fish Soc 119:601–610

Klein MS, Conn CA, Kluger MJ (1992) Behavioral thermoregulation in mice inoculated with influenza virus. Physiol Behav 52:1133–1139

Liu Z, Ke H, Ma Y, Hao L, Ma J, Liang Z, Chen Z (2016) First report of occurrences of two cyprinid herpesvirus 3 variants, I++ II− and I++ II+Δ, in China. Fish Pathol 51:169–175

Matsui K, Honjo M, Kohmatsu Y, Uchii K, Yonekura R, Kawabata Z (2008) Detection and significance of koi herpesvirus (KHV) in freshwater environments. Fresh Biol 53:1262–1272

Magnuson JJ, DeStasio BT (1997) Thermal niche of fishes and global warming. In: Wood CM McDonald DG (eds) Global Warming: Implications for Freshwater and Marine Fish. Cambridge University Press, Cambridge, pp 377–408

Manning MJ, Nakanishi T (1996) The specific immune system: cellular defences. In: Iwama G, Nakanishi T (eds) The fish immune system. Howar WS, Randall DJ, Farrell AP (eds) Fish physiology, vol 15. Academic Press, San Diego, pp 159–205

Ouedraogo RM, Goettel MS, Brodeur J (2004) Behavioral thermoregulation in the migratory locust: a therapy to overcome fungal infection. Oecologia 138:312–319

Perelberg A, Smirnov M, Hutoran M, Diamant A, Bejerano Y, Kotler M (2003) Epidemiological description of a new viral disease afflicting cultured Cyprinus carpio in Israel. Isr J Aquacult Bamidgeh 55:5–12

Perelberg A, Ronen A, Hutoran M, Smith Y, Kotler M (2005) Protection of cultured Cyprinus carpio against a lethal viral disease by an attenuated virus vaccine. Vaccine 23:3396–3403

Primack RB (2002) Essentials of conservation biology, 3rd edn. Sinauer Associates, Sunderland

Rakus K, Ronsmans M, Vanderplasschen A (2017a) Behavioral fever in ectothermic vertebrates. Dev Comp Immunol 66:84–91

Rakus K, Ronsmans M, Forlenza M, Boutier M, Piazzon MC, Jazowiecka-Rakus J, Gatherer D, Athanasiadis A, Farnir F, Davison AJ, Boudinot P, Michiels T, Wiegertjes GF, Vanderplasschen A (2017b) Conserved fever pathways across vertebrates: a herpesvirus expressed decoy TNF-alpha receptor delays behavioral fever in fish. Cell Host Microbe 21:244–253

Ronen A, Perelberg A, Abramowitz J, Hutoran M, Tinman S, Bejerano I et al (2003) Efficient vaccine against the virus causing a lethal disease in cultured Cyprinus carpio. Vaccine 21:4677–4684

Samsing F, Hopf J, Dvis S, Wynne JW, Durr PA (2021) Will Australia's common carp (Cyprinus carpio) populations develop resistance to Cyprinid herpesvirus 3 (CyHV-3) if released as a biocontrol agent? Identification of pathways and knowledge gap. Biol Control 157:104571

Sano M, Ito T, Kurita J, Yanai T, Watanabe N, Miwa S, Iida T (2004) First detection of koi herpesvirus in cultured common carp Cyprinus carpio in Japan. Fish Pathology 39:165–167

Suzuki K, Yamauchi Y, Yoshida T (2017) Interplay between microbial trait dynamics and population dynamics revealed by the combination of laboratory experiment and computational approaches. J Theor Biol 419:201–210

Thieme HR (2003) SEIR (->S) type endemic models for "childhood diseases." Mathematic in population biology. Princeton University Press, Princeton, pp 317–340

Uchii K, Matsui K, Iida T, Kawabata Z (2009) Distribution of the introduced cyprinid herpesvirus 3 in a wild population of common carp, Cyprinus carpio L. J Fish Dis 32:857–864

Uchii K, Telschow A, Minamoto T, Yamanaka H, Honjo MN, Matsui K, Kawabata Z (2011) Transmission dynamics of an emerging infectious disease in wildlife through host reproductive cycles. ISME J 5:244–251

Withers PC, Campbell JD (1985) Effects of environmental cost on thermoregulation in the desert iguana. Physiol Zool 58:329–339

Woolway RI, Merchant CJ (2018) Intralake heterogeneity of thermal responses to climate change: a study of large Northern Hemisphere lakes. J Geophy Res: Atmos 123:3087–3098. https://doi.org/10.1002/2017JD027661

Yamanaka H, Kohmatsu Y, Minamoto T, Kawabata Z (2010) Spatial variation and temporal stability of littoral water temperature relative to lakeshore morphometry: environmental analysis from the view of fish thermal ecology. Limnol 11:71–76
Acknowledgements
We express our sincere gratitude to Notogawa Fisheries Union, Higashi-Omi, Shiga, Japan, for their support in field activities. We also thank Drs. Yasushi Mitsunaga, Kazuhoshi Komeyama, Takeshi Yamane, Yoshio Kunimune (Kindai University), and Yuya Makiguchi (Hokkaido University) for their instructions related to the telemetry survey. We are grateful to Dr. Thomas Ting Lei (Ryukoku University) for helpful comments on the manuscript. Our radio telemetry study was conducted with the permission of the Ministry of Internal Affairs and Communications. We declare that all experiments in this study comply with the current laws of Japan.
Funding
This research was supported by the Research Institute for Humanity and Nature (project number C-06) and by a research fellowship of the Japan Society for the Promotion of Science (JSPS) for Young Scientists to K.U. and JSPS KAKENHI Grant Numbers 20K03750 to Y.S.
Ethics declarations
Competing interests
The authors declare no competing interests.
Additional information
The results/data/figures in this manuscript have not been published elsewhere nor are they under consideration by another publisher.
Supplementary Information
Below is the link to the electronic supplementary material.
Rights and permissions
Springer Nature or its licensor (e.g. a society or other partner) holds exclusive rights to this article under a publishing agreement with the author(s) or other rightsholder(s); author self-archiving of the accepted manuscript version of this article is solely governed by the terms of such publishing agreement and applicable law.
About this article
Cite this article
Miki, T., Yamanaka, H., Sogabe, A. et al. Spatial epidemiology model can explain the seasonal dynamics of infectious disease Cyprinid herpesvirus 3 (CyHV-3) by thermoregulation behavior of the host, common carp (Cyprinus carpio). Theor Ecol 16, 195–208 (2023). https://doi.org/10.1007/s12080-023-00563-3
Received:

Accepted:

Published:

Issue Date:

DOI: https://doi.org/10.1007/s12080-023-00563-3
Keywords