Abstract
Many models have assessed how marine reserves protect fish populations and—under certain conditions—simultaneously increase yield. Only recently have models considered the effects of fishing-induced habitat damage by assuming reduced population growth in fishing areas. Even though it is understood that fish movement patterns affect the functioning and design of marine reserves, fishing-induced changes in movement patterns, as a response to decreased habitat quality, have not been studied in this context. Our work explores how harvesting-induced movement behaviour of fish can affect optimal yield and size of a marine reserve. Our model is based on reaction-diffusion equations and recent advances in their application to strongly heterogeneous environments with sharp transitions in environmental conditions. We model movement behaviour in response to harvesting and habitat destruction via increased diffusion rates and increased preference for protected areas, and implement reduced reproduction as an effect of habitat degradation. We find an alternative mechanistic explanation for the empirical observation that high fish mobility may not decrease fish density inside a reserve. We also find that movement-behavioural responses of fish to harvesting can decrease the economic value of protected areas and increase their conservation value. For maximum sustainable yield, we find that a low harvesting rate and small protected area are optimal when fish show a strong preference for protected areas as a response to fishing efforts. On the other hand, a high harvesting rate and a large protected area are optimal if fish respond to harvesting by a strong increase in movement rates in fishing areas.
This is a preview of subscription content, log in to check access.
Access options
Buy single article
Instant access to the full article PDF.
US$ 39.95
Price includes VAT for USA
Subscribe to journal
Immediate online access to all issues from 2019. Subscription will auto renew annually.
US$ 99
This is the net price. Taxes to be calculated in checkout.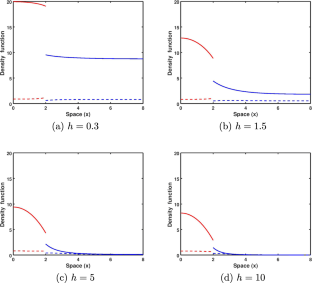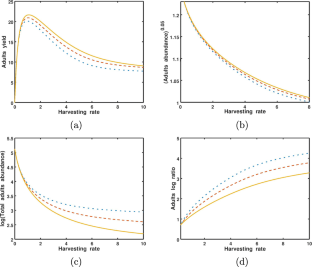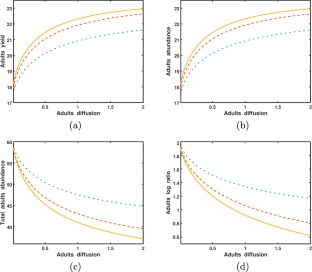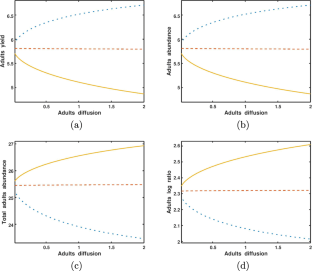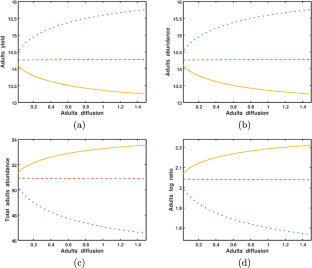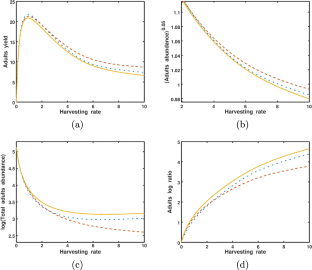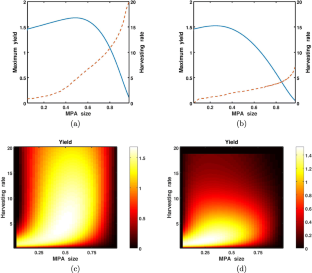 References
Almany G, Hamilton RJ, Bode M, Matawai M, Potuku T, Saenz-Agudelo P, Planes S, Berumen M, Rhodes K, Thorrold S, Russ G, Jones G (2013) Dispersal of grouper larvae drives local resource sharing in a coral reef fishery. Curr Biol 23:626–630

Alqawasmeh Y (2017) Models for persistence and spread of structured populations in patchy landscapes. Phd thesis, University of Ottawa. https://ruor.uottawa.ca/handle/10393/36845

Alqawasmeh Y, Lutscher F (2019) Persistence and spread of stage-structured populations in heterogeneous landscapes. Journal of Mathematical Biology. https://doi.org/10.1007/s00285-018-1317-8

Bohnsack J (1993) Marine reserves: they enhance fisheries, reduce conflicts, and protect resources. Oceanus 36(1):63

Botsford L, Hastings A, Gaines S (2001) Dependence of sustainability on the configuration of marine reserves and larval dispersal distance. Ecol Lett 4(2):144–150

Claudet J, Osenberg C, Domenici P, Badalamenti F, Milazzo M, Falcon J, Bertocci I, Benedetti-Cecchi L, Garcia-Charton J-A, Goni R, Borg J, Forcada A, Lucia GD, Perez-Ruzafa A, Afonso P, Brito A, Guala I, Direach L, Sanchez-Jerez P, Somerfield PJ, Planes S (2010) Marine reserves: fish life history and ecological traits matter. Ecol Appl 20(3):830–839

Coleman F, Williams S (2002) Overexploiting marine ecosystem engineers: potential consequences for biodiversity. Trends Ecol Evol 17(1):40–44

Fogarty M (2005) Impacts of fishing activities on benthic habitat and carrying capacity: approaches to assessing and managing risk. In: American fisheries society symposium, vol 41, pp 769

Gell F, Roberts C (2003) Benefits beyond boundaries: the fishery effects of marine reserves. Trends Ecol Evol 18(9):448–455

Gerber L, Botsford L, Hastings A, Possingham H, Gaines S, Palumbi S, Andelman S (2003) Population models for marine reserve design: a retrospective and prospective synthesis. Ecol Appl 13:47–64

Green AL, Maypa AP, Almany G, Rhodes KL, Weeks R, Abesamis RA, Gleason MG, Mumby PJ, White AT (2015) Larval dispersal and movement patterns of coral reef fishes, and implications for marine reserve network design. Biol Rev 90:1215–1247

Grüss A, Kaplan D, Guénette S, Roberts C, Botsford L (2011) Consequences of adult and juvenile movement for marine protected areas. J Biol Conserv 144:692–702

Harrison H, Williamson D, Evans R, Almany G, Thorrold S, Russ G, Feldheim K, van Herwerden L, Planes S, Srinivasan M, Berumen M, Jones G (2012) Larval export from marine reserves and the recruitment benefit for fish and fisheries. Curr Biol 22(11):1023–1028

Hastings A, Botsford LW (2006) Persistence of spatial populations depends on returning home. PNAS 103(15):6067–6072

Hiddink J, Jennings S, Kaiser M (2007) Assessing and predicting the relative ecological impacts of disturbance on habitats with different sensitivities. J Appl Ecol 44(2):405–413

Hilborn R, Stokes K, Maguire J, Smith T, Botsford L, Mangel M, Orensanz J, Parma A, Rice J, Bell J, Cochrane K, Garcia S, Hall S, Kirkwood G, Sainsbury K, Stefansson G, Walters C (2004) When can marine reserves improve fisheries management? Ocean Coast Manag 47:197–205

Hutchings J (2000) Collapse and recovery of marine fishes. Nature 406(16798):882

Kelly M, Xing Y, Lenhart S (2016) Optimal fish harvesting for a population modeled by a nonlinear parabolic partial differential equation. Nat Resour Model 29:36–69

Langebrake J, Lambert L, Osenberg C, Leenheer PD (2012) Differential movement and movement bias models for marine protected areas. J Math Biol 64(4):667–696

Lester S, Halpern B, Grorud-Colvert K, Lubchenco J, Ruttenberg B, Gaines S, Airame S, Warner R (2009) Biological effects within no-take marine reserves: a global synthesis. Mar Ecol Prog Ser 384:33–46

Lockwood D, Hastings A, Botsford L (2002) The effects of dispersal patterns on marine reserves: does the tail wag the dog? Theor Popul Biol 61:297–309

Maciel G, Lutscher F (2013) How individual movement response to hapitat edge effects population persistence and spatial spread. Am Nat 182:42–52

Maciel G, Lutscher F (2015) Allee effects and population spread in patchy landscapes. J Biol Dyn 9(1):109–123

Millar R (1992) Estimating the size-selectivity of fishing gear by conditioning on the total catch. J Am Stat Assoc 87(420):962–968

Moberg E, Shyu E, Herrera G, Lenhart S, Lou Y, Neubert M (2015) On the bioeconomics of marine reserves when dispersal evolves. Nat Resour Model 28:456–474

Moeller H, Neubert M (2013) Habitat damage, marine reserves, and the value of spatial management. Ecol Appl 23:959–971

Mosquera I, Côté I, Jennings S, Reynolds J (2000) Conservation benefits of marine reserves for fish populations. Anim Conserv 4:321–332

Neubert M (2003) Marine reserves and optimal harvesting. Ecol Lett 6(9):843–849

Neubert M, Caswell H (2000) Density-dependent vital rates and their population dynamic consequences. J Math Biol 41:103–121

Olsgard F, Schaanning M, Widdicombe S, Kendall M, Austen M (2008) Effects of bottom trawling on ecosystem functioning. J Exp Mar Biol Ecol 366(1–2):123–133

Ovaskainen O, Cornell S (2003) Biased movement at a boundary and conditional occupancy times for diffusion processes. J Appl Probab 40:557–580

Reeve J, Cronin J (2010) Edge behaviour in a minute parasitic wasp. J Animal Ecol 79:483–490

Roberts C, Bohnsack J, Gell F, Hawking J, Goodridge R (2001) Effects of marine reserves on adjacent fisheries. Science 294(5548):1920–1923

Schultz C, Crone E (2001) Edge-mediated dispersal behavior in a prairie butterfly. Ecology 82:1879–1892

Tsikliras A, Polymeros K (2014) Fish market prices drive overfishing of the big ones. PeerJ 2:e638

White J (2015) Marine reserve design theory for species with ontogenetic migration. R Soc 11(1):20140511–20140511

Yurk B, Cobbold C (2018) Homogenization techniques for population dynamics in strongly heterogeneous landscapes. J Biol Dyn 12:171–193
Acknowledgements
YA and FL thank Michael Neubert for inspiring discussions. FL gratefully acknowledges funding by the Natural Sciences and Engineering Research Council of Canada through the Discovery Grants program (RGPIN-2016-04759) and a Discovery Accelerator Supplement (RGPAS-2016-492872). We also thank two reviewers for their valuable comments and suggestions.
About this article
Cite this article
Alqawasmeh, Y., Lutscher, F. Movement behaviour of fish, harvesting-induced habitat degradation and the optimal size of marine reserves. Theor Ecol 12, 453–466 (2019). https://doi.org/10.1007/s12080-019-0411-x
Received:

Accepted:

Published:

Issue Date:
Keywords
Fish movement behaviour

Marine protected area

Maximum sustainable yield

Reaction-diffusion equation