Abstract
Some ant species are specialised parasites that invade the nests of other ants and steal their food, larvae, and eggs. To be successful, they must evade detection by patrolling hosts who attack invaders. Ants distinguish invaders from individuals of their own nest through the cuticular hydrocarbon profile, as their nestmates have a similar mixture of coating chemicals. To circumvent this, some parasites adopt mimicry, using a mixture of chemicals that has a similar composition to that of their hosts, whilst others adopt crypsis, with a reduced amount of chemicals. Here, we develop a mathematical model to describe the conditions under which each of these strategies evolves, assuming that the parasites and hosts are ants with their own colonies. Host ants distinguish their nestmates from parasites through differences in their chemical traits, which are represented in multi-dimensional space. Parasitic ants engage in competition with other conspecific colonies, which is more intense between colonies with similar chemical traits, jeopardising the advantage of cryptic parasites. We then define parasites' fitness with respect to chemical profiles and discuss the evolution of their chemical strategies. Cryptic parasites evolve when competition among colonies is weak, when many types of host colonies exist, and when host recognition accuracy is high. Mimetic parasites evolve under the opposite conditions.
This is a preview of subscription content, log in to check access.
Access options
Buy single article
Instant access to the full article PDF.
US$ 39.95
Price includes VAT for USA
Subscribe to journal
Immediate online access to all issues from 2019. Subscription will auto renew annually.
US$ 99
This is the net price. Taxes to be calculated in checkout.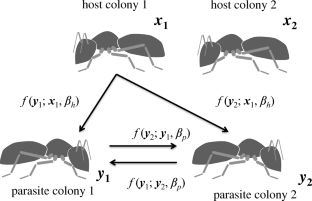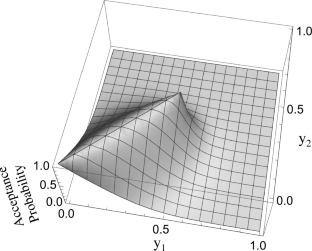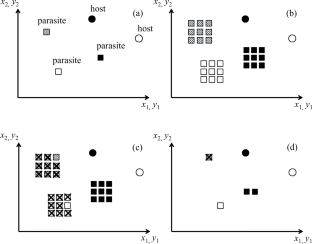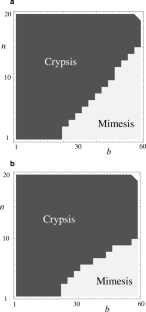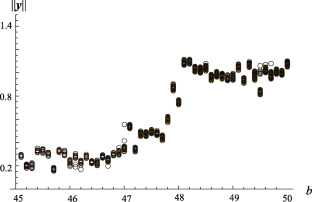 References
Akino T (2008) Chemical strategies to deal with ants: a review of mimicry, camouflage, propaganda, and phytomimesis by ants (Hymenoptera: Formicidae) and other arthropods. Myrmecological News 11:173–181

Akino T, Terayama M, Wakamura S, Yamaoka R (2002) Intraspecific variation of cuticular hydrocarbon composition in Formica japonica Motschoulsky (Hymenoptera: Formicidae). Zool Sci 19(10):1155–1165

Akino T, Yamamura K, Wakamura S, Yamaoka R (2004) Direct behavioral evidence for hydrocarbons as nestmate recognition cues in Formica japonica (Hymenoptera: Formicidae). Appl Entomol Zool 39(3):381–387

Bowers MD, Larin Z (1989) Acquired chemical defense in the lycaenid butterfly, Eumaeus atala. J Chem Ecol 15(4):1133–1146

Brandt M, Heinze J, Schmitt T, Foitzik S (2005) A chemical level in the coevolutionary arms race between an ant social parasite and its hosts. J Evol Biol 18(3):576–586. https://doi.org/10.1111/j.1420-9101.2004.00867.x

Breed MD, Cook C, Krasnec MO (2012) Cleptobiosis in social insects. Psyche, 488765. https://doi.org/10.1155/2012/484765

Cappa F, Bruschini C, Cipollini M, Pieraccini G, Cervo R (2014) Sensing the intruder: a quantitative threshold for recognition cues perception in honeybees. Naturwissenschaften 101(2):149–152. https://doi.org/10.1007/s00114-013-1135-1

Cronin AL, Fédérici P, Doums C, Monnin T (2012) The influence of intraspecific competition on resource allocation during dependent colony foundation in a social insect. Oecologia 168(2):361–369

Cheney KL (2012) Cleaner wrasse mimics inflict higher costs on their models when they are more aggressive towards signal receivers. Biol Lett 8(1):10–12

Cini A, Gioli L, Cervo R (2009) A quantitative threshold for nest-mate recognition in a paper social wasp. Biol Lett 5(4):459–461

Dettner K, Liepert C (1994) Chemical mimicry and camouflage. Annu Rev Entomol 39:129–154

Elgar MA, Allan RA (2004) Predatory spider mimics acquire colony-specific cuticular hydrocarbons from their ant model prey. Naturwissenschaften 91(3):143–147

Ettershank G, Ettershank J (1982) Ritualised fighting in the meat ant Iridomyrmex purpureus (Smith)(Hymenoptera: Formicidae). Aust J Entomol 21(2):97–102

Fielde AM (1905) The progressive odor of ants. Biol Bull 10(1):1–16

Fürst MA, Durey M, Nash DR (2012) Testing the adjustable threshold model for intruder recognition on Myrmica ants in the context of a social parasite. Proc Biol Sci 279(1728):516–522

Gavrilets S (1997) Coevolutionary chase in exploiter–victim systems with polygenic characters. J Theor Biol 186(4):527–534

Gordon DM (1991) Behavioral flexibility and the foraging ecology of seed-eating ants. Am Nat 138:379–411

Hölldobler B (1976) Recruitment behavior, home range orientation and territoriality in harvester ants, Pogonomyrmex. Behav Ecol Sociobiol 1(1):3–44

Hölldobler B (1983) Territorial behavior in the green tree ant (Oecophylla smaragdina). Biotropica 15:241–250

Howard RW, Blomquist GJ (2005) Ecological, behavioral, and biochemical aspects of insect hydrocarbons. Annu Rev Entomol 50:371–393

Huang J-N, Cheng R-C, Li D, Tso I-M (2010) Salticid predation as one potential driving force of ant mimicry in jumping spiders. Proc R Soc Lond B Biol Sci 278:1356–1364

Jandt JM, Hunt EM, McGlynn TP (2015) Intraspecific food-robbing and neighborhood competition: consequences for anti-robber vigilance and colony productivity. Biotropica 47(4):491–496

Kilner RM, Langmore NE (2011) Cuckoos versus hosts in insects and birds: adaptations, counter-adaptations and outcomes. Biol Rev Camb Philos Soc 86(4):836–852. https://doi.org/10.1111/j.1469-185X.2010.00173.x

Lenoir A, D'Ettorre P, Errard C, Hefetz A (2001) Chemical ecology and social parasitism in ants. Annu Rev Entomol 46:573–599. https://doi.org/10.1146/annurev.ento.46.1.573

Lenoir A, Fresneau D, Errard C, Hefetz A (1999) Individuality and colonial identity in ants: the emergence of the social representation concept. In: Dertain C, Deneubourg JL, Pasteels JM (eds) Information processing in social insects. Birkhauser Verlag, Basel, pp 219–237

Lhomme P, Ayasse M, Valterova I, Lecocq T, Rasmont P (2012) Born in an alien nest : how do social parasite male offspring escape from host aggression? PLoS One 7(9):e43053. https://doi.org/10.1371/journal.pone.0043053

Martin S, Drijfhout F (2009) A review of ant cuticular hydrocarbons. J Chem Ecol 35(10):1151–1161

Maschwitz U, Dorow W, Buschinger A, Kalytta G (2000) Social parasitism involving ants of different subfamilies: Polyrhachis lama (Formicinae) an obligatory inquiline of Diacamma sp.(Ponerinae) in Java. Insect Soc 47(1):27–35

Maschwitz U, Go C, Kaufmann E, Buschinger A (2004) A unique strategy of host colony exploitation in a parasitic ant: workers of Polyrhachis lama rear their brood in neighbouring host nests. Naturwissenschaften 91(1):40–43

Morel L, Vander Meer RK, Lavine BK (1988) Ontogeny of nestmate recognition cues in the red carpenter ant (Camponotus floridanus). Behav Ecol Sociobiol 22(3):175–183

Mori n A, D'Ettorre P, Le Moli F (1995) Host nest usurpation and colony foundation in the European amazon ant, Polyergus rufescens Latr.(Hymenoptera: Formicidae). Insect Soc 42(3):279–286

Nash DR, Als TD, Maile R, Jones GR, Boomsma JJ (2008) A mosaic of chemical coevolution in a large blue butterfly. Science 319:88–90

Nehring V, Dani FR, Turillazzi S, Boomsma JJ, D'Ettorre P (2015) Integration strategies of a leaf-cutting ant social parasite. Anim Behav 108:55–65

Ozaki, M., & Wada-Katsumata, A. (2010). Perception and olfaction of cuticular compounds. Insect hydrocarbons: biology, biochemistry and chemical ecology (Ed. by Blomquist G.J. and Bagneres A-G.), 10, pp. 207–221, Cambridge University Press, Cambridge.

Pasteur G (1982) A classification review of mimicry systems. Annu Rev Ecol Syst 13:169–199

Perfecto I, Vandermeer J (1993) Cleptobiosis in the antEctatomma ruidum in Nicaragua. Insect Soc 40(3):295–299

Rodríguez-Gironés MA, Lotem A (1999) How to detect a cuckoo egg: a signal-detection theory model for recognition and learning. Am Nat 153(6):633–648

Ryti RT, Case TJ (1988) Field experiments on desert ants: testing for competition between colonies. Ecology 69(6):1993–2003

Saul-Gershenz LS, Millar JG (2006) Phoretic nest parasites use sexual deception to obtain transport to their host's nest. Proc Natl Acad Sci U S A 103(38):14039–14044. https://doi.org/10.1073/pnas.0603901103

Singer TL (1998) Roles of hydrocarbons in the recognition systems of insects. Am Zool 38(2):394–405

Sledge MF, Dani FR, Cervo R, Dapporto L, Turillazzi S (2001) Recognition of social parasites as nest-mates: adoption of colony-specific host cuticular odours by the paper wasp parasite Polistes sulcifer. Proc R Soc Lond B Biol Sci 268(1482):2253–2260

Stevens M (2013) Sensory ecology, behaviour, and evolution. Oxford University Press

Sumner S, Nash DR, Boomsma JJ (2003) The adaptive significance of inquiline parasite workers. Proc R Soc Lond B Biol Sci 270(1521):1315–1322

Topoff H, Zimmerli E (1993) Colony takeover by a socially parasitic ant, Polyergus breviceps: the role of chemicals obtained during host-queen killing. Anim Behav 46(3):479–486

van Zweden, J. S., & d'Ettorre, P. (2010). Nestmate recognition in social insects and the role of hydrocarbons. Insect hydrocarbons: biology, biochemistry and chemical ecology (Ed. by Blomquist G.J. and Bagneres A-G.), 11, pp. 222–243, Cambridge University Press, Cambridge

Vander Meer RK, Morel L (1998) Nestmate recognition in ants. Pheromone Communication in Social Insects:79–103

von Beeren CV, Schulz S, Hashim R, Witte V (2011) Acquisition of chemical recognition cues facilitates integration into ant societies. BMC Ecology 11:30. https://doi.org/10.1186/1472-6785-11-30

Ward S (1996) A new workerless social parasite in the ant genus Pseudomyrmex (Hymenoptera: Formicidae), with a discussion of the origin of social parasitism in ants. Syst Entomol 21(3):253–263

Witte V, Lehmann L, Lustig A, Maschwitz U (2009) Polyrhachis lama, a parasitic ant with an exceptional mode of social integration. Insect Soc 56(3):301–307

Yamaguchi T (1995) Intraspecific competition through food robbing in the harvester ant, Messor aciculatus (Fr. Smith), and its consequences on colony survival. Insect Soc 42(1):89–101
Acknowledgements
We thank T. Akino, M. Hojo, M. Maruyama, K. Tsuji, and J. Wang for their very helpful comments.
Funding
This work has been supported by a research fellowship for Young Scientists (DC1) from the Japan Society for the Promotion of Science to S.S., a Grant-in-Aid for Encouragement of Young Scientists No. JP16J01030 to S.S., a Grant-in-Aid for Basic Scientific Research (B) No. JP15H004423 to Y.I., and The Natio Foundation.
About this article
Cite this article
Satoi, S., Iwasa, Y. Chemical mimicry or crypsis—the evolutionary game played by parasitic ants invading other colonies. Theor Ecol 12, 391–399 (2019). https://doi.org/10.1007/s12080-018-0406-z
Received:

Accepted:

Published:

Issue Date:
Keywords
Ant nest parasites

Chemical strategy

Mimicry

Crypsis