Abstract
Connection between critical habitats is an important consideration in efforts to restore native and socio-economically important fish species or control the spread of invasive species. However, differences in fish life history might influence the effectiveness of restoration and management actions. In addition, the strength of connection among spatially separate subpopulations could affect the response of the overall population to a local environmental change. In this study, we modeled the response of migratory fish populations with different homing rates, straying distances, and reproductive modes (iteroparity and semelparity) to changes in the carrying capacity of spawning/nursery grounds in a lake-stream system. Increasing the carrying capacity of one spawning/nursery ground could increase the abundance of the local subpopulation and overall population, but both short-term (i.e., abundance change in the first 20 years) and long-term (i.e., equilibrium abundance) responses varied with life history traits. Furthermore, the abundance of some subpopulations might decrease because of the movement of straying adults toward more productive spawning/nursery grounds. In general, straying distance influenced the short-term response and spatial pattern of the population while homing rate influenced the equilibrium abundance. This study revealed the effect of life history traits on population response to restoration actions, which may be crucial for managers in charge of multi-species management, such as enhancing native fishes while controlling invasive species.
This is a preview of subscription content, log in to check access.
Access options
Buy single article
Instant access to the full article PDF.
US$ 39.95
Price includes VAT for USA
Subscribe to journal
Immediate online access to all issues from 2019. Subscription will auto renew annually.
US$ 99
This is the net price. Taxes to be calculated in checkout.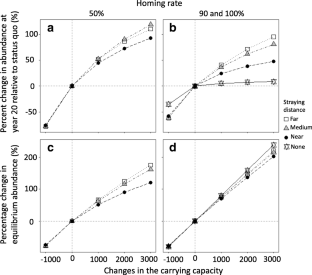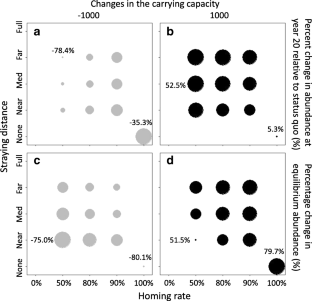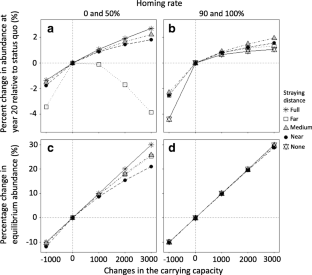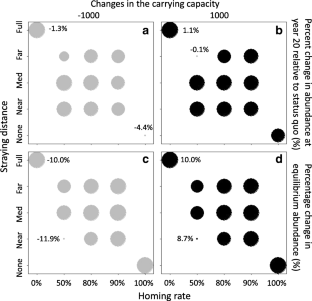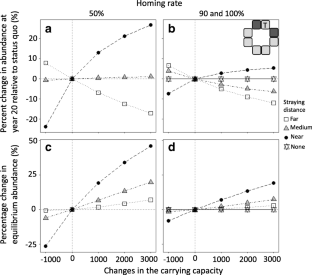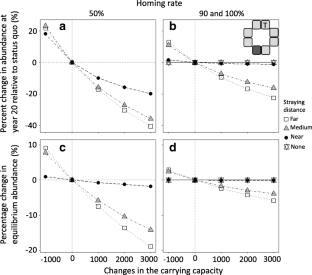 Acknowledgements
We thank M. DuFour for early discussions of the modeling framework and J. Robinson and one anonymous reviewer for helpful comments on this manuscript.
Funding
This work was supported by the Upper Midwest and Great Lakes Landscape Conservation Cooperative. This is contribution no. 2019-01 of the Quantitative Fisheries Center, Michigan State University.
Electronic supplementary material
About this article
Cite this article
Lin, H., Robinson, K.F. How do migratory fish populations respond to barrier removal in spawning and nursery grounds?. Theor Ecol 12, 379–390 (2019). https://doi.org/10.1007/s12080-018-0405-0
Received:

Accepted:

Published:

Issue Date:
Keywords
Migratory fish

Population dynamics

Barrier removal

Life history

Homing behavior

Straying distance