Abstract
Cancer-associated fibroblasts (CAFs) have been considered as major players in tumor growth and malignancy. In colorectal cancer (CRC), CAFs are attendance in high affluence and little is known about how they impact tumor progression. An increasing number of studies indicated that dysregulation of human urothelial carcinoma associated 1 (UCA1) is associated with progression of tumor and metastasis in various cancers including CRC. Nonetheless, the possible mechanisms of UCA1 actuation in CRC remain poorly understood. To address this, we elucidated the effects of conditioned medium from SW480 CRC cells/Normal fibroblast co-culture (CAF-CM) on UCA1 expression, and the cell proliferation, EMT, invasion and migration of the treated CRC cell were evaluated in vitro. Our study indicated that CAFs dramatically stimulated cell proliferation and migration of CRC cell. Furthermore, CAFs induced the EMT phenotype in CRC cell, with an associated change in the expression of EMT markers including vimentin, E-cadherin, N-cadherin and metastasis-related genes (MMPs). Moreover, we found an increased percentage of CRC cell in the S and G2/M phase induced by CAFs. Our results revealed that CAFs could induce upregulation of UCA1, leading to upregulation of mTOR. Up-regulation of UCA1/mTOR axis suppressed p27 and miR-143 while the expression of Cyclin-D1 and KRAS were significantly increased compared with control. Furthermore, UCA1 silencing in treated CRC cell suggested that upregulation of UCA1, which was induced by CAFs, regulates the expression of downstream key effectors. Taken together, these results highlight the vital role of cooperation between lncRNA UCA1 and mTOR in proliferation and metastasis which support the hypothesis that CAFs may be a prominent therapeutic target of stroma-based therapy in CRC treatment.
This is a preview of subscription content, log in to check access.
Access options
Buy single article
Instant access to the full article PDF.
US$ 39.95
Price includes VAT for USA
Subscribe to journal
Immediate online access to all issues from 2019. Subscription will auto renew annually.
US$ 99
This is the net price. Taxes to be calculated in checkout.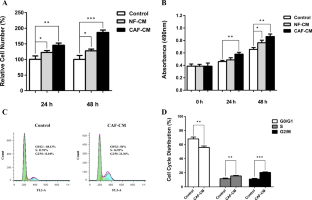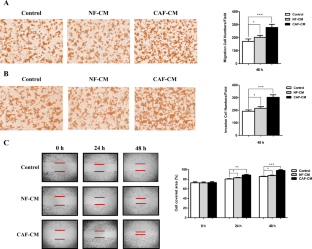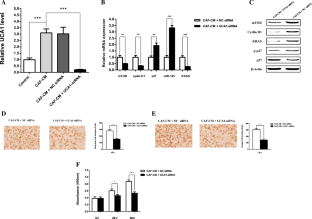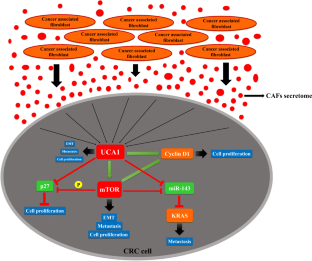 Abbreviations
CAF:

Cancer-associated fibroblasts

CAF-CM:

Cancer-associated fibroblasts conditioned medium

CRC:

Colorectal cancer cell

DMSO:

Dimethyl sulfoxide

EMT:

Epithelial-to-mesenchymal transition

LncRNA:

Long noncoding RNA

MMP:

Matrix metalloproteinases

NF-CM:

Normal fibroblasts conditioned medium

qRT-PCR:

Quantitative reverse transcription–polymerase chain reaction

UCA1:

Urothelial carcinoma associated 1

siRNA:

Small interfering RNA

TFs:

Transcription factors
References
Akao Y, Nakagawa Y, Hirata I, Iio A, Itoh T, Kojima K, Nakashima R, Kitade Y, Naoe T (2010) Role of anti-oncomirs miR-143 and-145 in human colorectal tumors. Cancer Gene Ther 17:398

Armaghany T, Wilson JD, Chu Q, Mills G (2012) Genetic alterations in colorectal cancer. Gastrointestinal cancer research: GCR 5:19

Augsten M (2014) Cancer-associated fibroblasts as another polarized cell type of the tumor microenvironment. Front Oncol:4

Balk SP, Knudsen KE (2008) AR, the cell cycle, and prostate cancer. Nucl Recept Signal 6

Bian Z, Jin L, Zhang J, Yin Y, Quan C, Hu Y, Feng Y, Liu H, Fei B, Mao Y (2016) LncRNA—UCA1 enhances cell proliferation and 5-fluorouracil resistance in colorectal cancer by inhibiting miR-204-5p. Sci Rep 6

Boutin AT, Liao W-T, Wang M, Hwang SS, Karpinets TV, Cheung H, Chu GC, Jiang S, Hu J, chang k (2017) Oncogenic Kras drives invasion and maintains metastases in colorectal cancer. Genes Dev 31:370–382

Cao Y, Liu X, Lu W, Chen Y, Wu X, Li M, Wang X-A, Zhang F, Jiang L, Zhang Y (2015) Fibronectin promotes cell proliferation and invasion through mTOR signaling pathway activation in gallbladder cancer. Cancer Lett 360:141–150

Chen X, Guo X, Zhang H, Xiang Y, Chen J, Yin Y, Cai X, Wang K, Wang G, Ba Y (2009) Role of miR-143 targeting KRAS in colorectal tumorigenesis. Oncogene 28:1385

Cheng N, Cai W, Ren S, Li X, Wang Q, Pan H, Zhao M, Li J, Zhang Y, Zhao C (2015) Long non-coding RNA UCA1 induces non-T790M acquired resistance to EGFR-TKIs by activating the AKT/mTOR pathway in EGFR-mutant non-small cell lung cancer. Oncotarget 6:23582

Conti J, Thomas G (2011) The role of tumour stroma in colorectal cancer invasion and metastasis. Cancers 3:2160–2168

de Wever O, Van Bockstal M, Mareel M, Hendrix A, Bracke M (2014) Carcinoma-associated fibroblasts provide operational flexibility in metastasis. Semin Cancer Biol:33–46

Edwards BK, Ward E, Kohler BA, Eheman C, Zauber AG, Anderson RN, Jemal A, Schymura MJ, Lansdorp-Vogelaar I, seeff l C (2010) Annual report to the nation on the status of cancer, 1975-2006, featuring colorectal cancer trends and impact of interventions (risk factors, screening, and treatment) to reduce future rates. Cancer 116:544–573

Faivre S, Kroemer G, Raymond E (2006) Current development of mTOR inhibitors as anticancer agents. Nat Rev Drug Discov 5:671–688

Fang JY, Richardson BC (2005) The MAPK signalling pathways and colorectal cancer. Lancet Oncol 6:322–327

Fang Y, Bao W, Rao Q, Wang X, Xia Q, Shen Q, Zhou X, Yao B (2017) TFE3 regulates renal adenocarcinoma cell proliferation via activation of the mTOR pathway. Mol Med Rep 16:2721–2725

Fang Z, Wu L, Wang L, Yang Y, Meng Y, Yang H (2014) Increased expression of the long non-coding RNA UCA1 in tongue squamous cell carcinomas: a possible correlation with cancer metastasis. Oral Surg Oral Med Oral Pathol Oral Radiol 117:89–95

Francipane MG, Lagasse E (2014) mTOR pathway in colorectal cancer: an update. Oncotarget 5:49

Gandellini P, Andriani F, Merlino G, D'aiuto F, Roz L, Callari M (2015) Complexity in the tumour microenvironment: Cancer associated fibroblast gene expression patterns identify both common and unique features of tumour-stroma crosstalk across cancer types. Semin Cancer Biol:96–106

Gonda TA, Varro A, Wang TC, Tycko B (2010) Molecular biology of cancer-associated fibroblasts: can these cells be targeted in anti-cancer therapy. Semin Cell Dev Biol:2–10

Gulhati P, Bowen KA, Liu J, Stevens PD, Rychahou PG, Chen M, Lee EY, Weiss HL, O'connor KL, Gao T (2011) mTORC1 and mTORC2 regulate EMT, motility, and metastasis of colorectal cancer via RhoA and Rac1 signaling pathways. Cancer Res 71:3246–3256

Han Y, Yang Y-N, Yuan H-H, Zhang T-T, Sui H, Wei X-L, Liu L, Huang P, Zhang W-J, Bai Y-X (2014) UCA1, a long non-coding RNA up-regulated in colorectal cancer influences cell proliferation, apoptosis and cell cycle distribution. Pathology 46:396–401

Han Y, Zhang Y, Jia T, Sun Y (2015) Molecular mechanism underlying the tumor-promoting functions of carcinoma-associated fibroblasts. Tumor Biol 36:1385–1394

He Z, Wang Y, Huang G, Wang Q, Zhao D, Chen L (2017) The lncRNA UCA1 interacts with miR-182 to modulate glioma proliferation and migration by targeting iASPP. Arch Biochem Biophys 623:1–8

Herrera M, Islam AB, Herrera A, Martín P, García V, Silva J, Garcia JM, Salas C, Casal I, de Herreros AG (2013) Functional heterogeneity of cancer-associated fibroblasts from human colon tumors shows specific prognostic gene expression signature. Clin Cancer Res 19:5914–5926

Hollander MC, Blumenthal GM, Dennis PA (2011) PTEN loss in the continuum of common cancers, rare syndromes and mouse models. Nat Rev Cancer 11:289

Hong F, Larrea MD, Doughty C, Kwiatkowski DJ, Squillace r, Slingerland JM (2008) mTOR-raptor binds and activates SGK1 to regulate p27 phosphorylation. Mol Cell 30:701–711

Hong H-H, Hou L-K, Pan X, Wu C-Y, Huang H, Li B, Nie W (2016) Long non-coding RNA UCA1 is a predictive biomarker of cancer. Oncotarget 7:44442

Hu J-J, Song W, Zhang S-D, Shen X-H, Qiu X-M, Wu H-Z, Gong P-H, Lu S, Zhao Z-J, He M-L (2016) HBx-upregulated lncRNA UCA1 promotes cell growth and tumorigenesis by recruiting EZH2 and repressing p27Kip1/CDK2 signaling. Sci Rep 6:23521

Huang J, Zhou N, Watabe K, Lu Z, Wu F, Xu M, Mo Y (2014) Long non-coding RNA UCA1 promotes breast tumor growth by suppression of p27 (Kip1). Cell Death Dis 5:e1008

Huang J, Zhou N, Watabe K, Lu Z, Wu F, Xu M, Mo Y (2015) Long non-coding RNA UCA1 promotes breast tumor growth by suppression of p27 (Kip1). Cell Death Dis 5:e1008

Kudo-Saito C, Shirako H, Takeuchi T, Kawakami Y (2009) Cancer metastasis is accelerated through immunosuppression during Snail-induced EMT of cancer cells. Cancer Cell 15:195–206

Kulda V, Pesta M, Topolcan O, liska V, Treska V, Sutnar A, Rupert K, Ludvikova M, Babuska V, Holubec L (2010) Relevance of miR-21 and miR-143 expression in tissue samples of colorectal carcinoma and its liver metastases. Cancer Genet Cytogenet 200:154–160

Li W, Chang J, Wang S, Liu X, Peng J, Huang D, Sun M, Chen Z, Zhang W, Guo W (2015) miRNA-99b-5p suppresses liver metastasis of colorectal cancer by down-regulating mTOR. Oncotarget 6:24448

Li W, Zhang X, Wang J, Li M, Cao C, Tan J, Ma D, Gao Q (2017) TGFβ1 in fibroblasts-derived exosomes promotes epithelial-mesenchymal transition of ovarian cancer cells. Oncotarget 8:96035

Li Z, Li X, Wu S, Xue M, Chen W (2014) Long non-coding RNA UCA1 promotes glycolysis by upregulating hexokinase 2 through the mTOR–STAT3/microRNA143 pathway. Cancer Sci 105:951–955

Madar S, Goldstein I, Rotter V (2013) 'Cancer associated fibroblasts'–more than meets the eye. Trends Mol Med 19:447–453

Michor F, Iwasa Y, Lengauer C, Nowak MA (2005) Dynamics of colorectal cancer. Semin Cancer Biol:484–493

Ni B, Yu X, Guo X, Fan X, Yang Z, Wu P, Yuan Z, Deng Y, Wang J, Chen D (2015) Increased urothelial cancer associated 1 is associated with tumor proliferation and metastasis and predicts poor prognosis in colorectal cancer. Int J Oncol 47:1329–1338

Organization WH (2017) World health statistics 2016: monitoring health for the SDGs, sustainable development goals. 2016. WHO Library Cataloguing-in-Publication Data, Geneva

Patel JS, Hu M, Sinha G, Walker ND, Sherman LS, Gallagher A, Rameshwar P (2016) Non-coding RNA as mediators in microenvironment–breast cancer cell communication. Cancer Lett 380:289–295

Paulsson J, Micke P (2014) Prognostic relevance of cancer-associated fibroblasts in human cancer. Semin Cancer Biol:61–68

Schwaederlé M, Daniels GA, Piccioni DE, Fanta PT, Schwab RB, Shimabukuro KA, Parker BA, Kurzrock R (2015) Cyclin alterations in diverse cancers: Outcome and co-amplification network. Oncotarget 6:3033

Shao DD, Xue W, Krall EB, Bhutkar A, Piccioni F, Wang X, Schinzel AC, Sood S, Rosenbluh J, Kim JW (2014) KRAS and YAP1 converge to regulate EMT and tumor survival. Cell 158:171–184

Shiga K, Hara M, Nagasaki T, Sato T, Takahashi H, Takeyama H (2015) Cancer-associated fibroblasts: their characteristics and their roles in tumor growth. Cancers 7:2443–2458

Siegel RL, Miller KD, Fedewa SA, Ahnen DJ, Meester RG, Barzi A, Jemal A (2017) Colorectal cancer statistics, 2017. CA Cancer J Clin 67:177–193

Slaby O, Svoboda M, Fabian P, Smerdova T, Knoflickova D, Bednarikova M, Nenutil R, Vyzula R (2007) Altered expression of miR-21, miR-31, miR-143 and miR-145 is related to clinicopathologic features of colorectal cancer. Oncology 72:397–402

Soon PS, Kim E, Pon CK, Gill AJ, Moore K, Spillane AJ, Benn DE, Baxter RC (2013) Breast cancer-associated fibroblasts induce epithelial-to-mesenchymal transition in breast cancer cells. Endocr Relat Cancer 20:1–12

Steinbichler TB, Metzler V, Pritz C, Riechelmann H, Dudas J (2016) Tumor-associated fibroblast-conditioned medium induces CDDP resistance in HNSCC cells. Oncotarget 7:2508

Toker A (2008) mTOR and Akt signaling in cancer: SGK cycles in. Mol Cell 31:6–8

Tommelein J, Verset L, Boterberg T, Demetter P, Bracke M, de Wever O (2015) Cancer-associated fibroblasts connect metastasis-promoting communication in colorectal cancer Frontiers in oncology:5

Tuo Y, Li X, Luo J (2015) Long noncoding RNA UCA1 modulates breast cancer cell growth and apoptosis through decreasing tumor suppressive miR-143. Eur Rev Med Pharmacol Sci 19:3403–3411

Wang F, Li X, Xie X, Zhao L, Chen W (2008) UCA1, a non-protein-coding RNA up-regulated in bladder carcinoma and embryo, influencing cell growth and promoting invasion. FEBS Lett 582:1919–1927

Wang KC, Chang HY (2011) Molecular mechanisms of long noncoding RNAs. Mol Cell 43:904–914

Wang L, Cao L, Wang H, Liu B, Zhang Q, Meng Z, Wu X, Zhou Q, Xu K (2017a) Cancer-associated fibroblasts enhance metastatic potential of lung cancer cells through IL-6/STAT3 signaling pathway. Oncotarget 8:76116

Wang X-S, Zhang Z, Wang H-C, Cai J-L, Xu Q-W, Li M-Q, Chen Y-C, Qian X-P, Lu T-J, Yu L-Z (2006) Rapid identification of UCA1 as a very sensitive and specific unique marker for human bladder carcinoma. Clin Cancer Res 12:4851–4858

Wang Y-H, Wang F, Zhang L, Lu J-C (2017b) Long non-coding RNA UCA1 can predict tumor lymph node metastasis. Tumor Biol 39(1010428317706208)

Wang Z-Q, Cai Q, Hu L, He C-Y, Li J-F, Quan Z-W, Liu B-Y, Li C, Zhu Z-G (2017c) Long noncoding RNA UCA1 induced by SP1 promotes cell proliferation via recruiting EZH2 and activating AKT pathway in gastric cancer. Cell Death Dis 8:e2839

Xu B, Niu X, Zhang X, Tao J, Wu D, Wang Z, Li P, Zhang W, Wu H, Feng N (2011) miR-143 decreases prostate cancer cells proliferation and migration and enhances their sensitivity to docetaxel through suppression of KRAS. Mol Cell Biochem 350:207–213

Xue M, Chen W, Li X (2016) Urothelial cancer associated 1: a long noncoding RNA with a crucial role in cancer. J Cancer Res Clin Oncol 142:1407–1419

Zhang Y, Huang B, Wang H-Y, Chang A, Zheng XS (2017) Emerging Role of MicroRNAs in mTOR Signaling. Cell Mol Life Sci:1–13
Acknowledgements
This work was supported by the research deputy of University of Tabriz.
Ethics declarations
Conflicts of interest
The authors declare that they have no conflicts of interest.
About this article
Cite this article
Jahangiri, B., Khalaj-kondori, M., Asadollahi, E. et al. Cancer-associated fibroblasts enhance cell proliferation and metastasis of colorectal cancer SW480 cells by provoking long noncoding RNA UCA1. J. Cell Commun. Signal. 13, 53–64 (2019). https://doi.org/10.1007/s12079-018-0471-5
Received:

Accepted:

Published:

Issue Date:
Keywords
Cancer-associated fibroblasts (CAFs)

lncRNA UCA1

mTOR

KRAS

miR-143

Colorectal cancer