Abstract
Gallbladder cancer (GBC) is a rare malignancy, associated with poor disease prognosis with a 5-year survival of only 20%. This has been attributed to late presentation of the disease, lack of early diagnostic markers and limited efficacy of therapeutic interventions. Elucidation of molecular events in GBC can contribute to better management of the disease by aiding in the identification of therapeutic targets. To identify aberrantly activated signaling events in GBC, tandem mass tag-based quantitative phosphoproteomic analysis of five GBC cell lines was carried out. Proline-rich Akt substrate 40 kDa (PRAS40) was one of the proteins found to be hyperphosphorylated in all the invasive GBC cell lines. Tissue microarray-based immunohistochemical labeling of phospho-PRAS40 (T246) revealed moderate to strong staining in 77% of the primary gallbladder adenocarcinoma cases. Regulation of PRAS40 activity by inhibiting its upstream kinase PIM1 resulted in a significant decrease in cell proliferation, colony forming and invasive ability of GBC cells. Our results support the role of PRAS40 phosphorylation in GBC cell survival and aggressiveness. This study also elucidates phospho-PRAS40 as a clinical marker in GBC and the role of PIM1 as a therapeutic target in GBC.
This is a preview of subscription content, log in to check access.
Access options
Buy single article
Instant access to the full article PDF.
US$ 39.95
Price includes VAT for USA
Subscribe to journal
Immediate online access to all issues from 2019. Subscription will auto renew annually.
US$ 99
This is the net price. Taxes to be calculated in checkout.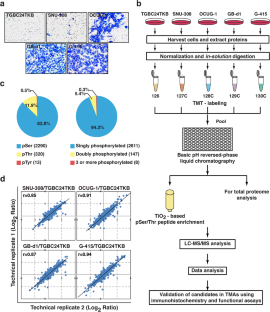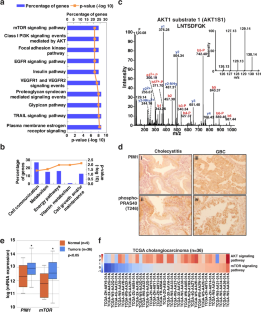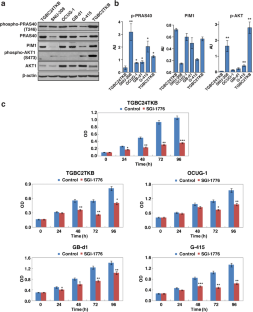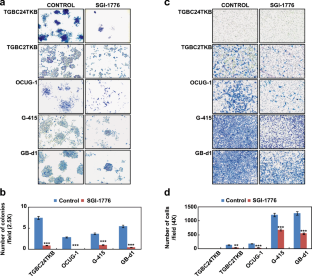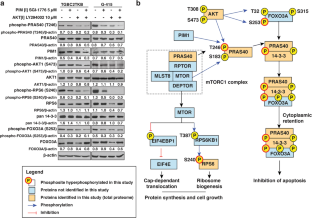 Abbreviations
GBC:

Gallbladder cancer

PRAS40:

Proline-rich Akt substrate 40 kDa

TEABC:

Triethyl ammonium bicarbonate

TMT:

Tandem mass tag

IHC:

Immunohistochemistry

TMA:

Tissue microarray

bRPLC:

Basic reverse phase liquid chromatography

PI3K:

Phosphatidylinositol 3 kinase
References
Bizama C, Garcia P, Espinoza JA, Weber H, Leal P, Nervi B, Roa JC (2015) Targeting specific molecular pathways holds promise for advanced gallbladder cancer therapy. Cancer Treat Rev 41:222–234

Brunet A, Bonni A, Zigmond MJ, Lin MZ, Juo P, Hu LS, Anderson MJ, Arden KC, Blenis J, Greenberg ME (1999) Akt promotes cell survival by phosphorylating and inhibiting a Forkhead transcription factor. Cell 96:857–868

Cao Y, Liu X, Lu W, Chen Y, Wu X, Li M, Wang XA, Zhang F, Jiang L, Zhang Y, Hu Y, Xiang S, Shu Y, Bao R, Li H, Wu W, Weng H, Yen Y, Liu Y (2015) Fibronectin promotes cell proliferation and invasion through mTOR signaling pathway activation in gallbladder cancer. Cancer Lett 360:141–150

Chang X, Ravi R, Pham V, Bedi A, Chatterjee A, Sidransky D (2011) Adenylate kinase 3 sensitizes cells to cigarette smoke condensate vapor induced cisplatin resistance. PLoS One 6:e20806

Chatterjee A, Mambo E, Zhang Y, Deweese T, Sidransky D (2006) Targeting of mutant hogg1 in mammalian mitochondria and nucleus: effect on cellular survival upon oxidative stress. BMC Cancer 6:235

Chen LS, Redkar S, Bearss D, Wierda WG, Gandhi V (2009) Pim kinase inhibitor, SGI-1776, induces apoptosis in chronic lymphocytic leukemia cells. Blood 114:4150–4157

Chen LS, Redkar S, Taverna P, Cortes JE, Gandhi V (2011) Mechanisms of cytotoxicity to Pim kinase inhibitor, SGI-1776, in acute myeloid leukemia. Blood 118:693–702

Chong ZZ (2016) Targeting PRAS40 for multiple diseases. Drug Discov Today 21:1222–1231

Druker BJ, Talpaz M, Resta DJ, Peng B, Buchdunger E, Ford JM, Lydon NB, Kantarjian H, Capdeville R, Ohno-Jones S, Sawyers CL (2001) Efficacy and safety of a specific inhibitor of the BCR-ABL tyrosine kinase in chronic myeloid leukemia. N Engl J Med 344:1031–1037

Goel R, Harsha HC, Pandey A, Prasad TSK (2012) Human protein reference database and human proteinpedia as resources for phosphoproteome analysis. Mol BioSyst 8:453–463

Harsha HC, Pandey A (2010) Phosphoproteomics in cancer. Mol Oncol 4:482–495

Harsha HC, Jimeno A, Molina H, Mihalas AB, Goggins MG, Hruban RH, Schulick RD, Kamath U, Maitra A, Hidalgo M, Pandey A (2008) Activated epidermal growth factor receptor as a novel target in pancreatic cancer therapy. J Proteome Res 7:4651–4658

Jordan E, Abou-Alfa GK, Lowery MA (2016) Systemic therapy for biliary cancers. Chin Clin Oncol 5:65

Kim W, Youn H, Seong KM, Yang HJ, Yun YJ, Kwon T, Kim YH, Lee JY, Jin YW, Youn B (2011) PIM1-activated PRAS40 regulates radioresistance in non-small cell lung cancer cells through interplay with FOXO3a, 14-3-3 and protein phosphatases. Radiat Res 176:539–552

Kim MS, Pinto SM, Getnet D, Nirujogi RS, Manda SS, Chaerkady R, Madugundu AK, Kelkar DS, Isserlin R, Jain S, Thomas JK, Muthusamy B, Leal-Rojas P, Kumar P, Sahasrabuddhe NA, Balakrishnan L, Advani J, George B, Renuse S, Selvan LD, Patil AH, Nanjappa V, Radhakrishnan A, Prasad S, Subbannayya T, Raju R, Kumar M, Sreenivasamurthy SK, Marimuthu A, Sathe GJ, Chavan S, Datta KK, Subbannayya Y, Sahu A, Yelamanchi SD, Jayaram S, Rajagopalan P, Sharma J, Murthy KR, Syed N, Goel R, Khan AA, Ahmad S, Dey G, Mudgal K, Chatterjee A, Huang TC, Zhong J, Wu X, Shaw PG, Freed D, Zahari MS, Mukherjee KK, Shankar S, Mahadevan A, Lam H, Mitchell CJ, Shankar SK, Satishchandra P, Schroeder JT, Sirdeshmukh R, Maitra A, Leach SD, Drake CG, Halushka MK, Prasad TSK, Hruban RH, Kerr CL, Bader GD, Iacobuzio-Donahue CA, Gowda H, Pandey A (2014) A draft map of the human proteome. Nature 509:575–581

Kovacina KS, Park GY, Bae SS, Guzzetta AW, Schaefer E, Birnbaum MJ, Roth RA (2003) Identification of a proline-rich Akt substrate as a 14-3-3 binding partner. J Biol Chem 278:10189–10194

Kris MG, Natale RB, Herbst RS, Lynch TJ Jr, Prager D, Belani CP, Schiller JH, Kelly K, Spiridonidis H, Sandler A, Albain KS, Cella D, Wolf MK, Averbuch SD, Ochs JJ, Kay AC (2003) Efficacy of gefitinib, an inhibitor of the epidermal growth factor receptor tyrosine kinase, in symptomatic patients with non-small cell lung cancer: a randomized trial. JAMA 290:2149–2158

Larsen MR, Thingholm TE, Jensen ON, Roepstorff P, Jorgensen TJ (2005) Highly selective enrichment of phosphorylated peptides from peptide mixtures using titanium dioxide microcolumns. Mol Cell Proteomics 4:873–886

Lazcano-Ponce EC, Miquel JF, Munoz N, Herrero R, Ferrecio C, Wistuba II, Alonso de Ruiz P, Aristi Urista G, Nervi F (2001) Epidemiology and molecular pathology of gallbladder cancer. CA Cancer J Clin 51:349–364

Leal P, Garcia P, Sandoval A, Buchegger K, Weber H, Tapia O, Roa JC (2013) AKT/mTOR substrate P70S6K is frequently phosphorylated in gallbladder cancer tissue and cell lines. Onco Targets Ther 6:1373–1384

Lu YZ, Deng AM, Li LH, Liu GY, Wu GY (2014) Prognostic role of phospho-PRAS40 (Thr246) expression in gastric cancer. Arch Med Sci 10:149–153

Lynch TJ, Bell DW, Sordella R, Gurubhagavatula S, Okimoto RA, Brannigan BW, Harris PL, Haserlat SM, Supko JG, Haluska FG, Louis DN, Christiani DC, Settleman J, Haber DA (2004) Activating mutations in the epidermal growth factor receptor underlying responsiveness of non-small-cell lung cancer to gefitinib. N Engl J Med 350:2129–2139

Madhunapantula SV, Sharma A, Robertson GP (2007) PRAS40 deregulates apoptosis in malignant melanoma. Cancer Res 67:3626–3636

Makarev E, Schubert AD, Kanherkar RR, London N, Teka M, Ozerov I, Lezhnina K, Bedi A, Ravi R, Mehra R, Hoque MO, Sloma I, Gaykalova DA, Csoka AB, Sidransky D, Zhavoronkov A, Izumchenko E (2017) In silico analysis of pathways activation landscape in oral squamous cell carcinoma and oral leukoplakia. Cell Death Discov 3:17022

Matsushita S, Onishi H, Nakano K, Nagamatsu I, Imaizumi A, Hattori M, Oda Y, Tanaka M, Katano M (2014) Hedgehog signaling pathway is a potential therapeutic target for gallbladder cancer. Cancer Sci 105:272–280

Misra S, Chaturvedi A, Misra NC (2006) Gallbladder cancer. Curr Treat Options Gastroenterol 9:95–106

Muthusamy B, Thomas JK, Prasad TSK, Pandey A (2013) Access guide to human proteinpedia. Curr Protoc Bioinformatics Chapter 1:Unit 1 21

Nagarajha Selvan LD, Kaviyil JE, Nirujogi RS, Muthusamy B, Puttamallesh VN, Subbannayya T, Syed N, Radhakrishnan A, Kelkar DS, Ahmad S, Pinto SM, Kumar P, Madugundu AK, Nair B, Chatterjee A, Pandey A, Ravikumar R, Gowda H, Prasad TSK (2014) Proteogenomic analysis of pathogenic yeast Cryptococcus neoformans using high resolution mass spectrometry. Clin Proteomics 11:5

Ozerov IV, Lezhnina KV, Izumchenko E, Artemov AV, Medintsev S, Vanhaelen Q, Aliper A, Vijg J, Osipov AN, Labat I, West MD, Buzdin A, Cantor CR, Nikolsky Y, Borisov N, Irincheeva I, Khokhlovich E, Sidransky D, Camargo ML, Zhavoronkov A (2016) In silico pathway activation network decomposition analysis (iPANDA) as a method for biomarker development. Nat Commun 7:13427

Pathan M, Keerthikumar S, Ang CS, Gangoda L, Quek CY, Williamson NA, Mouradov D, Sieber OM, Simpson RJ, Salim A, Bacic A, Hill AF, Stroud DA, Ryan MT, Agbinya JI, Mariadason JM, Burgess AW, Mathivanan S (2015) FunRich: an open access standalone functional enrichment and interaction network analysis tool. Proteomics 15:2597–2601

Rabindran SK, Discafani CM, Rosfjord EC, Baxter M, Floyd MB, Golas J, Hallett WA, Johnson BD, Nilakantan R, Overbeek E, Reich MF, Shen R, Shi X, Tsou HR, Wang YF, Wissner A (2004) Antitumor activity of HKI-272, an orally active, irreversible inhibitor of the HER-2 tyrosine kinase. Cancer Res 64:3958–3965

Radhakrishnan A, Nanjappa V, Raja R, Sathe G, Puttamallesh VN, Jain AP, Pinto SM, Balaji SA, Chavan S, Sahasrabuddhe NA, Mathur PP, Kumar MM, Prasad TSK, Santosh V, Sukumar G, Califano JA, Rangarajan A, Sidransky D, Pandey A, Gowda H, Chatterjee A (2016) A dual specificity kinase, DYRK1A, as a potential therapeutic target for head and neck squamous cell carcinoma. Sci Rep 6:36132

Schneider CA, Rasband WS, Eliceiri KW (2012) NIH image to ImageJ: 25 years of image analysis. Nat Methods 9:671–675

Shabalin AA, Tjelmeland H, Fan C, Perou CM, Nobel AB (2008) Merging two gene-expression studies via cross-platform normalization. Bioinformatics 24:1154–1160

Smith PK, Krohn RI, Hermanson GT, Mallia AK, Gartner FH, Provenzano MD, Fujimoto EK, Goeke NM, Olson BJ, Klenk DC (1985) Measurement of protein using bicinchoninic acid. Anal Biochem 150:76–85

Subbannayya T, Leal-Rojas P, Barbhuiya MA, Raja R, Renuse S, Sathe G, Pinto SM, Syed N, Nanjappa V, Patil AH, Garcia P, Sahasrabuddhe NA, Nair B, Guerrero-Preston R, Navani S, Tiwari PK, Santosh V, Sidransky D, Prasad TSK, Gowda H, Roa JC, Pandey A, Chatterjee A (2015a) Macrophage migration inhibitory factor - a therapeutic target in gallbladder cancer. BMC Cancer 15:843

Subbannayya Y, Syed N, Barbhuiya MA, Raja R, Marimuthu A, Sahasrabuddhe N, Pinto SM, Manda SS, Renuse S, Manju HC, Zameer MA, Sharma J, Brait M, Srikumar K, Roa JC, Vijaya Kumar M, Kumar KV, Prasad TSK, Ramaswamy G, Kumar RV, Pandey A, Gowda H, Chatterjee A (2015b) Calcium calmodulin dependent kinase kinase 2 - a novel therapeutic target for gastric adenocarcinoma. Cancer Biol Ther 16:336–345

Taus T, Kocher T, Pichler P, Paschke C, Schmidt A, Henrich C, Mechtler K (2011) Universal and confident phosphorylation site localization using phosphoRS. J Proteome Res 10:5354–5362

Tzivion G, Dobson M, Ramakrishnan G (2011) FoxO transcription factors; regulation by AKT and 14-3-3 proteins. Biochim Biophys Acta 1813:1938–1945

Vizcaino JA, Csordas A, del-Toro N, Dianes JA, Griss J, Lavidas I, Mayer G, Perez-Riverol Y, Reisinger F, Ternent T, Xu QW, Wang R, Hermjakob H (2016) 2016 update of the PRIDE database and its related tools. Nucleic Acids Res 44:D447–D456

Wang H, Zhang Q, Wen Q, Zheng Y, Lazarovici P, Jiang H, Lin J, Zheng W (2012) Proline-rich Akt substrate of 40kDa (PRAS40): a novel downstream target of PI3k/Akt signaling pathway. Cell Signal 24:17–24

Wu P, Nielsen TE, Clausen MH (2015) FDA-approved small-molecule kinase inhibitors. Trends Pharmacol Sci 36:422–439

Yuan K, Wu H, Wang Y, Chen H, Jiao M, Fu R (2015) Phospho-PRAS40Thr246 predicts trastuzumab response in patients with HER2-positive metastatic breast cancer. Oncol Lett 9:785–789

Zhang F, Beharry ZM, Harris TE, Lilly MB, Smith CD, Mahajan S, Kraft AS (2009) PIM1 protein kinase regulates PRAS40 phosphorylation and mTOR activity in FDCP1 cells. Cancer Biol Ther 8:846–853

Zhang LQ, Zhang XD, Xu J, Wan Y, Qu K, Zhang JY, Wang ZX, Wei JC, Meng FD, Tai MH, Zhou L, Liu C (2013) Potential therapeutic targets for the primary gallbladder carcinoma: estrogen receptors. Asian Pac J Cancer Prev 14:2185–2190
Acknowledgements
We thank the Department of Biotechnology (DBT), Government of India for research support to the Institute of Bioinformatics. IOB is supported by DBT Program Support on Neuroproteomics and infrastructure for proteomic data analysis (BT/01/COE/08/05). We thank the "Infosys Foundation" for the research support to the Institute of Bioinformatics. This work was supported by the Science and Engineering Research Board, Department of Science and Technology, Government of India grant "miRNAs in chronic tobacco-induced oral cancer (SR/S0/HS-02081/2012)"; NCI's Clinical Proteomic Tumor Analysis Consortium initiative (U24CA160036) and FAMRI-funded 072017_YCSA. P.K. Tiwari acknowledges research support from the Indian Council of Medical Research (ICMR), MP Council of Science & Technology (MPCST), Bhopal and Department of Science and Technology, Government of India. Harsha Gowda is a Wellcome Trust/DBT India Alliance Early Career Fellow. Juan Carlos Roa acknowledges research support from the National Fund for Scientific and Technological Development (FONDECYT 1170893), and Millennium Institute on immunology and immunotherapy (IMII P09/016-F), Government of Chile. Pamela Leal acknowledges research support from the National Fund for Scientific and Technological Development (FONDECYT 1151008), Government of Chile. Niraj Babu is a recipient of Senior Research Fellowship from the Council for Scientific and Industrial Research (CSIR), Government of India. Remya Raja is a recipient of Research Associateship from Department of Biotechnology, Government of India. Sneha M. Pinto is a recipient of DST INSPIRE Faculty award from Department of Science and Technology, Government of India. We thank Dr. S. K. Shankar of National Institute of Mental Health and Neuro Sciences for providing the use microscope facility.
Ethics declarations
Disclosure of interest
The authors report no conflict of interests.
Additional information
Publisher's Note
Springer Nature remains neutral with regard to jurisdictional claims in published maps and institutional affiliations.
Electronic supplementary material
About this article
Cite this article
Subbannayya, T., Leal-Rojas, P., Zhavoronkov, A. et al. PIM1 kinase promotes gallbladder cancer cell proliferation via inhibition of proline-rich Akt substrate of 40 kDa (PRAS40). J. Cell Commun. Signal. 13, 163–177 (2019). https://doi.org/10.1007/s12079-018-00503-5
Received:

Accepted:

Published:

Issue Date:
Keywords
Cell survival

Gastrointestinal cancer

mTOR signaling

Phosphoproteomics

SGI-1776

Targeted therapy