Abstract
The role of heparin as an anticoagulant is well defined; however, its role in tumorigenesis and tumor progression is not clear yet. Some studies have shown that anticoagulant treatment in cancer patients improve overall survival, however, recent clinical trials have not shown a survival benefit in cancer patients receiving heparin treatment. In our previous studies we have shown the inhibitory effects of heparin on Hepatocyte Growth Factor (HGF)-induced invasion and migration in hepatocellular carcinoma (HCC) cells. In this study, we showed the differential effects of heparin on the behaviors of HCC cells based on the presence or absence of HGF. In the absence of HGF, heparin activated HGF/c-Met signaling and promoted motility and invasion in HCC cells. Heparin treatment led to c-Met receptor dimerization and activated c-Met signaling in an HGF independent manner. Heparin-induced c-Met activation increased migration and invasion through ERK1/2, early growth response factor 1 (EGR1) and Matrix Metalloproteinases (MMP) axis. Interestingly, heparin modestly decreased the proliferation of HCC cells by inhibiting activatory phosphorylation of Akt. The inhibition of c-Met signaling reversed heparin-induced increase in motility and invasion and, proliferation inhibition. Our study provides a new perspective into the role of heparin on c-Met signaling in HCC.
This is a preview of subscription content, log in to check access.
Access options
Buy single article
Instant access to the full article PDF.
US$ 39.95
Price includes VAT for USA
Subscribe to journal
Immediate online access to all issues from 2019. Subscription will auto renew annually.
US$ 99
This is the net price. Taxes to be calculated in checkout.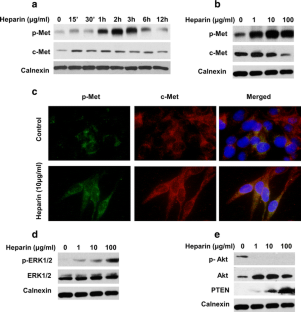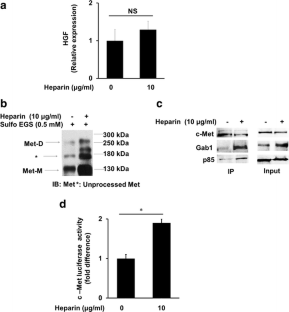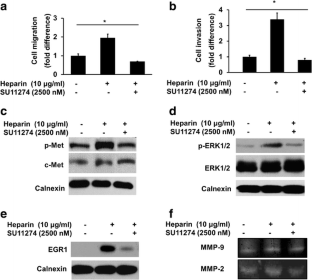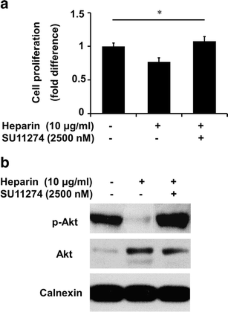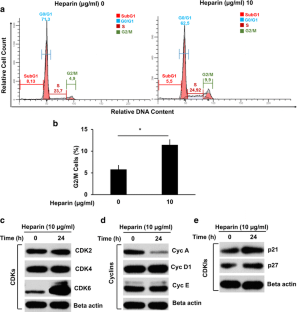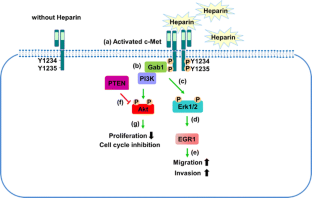 Abbreviations
ANOVA:

Analysis of variance

BCA:

Bicinchoninic acid

DSs:

Dermatan sulfates

DMEM:

Dulbecco's modified eagle medium

EGR1:

Early growth response factor 1

ERK1/2:

Extracellular signal-regulated kinases

FBS:

Fetal bovine serum

GAG:

Glycosaminoglycan

GPC3:

Glypican 3

Gab1:

Grb2 associated binder 1

Grb2:

Growth factor receptor-bound protein 2

HSPGs:

Heparan sulfate proteoglycans

HCC:

Hepatocellular carcinoma

HGF:

Hepatocyte growth factor

MMPs:

Matrix metalloproteinases

MAPK:

Mitogen-activated protein kinase

NFDM:

Nonfat dry milk

PBS:

Phosphate buffer saline

PI:

Propidium iodide

PI3K:

Phosphoinositide-3 kinase

PVDF:

Polyvinylidene fluoride

SDS:

Sodium dodecyl sulphate

SEM:

Standard error of the mean

SRB:

Sulforhodamin b

TCA:

Trichloroacetic acid

TBST:

Tris buffered saline/Tween-20
References
Bozkaya G, Korhan P, Cokakli M, Erdal E, Sagol O, Karademir S, Korch C, Atabey N (2012) Cooperative interaction of MUC1 with the HGF/c-Met pathway during hepatocarcinogenesis. Mol Cancer 11:64. doi:10.1200/JCO.2008.19.1635

Cappuzzo F, Marchetti A, Skokan M, Rossi E, Gajapathy S, Felicioni L, Del Grammastro M, Sciarrotta MG, Buttitta F, Incarbone M, Toschi L, Finocchiaro G, Destro A, Terracciano L, Roncalli M, Alloisio M, Santoro A, Varella-Garcia M (2009) Increased MET gene copy number negatively affects survival of surgically resected non-small-cell lung cancer patients. J Clin Oncol 27:1667–1674. doi:10.1200/JCO.2008.19.1635

Cokakli M, Erdal E, Nart D, Yilmaz F, Sagol O, Kilic M, Karademir S, Atabey N (2009) Differential expression of Caveolin-1 in hepatocellular carcinoma: correlation with differentiation state, motility and invasion. BMC Cancer 2407:9–65. doi:10.1186/1471-2407-9-65

Cooper CS, Park M, Blair DG, Tainsky MA, Huebner K, Croce CM, Vande Woude G (1984) Molecular cloning of a new transforming gene from a chemically transformed human cell line. Nature 311:29–33. doi:10.1038/311029a0

Eder JP, Vande Woude GF, Boerner SA, LoRusso PM (2009) Novel therapeutic inhibitors of the c-Met signaling pathway in cancer. Clin Cancer Res 15:2207–2214. doi:10.1158/1078-0432.CCR-08-1306

Firtina Karagonlar Z, Koc D, Iscan E, Erdal E, Atabey N (2016) Elevated HGF expression as an autocrine c-Met activation mechanism in acquired resistance to sorafenib in HCC cells. Cancer Sci. doi:10.1111/cas.12891

Furlan A, Kherrouche Z, Montagne R, Copin MC, Tulasne D (2014) Thirty years of research on met receptor to move a biomarker from bench to bedside. Cancer Res 74:6737–6744. doi:10.1158/0008-5472.CAN-14-1932

Ganepola GA, Mazziotta RM, Weeresinghe D, Corner GA, Parish CJ, Chang DH, Tebbutt NC, Murone C, Ahmed N, Augenlicht LH, Mariadason JM (2010) Gene expression profiling of primary and metastatic colon cancers identifies a reduced proliferative rate in metastatic tumors. Clin Exp Metastasis 1:1–9. doi:10.1007/s10585

Gao JJ, Inagaki Y, Xue X, Qu XJ, Tang W (2011) C-met: a potential therapeutic target for hepatocellular carcinoma. Drug Discov Ther 1:2–11

Garber K (2014) MET inhibitors start on road to recovery. Nat Rev Drug Discov 13:563–565. doi:10.1038/nrd4406

Gherardi E, Youles ME, Miguel RN, Blundell TL, Iamele L, Goug J, Bandyopadhyay A, Hartmann G, Butler PJG (2003) Functional map and domain structure of MET, the product of the c-Met protooncogene and receptor for hepatocyte growth factor/scatter factor. PNAS 100:12039–12044

Gherardi E, Birchmeier W, Birchmeier C, Vande Woude G (2012) Targeting MET in cancer: rationale and progress. Nat Rev Cancer 12:89–103. doi:10.1038/nrc3205

Giordano S, Columbano A (2014) Met as a therapeutic target in HCC: facts and hopes. J Hepatol 60:442–452. doi:10.1016/j.jhep.2013.09.009

Grant DS, Kleinman HK, Goldbergt ID, Bhargava MM, Nickoloff BJ, Kinsella JL, Polverini P, Rosen EM (1993) Scatter factor induces blood vessel formation in vivo. PNAS 90:1937–1941

Holmes O, Pillozzi S, Deakin JA, Carafoli F, Kemp L, Butler PJG, Lyon M, Gherardi E (2007) Insights into the structure / function of hepatocyte growth factor / scatter factor from studies with individual domains. J Mol Biol 367:395–408

Jia Y, Zhang L, Li Y, Wang Y, Guo W, Cao L, Li Z (2006) Effects on proliferation and migration of the human colon carcinoma cell line SW620 by silencing of hepatocyte growth factor expression. Clin Oncol Cancer Res 7:277–283

Kaposi-Novak P, Lee JS, Gomez-Quiroz L, Coulouarn C, Factor VM, Thorgeirsson SS (2006) Met-regulated expression signature defines a subset of human hepatocellular carcinomas with poor prognosis and aggressive phenotype. J Clin Invest 116:1582–1595

Kermorgant S, Zicha D, Parker PJ (2004) PKC controls HGF-dependent c-Met traffic, signaling and cell migration. EMBO J 23:3721–3734

Kong-Beltran M, Stamos J, Wickramasinghe D (2004) The Sema domain of met is necessary for receptor dimerization and activation. Cancer Cell 6:75–84

Korhan P, Erdal E, Atabey N (2014) MiR-181a-5p is downregulated in hepatocellular carcinoma and suppresses motility, invasion and branching-morphogenesis by directly targeting c-met. Biochem Biophys Res Commun 4:1304–1312. doi:10.1016/j.bbrc.2014.06.142

Kunter I, Erdal E, Nart D, Yılmaz F, Karademir S, Sagol O, Atabey N (2014) Active form of AKT controls cell proliferation and response to apoptosis in hepatocellular carcinoma. Oncol Rep 31:573–580. doi:10.3892/or.2013.2932

Lee JJX, Chan JC, Choo SP (2015) Clinical development of c-Met inhibition in hepatocellular carcinoma. Diseases 3:306–324. doi:10.3390/diseases3040306

Lever R, Page CP (2002) Novel drug development opportunities for heparin. Nat Rev Drug Discov 1:140–148. doi:10.1038/nrd724

Lim HC, Multhaupt HAB, Couchman JR (2015) Cell surface heparan sulfate proteoglycans control adhesion and invasion of breast carcinoma cells. Mol Cancer 27:1. doi:10.1186/s12943-014-0279-8

LIovet JM, Bruix J (2008) Molecular targeted therapies in hepatocellular carcinoma. Hepatology 48:1312–1327. doi:10.1002/hep.22506

Liu C, Rangnekar VM, Adamson E, Mercola D (1998) Suppression of growth and transformation and induction of apoptosis by EGR-1. Cancer Gene Ther 5:3–28

Lyon M, Deakin JA, Gallagher JT (2002) The mode of action of heparan and dermatan sulfates in the regulation of hepatocyte growth factor/scatter factor. J Biol Chem 277:1040–1046

Murray PB, Lax I, Reshetnyak A, Ligon GF, Lillquist JS, Natoli EJ Jr, Shi X, Folta-Stogniew E, Gunel M, Alvarado D, Schlessinger J (2015) Heparin is an activating ligand of the orphan receptor tyrosine kinase ALK. Sci Signal 360:rab6. doi:10.1126/scisignal.2005916

Ozen E, Gozukizil A, Erdal E, Uren A, Bottaro DP, Atabey N (2012) Heparin inhibits hepatocyte growth factor induced motility and invasion of hepatocellular carcinoma cells through early growth response protein 1. PLoS One 7:e42717. doi:10.1371/journal.pone.0042717

Peters S, Adjei AA (2012) MET: a promising anticancer therapeutic target. Nat Rev Clin Oncol 9:314–326. doi:10.1038/nrclinonc.2012.71

Rimassa L, Porta C, Borbath I, Daniele B, Finn RS, Raoul JL, Schwartz LH, He AR, Trojan J, Peck-Radosavljevic M, Abbadessa G, Goldberg T, Santoro A, Bruix J (2014) Tivantinib in MET-high hepatocellular carcinoma patients and the ongoing phase III clinical trial. Hepatic Oncol 2:181–188. doi:10.2217/hep.14.3

Rubin JS, Day RM, Breckenridge D, Atabey N, Taylor WG, Stahl SJ, Wingfield PT, Kaufman JD, Schwall R, Bottaro DP (2001) Dissociation of heparan sulfate and receptor binding domains of hepatocyte growth factor reveals that heparan sulfate-c-met interaction facilitates signaling. J Biol Chem 276:32977–32983

Sakai K, Aoki S, Matsumoto K (2015) Hepatocyte growth factor and met in drug discovery. J Biol Chem 157:271–284. doi:10.1093/jb/mvv027

Sanford D, Lazo-Langner A (2014) The effect of low molecular weight heparin on survival in cancer patients: an updated systematic review and meta-analysis of randomized trials: reply. J Thromb Haemost 12:1574–1575. doi:10.1111/jth.12666

Spek CA, Versteeg HH, Borensztajn KS (2015) Anticoagulant therapy of cancer patients: will patient selection increase overall survival? Thromb Haemost 114:530–536. doi:10.1160/TH15-02-0124

Spina A, De Pasquale V, Cerulo G, Cocchiaro P (2015) HGF/c-MET axis in tumor microenvironment and metastasis formation. Biomed 3:71–88. doi:10.3390/biomedicines3010071

Takeuchi A, Yamamoto Y, Munesue S, Harashima A, Watanabe T, Yonekura H, Yamamoto H, Tsuchiya H (2013) Low molecular weight heparin suppresses receptor for advanced glycation end products-mediated expression of malignant phenotype in human fibrosarcoma cells. Cancer Sci 104:740–749. doi:10.1111/cas.12133

You H, Ding W, Dang H, Jiang Y, Rountree CB (2011) c-Met represents a potential therapeutic target for personalized treatment in hepatocellular carcinoma. Hepatology 54:879–889. doi:10.1002/hep.24450

Zhong GX, Gong Y, Yu CJ, Wu SF, Ma QP, Wang Y, Ren J, Zhang XC, Yang WH, Zhu W (2015) Significantly inhibitory effects of low molecular weight heparin (Fraxiparine) on the motility of lung cancer cells and its related mechanism. Tumour Biol 36:4689–4697. doi:10.1007/s13277-015-3117-8

Zhou AX, Toylu A, Nallapalli RK, Nilsson G, Atabey N, Heldin CH, Borén J, Bergo MO, Akyürek LM (2011) Filamin a mediates HGF/c-Met signaling in tumor cell migration. Int J Cancer 128:839–846. doi:10.1002/ijc.25417
Acknowledgments
We thank Prof. Brian Carr for critically reading the manuscript and improving the English. This work was supported by The Scientific and Technological Research Council of Turkey (Project # 110S349).
Ethics declarations
Conflict of interest
The authors have no conflicts of interest to declare
Additional information
Evin Iscan and Aysim Gunes contributed equally to this work.
Electronic supplementary material
About this article
Cite this article
İşcan, E., Güneş, A., Korhan, P. et al. The regulatory role of heparin on c-Met signaling in hepatocellular carcinoma cells. J. Cell Commun. Signal. 11, 155–166 (2017). https://doi.org/10.1007/s12079-016-0368-0
Received:

Accepted:

Published:

Issue Date:
Keywords
c-Met

Heparin

Hepatocellular carcinoma

Invasion

Proliferation