Abstract
It is estimated that one in eight women will be affected with cancer during their lives, which means over 1 million women worldwide will be diagnosed with breast cancer in the year of 2011. Roughly, 70% of breast cancer will be estrogen receptor-alpha (ER-α) positive. The presence of ER-α is associated with better prognosis and is able to determine if tumors will respond to the estrogen-blocking/ER-antagonist drug Tamoxifen (TAM). However, a significant fraction of ER-positive tumors respond with minimal or no response to TAM. It is unclear why some breast cancer cells resist TAM and how to make these cells respond. Early evidence suggests Pomegranate fruit extracts (PFEs) exhibit an anticancer effect against some cancers. The objective of the study was to determine whether PFEs may able to enhance/sensitize the TAM's effect in ER-positive MCF-7 breast cancer cells. To test the hypothesis, we determined the effect of PFEs on sensitive and TAM-resistant-MCF-7 cell viability and cell death in the presence or absence of TAM under estrogenic or non-estrogenic culture environment. The present studies demonstrated that PFEs enhance the TAM action in both sensitive and TAM-resistant MCF-7 cells through the inhibition of cell viability (regular or estrogen-induced) by inducing cell-death machinery. Collectively, the results showed for the first time that pomegranate combined with TAM may represent a novel and a powerful approach to enhance and sensitize TAM action.
Access options
Buy single article
Instant access to the full article PDF.
USD 39.95
Price excludes VAT (USA)
Tax calculation will be finalised during checkout.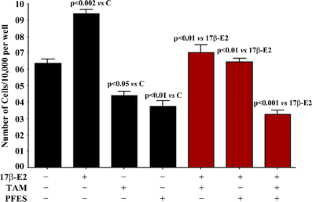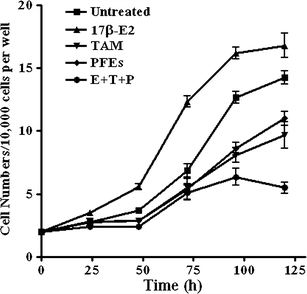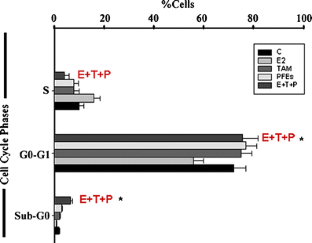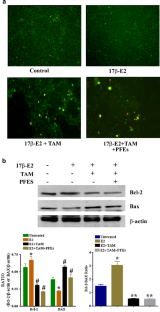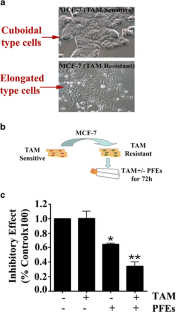 References
Ali S, Coombes RC (2000) Estrogen receptor alpha in human breast cancer: occurrence and significance. J Mammary Gland Biol Neoplasia 5:271–281

Ali SH, O'Donnell AL, Balu D, Pohl MB, Seyler MJ, Mohamed S, Mousa S, Dandona P (2000) Estrogen receptor-alpha in the inhibition of cancer growth and angiogenesis. Cancer Res 60:7094–7098

Banerjee SK, Campbell DR, Weston AP, Banerjee DK (1997) Biphasic estrogen response on bovine adrenal medulla capillary endothelial cell adhesion, proliferation and tube formation. Mol Cell Biochem 177:97–105

Bartow SA (1999) The breast. In: Rubin E, Farber JL (eds) Pathology. Lippincott-Raven, Philadelphia, pp 1029–1048

Bell C, Hawthorne S (2008) Ellagic acid, pomegranate and prostate cancer – a mini review. J Pharm Pharmacol 60:139–144

Christofori G (2006) New signals from the invasive front. Nature 441:444–450

Crowe DR, Lampejo OT (1996) Malignant tumor of the breast. In: Blackwell RE, Grotting JC (eds) Diagnosis and management of breast cancer. England, Blackwell Sciences, pp 103–134

Dickson RB, Thompson EW, Lippman ME (1989) Hormones and breast cancer in vitro. Hum Cell 2:219–230

Hayes DF, Robertson JF (2002) Overview and concepts of endocrine therapy. In: Robertson JF, Nicholson RI, Hayes DF (eds) Endocrine therapy of breast cancer. Martin Dunitz Ltd, London, pp 3–10

Hilakivi-Clarke L, Cho E, Cabanes A, DeAssis S, Olivo S, Helferich W, Lippman ME, Clarke R (2002) Dietary modulation of pregnancy estrogen levels and breast cancer risk among female rat offspring. Clin Cancer Res 8:3601–3610

Hussain SA, Palmer DH, Spooner D, Rea DW (2007) Molecularly targeted therapeutics for breast cancer. BioDrugs 21:215–224

Khan N, Afaq F, Kweon MH, Kim K, Mukhtar H (2007) Oral consumption of pomegranate fruit extract inhibits growth and progression of primary lung tumors in mice. Cancer Res 67:3475–3482

Kumar R, Zhang H, Holm C, Vadlamudi RK, Landberg G, Rayala SK (2009) Extranuclear coactivator signaling confers insensitivity to tamoxifen. Clin Cancer Res 15:4123–4130

Mehta RG, Murillo G, Naithani R, Peng X (2010) Cancer chemoprevention by natural products: how far have we come? Pharm Res 27:950–961

Nayfield SG (1995) Tamoxifen's role in chemoprevention of breast cancer: an update. J Cell Biochem Suppl 22:42–50

Ormerod MG (2004) Cell-cycle analysis of asynchronous populations. Methods Mol Biol 263:345–54

Pantuck AJ, Leppert JT, Zomorodian N, Aronson W, Hong J, Barnard RJ, Seeram N, Liker H, Wang H, Elashoff R, Heber D, Aviram M, Ignarro L, Belldegrun A (2006a) Phase II study of pomegranate juice for men with rising prostate-specific antigen following surgery or radiation for prostate cancer. Clin Cancer Res 12:4018–4026

Pantuck AJ, Zomorodian N, Belldegrun AS (2006b) Phase-II Study of pomegranate juice for men with prostate cancer and increasing PSA. Curr Urol Rep 7:7

Pechoux C, Gudjonsson T, Ronnov-Jessen L, Bissell MJ, Petersen OW (1999) Human mammary luminal epithelial cells contain progenitors to myoepithelial cells. Dev Biol 206:88–99

Rouzier R, Perou CM, Symmans WF, Ibrahim N, Cristofanilli M, Anderson K, Hess KR, Stec J, Ayers M, Wagner P, Morandi P, Fan C, Rabiul I, Ross JS, Hortobagyi GN, Pusztai L (2005) Breast cancer molecular subtypes respond differently to preoperative chemotherapy. Clin Cancer Res 11:5678–5685

Sengupta K, Banerjee S, Saxena NK, Banerjee SK (2004a) Thombospondin-1 disrupts estrogen-induced endothelial cell proliferation and migration and its expression is suppressed by estradiol. Mol Cancer Res 2:150–158

Sengupta K, Banerjee S, Saxena NK, Jonathan NB, Campbell DR, Banerjee SK (2004b) Differential expression of VEGF-A mRNA by 17beta-estradiol in breast tumor cells lacking classical ER-alpha may be mediated through a variant form of ER-alpha. Mol Cell Biochem 262:215–224

Sotiriou C, Neo SY, McShane LM, Korn EL, Long PM, Jazaeri A, Martiat P, Fox SB, Harris AL, Liu ET (2003) Breast cancer classification and prognosis based on gene expression profiles from a population-based study. Proc Natl Acad Sci U S A 100:10393–10398

Tavassoli FA (1999) Pathology of breast. McGraw-Hill, New York

Taylor IW, Hodson PJ, Green MD, Sutherland RL (1983) Effects of tamoxifen on cell cycle progression of synchronous MCF-7 human mammary carcinoma cells. Cancer Res 43:4007–4010

Thompson EW, Katz D, Shima TB, Wakeling AE, Lippman ME, Dickson RB (1989a) ICI 164,384, a pure antagonist of estrogen-stimulated MCF-7 cell proliferation and invasiveness. Cancer Res 49:6929–6934

Thompson EW, Martin MB, Saceda M, Clarke R, Brunner N, Lippman ME, Dickson RB (1989b) Regulation of breast cancer cells by hormones and growth factors: effects on proliferation and basement membrane invasiveness. Horm Res 32(Suppl 1):242–249

Toi M, Bando H, Ramachandran C, Melnick SJ, Imai A, Fife RS, Carr RE, Oikawa T, Lansky EP (2003) Preliminary studies on the anti-angiogenic potential of pomegranate fractions in vitro and in vivo. Angiogenesis 6:121–128

Tormey DC, Gray R, Falkson HC (1996) Postchemotherapy adjuvant tamoxifen therapy beyond five years in patients with lymph node-positive breast cancer. East Coop Oncol Group J Natl Cancer Inst 88:1828–1833

Wang TT, Phang JM (1995) Effects of estrogen on apoptotic pathways in human breast cancer cell line MCF-7. Cancer Res 55:2487–2489

Zhang GJ, Kimijima I, Onda M, Kanno M, Sato H, Watanabe T, Tsuchiya A, Abe R, Takenoshita S (1999) Tamoxifen-induced apoptosis in breast cancer cells relates to down-regulation of bcl-2, but not bax and bcl-X(L), without alteration of p53 protein levels. Clin Cancer Res 5:2971–2977
Acknowledgements
We thank Drs. Snigdha Banerjee for excellent technical assistance, Dr. Peter Van Veldhuizen for critical reading and other CRU members for discussion. The work was supported by the VA Merit Review grants to SK and SKB and Midwest Biomedical Research Foundation for Summer Student stipend to SB.
About this article
Cite this article
Banerjee, S., Kambhampati, S., Haque, I. et al. Pomegranate sensitizes Tamoxifen action in ER-α positive breast cancer cells. J. Cell Commun. Signal. 5, 317–324 (2011). https://doi.org/10.1007/s12079-011-0138-y
Received:

Accepted:

Published:

Issue Date:

DOI: https://doi.org/10.1007/s12079-011-0138-y
Keywords