Abstract
Introduction
The importance of an olfactory assessment of individuals with neurological diseases has attracted attention. Cerebrovascular disease is one of the most common diseases in Japan, but there are few reports on olfaction in patients with stroke. Herein we examined olfaction in patients with stroke.
Methods
We assessed 50 patients hospitalized for neurorehabilitation after stroke. For the assessment of olfaction, the dual tests known as the T&T olfactometry (T&T) test and the odor identification Open Essence (OE) test were administered. Since the OE test was introduced only recently in Japan, 100 healthy volunteers participated to provide OE data as the control group. We analyzed the patients' T&T and OE data and the controls' OE data, and we investigated the relationship between the olfaction data and the patients' stroke-induced lesion areas.
Results
None of the patients reported experiencing inconvenience due to olfactory loss, although we classified 45 (90%) patients as hyposmic or anosmic based on their identification thresholds on the T&T test as well as their significantly low OE scores compared to the control data. However, the patients' perception thresholds on the T&T test were in the normal range. Brain computed tomography examination data revealed that odor identification was not impaired in about half of the 23 patients with a putamen-thalamus lesion. In addition, our correlation analysis of each odorant in the OE test indicated that six of the 12 odorants are sufficient for olfactory assessments.
Conclusions
The results of the dual olfactory tests revealed that patients with stroke showed impaired odor identification but intact odor perception. It is possible that the direct pathway from the piriform cortex to the orbitofrontal cortex is essential for odor identification.
Implications
Because of their normal odor perception, most patients with stroke are not aware of their impaired odor identification. A set of six of the 12 odorants used in the OE test is capable of representing the total OE score, and its use will save time for olfactory tests in clinical assessments.
Access options
Buy single article
Instant access to the full article PDF.
US$ 39.95
Tax calculation will be finalised during checkout.
Subscribe to journal
Immediate online access to all issues from 2019. Subscription will auto renew annually.
US$ 79
Tax calculation will be finalised during checkout.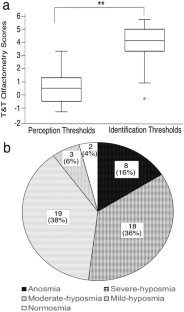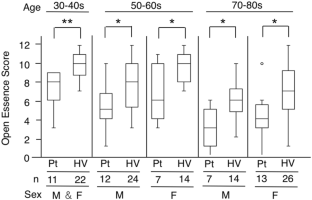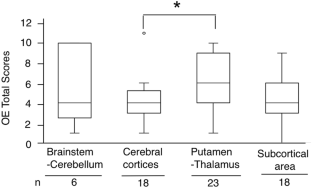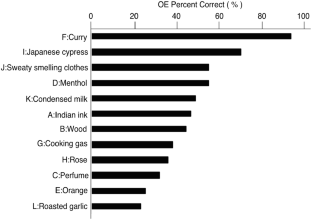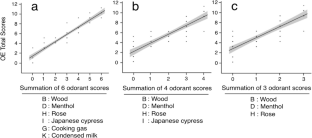 References
Asai H, Udaka F, Hirano M, Ueno S (2008) Odor abnormalities caused by bilateral thalamic infarction. Clin Neurol Neurosurg 110:500–501

Baba T, Kikuchi A, Hirayama K, Nishio Y, Hosokai Y, Kanno S, Hasegawa T, Sugeno N, Konno M, Suzuki K, Takahashi S, Fukuda H, Aoki M, Itoyama Y, Mori E, Takeda A (2012) Severe olfactory dysfunction is a prodromal symptom of dementia associated with Parkinson's disease: a 3 year longitudinal study. Brain 135:161–169

Bamford J, Sandercock P, Dennis M, Burn J, Warlow C (1991) Classification and natural history of clinically identifiable subtypes of cerebral infarction. Lancet 337:1521–1526

Barresi M, Ciurleo R, Giacoppo S, Foti Cuzzola V, Celi D, Bramanti P, Marino S (2012) Evaluation of olfactory dysfunction in neurodegenerative diseases. J Neurol Sci 323:16–24

Cecchini MP, Bojanowski V, Bodechtel U, Hummel T, Hahner A (2012) Olfactory function in patients with ischemic stroke: a pilot study. Eur Arch Otorhinolaryngol 269:1149–1153

Doty RL (2015) Psychophysical measurement of human olfactory function. In: Doty RL (ed) Handbook of olfaction and gustation, 3rd edn. Wiley Blackwell, New Jersey, pp 227–260

Doty RL (2017) Olfactory dysfunction in neurodegenerative diseases: is there a common pathological substrate? Lancet Neurol 16:478–488

Dulay MF, Gesteland RC, Shear PK, Ritchey PN, Frank RA (2008) Assessment of the influence of cognition and cognitive processing speed on three tests of olfaction. J Clin Exp Neuropsychol 30:327–337

Fitzpatrick D, Mooney RD (2012) The chemical senses. In: Purves D, Augustine GJ, Fitzupatrick D, Hall WC (eds) Neuroscience, 5th edn. Sinauer Associates Inc, Massachusetts, pp 322–250

Folstein MF, Folstein SE, McHugh PR (1975) "Mini-mental state". A practical method for grading the cognitive state of patients for the clinician. J Psychiatr Res 12: 189-198

Fujio H, Doi K, Hasegawa S, Kobayakawa T, Nibu K (2012) Evaluation of card-type odor identification test for Japanese patients with olfactory disturbance. Ann Otol Rhinol Laryngol 121:413–418

Goldman JG, Postuma R (2014) Premotor and nonmotor features of Parkinson's disease. Curr Opin Neurol 27:434–441

Hashimoto Y, Fukazawa K, Fujii M, Takayasu S, Muto T, Saito S, Takashima Y, Sakagami M (2004) Usefulness of the odor stick identification test for Japanese patients with olfactory dysfunction. Chem Senses 29:565–571

Hawkes CH, Doty RL (2009) Clinical evaluation. In: Hawkes CH. Doty RL. The neurology of olfaction. Cambridge University Press, Cambrige, pp 59–109

Homma H, Yoritaka A, Hattori N, Kobayakawa T, Ikeda K (2013) Clinical application of a card-type odor identification test to olfactory assessment in Parkinson's disease. Auris Nasus Larynx 40:173–176

Hummel T, Hummel C, Welge-Luessen A (2014) Assessment of olfaction and gustation. In: Welge-Luessen A. Hummel T. Management of smell and taste disorders. Thieme, Stuttgart, pp 58–75

Iijima M, Kobayakawa T, Saito S, Osawa M, Tsutsumi Y, Hashimoto S, Iwata M (2008) Smell identification in Japanese Parkinson's disease patients: using the odor stick identification test for Japanese subjects. Intern Med 47:1887–1892

Iwasaki Y. Summary of patient survey 2014. Health Statistics Office, Vital, Health and Social Statistics Division, Statistics and Information Department, Minister's Secretariat Ministry of Health, Labour and Welfare. https://www.mhlw.go.jp/toukei/list/10-20.html

Janssen PM, Schreuder AHCML, Koehler P (2015) Delayed dysosmia and dysgeusia after thalamic infaction. J Neurol Sci 348:286–287

Kamath V, Doty RL (2014) The influence of age on olfaction: a review. Front Psychol 5:1–20

Kronenbuerger M, Zobel S, Ilgner J, Finkelmeyer A, Reinacher P, Coenen VA, Wilms H, Kloss M, Kiening K, Daniels C, Falk D, Schulz JB, Deuschl G, Hummel T (2010) Effects of deep brain stimulation of the cerebellothalamic pathways on the sense of smell. Exp Neurol 222:144–152

Landis BN, Konnerth CG, Hummel T (2004) A study on the frequency of olfactory dysfunction. Laryngoscope 114:1764–1769

Landis BN, Hummel T (2006) New evidence for high occurrence of olfactory dysfunction within the population. Am J Med 119:91–92

Mak YE, Simmons KB, Gitelman DR, Small DM (2005) Taste and olfactory intensity perception changes following left insular stroke. Behav Neurosci 119:1693–1700

Makizako M, Makizako H, Doi T, Uemura K, Tsutsumimoto K, Miyaguchi H, Shimada H (2014) Olfactory identification and cognitive performance in community-dwelling older adults with mild cognitive impairment. Chem Senses 39:39–46

Moo L, Wityk RJ (1999) Olfactory and taste dysfunction after bilateral middle cerebral artery stroke. J Stroke Cerebrovasc Dis 8:353–354

Mori E, Matsuwaki Y, Mitsuyama C, Yamazaki M, Okushi T, Moriyama H (2011) Comparison of open essence scent identification test card and conventional olfaction tests. Nihon Jibiinkoka Gakkai Kaiho 114:917–923 (in Japanese)

Murphy C, Schubert CR, Cruickshanks KJ, Klein BE, Klein R, Nondahl DM (2002) Prevalence of olfactory impairment in older adults. JAMA 288:2307–2312

Nishida K, Kobayashi M, Ogihara H, Takeo T, Kitano M, Takeuchi K (2010) Clinical usefulness of smell identification test card: Open Essence. Nippon Jibiinkoka Gakkai Kaiho 113:751–757 (in Japanese)

Nordin S, Monsch AU, Murphy C (1995) Unawareness of smell loss in normal aging and Alzheimer's disease: discrepancy between self-reported and diagnosed smell sensitivity. J Gerontol B Psychol Sci Soc Sci 50:187–192

Okutani F, Hirose K, Kobayashi T, Hyodo M (2013) Evaluation of "Open Essence" odor-identification test card by application to healthy volunteers. Auris Nasus Larynx 40:76–80

Okutani F (2015) [Properties of olfactory function in the elderly people evaluated with "Open Essence", a card-kit of odor identification test for Japanese.] Prog Med 35: 683-686 (in Japanese)

Rousseaux M, Muller P, Gahide I, Mottin Y, Romon M (1996) Disorders of smell, taste, and food intake in a patient with a dorsomedial thalamic infarct. Stroke 27:2328–2330

Ryo Y, Takeuchi M, Ueda N, Ohi K, Kihara H, Shimada T, Uehara T, Kawasaki Y (2017) Olfactory function in neuropsychiatric disorders. Psychiatry Res 252:175–179

Saito S, Ayabe-Kanamura S, Takashima Y, Gotow N, Naito N, Nozawa T, Mise M, Deguchi Y, Kobayakawa T (2006) Development of a smell identification test using a novel stick-type odor presentation kit. Chem Senses 31:379–391

Saito S, Kobayashi T, Mizoguchi C, Masuda Y, Gotow N, Takashima Y (2001) Relation between the Japanese Standardized Olfactory Test and the Odor Stick Identification: TEST for Japanese in 108 Japanese participants aged 20 to 81 years. Jpn J Taste Smell Res 8:143–149 (in Japanese)

Seki K, Tsuruta K, Iwashiro S, Fukumoto Y (2006) Olfactory evaluation of healthy subjects: evaluation of age group by standard odor (T&T olfactometer) and its characteristics. Geriatr Med 44:1309–1318 (in Japanese)

Shiga H, Toda H, Kobayakawa T, Saito S, Hirota K, Tsukatani T, Furukawa M, Miwa T (2009) Usefulness of curry odorant of odor stick identification test for Japanese in olfactory impairment screening. Acta Otolaryngol Suppl 562:91–94

Shiga H, Yamamoto J, Kitamura M, Nakagawa H, Matsubasa T, Seo A, Miwa T (2014) Combinations of two odorants of smell identification test for screening of olfactory impairment. Auris Nasus Larynx 41:523–527

Sugishita M, Koshizuka Y, Sudou S, Sugishita K, Hemmi I, Karasawa H, Ihara M, Asada T, Mihara B (2018) The validity and reliability of the Japanese version of the Mini-Mental State Examination (MMSE-J) with the original procedure of the Attention and Calculation Task (2001). Jpn J Cognitive Neurosci 20:91–110 (in Japanese)

Suzuki M, Hashimoto M, Yoshioka M, Murakami M, Kawasaki K, Urashima M (2011) The odor stick identification test for Japanese differentiates Parkinson's disease from multiple system atrophy and progressive supra nuclear palsy. BMC Neurol 11:157. https://doi.org/10.1186/1471-2377-11-157

Takagi SF (1989) Standardized olfactometries in Japan—a review over ten years. Chem Senses 14:25–46

Toyota B, Kitamura T, Takagi SF (1978) [Olfactory disorders—olfactometry and therapy.] Tokyo: Igaku-Shoin;. (In Japanese)

Tsoi KK, Chan JY, Hirai HW, Wong SY, Kwok TC (2015) Cognitive tests to detect dementia: systematic review and meta-analysis. Intern Med 175:1450–1458

Watanabe Y, Suzuki K, Miyamoto T, Miyamoto M, Numao A, Fujita H, Uchiyama T, Kadowaki T, Matsubara T, Hirata K (2017) A card-type odor identification test for Japanese patients with Parkinson's disease and related disorders. Intern Med 56:2871–2878

Wehling E, Naess H, Wollschlaeger D, Hofstad H, Bramerson A, Bende M, Nordin S (2015) Olfactory dysfunction in chronic stroke patients. BMC Neurol 15:199–197. https://doi.org/10.1186/s12883-015-0463-5

Westervelt HJ, Bruce JM, Coon WG, Tremont G (2008) Odor identification in mild cognitive impairment subtypes. J Clin Exp Neuropsychol 30:151–156

Wilson DA, Chapuis J, Sullivan RM (2015) Cortical olfactory anatomy and physiology. In: Doty RL, editor. Handbook of olfaction and gustation. 3rd edn. Wiley Blackwell, New Jersey, pp209-223
Acknowledgments
We appreciate the willing contribution of the patients at M Rehabilitation Hospital and the healthy volunteers at K Medical School Hospital. We also deeply appreciate the statistical analysis assistance from Professor Y. Nakagawa (Kochi University of Technology).
Ethics declarations
Conflict of Interest
The authors declare that they have no conflict of interest.
Ethical Approval and Informed Consent
All protocols performed in this study were in accordance with ethical standards of the Ethical Review Board of Kochi Medical School and Matsuyama Rehabilitation Hospital.
Informed Consent
Written informed consent was obtained from all participants in this study.
Additional information
Publisher's Note
Springer Nature remains neutral with regard to jurisdictional claims in published maps and institutional affiliations.
About this article
Cite this article
Omori, K., Okutani, F. Impaired Olfactory Identification of Patients with Cerebrovascular Disease Can Be Revealed by Dual Testing. Chem. Percept. 13, 132–140 (2020). https://doi.org/10.1007/s12078-019-09274-8
Received:

Accepted:

Published:

Issue Date:
Keywords
Odor identification

Open Essence

T&T olfactometry

Stroke