Abstract
Introduction
Olfactory dysfunction is an early marker of neurological disease and a common symptom in psychotic disorders. Previous anatomical and functional research suggests that sex effects may be crucial in the assessment of the olfactory system. Nonetheless, the neural mechanisms through which the factor sex impacts olfactory perception are still not well understood. In this context, we use fMRI to investigate sex differences in the passive processing of chemical stimuli, in order to obtain new neuroscientific data that may help improve the assessment of odor perception.
Methods
Thirty healthy subjects (17 women) were stimulated with mint and butanol (event-related design) in a 3.0-T MRI scanner. A one-sample t test analysis was performed in order to observe olfactory-related activations. Intergroup differences (women vs. men) and the influence of each aroma were analyzed using a 2 × 2 ANOVA and post hoc contrasts.
Results
Men and women showed differential activity (males > females) in right superior/middle temporal areas, the right inferior frontal cortex, and the hypothalamus. Both groups showed a predominance of the right hemisphere for the processing of odors.
Conclusion
Functional differences between women and men in olfaction are not restricted to specific sensory areas and reflect a more general sex-dependent effect in multisensory integration processes.
Implications
Considering sex differences is essential in order to develop more specific and efficient strategies for the assessment and rehabilitation of the olfactory system and for the interpretation of the olfactory loss as an early biomarker of neurological and psychiatric diseases.
Access options
Buy single article
Instant access to the full article PDF.
USD 39.95
Price excludes VAT (USA)
Tax calculation will be finalised during checkout.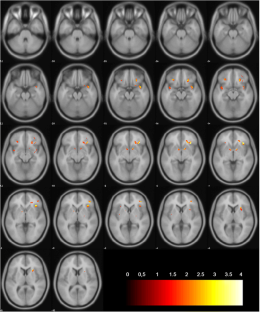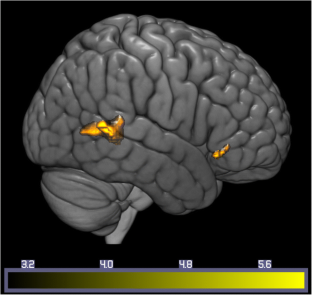 References
Albers MW, Tabert MH, Devanand DP (2006) Olfactory dysfunction as a predictor of neurodegenerative disease. Curr Neurol Neurosci Rep 6:379–386

Ansoleaga B, Garcia-Esparcia P, Llorens F, Moreno J, Aso E, Ferrer I (2013) Dysregulation of brain olfactory and taste receptors in AD, PSP and CJD, and AD-related model. Neuroscience 248:369–382

Asaba A, Hattori T, Mogi K, Kikusui T (2014) Sexual attractiveness of male chemicals and vocalizations in mice. Front Neurosci 8:231

Bahar-Fuchs A, Moss S, Rowe C, Savage G (2010) Olfactory performance in AD, aMCI, and healthy ageing: a unirhinal approach. Chem Senses 35:855–862

Barnett-Cowan M, Dyde RT, Thompson C, Harris LR (2010) Multisensory determinants of orientation perception: task-specific sex differences. Eur J Neurosci 31:1899–1907

Baroncini M, Jissendi P, Balland E, Besson P, Pruvo JP, Francke JP et al (2012) MRI atlas of the human hypothalamus. Neuroimage 59(1):168–180

Beauchamp MS (2005) See me, hear me, touch me: multisensory integration in lateral occipital-temporal cortex. Curr Opin Neurobiol 15:145–153

Bengtsson S, Berglund H, Gulyas B, Cohen E, Savic I (2001) Brain activation during odor perception in males and females. Neuroreport 12:2027–2033

Berns GS, McClure SM, Pagnoni G, Montague PR (2001) Predictability modulates human brain response to reward. J Neurosci 21:2793–2798

Borromeo S, Hernández-Tamames JA, Luna G, Machado F, Malpica N, Toledano A (2010) Objective assessment of olfactory function using functional magnetic resonance. IEEE Trans Instrum Meas 59(10):2601–2608

Borromeo S, Gomez-Calero C, Molina E, Fernández-Huete J, Martínez-Monge N, Toledano A, Luna G, Hernández-Tamames JA (2013) Objective assessment of a new olfactory rehabilitation approach in adults with olfactory impairments using functional magnetic resonance (fMRI). Converging clinical and engineering research on Neurorehabilitation. Springer-Verlag Berlin Heidelberg, Berlin, pp 381–384

Boyle JA, Heinke M, Gerber J, Frasnelli J, Hummel T (2007) Cerebral activation to intranasal chemosensory trigeminal stimulation. Chem Senses 32:343–353

Cadieux ML, Barnett-Cowan M, Shore DI (2010) Crossing the hands is more confusing for females than males. Exp Brain Res 204:431–446

Cain WS, Gent JF, Goodspeed RB, Leonard G (1988) Evaluation of olfactory dysfunction in the Connecticut chemosensory clinical research center. Laryngoscope 98:83–88

Calvert GA, Campbell R, Brammer MJ (2000) Evidence from functional magnetic resonance imaging of crossmodal binding in the human heteromodal cortex. Curr Biol 10:649–657

Cohen J (1988) Statistical power analysis for the behavioral sciences, 2nd edn. Lawrence Earlbaum Associates, Hillsdale, NJ

Delgado MR, Miller MM, Inati S, Phelps E a (2005) An fMRI study of reward-related probability learning. Neuroimage 24:862–873

Doty RL (2012) Olfactory dysfunction in Parkinson disease. Nat Rev Neurol 8:329–339

Doty RL, Cameron EL (2009) Sex differences and reproductive hormone influences on human odor perception. Physiol Behav 97:213–228

Doty RL, Applebaum S, Zusho H, Gregg R (1985) Sex differences in odor identification ability: a cross-cultural analysis. Neuropsychologia 23:667–672

Eliot L (2011) The trouble with sex differences. Neuron 72:895–898

Ellison A, Schindler I, Pattison LL, Milner a D (2004) An exploration of the role of the superior temporal gyrus in visual search and spatial perception using TMS. Brain 127:2307–2315

Ethofer T, Anders S, Erb M, Droll C, Royen L, Saur R et al (2006) Impact of voice on emotional judgment of faces: an event-related fMRI study. Hum Brain Mapp 27(9):707–714

Evans, A.C., Collins, D.L., Mills, S.R., Brown, E.D., Kelly, R.L., Peters, T.M., 1993. 3D statistical neuroanatomical models from 305 MRI volumes, in: 1993 IEEE conference record nuclear science symposium and medical imaging conference. Pp. 1813–1817

Evans WJ, Cui L, Starr A (1995) Olfactory event-related potentials in normal human subjects: effects of age and gender. Electroencephalogr. Clin. Neurophysiology 95:293–301

Garcia-Esparcia P, Schlüter A, Carmona M, Moreno J, Ansoleaga B, Torrejón-Escribano B, Gustincich S, Pujol A, Ferrer I (2013) Functional genomics reveals dysregulation of cortical olfactory receptors in Parkinson disease: novel putative chemoreceptors in the human brain. J Neuropathol Exp Neurol 72:524–539

Garcia-Falgueras A, Junque C, Giménez M, Caldú X, Segovia S, Guillamon A (2006) Sex differences in the human olfactory system. Brain Res 1116:103–111

Gharabaghi A, Fruhmann Berger M, Tatagiba M, Karnath HO (2006) The role of the right superior temporal gyrus in visual search-insights from intraoperative electrical stimulation. Neuropsychologia 44:2578–2581

Goldstein JM, Seidman LJ, Horton NJ, Makris N, Kennedy DN, Caviness VS Jr et al (2001) Normal sexual dimorphism of the adult human brain assessed by in vivo magnetic resonance imaging. Cereb Cortex 11(6):490–497

Good KP, Sullivan RL (2015) Olfactory function in psychotic disorders: insights from neuroimaging studies. World J Psychiatry 5(2):210–221

Gottfried, J. A. 2015. Structural and functional imaging of the human olfactory system. In: Handbook of Olfaction and Gustation, 3rd edn. Doty, R.L. (Ed.), Wiley-Blackwell

Gottfried JA, O'Doherty J, Dolan RJ (2002) Appetitive and aversive olfactory learning in humans studied using event-related functional magnetic resonance imaging. J Neurosci 22:10829–10837

Hawkes CH, Doty RL (2009) The neurology of olfaction. Cambridge University Press, Cambridge

Hummel T, Doty RL, Yousem DM (2005) Functional MRI of intranasal chemosensory trigeminal activation. Chem Senses 30(Suppl 1):i205–i206

Ischebeck A, Indefrey P, Usui N, Nose I, Hellwig F, Taira M (2004) Reading in a regular orthography: an FMRI study investigating the role of visual familiarity. J Cogn Neurosci 16:727–741

Jezzard P, Balaban RS (1995) Correction for geometric distortion in echo planar images from B0 field variations. Magn Reson Med 34:65–73

Koch K, Pauly K, Kellermann T, Seiferth NY, Reske M, Backes V et al (2007) Gender differences in the cognitive control of emotion: an fMRI study. Neuropsychologia 45(12):2744–2754

Köhler S, Kapur S, Moscovitch M, Winocur G, Houle S (1995) Dissociation of pathways for object and spatial vision: a PET study in humans. Neuroreport 6:1865–1868

Kübler A, Dixon V, Garavan H (2006) Automaticity and reestablishment of executive control-an fMRI study. J Cogn Neurosci 18:1331–1342

Lakens D (2013) Calculating and reporting effect sizes to facilitate cumulative science: a practical primer for t-tests and ANOVAs. Front Psychol 4:863

Larsson M, Nilsson L-G, Olofsson JK, Nordin S (2004) Demographic and cognitive predictors of cued odor identification: evidence from a population-based study. Chem Senses 29:547–554

Larsson M, Farde L, Hummel T, Witt M, Lindroth NE, Bäckman L (2009) Age-related loss of olfactory sensitivity: association to dopamine transporter binding in putamen. Neuroscience 161:422–426

Lundström JN, Hummel T (2006) Sex-specific hemispheric differences in cortical activation to a bimodal odor. Behav Brain Res 166:197–203

Lundström JN, Frasnelli J, Larsson M, Hummel T (2005) Sex differentiated responses to intranasal trigeminal stimuli. Int J Psychophysiol 57:181–186

Manzanedo, E., Solana, A.B., Molina, E., Bruña, R., Borromeo, S., Hernández-Tamames, J.A., del Pozo, F. 2014. EEG metrics evaluation in simultaneous EEG-fMRI olfactory experiment. IFMBE Proc 41: 815–818

Miller DI, Halpern DF (2014) The new science of cognitive sex differences. Trends Cogn Sci 18:37–45

Modinos G, Tseng H-H, Falkenberg I, Samson C, McGuire P, Allen P (2015) Neural correlates of aberrant emotional salience predict psychotic symptoms and global functioning in high-risk and first-episode psychosis. Soc Cogn Affect Neur 10:1429–1436

Morrot G, Bonny JM, Lehallier B, Zanca M (2013) fMRI of human olfaction at the individual level: interindividual variability. J Magn Reson Imaging 37(1):92–100

Ngun TC, Ghahramani N, Sánchez FJ, Bocklandt S, Vilain E (2011) The genetics of sex differences in brain and behavior. Front Neuroendocrinol 32(2):227–246

O'Doherty JP, Deichmann R, Critchley HD, Dolan RJ (2002) Neural responses during anticipation of a primary taste reward. Neuron 33:815–826

O'Doherty JP, Dayan P, Friston K, Critchley H, Dolan RJ (2003) Temporal difference models and reward-related learning in the human brain. Neuron 38:329–337

O'Doherty J, Dayan P, Schultz J, Deichmann R, Friston K, Dolan RJ (2004) Dissociable roles of ventral and dorsal striatum in instrumental conditioning. Science 304:452–454

Ocklenburg S, Wolf CC, Heed T, Ball A, Cramer H, Röder B, Güntürkün O (2013) Multisensory integration across the menstrual cycle. Front Psychol 4:666

Oliveira-Pinto AV, Santos RM, Coutinho RA, Oliveira LM, Santos GB, Alho ATL, Leite REP, Farfel JM, Suemoto CK, Grinberg LT, Pasqualucci CA, Jacob-Filho W, Lent R (2014) Sexual dimorphism in the human olfactory bulb: females have more neurons and glial cells than males. PLoS One 9(11):e111733

Pellegrino R, Drechsler E, Hummel C, Warr J, Hummel T (2017) Bimodal odor processing with a trigeminal component at sub-and suprathreshold levels. Neuroscience 363:43–49

Poldrack RA, Fletcher PC, Henson RN, Worsley KJ, Brett M, Nichols TE (2008) Guidelines for reporting an fMRI study. Neuroimage 40(2):409–414

Price JL (2004) Olfaction. In: Paxinos G, Mai JK (eds) The human nervous system. Elsevier, Amsterdam

Price JL, Slotnick BM, Revial MF (1991) Olfactory projections to the hypothalamus. J Comp Neurol 306(3):447–461

Reichert, J. L., Postma, E. M., Smeets, P. A., Boek, W. M., de Graaf, K., Schöpf, V., & Boesveldt, S. 2018. Severity of olfactory deficits is reflected in functional brain networks—an fMRI study. Hum Brain Mapp, 39, 3166, 3177

Rombaux P, Mouraux a, Bertrand B, Guerit JM, Hummel T (2006) Assessment of olfactory and trigeminal function using chemosensory event-related potentials. Neurophysiol Clin 36:53–62

Royet JP, Plailly J, Delon-Martin C, Kareken DA, Segebarth C (2003) fMRI of emotional responses to odors: influence of hedonic valence and judgment, handedness, and gender. Neuroimage 20(2):713–728

Savic I, Gulyas B, Larsson M, Roland P (2000) Olfactory functions are mediated by parallel and hierarchical processing. Neuron 26:735–745

Scalia F, Winans SS (1976) New perspectives on the morphology of the olfactory system: olfactory and vomeronasal pathways in mammals. In: Doty RL (ed) Mammalian olfaction, reproductive processes and behavior. Academic Press, New York

Schneider E, Glover G (1991) Rapid in vivo proton shimming. Magn Reson Med 18:335–347

Seubert J, Freiherr J, Djordjevic J, Lundström JN (2013) Statistical localization of human olfactory cortex. Neuroimage 66:333–342

Sobel N, Prabhakaran V, Desmond JE, Glover GH, Goode RL, Sullivan EV, Gabrieli JD (1998) Sniffing and smelling: separate subsystems in the human olfactory cortex. Nature 392:282–286

Stevenson RA, James TW (2009) Audiovisual integration in human superior temporal sulcus: inverse effectiveness and the neural processing of speech and object recognition. NeuroImage 44:1210–1223

Swaab, D. F., Hofman, M. A., Lucassen, P. J., Purba, J. S., Raadsheer, F. C., & Van de Nes, J. A. P. 1993. Functional neuroanatomy and neuropathology of the human hypothalamus. Anat Embryol, 187(4), 317–330

Tabert MH, Steffener J, Albers MW, Kern DW, Michael M, Tang H, Brown TR, Devanand DP (2007) Validation and optimization of statistical approaches for modeling odorant-induced fMRI signal changes in olfactory-related brain areas. NeuroImage 34(4):1375–1390

Toledano A, Ruiz C, Navas C, Herráiz C, González E, Rodríguez G, Galindo AN (2009) Development of a short olfactory test based on the Connecticut test (CCCRC). Rhinology 47(4):9–465

Toledano A, Borromeo S, Luna G, Molina E, Solana AB, García-Polo P, Hernández-Tamames JA, Álvarez-linera J (2012) Objective assessment of olfactory function using functional magnetic resonance imaging. Acta Otorrinolaringol (English Edition) 63(4):280–285

Wallrabenstein I, Gerber J, Rasche S, Croy I, Kurtenbach S, Hummel T, Hatt H (2015) The smelling of Hedione results in sex-differentiated human brain activity. NeuroImage 113:365–373

Yousem DM, Maldjian J a, Siddiqi F, Hummel T, Alsop DC, Geckle RJ, Bilker WB, Doty RL (1999) Gender effects on odor-stimulated functional magnetic resonance imaging. Brain Res 818:480–487

Zatorre RJ, Jones-Gotman M, Rouby C (2000) Neural mechanisms involved in odor pleasantness and intensity judgments. Neuroreport 11:2711–2716

Zhao F, Holahan MA, Wang X, Uslaner JM, Houghton AK, Evelhoch JL, Winkelmann CT, Hines CDG (2018) fMRI study of the role of glutamate NMDA receptor in the olfactory processing in monkeys. PLoS One 13:e0198395
Acknowledgements
The authors thank the participants and the technical staff at the 3T scanner facility of Fundación Reina Sofía-Centro de Investigación de Enfermedades Neurológicas for their collaboration in this study.
Funding
This work was supported by the Spanish Ministry of Economy and Competitiveness [TEC2012-39095-C03-01, DPI2015-68664-C4-2-R].
Ethics declarations
Conflict of Interest
Helena Melero, Susana Borromeo, Alexandra Cristobal-Huerta, Eva Manzanedo, Guillermo Luna, Adolfo Toledano, and Juan Antonio Hernandez Tamames declare that they have no conflict of interest.
Ethical Approval
All procedures performed in studies involving human participants were in accordance with the ethical standards of the institutional and/or national research committee and with the 1964 Helsinki declaration and its later amendments or comparable ethical standards.
Informed Consent
Written informed consent was obtained from all individual participants included in the study.
About this article
Cite this article
Melero, H., Borromeo, S., Cristobal-Huerta, A. et al. Sex Differences in the Olfactory System: a Functional MRI Study. Chem. Percept. 12, 50–58 (2019). https://doi.org/10.1007/s12078-018-9250-1
Received:

Accepted:

Published:

Issue Date:

DOI: https://doi.org/10.1007/s12078-018-9250-1
Keywords
Olfaction

fMRI

Odors

Multisensory integration

Assessment

Neurodegenerative